We use affiliate links. If you buy something through the links on this page, we may earn a commission at no cost to you. Learn more.
Product Requirements:
An uncovered light socket or light fixture
I am not going to kid you for a moment – when I heard that there was a light bulb claiming it could eliminate odors, I thought it was the biggest bunch of flimflammery ever.
But you know me, I am willing to give anything a try…
Technical Consumer Products, Inc. (TCP), makers of compact florescent lighting, have created a bulb that they claim will eliminate strong offensive smells such as fish in the kitchen, musty laundry room odors or even pet smells – kitty box, anyone? Do these bulbs live up to the hype? We'll get to that in just a moment. But first I would like to tell you a little bit more about the fluorescent bulbs themselves…
Fresh² Florescent Bulbs are similar in style to other compact fluorescent bulbs in that they resemble a long white tube that has been bent into a spiral and they can be used in a regular light socket instead of a traditional long fluorescent light fixture.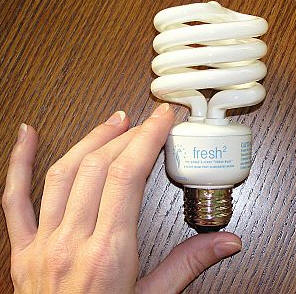 For those of you that are unfamiliar with fluorescent lighting, just think of the long tube style light fixtures that line just about every commercial building in the world's ceilings. There is a reason that these bulbs are in place. Fluorescents are energy efficient, using from one quarter to one-third of the energy needed to burn a traditional incandescent; they also don't put out the heat of the incandescent bulb. Perhaps one of the best properties of fluorescent bulbs is that they last significantly longer than traditional incandescents. How much longer? A typical incandescent bulb will give 750 to 1,000 hours of life. Compare that to a fluorescent light, which will last for 10,000 hours or more.
Be sure to check out the chart at the bottom of this page, which is on the  Consumer Energy Center's site. It is especially relevant to this review because it compares the economics of using a 23 watt compact fluorescent versus a 100 watt incandescent light bulb. Both bulbs are emitting the same amount of light, but the fluorescent is doing it much more effectively. The Fresh² is just such a 23 watt bulb.
So, getting back on track, we should all be able to agree that a compact fluorescent bulb is a better choice for anyone that wants a cooler burning, longer-lasting, more economical choice of lighting. At an average price of $11 a bulb, the savings become evident after the bulbs have been in place for several years, lasting several times longer than their incandescent cousins. What sets the Fresh² bulbs apart from similar compact fluorescent bulbs is the fact that they are coated with Titanium Dioxide. When the light is turned on, it activates the coating which releases "extremely strong" odor fighting oxidizers. This oxidation process is supposed to "break down odors completely."
Googleing TiO(2) shows that it has a variety of uses – everything from being the white pigment in paint and paper to its use an ingredient used for absorbing odor in foot creams. I even found one study where TiO(2) was being suggested as a possible way to cut down odors in swine farming operations. There is obviously a scientific background for using the compound as odor control. The question now is just whether or not a fluorescent
bulb would be a proper application for the science. With this in mind, I looked forward to putting the Fresh² bulbs through their paces.
Since the Fresh² bulbs are shipped directly from the manufacturer to your door, they are packaged a bit better than the average bulb you would pick up at the grocery.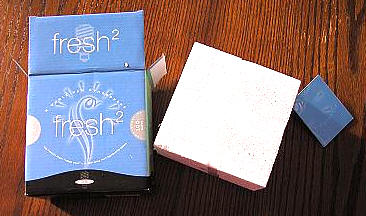 Inside a cardboard box is a molded Styrofoam shell that holds two Fresh² bulbs. In case you were wondering, the blue booklet offers a free t-shirt to users that write in about their experience with the bulb.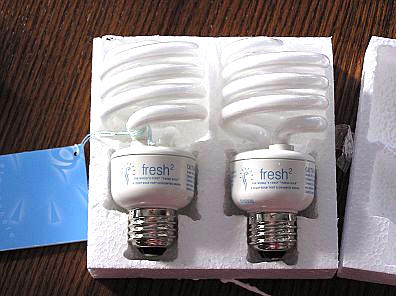 As you can see, the base of each bulb is sized to fit a typical light bulb socket. Almost every light fixture in my home is recessed and usually holds a 75 to watt indoor flood lamp. We will not even begin to discuss how hot a room can become when I have these lights on for any amount of time. Since these bulbs are most effective when they are in an open socket that allows unfettered air-flow, the fixtures in my house are
actually quite perfect for testing.
The size of the room does have an effect on how well the bulbs work, so if you have a larger space, you might want to go ahead and replace several bulbs with Fresh²s. Since I only had two to test, it worked out best that I try them in two smaller rooms: the laundry room and bathroom.

My laundry room has a typical old fashioned ceramic socket which hangs unenclosed from the top of the 10′ ceiling. The room is not huge, it is about the size of a large closet. It not only holds the washer and dryer and water heater, it is also home for a hamper which is in a constant flux of varying degrees of fullness from of dirty clothes. This room is also the place where I store the dogs' food. I would not go so far as to say that the room smells bad, but it does have a slight odor most of the time.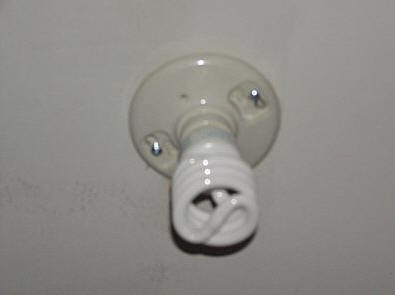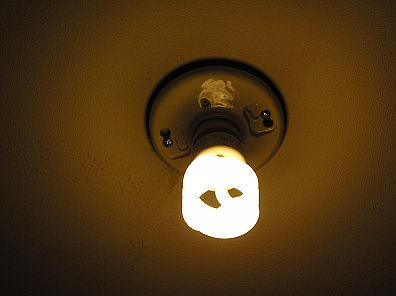 Next is the master bath, which has three recessed flood lights: two above the vanity and one above the commode. The light above the commode is also near the built-in hamper, so this seemed like a good location for the Fresh² bulb. The built-in hamper can sometimes acquire a bit of a musty smell as it holds not only clothing but also damp towels.
Removing the flood lamp revealed a larger space than called for with the Fresh², but I figured that since the bulb needs an uncovered socket to operate, perhaps the extra bit of air-flow area on the sides wouldn't hurt.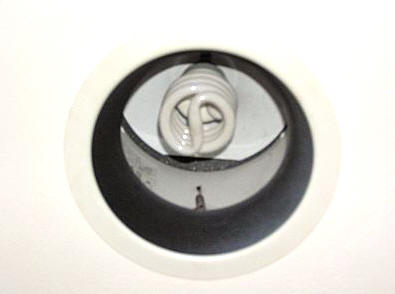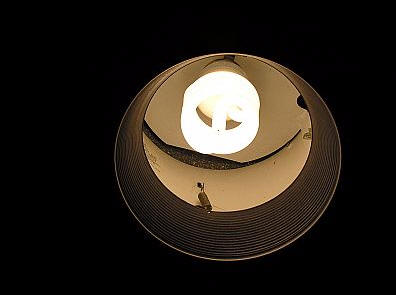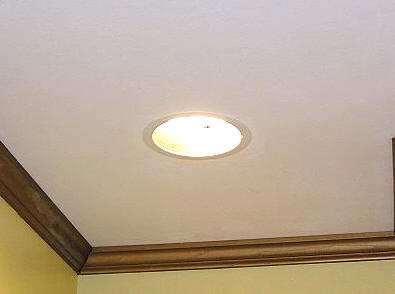 With the bulbs installed in both locations, and with the doors shut to cut down on the size of the area that the bulbs would have to affect, I left the lights on and walked away for ten minutes. When I came back, I thought I could tell a noticeable change. After an hour, I knew there was a major difference. Steve even commented on it, and he had begun as an even bigger skeptic than me about whether or not they would make a difference – much less work as advertised.
Now for those of you that usually buy scented candles, room sprays and solid deodorizers to cover odors, I should point out right now that I did not walk in and smell flowers. Instead, I smelled nothing. Just clean,  fresh air in both rooms. I was also pleased that the light cast by the bulbs was bright and white. There was no flickering or humming like I have associated with the old fluorescent tubes of the past.
Fresh² bulbs would be perfect in any room  that has a musty odor or that needs deodorizing without introducing harsh chemicals. Immediately coming to mind are uses such as in a baby's nursery, a room where cigars are allowed, and definitely any room that houses a cat's litter-box. I think the perfect way to use these bulbs would be to leave them on all the time if you have an area that is particularly prone to odors. Because of their long life and energy efficiency, I doubt that they would cost any more to run full time than a part time incandescent bulb would.
These bulbs have made a believer out of me. I challenge those of you that have a musty room, or who allow pets in the house, to order a set of these bulbs and give them a try. All I ask is that when you try them you do as I did and put them in an uncovered socket or in a lamp with an open shade – not in an enclosed light. If you are going to try them in a larger room, then use a couple of them – don't expect one to deodorize your entire living room and leave them turned on! Get over the weirdness that comes with thinking about a light bulb cleaning the air, and just give it a try. You have absolutely nothing to lose on so many levels. Not only will you be getting more energy efficient bulbs to take the place of your existing incandescent ones, if you don't feel that the Fresh² bulbs are performing as I say they will, then you can send them back for a refund within the first 90 days – including $5 for the return shipping!
Fresh ² Bulbs can be purchased here.
Price: $19.99 for a two-pack
Comes with a 90-day money back guarantee (+5 for shipping) and a one-year
warrantee against defects
Pros:
Energy efficient compact florescent bulbs fit in traditional incandescent bulb
socket
Bulbs actually remove odors while turned on
No heavy perfumes or other additives in air – it just smells clean
Cons:
It just seems weird to say your light bulb is cleaning the air – don't
let it get to you, though
Product Information
Price:
19.99
Manufacturer:
Techinical Consumer Products, Inc.
Pros:

Energy efficient compact florescent bulbs fit in traditional incandescent bulb
socket
Bulbs actually remove odors while turned on
No heavy perfumes or other additives in air - it just smells clean

Cons:

It just seems weird to say your light bulb is cleaning the air - don't
let it get to you, though