We use affiliate links. If you buy something through the links on this page, we may earn a commission at no cost to you. Learn more.
Not counting talk show broadcasts, how many of you still enjoy listening to
your tunes via FM radio? Since I purchased my
iPod, I
rarely listen to the radio anymore. Besides the fact that they play commercials
and the same lame songs over and over again, FM radio is just blah when you
compare it to an MP3 player. Problem is, not everyone can afford an iPod. And
even if you can, you'll still need to burn even more cash for a cassette adapter
or an FM transmitter in order to play music through your car stereo. It's
madness!
Good news though… There is a relatively inexpensive solution to this
problem. It's actually a pretty cool solution really. It is the Anydrive Car MP3
+ FM Transmitter from Merconnet. This
device allows you to plug in any USB flash memory storage device into it and
wirelessly broadcast the output to an FM radio. Not sure what I mean? Ok,
picture this: You have an

Intelligent Stick USB Drive like the one Judie reviewed, full of MP3 files.
You plug it into the Anydrive, and it starts playing the music stored on it
through your FM radio. Or, you have a 5,6,7-in-1 USB card reader with media
cards full of MP3 files in every slot. You plug it into the Anydrive and music
plays sequentially through your radio. Cool huh?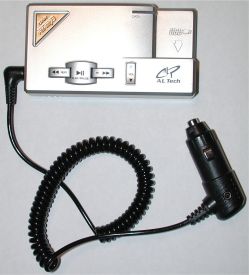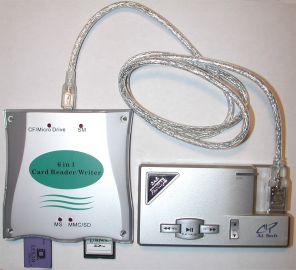 The Anydrive is a small plastic device. It is powered by an adapter that
plugs into the cigarette lighter in your car. Near the power adapter plug-in are
input and output jacks. With the input jack, you can connect an audio source
like a CD or cassette player, and have the sound play through the FM
transmitter. The output jack allows you to plug in a cassette adapter if you
would rather use that to play music through your car stereo, instead of the
wireless method.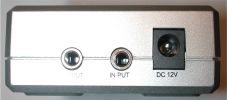 On the opposite side of the device is a full-sized female USB connector.
Compatible with 1.1 or 2.0 devices, this is where you plug in such things as
thumb drives, card readers, etc. There is a problem with the design of the
Anydrive. In their infinite wisdom, they placed the connector in a kind of 1
sided trough. As you can see in the picture below, the problem is that if you
have a small USB card reader or USB drive, that is strangely shaped, it might
not to be able to slide into the slot. I don't know why they didn't just orient
the connector straight out the side of the device. There is a way around this
problem though… remember the FlexUSB adapter?
It should pretty much allow any type of USB device to connect to the Anydrive.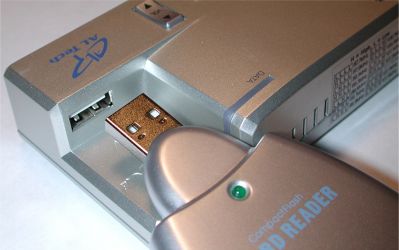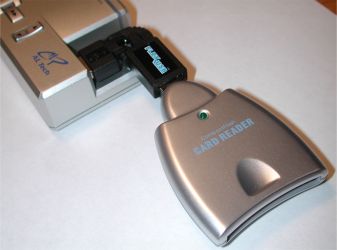 On the top of the device are 4 buttons. A large Play/Pause button, a Rewind
and Fast forward button, and an up/down Volume rocker button. All of the buttons
have good tactile feedback, and as an added bonus, they light up Red in the
dark. This is a great feature for those of you (like myself) who either go to
work or come home when it's dark outside.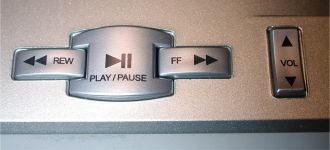 Selection of the FM station that you wish transmit on is accomplished through
4 dip switches that are located on the side of the Anydrive. The available
stations are:
87.7 MHz
87.9 MHz
88.1 MHz
88.3 MHz
88.5 MHz
88.7 MHz
88.9 MHz
106.7 MHz
106.9 MHz
107.1 MHz
107.3 MHz
107.5 MHz
107.7 MHz
107.9 MHz
Not quite as many stations as other FM transmitters, so some people may have
problems depending on the saturation of radio stations in your area. I was able
to use 87.7 MHz without any problems. I was actually pretty surprised at the
sound quality. The Anydrive is easily the best sounding FM transmitter that I've
used so far.
The Anydrive is an easy way to bring MP3 playing capability to your car for
little money. This is especially true if you already have a USB drive or a card
reader with a bunch of spare media cards lying around. Of course, the Anydrive
doesn't have a way to shuffle the songs or see the name of the song that is
currently playing, but hey, what do you expect for $60?
Having your tunes in the car with you can make all the
difference between an enjoyable drive or a mediocre one. While other people are
rolling their eyes at yet another stupid song parody from local morning DJ's, you will be looking around at the
people in the cars idling beside you when you stop at a traffic light to make
sure they didn't notice you playing the drums on the steering wheel and singing
off key to the song Seven Nation Army by The White Stripes. Oh wait, maybe
that's just me



Price: $59.00
Pros:
All in one FM transmitter and USB input device
Compact
Easy to use
Cons:
Oddly shaped USB memory devices might not fit in the connector area
Product Information
Price:
59.0
Manufacturer:
Merconnet
Pros:

All in one FM transmitter and USB input device
Compact
Easy to use

Cons:

Oddly shaped USB memory devices might not fit in the connector area