We use affiliate links. If you buy something through the links on this page, we may earn a commission at no cost to you. Learn more.
Product Requirements:
Daily gear that needs a bag, a smaller
sized laptop (up to 11.5" x 9.5" x 1.5" / 290 x 240 x
38mm)
One of my favorite gear bag manufacturers is
Tom Bihn. This unpretentious and friendly company has a past record for
producing some of the best looking, hardest working and longest lasting bags
that I have personally encountered. Even so, some of you may have found that
their backpack style bags can be a little too large for daily excursions,
especially if you are not the type that needs to carry an entire supply closet's
worth of gear. Since I often find myself in that category, I was very interested
when Darcy wrote me
about their new, smaller sized sling bag called

The Buzz.
Available with a black body accented with a steel (deep gray) side panel and your choice
of either a crimson, plum or spruce front, the Buzz offers a color splash for
those that would rather not go with the also available solid black. All of the
bags, except for the solid black, have a light gray piping between the steel and
color panels which will reflect light at night. 
I was sent a bag with the plum front panel, which according to the
accompanying letter was the "very first completed bag," sewn by Tom, himself.
For those of you that didn't know,
Tom Bihn is an actual person, and he really does have a hand in the
manufacturing process. There is a "Tom Bihn Portable Culture" tag on the front
panel which is tastefully done and features deco lettering and a red plane.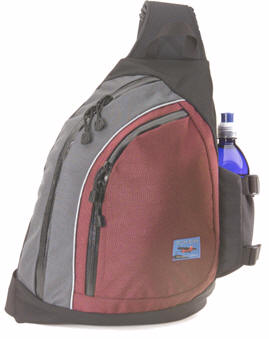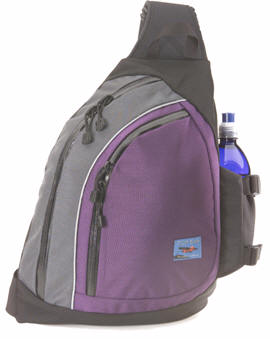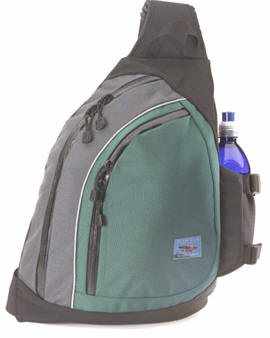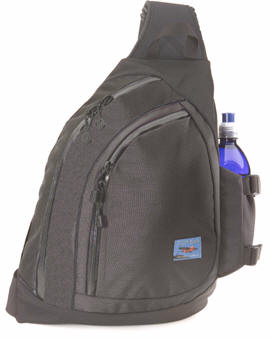 Pictures courtesy of the Tom Bihn website
At first glance, it might be possible to dismiss the Buzz as a typical sling
bag, but doing so would be a mistake. The Buzz is distinguished from others of
this style because of its superior design, materials and craftsmanship. Let's
take a look from the outside in…
The Buzz's exterior is composed of 1000 denier Cordura. All of the zippers
are YKK and coated so as to
be "splash-proof." Instead of having a standard zipper-pull on each of the
substantial metal YKK sliders, there is an easy to grip 2" loop of cord capped
with a plastic tab.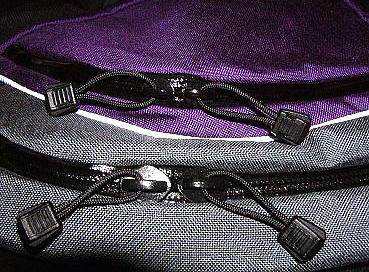 The bag weighs 1.64 pounds when empty, and it measures approximately 17" tall
x 12" wide x 4" thick. On the right side of the bag, there is a side pocket with
a wide elastic inset panel suitable for holding up to a 750ml bottle of water,
can of soda, or a portable umbrella. Two adjustable straps will secure any item
held within. I don't necessarily recommend it, but I have been known to slip my
Cannon PowerShot in this pocket, since it is so accessible and since the top can
be more or less cinched shut.
Never miss one of our posts again. Sent MON, WED, and FRI with the latest gadget reviews and news!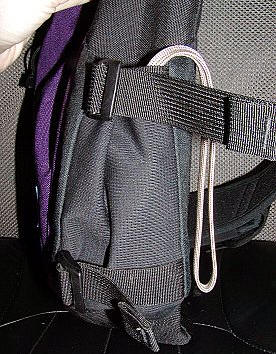 There is a woven nylon handle near the top of the shoulder strap. What I
would ordinarily say at this point is that I wish it were more padded. However,
I found that when using this sling bag, I never once reached for the loop – it
was just as easy to grab the strap. So for once, I am not going to consider this
a con, and I will just make note that there is a loop, for those that
like there to be one.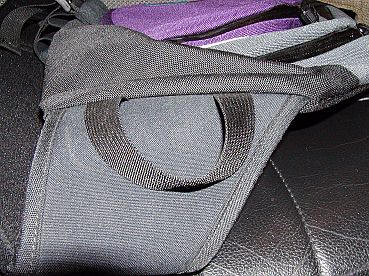 The sling strap is padded throughout its entire length, but not overly so. It
is comfortable without being bulky, and one of the features I most like is that
there is a heavy-duty plastic quick-release clip so that you do not actually
have to lift the bag over your head to wear it or take it off. On the strap is a
flap pocket that closes with a tab of Velcro. The flap and pocket are cut so
that it will hold just about any phone with either a right or left side antenna.
If you'd prefer, you can carry an iPod or other similarly sized MP3 player
securely in the same pocket. There is another "Tom Bihn Portable Culture" tag on
this pocket's flap.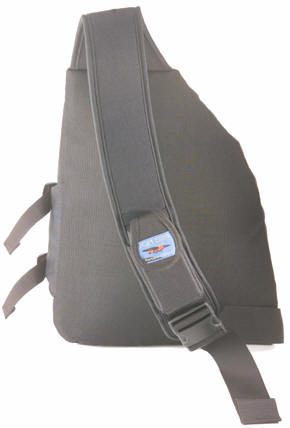 Picture courtesy of the Tom Bihn website
The back wall of The Buzz is padded with 0.25" of foam. When the bag is not
being worn, it should protect the contents from ordinary shocks – but certainly
not a major fall.
Now let's move to the bag's interior…
The front compartment is secured with two #8 YKK zippers, which open to
reveal its top and left side. Inside, the back wall is comprised of a
contrasting blue Cordura. A detachable key-clip dangles a plastic loop on the
top left, and a sectioned pocket comprised of blue Cordura with gray trim rises
to the right. The first two pockets are sized to hold pens, the next is perfect
for a PDA (shown is a CLIÉ NZ90 in a Vaja case), and the last pocket can hold ID
or business cards – or in this case, a Starbuck's card.
☺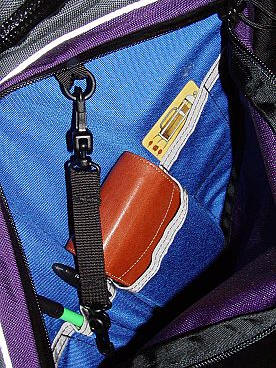 The rear compartment of The Buzz is divided into two sections and is very
adaptable. It is accessed by opening two #10 YKK zippers. On days when you need
to carry your smaller sized laptop, you can slide it right into the padded rear
section. Due to the previously mentioned padded rear wall of the bag and an
additional padded interior divider wall, your laptop should be safely sandwiched
for commutes. The only improvement I would like to see would be a bit of
additional padding on the bottom of the bag. As it is, there is a lightly padded
bottom that feels as if it is lined in soft polar fleece. In front of the padded
divider wall is an open section which can hold larger items, such as books or
8"x11" files and folders. This is where I carry my extra cables (inside a pouch)
when I am toting my laptop.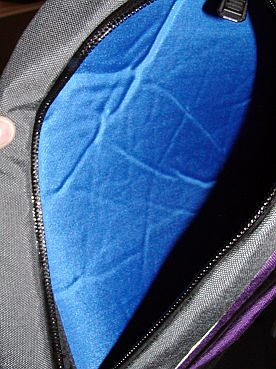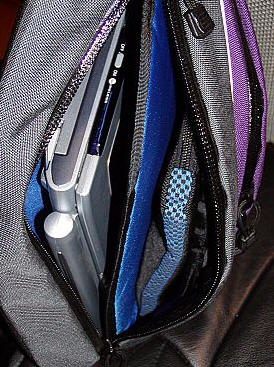 The Buzz is not a large bag, yet it is sufficient to carry necessary daily
items without a lot of overkill. If you are someone that tends to carry
accessories just because you have a pocket in which to place them, then this
might be a good way to help you lighten your load. Conversely, if you are
someone that needs to carry as many accessories as possible because you will
most likely have to use each and every one of them, then this is probably not
the bag for you. The Buzz is extremely well made, and should hold up for
many years under heavy use.
Price: $90 The Buzz is available in in solid black,
black/steel/crimson, black/steel/plum and black/steel/spruce
Pros:
Extremely well made from quality materials
Can hold a smaller laptop in the lightly padded interior
Strap is easy on, easy off
Come with one of the best
guarantees you'll find anywhere
Made in Port Angeles, Washington, USA
Cons:
Would like more padding in bottom of computer section
Product Information
Price:
90.0
Manufacturer:
Tom Bihn
Pros:

Extremely well made from quality materials
Can hold a smaller laptop in the lightly padded interior
Strap is easy on, easy off
Come with one of the best
guarantees you'll find anywhere
Made in Port Angeles, Washington, USA

Cons:

Would like more padding in bottom of computer section