We use affiliate links. If you buy something through the links on this page, we may earn a commission at no cost to you. Learn more.
Product Requirements:
Device:
Win 98SE/ME/2000/XP, Mac OS 8.6 or higher
It's common knowledge that gadgets and super spies go hand in hand. Just look
at Sydney Bristow (Alias),
and of course the number one spy of them all, James Bond. I for one, enjoy
watching their movies and TV shows, just to see and drool over what new gizmos
they have managed to dream up. I've always been particularly interested in the
teeny weenie cameras that seem to pop up on every show or movie. The JB1 007
James Bond Stealth Digital Camera from
Digital Dream is just such a camera. It's touted as the World's First
Official 007 Digital Camera, so it has to be great… right? Let's see…
Hardware Specs
Memory: 8mb stores up to 150 pictures @ 640 x 480, or up to 310 pictures @
320 x 240 resolution
Lens: f=4.45mm F2.8
Interface: USB Plug-n-Play
Power: 1 AAA battery (included)
Dimensions: 2.25 x 1.5 x 0.5in
Weight: 2.1oz.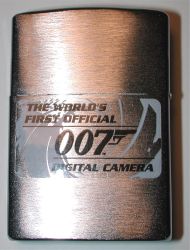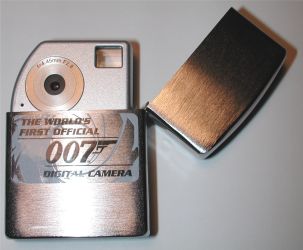 What makes this camera spy worthy is the fact that it is disguised as a Zippo
style lighter. It is housed in a metal case with a flip cover. The only problem
is that the manufacturers must have missed their stealth training… they
plastered a sticker on the front of the lighter that tells the world that it is
a James Bond camera. Oops! I haven't tried very hard to peel the sticker off, it
seems as if it is attached pretty well.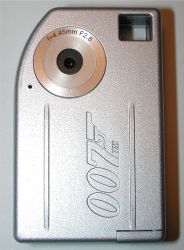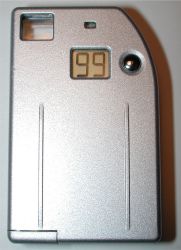 If you like, you can remove the camera from the lighter case. The camera itself
is made of grey plastic, and is very light weight. It too is emblazoned with the
007 logo. Not a sticker this time though… It's embossed in the plastic.
On the front of the camera is the lens, tiny microphone and viewfinder. For
those in the know, the lens is f=4.45mm F2.8. Basically it means that it is a
wide angle lens.
Never miss one of our posts again. Sent MON, WED, and FRI with the latest gadget reviews and news!
On the back of the camera is the mode button, status LED, and status LCD.
The shutter button is located on the top of the camera, while the battery
compartment is located on the bottom. A small format USB connector is situated
on the side of the camera.
Usage is relatively simple. You have to first press and hold the mode button for
a few seconds to power the camera on. Once it is on, it is in the default hi-res
(640 x 480) picture taking mode. In this mode, you can take up to 150 pictures.
The LCD on the back of the camera displays how many pictures are still available
to take at any given time.
I found that the hardest part in using this camera is the very small viewfinder.
It does not actually look through the lens, which makes it difficult to line up
the picture. I also found that since the camera is so small, that my fingers
would often get in the way of the lens.
The pictures that this camera takes aren't the best. They are ok for quick
snapshots, but only if you have adequate lighting. Unfortunately, the camera
does not have a flash.
Besides having the ability to shoot pictures in low and hi-res, there are
several other camera modes available to you. By repeatedly pressing the mode
button, you can switch into the following modes…
Self Timer Mode (St). Take pictures with a 10 second delay. This allows you to get
yourself into your photos. The camera will beep while it counts down the 10
seconds.
Surveillance Mode (Jb). This mode will allow you to record images at preset time
intervals (1,2,5,10,20,30,45,60 or 90min); perfect for covert observation for up to 19 days. Think Nanny cam!
Video Clip Recording with Sound Mode (Ct). Shoot mini movies of up to 30 seconds
duration at 30fps. This works pretty well, but unfortunately, it is recorded in
a proprietary format. The included software is required in order to view the
clips. Sorry Mac users, playback of the clips is not supported for your OS.
Voice Recorder Mode (Ar). Record up to 12 Minutes of sound in WAV format. That's
really not enough storage to
record a lecture, but more than enough to record short voice memos.
Erase Mode (CA). Erases all the pictures on the camera. This is an all or
none type of erase, you don't get to choose.
You can also use this camera as a data Storage device like a USB drive, to move
important data between computers (8MB total storage).
PC users can even use this device and the included software as a web cam. sorry
Mac people…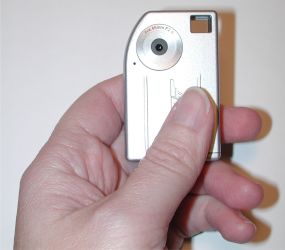 After you've filled the internal memory with photos, movies, files, voice memos,
etc., you'll need to connect the included USB cable to the camera and to your PC
or Mac in order to remove the data.
If you are running XP,  you will not need to install any drivers. Once you
plug in the USB cable, the PC will automatically recognize the camera as a USB
storage device. You'll be able to copy the files to and from the camera just as
if it was a hard drive. Windows 98 users will need to install a driver and
included software.
The software is included on CD that is supposed to allow you to view, edit, delete and
email your pictures and videos. A pocket size CD card is also included to make
it convenient for traveling. I was only able to get the software to let me view,
and delete pictures and videos. I was never able to use the email or edit
features. The software is really pretty clunky.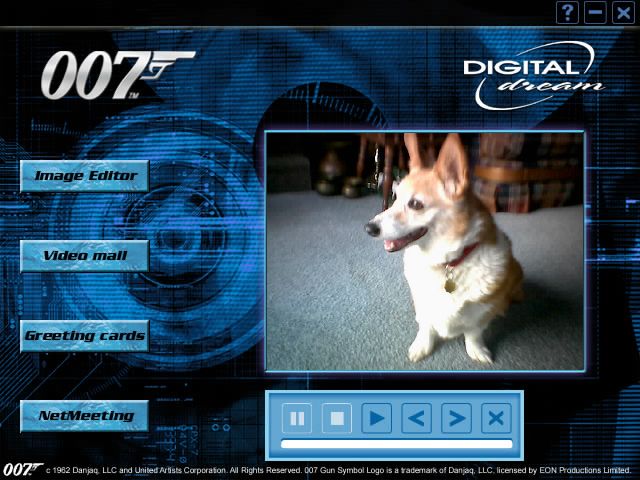 In use, the James Bond camera is a fun novelty camera that will probably appeal to kids
more than adults. It really can't be used as a serious 'spy tool' given the less
than stealthy appearance (sticker and branding). There's also the fact that
every time you push a button, the unit beeps at you. You won't get many top
secret shots that way… At $100, it's an expensive
toy that can take so-so pictures as long as you have adequate lighting.
Price: $99.99 Available from
Think Geek
Pros:
Tiny
Video record with sound
Cons:
Pictures are grainy or blurry in low light
Beeps whenever you press a button (not stealthy)
Product Information
Price:
99.99
Manufacturer:
Think Geek
Pros:

Tiny
Video record with sound

Cons:

Pictures are grainy or blurry in low light
Beeps whenever you press a button (not stealthy)