We use affiliate links. If you buy something through the links on this page, we may earn a commission at no cost to you. Learn more.
Product Requirements:
Up to four home theater components,
including: Cable (S/A Explorer and other Cable boxes) or Satellite, TV or TV/VCR
, VCR or DVD and Audio equipments, and two AA batteries
Is your coffee table starting to look like a wasteland of remote controls? Or
perhaps your TV remote has been dropped one to many times during episodes of
klutziness, and the black electrical-tape that holds it together is starting to
slide off from wear – leaving a gooey after-slime that you hate touching. If so,
then it is time for you to consider investing in a universal remote control.
As anyone that has been to a mega-electronics store can tell you, there are
all sorts of different universal remote controls available. The choices may seem
mind boggling at first, but I think that they can be broken down into two main
groups: those with traditional vertical styling, and those with LCD screens.
When talking about the traditional vertical remote control, other than their
sizes and the number of devices they can operate, there really isn't that much
to differentiate the various models. In fact, up until I received
Pogo! Products new
VRC-400 Universal Remote Control,
I figured that if I had seen one universal remote, then I had seen them all.
The feature that sets the VRC-400 apart from the crowd is its ability to
recognize up to eighty voice commands from a single user. If there are
four users, then this breaks down to 20 commands per person. So, while this may
look like a typical vertical remote, it is actually anything but.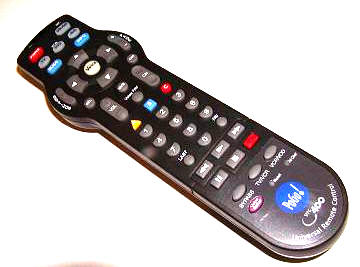 Included in the VRC-400's packaging is the Universal Remote Control, a
plastic stand, and the user manual. You will need two AA batteries to program
and operate the remote. I should mention that the stand has three black rubber
grips on its bottom to keep from scooting. However – if the surface the stand
rests on is light, then you may notice that it leaves marks. When I am being
neat I keep my remotes in a basket on the wall, but generally the main remote
will be lying on an ottoman, so I discarded the stand.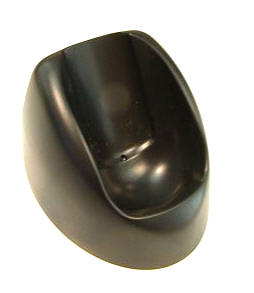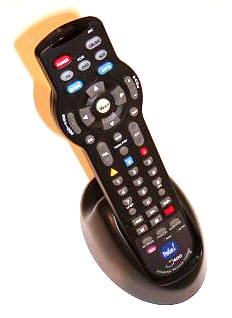 The remote is 8.5" long x 2.5" wide (at bulge) x 1" at thickest point; with
batteries it weighs 6 ounces. The casing is comprised of black plastic with
enough grooves and bulges so that it fits very comfortable in hand. There is an
indention above the battery door that is a natural resting place for the right
index finger, allowing the thumb to hover poised over the buttons.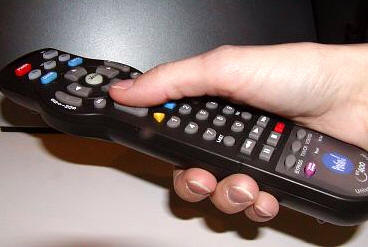 Even without its voice capabilities, the VRC-400 appears to be a feature rich
remote…
General Features:
Controls up to Four Devices: Cable (S/A Explorer and other Cable boxes)
or Satellite, TV or TV/VCR , VCR or DVD and Audio equipments.
Non Volatile Memory back up on 2K-bit EEPROM to retain programmed memory for 10
years even without batteries.
Back-lit Device buttons to indicate the current operation mode (these buttons
are labeled TV, DVD, AUX, and CBL/SAT)
Number of buttons: Maximum 53 buttons available
Built-in Universal infrared code Database for total operating control of all
your Audio/Video equipment
Volume Punch Through: Enables the volume controls (Vol +/- and Mute) to work in
either mode.
VCR/VOD: Enables the transport buttons (Play, FF, REW, Stop, Pause and Record)
to work in either mode.
Time out function: Shuts off remote if any key is pressed for 45 seconds,
extending battery life.
Micro Processor: 8 Bit micro processor, ROM Size : 32K Byte
One step factory reset procedure
Add to that the following…
Voice Features:
Operates with voice commands or button presses
Language and accent Independent
Store up to a total 80 voice commands
Four Independent "Personalities – Up to Four users can store 20 commands each
Map any voice command to any button
Simple training process combines macros and voice commands
Powerful Macro Capability – A single voice command can send multiple button
process – Multi-String Macros send out different button sequences on subsequent
commands
Luminous Voice Button. – Allows user to operate in a dark room by voice command
Power: 2 AA batteries ( primary or rechargeable )
Operating Voltage : 2.2 ~ 3.5 Volts
Typical battery life : 4 months ( by Alkaline cells. Varies depending on
frequency of use )
Operating current : approx. 25 – 45mA
Leakage current : Max. 10uA
Power management : Shuts off remote if any key is pressed for 45 seconds
These features are all well and good, as long as the setup is not too
difficult and as long as the remote will actually work with the components you
already own. I am most often in our home office, which has a Philips TV and a
Panasonic DVD Home Theater Sound System, so those are the components I will use
with the remote.
In order to program the VRC-400, you must first turn on the devices it is to
control. Pressing the [SEL] and [MUTE] buttons together causes the LED
back-lighted buttons for each device to all glow red. Referring to the Brand
Setup code list included in the packaging, you must enter a three digit code for
each component's brand. As you enter the digits, the buttons will flash. You
then hit the [CH+] button in individual taps until the device turns off. Once
the device is turned off, you press the button for the proper component. The
backlight will flash three times showing that it is now working properly.
Setup started without a hitch…
I began with my Philips TV, pressed the [SEL] and [MUTE] buttons, entered the
Philips digits "073," then hit the [CH] button three times, at which point the
TV powered off. Then I hit the [TV] button which flashed three times, and
viola, the remote was now programmed with my TV settings. That wasn't hard
at all!
Next up for programming was our Panasonic DVD player. I followed the same
exact steps, but this time entered the Panasonic code "071," then hit the [CH]
button four times…at which point my TV powered on! Hey, that wasn't
supposed to happen! Just to be sure, I did the steps several more times to the
same effect.
In a perfect world, entering the corresponding three digit code would
immediately cause the remote to work properly, but I know that things don't
always happen that way. Using the assumption that there might be some truth to
the rumors I have always heard on how there are really only three or four
DVD manufacturers in the world, and that they just resell their units to other
companies for their own branding, I decided to enter some other major brands'
codes to see what happened.
I tried the codes for Toshiba (which after about 10 clicks also turned
on my TV), Sony, Sanyo, Sansui, Hitachi, JVC, and a couple of others hoping that
there might be some overlapping of the codes…but no luck.
So I checked the support
section of the POGO! website. Figuring I would do things in the proper
order, I restrained from zipping off an email to tech support, and instead first
tried looking on the FAQ
page. All of the topics dealt with other items that POGO! also sells, so my next
course of action was to email tech
support.
Doing my standard "stealth tech-support" routine, I wrote: "I
am trying to get the voice remote to work with my Panasonic DVD player, model
number SA-HT900, and it will not. I was able to successfully program my Philips
TV, so I know I am following the steps correctly. Is there perhaps another code
I should try? Thank you, Judie"
While I waited for their reply, I decided to
try out the voice commands on my TV…
There is a special note in the user pamphlet
that states, "If, like many new user [sic] you speak unusually clearly
and slowly during training, the remote may not recognize your commands when you
later speak normally. For consistent results, speak naturally at all times!"
…which makes perfect sense, so with that statement in mind, I began.
Voice Command is actually pretty easy to set
up, and after you have done it once or twice you'll be a pro. You start by
pressing the [Voice Setup] button at the bottom of the remote for a few seconds,
until the last selected device's LED button lights up, which in my case is the
[TV] button. Next, you press the number for the channel you want to program. If
you have a cable box to go through, you hit the [CBL/SAT] button before the
channel numbers. As the numbers are pressed, the LED buttons will flash. Then,
you hit the [Voice] button in the middle of the five-way hub.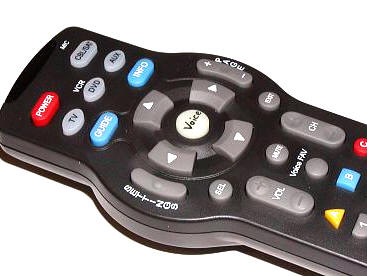 Holding it down and releasing it as you say
the name of the channel, for example "MTV," the TV button will flash three
times. As soon as it glows solid, you say "MTV" again. So long as the two voice
prints match, the TV button will again flash three times and you will have just
programmed your first voice command. Each command can store up to 10 keystrokes,
so even if you have to do some bypassing to or switching from auxiliary devices
for the desired result, you should have plenty of room to program in the needed
steps.
To use the voice command to recall a
station, you hold down the [Voice] button while saying the channel's name. You
should have the remote about 10" away from your mouth – just remember to say the
command like you did when you programmed the remote! ;0)
While I have most of my favorite channel's
numbers memorized, there is no way to know them all. It's actually pretty handy
to have a remote that can call up the correct channel when you want to see
"TLC," "HGTV," "Food," or "History" without flipping through 40 or so channels.
Julie pointed out that this could be very handy for a visually impaired person,
too.
The infrared port on the VRC-400 is said to
have an operating distance that varies depending on different manufacturer's
devices. I had no problem controlling the TV from 15 feet away.
So far, I am having a mixed reaction to the VRC-400. On the one hand, it
appears to be a very well made remote with a catchy gimmick. On the other hand,
it is frustrating that not only could I not program it to work with our DVD
player, Steve (the A/V guru in our household) could not either. I am still
waiting to hear from customer support – but as soon as this issue is hopefully
resolved, I will post my results.
Price: $49.99
Pros:
Universal remote consolidates your remotes or replaces old damaged ones
Voice command might be very useful for the visually impaired
Cons:
Just because your brand's code is listed does not mean you will be able to get
it to program…
The stand's rubber feet will leave skid marks on light surfaces
Product Information
Price:
49.99
Manufacturer:
Pogo! Products
Pros:

Universal remote consolidates your remotes or replaces old damaged ones
Voice command might be very useful for the visually impaired

Cons:

Just because your brand's code is listed does not mean you will be able to get
it to program...
The stand's rubber feet will leave skid marks on light surfaces