We use affiliate links. If you buy something through the links on this page, we may earn a commission at no cost to you. Learn more.
Product Requirements:
Sony CLIÉ PEG-NZ90 / PEG-NX80V /
PEG-NX73V / PEG-NX70V / PEG-NX60, a wireless router, requires 118K RAM
It didn't take long for the CLIÉ NZ90 became my "daily driver."  I could
go on and on about what makes this PDA work so well for me, but instead I am going to
focus on the NZ's wireless capabilities for this review.
As most of you know, the NZ90 comes with built in Bluetooth as well as both a
Memory Stick and a Compact Flash slot. The CF slot, with the addition of the
EruWare driver can be used for
storage, but it was originally intended to house the
Sony PEG-WL110 Compact Flash
wireless LAN card.
Shortly after I purchased my NZ, Brando
sent me a WiFi card from his store. As much as I liked my NZ before and as good
as my user experience was already turning out to be, the addition of this card
was what put this PDA on my short list of favorite PDAs ever.
It should go without saying that in order for a wireless card to work on your
PDA, you must be in an area offering wireless 802.11b access. I have my DSL modem hooked
up to a wireless router, so that is my access point.
When you purchase this WiFi card you will receive the card itself, a small
plastic storage box, and the CD driver that must be installed on your CLIÉ via
hot-sync. After installing the driver, you simply remove the plastic CF slug at
the bottom of the NZ and insert the card. Obviously on different CLIÉs the CF
slot will be in a different location, so keep that in mind.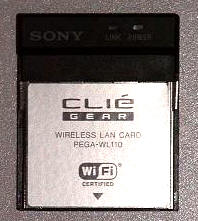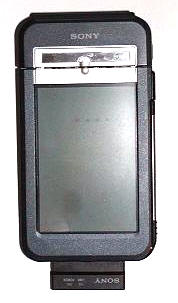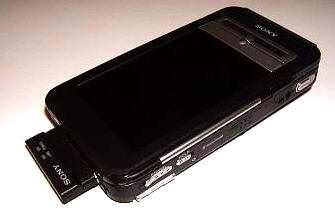 Set up on the CLIÉ is easy: After installing the driver, you go to
Preferences, select Network from the pull-down menu, and choose
Wireless LAN. Tap Details, and then make sure that Infrastructure
is checked. This is where you can also name your Profile. Pressing Advanced
Setup allows you to check additional items.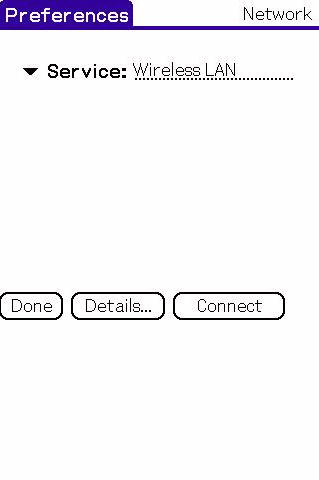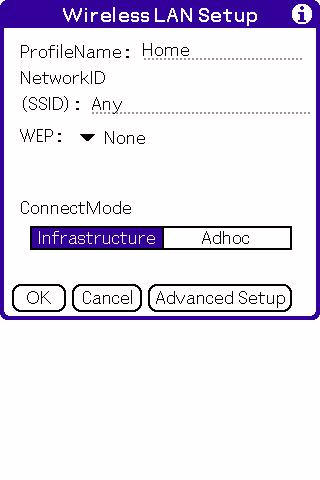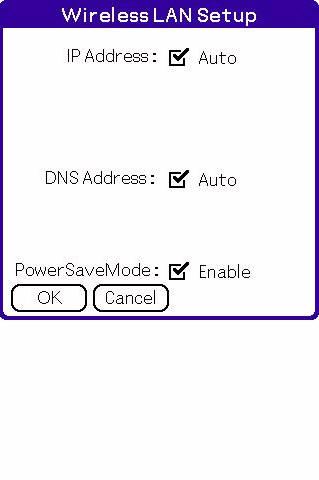 Once you have completed this setup, you now have a wireless profile. There
are some additional steps you may have to take depending on your network and its
level of encryption, but my set-up was quite easy. After entering these items I
hit connect, and then I was online. ☺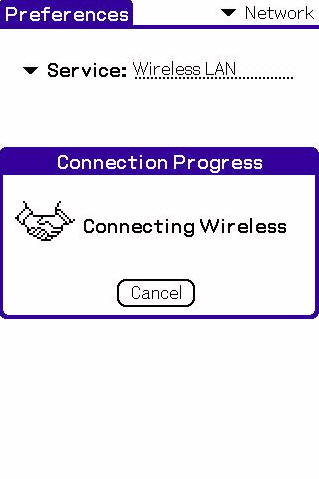 Okay, so you have the card working – now what?
Well, you can check your e-mail, as I am doing here with the CLIÉ Mail
program that came bundled with my NZ…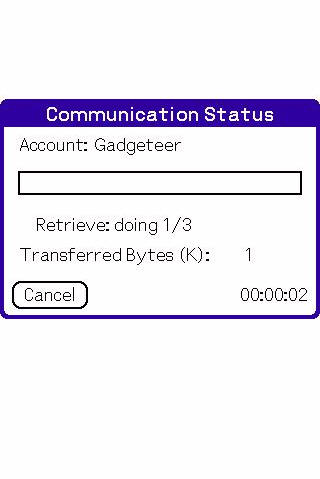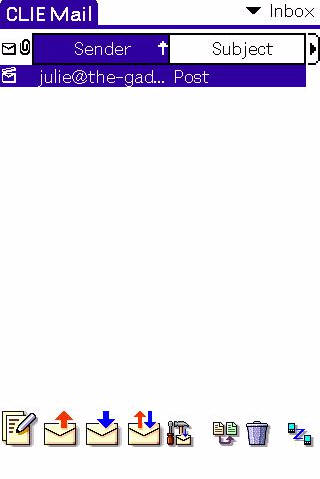 You can surf the web, as I am doing here with NetFront, the browser that came
with my NZ…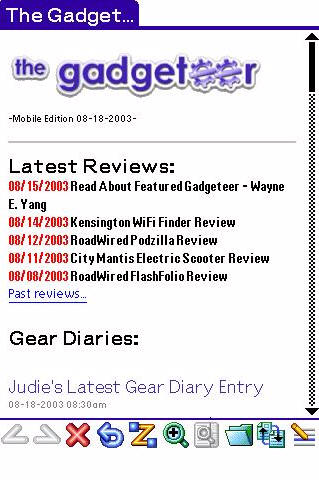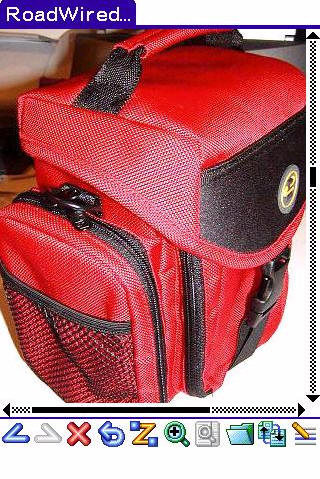 Or you can chat wirelessly with your friends. I use
VeriChat, which allows me to check my
Yahoo, MSN Messenger, ICQ, and AIM instant message accounts…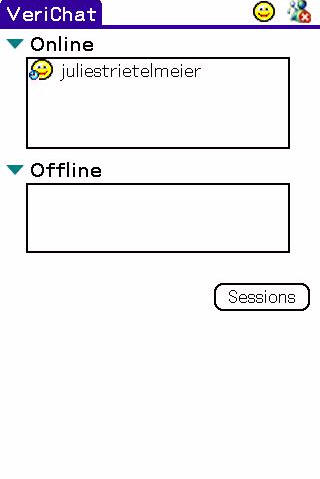 You can even sync your CLIÉ to your PC wirelessly if your PC is connected to
a wireless network…unfortunately, for safety reasons mine isn't, so that is
the one feature I didn't test.
The LAN card pokes out about 0.75" from the bottom of the NZ, but does not
affect the CLIÉ's ability to sync or charge in the cradle. Most of the cases
available for the NZ are incorporating a slot specifically for this card,
so the location is no hardship.
There are two lights on the card that should be solid green when you are
connected. The first is a power light (which shows the card is on and receiving
power, the second is a link light that displays that you are receiving a
wireless signal. The link light will blink green when you first connect or when
your signal is weak. This light will go dead if the signal is non-existent. The
only thing I think is missing is an actual software product that shows the
signal strength.
The WL110 is billed as 2.4GHz, but of course it's ability to get a signal
will be determined by where you have your wireless router placed and how strong
its signal is. I was able to get good reception throughout most of my house and
through as many as three walls (almost 30 feet) – which was better than I got
with the Tungsten|C – so I am not
complaining. Those of you that are lucky enough to work in an industrially wired
for WiFi area will most likely be very pleased with the card's reception. Those
of you that would like to surf at your local "hotspot" should also be
satisfied
with the reception.
Overall, I am extremely happy with the Sony PEGA-WL110. It has been a
wonderful addition to my CLIÉ and has completely enhanced my ownership
experience. If you are interested in accessing 802.11b wireless networks your
CLIÉ, and you have the necessary CF slot, then this is a great solution.
The Sony PEG-WL110 Compact Flash Wireless LAN Card is available from
Brando, and other
retailers.
Price: $149.99 MSRP
Pros:
Wireless access for your CLIÉ that is easy to set up and easy to use

Cons:
Expensive
No software product that shows actual WiFi signal strength
Product Information
Price:
149.99
Manufacturer:
Sony
Pros:

Wireless access for your CLIÉ that is easy to set up and easy to use

Cons:

Expensive
No software product that shows actual WiFi signal strength