We use affiliate links. If you buy something through the links on this page, we may earn a commission at no cost to you. Learn more.
One of the best things about being a Gadgeteer is that I get to play with
some of the coolest accessories that come onto the market, but then sometimes
that can backfire. For instance, right before we took our
Spring Break trip to Scotland,
I was sent the new Tom Bihn

Smart Alec bag with the

Monolith laptop protector insert. No sooner was I was admiring the clean
lines of the daypack and thinking how handy it would be for the trip, when my
thirteen year old daughter, Sarah, started giving me the hard-sell…
"Mom, remember how I told you that I need a new backpack…and it needs to be
bigger than the one I have now."
"Mom, the straps on that bag are more padded than my Jansport, and you know
how I have to carry so many books. That's really bad for my back."
…and then of course the clincher, "Mom, you already have a computer
bag!"
I mean, as a parent, what are ya gonna do? She did have several good points:
This bag is bigger than the one she already has, the straps are better padded (1/4"
thick!), and I do already have a bag of my own. In further
discussion, she also revealed that the looks of the bag were right up her alley.
Personally, I have to agree with Sarah, in that I think this is one of the
best looking backpacks I have ever seen. Instead of having an exterior cluttered
with pockets and zippers, the designers at Tom Bihn decided to keep the outside
as clean and streamlined as possible. The Smart Alec is available in solid
black, black with grape, black with crimson, and black with charcoal. I received
the black with crimson, which is absolutely beautiful. Amazingly enough, there
is no exterior branding on the wide back of this daypack. Instead, there is just
a small Tom Bihn patch on the inside mouth – only visible when the bag is
unzipped.
Sarah, in all her 13-year old glory, has already decided that this wonderful
open area on the back of the pack will be perfect for attaching some of the
embroidered patches we picked up for her in Scotland.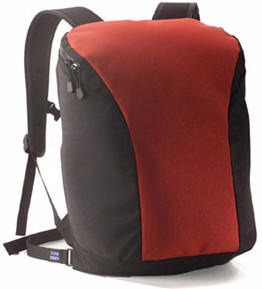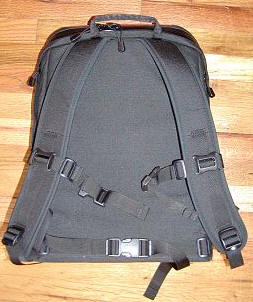 The exterior of the Smart Alec is composed of 1000 denier Cordura and 1050
ballistic nylon. It is water, dirt, and scuff resistant – which I can personally
attest to. The daypack measures 18.5" (47cm) high x 11.75" (30cm) wide x 7.75"
(20cm) deep. According to the Tom Bihn website, this translates to 1475 cubic
inches, or 26.16 liters. What that means to the end-user is lots of room for
those with lots to carry!
Never miss one of our posts again. Sent MON, WED, and FRI with the latest gadget reviews and news!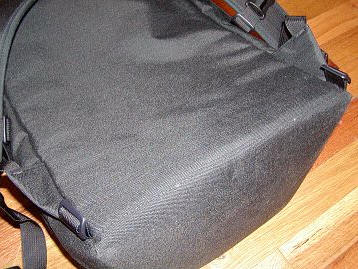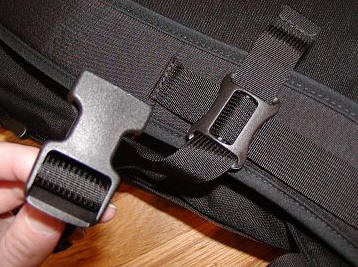 There is an extensive system of removable sternum and waist straps for those
that enjoy that type of extra support and security. Since Sarah prefers just the
shoulder straps, I was able to easily remove the extras. As with the
Tom Bihn ID bag I previously reviewed,
the straps came off neatly and could go back on should she ever change her mind.
Here you can see the back-side with the sternum and waist straps removed. The
shoulder straps are completely adjustable so that you can obtain a comfortable
fit, no matter how short or tall you are.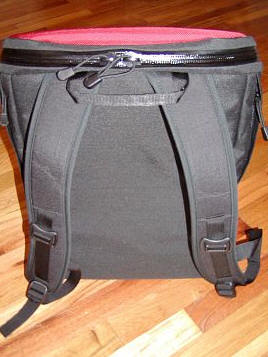 On either side of the bag, there is a deep zippered pocket. Were I using this
backpack everyday, it would be crammed with cables and other loose items. Sarah
uses it to store her markers and pencils.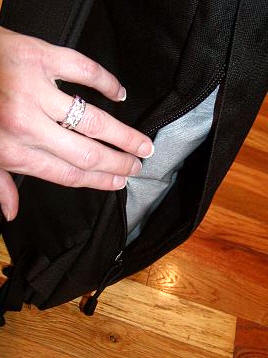 The zippers on the bag are of the highest quality, Tom Bihn uses
#10 water-resistant zippers on main compartment and #9 YKK
zippers on the side pockets. Every zipper has a quality pull attached to its
end.
Unzipping the double pulls at the top of the bag reveals a wall of pockets!
You would never guess when looking at the outside of  the Smart Alec that
the inside would be so well organized!  On the wall, you will find 5
pockets: one large enough for a PDA in a case, one for a cell phone, and two pen
pockets. Underneath these is a nicely sized pocket that could hold a CD player
or other similarly sized item.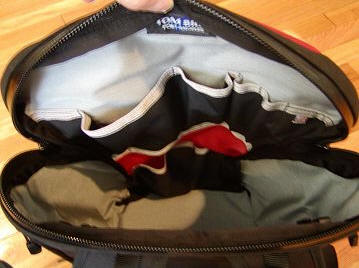 In this configuration, the Smart Alec is already one of the nicest and
streamlined day packs I have seen yet. But if you have a laptop that needs
transporting, you will really appreciate what makes this bag shine…
Along the back wall of the SA is a strong nylon "ribbon", for lack of a
better word. There are clips affixed to the ribbon that attach to a similar
ribbon on the back of the

Monolith vertical laptop bag. When attached, the Monolith is secured to the
padded back wall of the Smart Alec.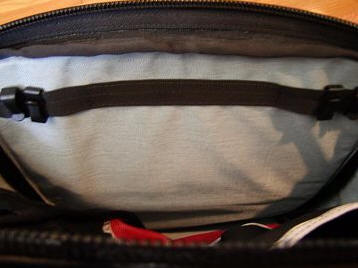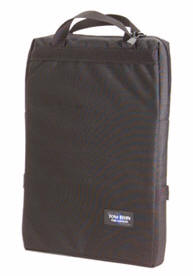 I was sent the #2 Monolith, which is easily big enough to carry the
Gateway
DS Solo 9550 XL or other similarly sized laptops. This bag is made of 500
denier Cordura. It is tough, über-padded,
and while I wouldn't recommend slinging any backpack around that was holding a
laptop – if anything could protect a laptop in such a circumstance, it would be
this bag. The Monolith can also be carried separately by the two loop handles at
its top, and it zips securely shut with two #9 YKK zippers. Each zipper has a
quality pull attached to its end.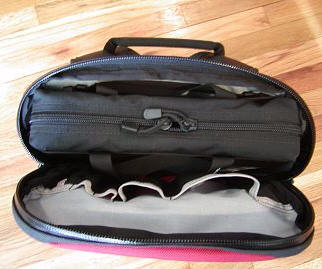 Now, as you can see, adding the Monolith to the inside of the Smart Alec does
cut down quite a bit on your interior room. But since the Monolith is removable,
you don't always have to leave it in – unless you are always carrying your
laptop.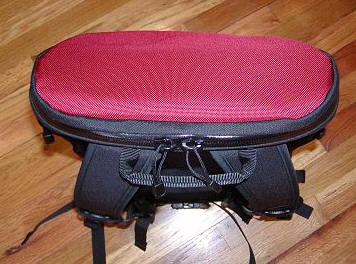 The only, and I do mean only, real quibble that I can find with the
Smart Alec is that the padded handle on the top still feels a little bit anemic.
I like a thicker padded handle because I like to be able to switch between using
the straps or the handle – depending on how heavy the bag is and how badly my
shoulder is hurting after a long day. Otherwise, this is easily one of the
best day packs I have ever come across. Not everyone will even care about
the padded handle issue – so I almost hesitate to list it as a "con," but since
this is my review and a feature I prefer, I will mention it.
Since returning from the Edinburgh trip, Sarah has been carrying this as her
school back-pack. She is extremely rough on bags, and it is normal for holes to
"magically" appear in as short a time period as a week, under her
"normal" usage. I am pleased to report that the Smart Alec may be a little bit
broken in, but it is certainly holding up well: no scuffs, tears, or other
"funky" spots, as of yet. If you are a parent, or if you just happen to be as
rough as a teenager on your gear, I know you will appreciate that.
Price: $95 for the Smart Alec backpack, $40 for the
Monolith Insert
The Smart Alec is available in solid black, black with grape, black with
crimson, and black with charcoal
Made in Port Angeles, WA, U.S.A.
Pros:
Extremely well made
Very padded shoulder straps
Lots of interior pockets
All zippers have pulls
Ability to add a "Monolith" insert to transform into a laptop bag
Added stability of  removable sternum and waist straps
Cons:
Bag has no interior padding except for it's rear wall
I wish the top handle was better padded
Product Information
Price:
95.0
Manufacturer:
Tom Bihn
Pros:

Extremely well made
Very padded shoulder straps
Lots of interior pockets
All zippers have pulls
Ability to add a "Monolith" insert to transform into a laptop bag
Added stability of removable sternum and waist straps

Cons:

Bag has no interior padding except for it's rear wall
I wish the top handle was better padded