We use affiliate links. If you buy something through the links on this page, we may earn a commission at no cost to you. Learn more.
Product Requirements:
Device:
iPAQ 38,and 3900 series Pocket PCs
Now here's an interesting case for the iPAQ, the
Belkin Flip-Top Hard Case. This case offers
something that no other hard cases (that I've seen to date) have to offer. A
flip top design with a pop up stylus holder. Made of ABS plastic, with a
metallic looking finish, the Flip-Top is compatible with the 3800 and 3900
series iPAQ Pocket PCs.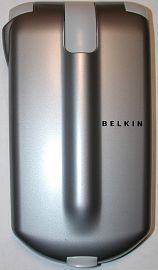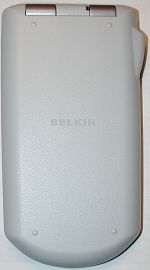 The PDA is easily inserted into the case and is held there securely.
Unfortunately, the plastic that encases the PDA, also covers the reset switch,
SD card slot and more importantly, the serial port. To sync and charge, you'll
need to remove the iPAQ from the case.
This case is also quite a bit more bulky then other hard cases available for
the iPAQ. Although it doesn't add much to the width of the PDA, it is quite a
bit longer. The plastic is pretty sturdy though and would probably withstand
back pocket usage for most people (if it would actually fit in your back
pocket).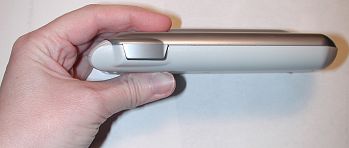 That's the bad. The good is the fact that this case totally encloses the PDA
when the cover is shut. As such, it should do a good job protecting the iPAQ
from dust, dirt and everyday abuse. The cover is held closed by a plastic latch.
This closure method is quite secure and would not come open on its own no matter
how hard I shook the case.
When opened, you have excellent access to the screen and buttons. Game
players will not feel cramped at all. They may feel a little distracted by the
stylus pointing up at them though.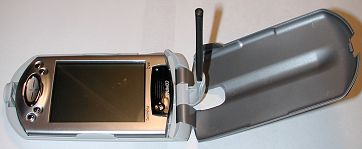 Never miss one of our posts again. Sent MON, WED, and FRI with the latest gadget reviews and news!
A plastic stylus holder is built into the hinge of the Flip-Top case. When
the cover opens, the stylus pops up ready to be retrieved and used. When the
cover is closed, the stylus folds down to rest on the front of the PDA. No
worries though, the stylus does not touch the screen.
The Flip-Top is an ok case. It isn't one that I would typically use as
my everyday case, but I would use it as a travel case to protect my iPAQ while
in another bag. If you don't mind the bulk and the fact that you have to remove
it to sync/charge, then you might appreciate its other features.
Price: $29.99
Pros:
The iPAQ is completely enclosed when cover is shut
Nifty stylus pop up design
Cons:
Must remove from holster to sync/charge with cradle or cable.
Reset switch not accessible
SD card slot not accessible
Bulky
Product Information
Price:
29.99
Manufacturer:
Belkin
Pros:

The iPAQ is completely enclosed when cover is shut
Nifty stylus pop up design

Cons:

Must remove from holster to sync/charge with cradle or cable.
Reset switch not accessible
SD card slot not accessible
Bulky