We use affiliate links. If you buy something through the links on this page, we may earn a commission at no cost to you. Learn more.
Product Requirements:
Device:
Any item (smaller than 7" x 10" that is not water
resistant)
I like to read e-books in my hot tub.
Sure, there is always some nervousness as I hold my PDA above the water level,
my hands getting sweaty, my arm starting to relax…
Am I making any other Gadgeteers out there a little nervous? Good, as water is
about the worst enemy we have…none of our tools (they are not 'toys' remember?)
are friends of old H20…until now.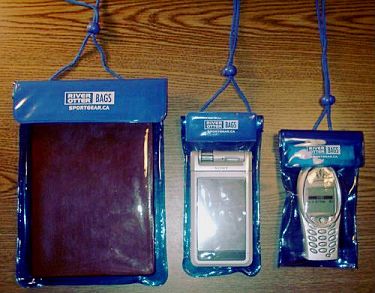 After sliding my Clié into a River Otter Bag, I can drop that guy right into
the water.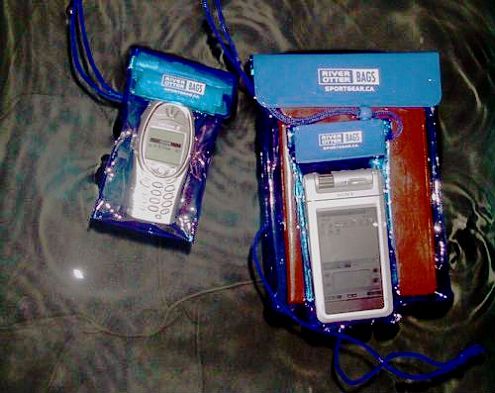 Sportgear.ca offers the River Otter Bag in four different sizes;
ROP1 (3/34" x 6 1/4" x 1)
ROP2 (3 3/4" x 7 1/2" x 1)
ROP3 (7" x 10" x 1)
ROP4 (10" x 14 1/2" x 1)
I was sent the first three versions of this bag for evaluation – the ROP4
appears to be for documents and maps…though I would love to see of my Dual USB
iBook fit in there…
All of the River Otter Bags seal in the same manner: they have a series of three
zip-lock closures, followed by a Velcro flap. A cord (headphone, power, or
otherwise) can be fed through this system so that you can listen to Vivaldi at
the bottom of the Atlantic, or charge your IPAQ while tackling Colorado white
water…ok that might be a bit much – but you can listen to mp3's in the rain
without fear of frying your device.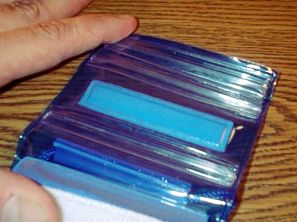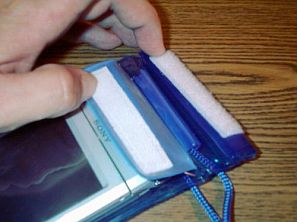 The bags also include an integrated lanyard to hang your items from your neck
or tie them down.
Okay, enough of the background…did they work?
I popped my cell phone into the ROP1, my Clié NR into the ROP2 and a
leather-bound journal (it was the only thing I had in that size-range) into the
ROP3, held my breath, and dropped them all into my hot tub…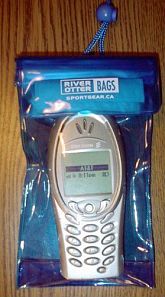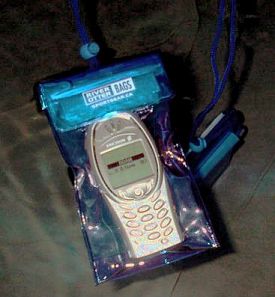 Everything was functional within the bag, buttons could be pressed, icons tapped,
but graffiti was pretty useless and I thought that prolonged writing would wear
through the bag and let the water in…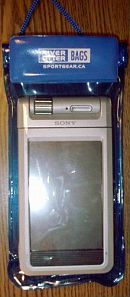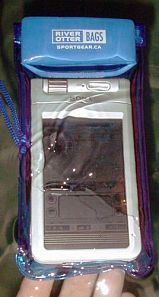 After some tub-time, I removed all of the bags and inspected the contents…my
book had some beads of water on the cover, but the phone and PDA were fine.
After some investigation, I saw that the case had not been adequately sealed by
yours truly…if you have one of these bags, take the time to securely fasten the
zip-lock seals individually, as rushing through it can have some negative
consequences.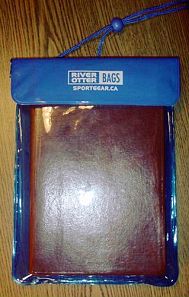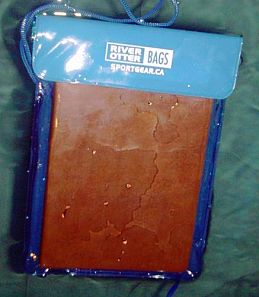 So, do the Otter River Bags do what they say? I have to say yes…and given the
price point, they might be seen as an invaluable addition to the "case drawer"
of any serious Gadgeteer. The real problem I saw with these bags was that I had
virtually no use for them…I don't encounter too much water on the drive to
work, or the drive from, or mowing the lawn…
 
Price: $5.95 (ROP1 and ROP2) or $7.95 (ROP3)
Pros:
Keeps whatever you put in it dry
Inexpensive
Limited usability while in case
Cons:
Limited usability while in case
Hard to tell if seal is secure
Product Information
Price:
5.95
Manufacturer:
River Otter Bags
Pros:

Keeps whatever you put in it dry
Inexpensive
Limited usability while in case

Cons:

Limited usability while in case
Hard to tell if seal is secure