We use affiliate links. If you buy something through the links on this page, we may earn a commission at no cost to you. Learn more.
Product Requirements:
Device:
Almost any Pocketable PDA

MegaMemo is what many Palm OS users have long wished the built-in Palm Memo
program was, a useable text editor/word processor.  Unlike the Memo
application's almost useless 4kb file size limitation, MegaMemo can write memo
files of up to 32kb. This eightfold increase in file size allows MegaMemo to be
used for reading and writing relatively long documents. 
The application consists of two parts, the Palm side
program and a desktop based conduit that can open, view and edit MegaMemo files
and export them as .txt files.  While the formatting is decidedly simple, you do
get a choice of four fonts along with the option to insert .html tags and ASCII
characters, and the option to print via Infrared if you own a copy of
Palmprint.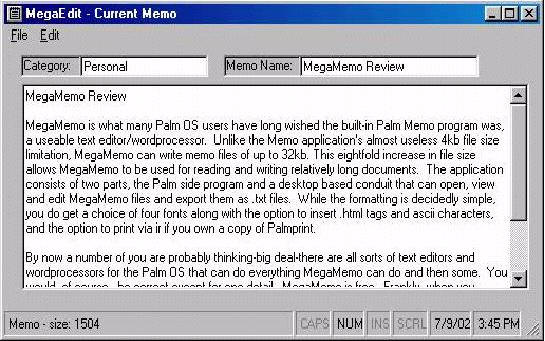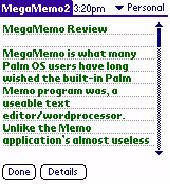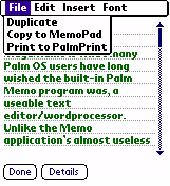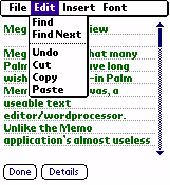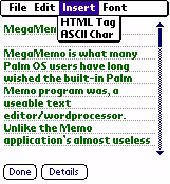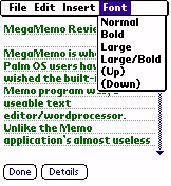 By now a number of you are probably thinking, "big
deal-there are all sorts of text editors and word processors for the Palm OS
that can do everything MegaMemo can do and then some."
You would, of course, be correct except for one detail: 
MegaMemo is free. 
Frankly, when you consider how much better this program
is than the built-in Memo program, and how effective it is for relatively long
documents (32kb seems to work out to about 25 pages for me), there is just no
reason not to give it a try.
If you are going to write documents that are very large
or if you must have advanced formatting, look elsewhere.  If, however, you just
occasionally write a long letter or paper and don't want to spend on a more
feature laden word processor, MegaMemo is perfect. 
Price: $Free
You can find

MegaMemo at PalmGear.
Pros:

Breaks the Palm 4kb memo size limit
Includes a desktop conduit
Free
Cons:

No advanced formatting