We use affiliate links. If you buy something through the links on this page, we may earn a commission at no cost to you. Learn more.
Product Requirements:
Device:
Any PDA with dimensions of 5.5" tall x 3.5" wide x
0.75" thick
 
One of the things that I have often wished for when reviewing PDA cases was
that a manufacturer, any manufacturer, would take their product to the next
level. Instead of offering just an alligator or ostrich embossed case, I
wanted to see a case that actually used the real exotic skin.
Granted, I knew that such a case would have a hefty price tag, but as with
everything else in life, I knew that there are those that would be willing to
pay for a case that special.
One of the downsides to creating such a case might be that since people tend
to swap out PDAs rather often (at least the people I am close to do, anyways),
they would have reservations about plinking down over $100 for a case that would
only work with one particular PDA. Of course, there was one definite way to get
around that limitation: by making the case as a universal pouch, or sleeve.
But, no one seemed interested in making such a product.
Until now.
Back in March, Axel Vorbauer contacted me about an idea that he had to make
cases out of just such materials. I almost did a happy-dance! His new company,
Avoglio, would offer one case style in the
beginning – a slip case that was specifically made to fit the Compaq iPAQ, but
of course similarly sized PDAs would also fit inside.
I wrote him back expressing my interest, and a couple months went by…
Recently, Axel wrote back and said that his case was ready and that the
web-site was live. I waited anxiously to see if the samples he was sending to
Julie and I would be all that I had thought they might. Well guess what? They
are.
Axel sent me the brown
alligator sleeve, and sent Julie the blue
ostrich. The only marks on either case is the embossed Avoglio name on the
bottom front. I would like to see an embossed "Alligator Skin" or "Ostrich Skin"
on the bottom rear or inside lip of the sleeve, just so that there will never be
any question in people's minds.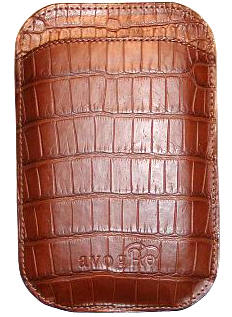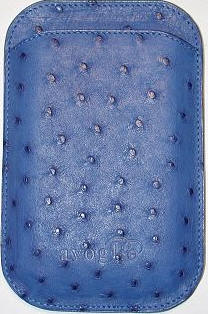 Not only are these cases made out of some of the most scrumptious smelling
leathers, the colors are simply gorgeous! You can chose from salmon, chimney
red, yellow, dark brown, black, beige, salmon, violet and silver metal. It feels
as if there is a protective plastic insert in the side that covers your PDA's
screen, so I believe that the Avoglio should protect your PDA from most bumps
and knocks.
I was surprised to see that the alligator cases were made of Louisiana skins,
and the ostrich skins were from South Africa. The cases are handmade in France,
and Avoglio itself is a German company…talk about supporting the world
economy!
Modeled after the slip-cover that used to come with Compaq's iPAQs,  the
Avoglio sleeves are simple, elegant and classic in design. They can also hold
quite a few more PDAs than just the iPAQ. I have in my possession the following:

Sony Clie NR70V,
Toshiba e-570,
Casio E-200,
Casio EM-500,
iPAQ 3835,
iPAQ 3635,

Times2 Tech Upgraded Compaq iPAQ 3670,
HP 565,
Sony Clie N710c,
Palm m505,
Palm m100 and the
Sharp Zaurus
SL-5000D. Of these, only the two Casio models would not fit in the
Avoglio!
I believe that in the future Avoglio will be offering other models,
particularly for those of us with iPAQs that usually keep them in a sleeve, but
for now only this "slim" version is available to accept "naked" iPAQs.
Here you can see both a Compaq iPAQ 3835 and a Sonly Clie
NR70V in the Avoglio sleeve. A perfect fit for both PDAs in the same case!
The only thing that I might like to see offered that isn't, would be the
option to get the "ridge-back" alligator skin. My alligator case is made from
what I believe to be a "belly" skin, so it does not have quite as much texture
as I would like, if I could design my "perfect" sleeve. This is totally a
personal preference though, as I realize that the majority of people will want
the smoother skin so they can easily tuck the case in a suit pocket.
Of course you won't be able to sync or charge your PDA while it's in the
Avoglio and when you remove your PDA it will basically be "nekkid," so if these
are issues for you, then this case may not be a good idea. Otherwise, I like how
I can just slip my Clie inside and then use it unencumbered when I am actually
entering data.
If you happen to work for (or own) a company that is looking for the ultimate
employee or customer gift – check this out: Avoglio also does

corporate sales, and will even emboss your company's name as well as allow
your choice of custom color when you order 10 or more.
Overall, I think that the Avoglio is a winner. These cases appear to be made
well enough that they should last forever with normal use…which is a good
thing considering that you will almost always be able to keep putting your new
PDA in this same case as you upgrade. Price-wise, I think these sleeves are
reasonable for what they are made of, and I think they are a good value for your
money. Look at it as the last case you will ever need to buy.
Price:  Alligator €179/$175, Ostrich €159/$155
, with free shipping until July 20, 2002
Available in salmon, chimney red, yellow, dark brown, black, beige, salmon,
violet and silver metal
Pros:

Elegant and classy sleeve in real exotic skins
Beautiful colors and textures
Excellent craftsmanship
Can be used with a variety of PDAs and possible future PDA purchases you may
make
Cons:

Must remove PDA to sync/charge
PDA is essentially "nekkid" when outside of the sleeve – if you are klutzy, this
may be a very bad thing…