We use affiliate links. If you buy something through the links on this page, we may earn a commission at no cost to you. Learn more.
Palm m500/m505/m515 Elite Case w/ Belt Clip
Product Requirements:
Device:
Palm m500, m505, m515
The Case Techworks Palm Elite case is almost an exact replica of
Vaja's #745
case. Same leather colors, same slipper design, and available with or without a
belt clip. With a quick glance, you might easily mistake this less expensive case
for the $70 Vaja. But, once you take a closer look, you'll definitely see that
you get what you pay for.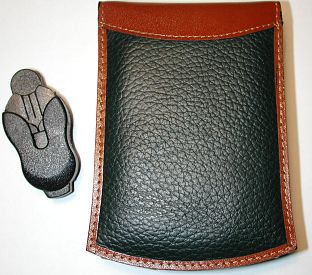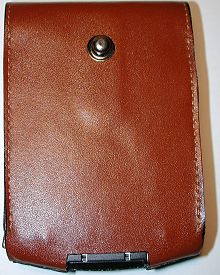 The Elite case is made of a stiffer, thicker leather which makes it appear to
be a bit 'cheaper'.
I used a Palm m505 to review with this case. It fit just fine inside the
leather holster portion. One large cutout allows easy access to the screen and
application buttons.
The best things about this case are: the storage in the screen cover. There
are 4 SD slots, 2 business card slots and then one larger slot behind all of
them. Another plus is the ability to sync and charge while in the cradle. 

The worst aspects about this case are: the fact that Velcro is used to hold
the cover closed. But what is worse is the fact that the Velcro on the case I
had to review didn't even hold it closed. It kept popping open… and this was
with all the cover slots empty… I really think a tab/snap method should have
been used instead. Another minus is the fact that the burnished edges feel rough
and are a shiny black which looks gaudy. Also, there isn't an access hole on the
back of the case for the reset switch.
Never miss one of our posts again. Sent MON, WED, and FRI with the latest gadget reviews and news!

This case is relatively inexpensive, but as is, I don't feel that I can
recommend it.
Price: $39.95
Pros:
Ability to sync / charge with cradle while in the case
Lots of card slots in cover
Cons:
Cover doesn't stay closed
Burnished edges feel rough and look cheap
Compaq iPAQ 3600/3700
Duo Case w/ Belt Clip
Product Requirements:
Device:
Compaq iPAQ 3600, 3700
The Case Techworks Duo case for the Compaq iPAQ with CF sleeve, Silver Slider
sleeve or without any sleeves is a leather case that surprised the heck out of
me! Upon first glance, it looks like a Vaja clone that has been made for the
naked iPAQ. The version I reviewed was a black faux crocodile case with belt-clip. I couldn't quite figure out why the case was named the Duo case, so I
looked it up on their site and found that it was supposed to work with the CF
sleeve. I kept thinking that there is NO way that this case can accommodate the
CF sleeve as it was already a very snug fit with the naked iPAQ that I was using
with it. I was really close to emailing them to tell them that they sent me the
wrong case when I decided to pull on the sides. That's when I found out that
they stretched! There must be a piece of heavy duty elastic sewn into the back
of the case (you can't see it) which allows you to stretch the case to
accommodate the CF or SS sleeves.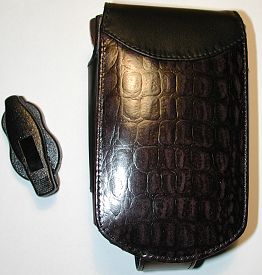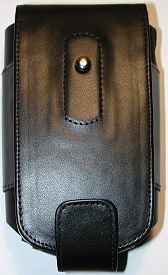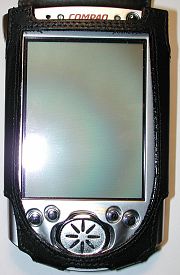 It takes a bit of tugging to get an iPAQ with CF sleeve into this case, but
once you do it works fine (if you don't mind the bulk). Even the snap tab in the
screen cover can pull down to allow it to snap on the back of the thicker case.
Pretty nifty!
| | |
| --- | --- |
| [iPAQ with CF sleeve] | [iPAQ naked] |
One large cut out in the holster portion of the case gives you access to the
screen, application buttons and joy pad. The leather is also cut away from the
bottom sides of the case to allow you to sync and charge in the cradle.
The materials that make up this case are definitely not the best leather. It
reminds me more of vinyl than cowhide. But, for $40, this is a clever case that
easily morphs when you need to use your CF sleeve.
Price: $39.95
Pros:
Works with a naked iPAQ as well as with the CF or Silver Slider sleeve
Syncs / charges with cradle
Cons:
Leather looks cheap

Sony Elite 700 Case w/ Belt Clip
Product Requirements:
Device:
Sony Clie 710c
This Case Techworks product is made to specifically fit the Sony Clie 710c.
It costs the same as the previously mentioned cases, and I have to agree with
Julie that for the price it is not the best value.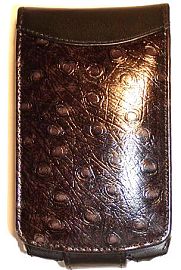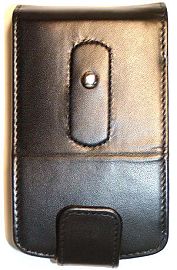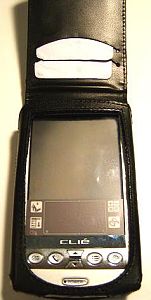 Like the other versions mentioned, this case is a slipper style with two
credit card slots, and it looks like a Vaja imitation, even down to the
reinforced with plastic flip-lid. The Elite 700 is supposed to be available in
black, cream/tan, and tan/tan, but for some reason the case I was presented with
is a poorly-done black imitation ostrich.
The "bumps" that are supposed to make up the ostrich pattern appear to have
been shoe-polished black and they have been rubbed somehow which makes them
appear off-purple: not a pretty effect.
The holster is lined in nylon, and you can see in this
picture that the screen is not perfectly aligned with their cutout. In fact,
this case "gaps" around the sides of my Clie and it was difficult to snap
closed once the Clie was inserted. You can see in this picture that the snap
is straining to keep the flip-lid closed.
One interesting feature of this case is the built-in easel.
You can flip back the bottom half of the case in order to sync in the
cradle, or you can stand your Clie up by using the extra flap as an easel.
I suppose the saving grace of this case is that it does cover your PDA quite
well, and the cover is very well reinforced and padded.
This leather feels cheesy and smells a bit sour. I realize that there has to
be a level of product available for those that aren't interested in spending
over $50 for a PDA case, but this is definitely not the case I would choose,
even in that situation.
Price: $39.95
Available in black, cream/tan, and tan/tan
Pros:
Well padded cover
Syncs / charges in cradle
Cons:
Leather looks cheap and smells bad
Case is expensive for quality received
Case is poorly fitted for intended PDA
Product Information
Price:
39.95
Manufacturer:
Case Techworks
Pros:

Well padded cover
Syncs / charges in cradle

Cons:

Leather looks cheap and smells bad
Case is expensive for quality received
Case is poorly fitted for intended PDA