We use affiliate links. If you buy something through the links on this page, we may earn a commission at no cost to you. Learn more.
Product Requirements:
Device:
Compaq iPAQ 3600, 3700, 3800
So, you want an iPAQ PDA case that offers more protection than most… You
want something that you can stick in your gear bag or back pocket (you're going
to need big back pockets though for this case) and sit on it without fear of
crushing… You want something that also looks cool and is easy to use… What
you want is the Rhinoskin iPAQ Hardcase.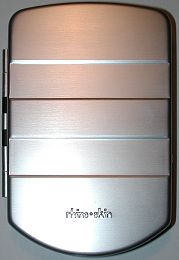 This is a molded anodized aluminum scratch-resistant case which fits the 3800,
3700, and 3600 Series Compaq iPAQs perfectly. Instead of using Velcro or a
similar adhesive to affix your PDA to the case, an interior plastic mounting
bracket is employed. This bracket grasps the sides of the iPAQ and holds it
securely in the right side of the case. The bracket is built into the hinge
which allows you to easily flip the iPAQ back and forth to aid in removing SD
cards and the stylus. I tested this case with both a 3600 and a 3800 series iPAQ
and found that both fit equally well in the bracket.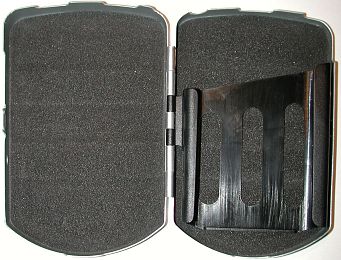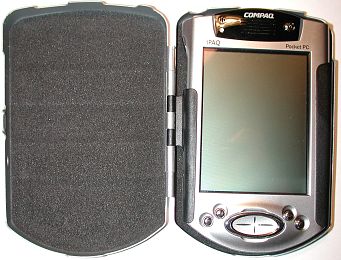 While the PDA is in this case, you have access to all its features: joy pad,
application buttons, power button, IR port etc. You can also sync with cradle
while in the iPAQ is in this case. You will have to maneuver the front and back
shells of the case in order to do this, but the point is that you can do it. The
only minor annoyances concerning accessibility with this case are that the
record button is not easily pressed, and that the earphone jack can not be
accessed while the case is closed. It really depends on the individual whether
or not these two 'problems' are important to them.
This is a book style case and as such, can only open a total of 180 degrees.
This may make holding and using the case a little uncomfortable for some people.
I prefer cases where the lid lifts up like a steno pad cover instead of opening
right to left like a book.
The interior of the case is lined in Neoprene which is supposed to help cushion
the iPAQ in the event of a drop. I'm really not sure how effective the thin
layer of Neoprene would be in such a situation though…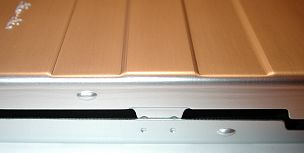 The case is held closed with a press fit latch. Unlike some of Rhinoskin's
Titanium cases, I didn't have any problems opening this case. I should point out
that it is possible that over time the nubs on the latch may wear down with this
type of closure method.
The Rhino iPAQ Aluminum Hardcase isn't exactly sleek… It does add some bulk to
your PDA:
Size: 5.3" x 3.3" x 0.6"
Weight: approx. 3.2 oz
The hardcase looks great and when closed, feels smooth in your hand.
Unfortunately, I did find some rough/sharp edges when I opened the case.
All in all, I think this is a nice case to use when you need more protection
than what a typical soft leather case can offer.
Price: $34.95
Pros:
Rigid crush resistant protection
Doesn't require Velcro
Cons:
Rough edges
Can't use earphone jack while case is closed
Product Information
Price:
34.95
Manufacturer:
Rhinoskin
Pros:

Rigid crush resistant protection
Doesn't require Velcro

Cons:

Rough edges
Can't use earphone jack while case is closed