We use affiliate links. If you buy something through the links on this page, we may earn a commission at no cost to you. Learn more.
Product Requirements:

Desktop:
Microsoft Windows® 95 or above; Windows® ME/2000/XP or NT 4.0 or above
10 MB free hard disk space
Microsoft ActiveSync® version 3.0 or above
Microsoft PowerPoint® 97 or above is required for slide conversion
Device:
COMPAQ iPAQ Pocket PC running Pocket PC 2000 or Pocket PC 2002
2 MB Storage Memory
LifeView's
FlyJacket i3800 is probably the hottest expansion sleeve out there for your Compaq iPAQ.
The FlyJacket is a mobile multi-purpose multimedia solution which can be integrated with a projector, VGA monitor, TV, Video, DVD, digital camera and many more.
It has a built-in Compact Flash slot, a pen-shaped remote control which can be also used as a laser pointer and finally, an additional ICAM module can turn the FlyJacket into a digital still and video camera. Although
the FlyJacket's main use is for presentation or demonstration purposes, it can be also widely used with various video sources. When using the FlyJacket you can preview video, grab "SnapShots", output the iPAQ display to a TV or VGA screen while using the internal Compact Flash slot for storing your family album and media files. Does the FlyJacket beat up the expectations? Guess you'll have to read the review…
What's in the Box?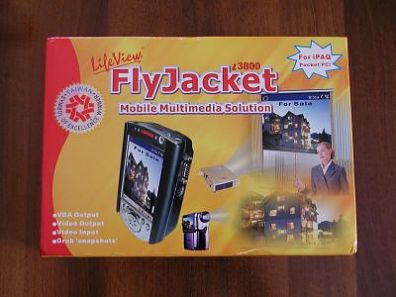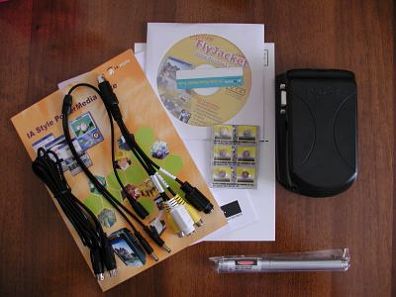 Package contains:
– FlyJacket expansion sleeve
– Pen-sized remote control/laser pointer (6 button type batteries included)
– Y-type power adapter cable
– 4-way AV cable
– S-Cable
– User Guide
– 1-year limited warranty
– IA Style PowerMedia Suite user's guide.
CD-ROM contains:
– FlyJacket drivers. (Don't forget to download new ones at LifeView website)
– LifeView PowerShow utility.
– LifeView Shadow display utility
– IA Style PowerMedia Suite software: IA Album, IA Presenter, IA Screen Mirror, IA Image Capture.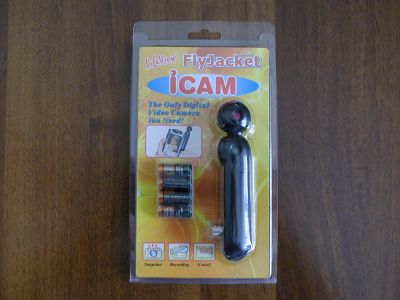 ICAM Package contains:
– ICAM camera module.
– 4 N-type batteries.

Preview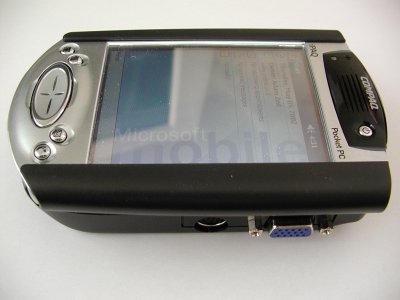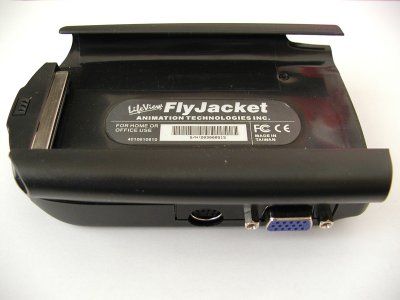 The FlyJacket expansion sleeve lies somewhere between the single PCMCIA expansion sleeve and the double PCMCIA expansion sleeve, as you can already understand, it is
anything but a sleek sleeve. Surprisingly, but with all the features inside (those will be discussed later) it weighs less than the Dual PCMCIA sleeve.
The exact dimensions are 12.8cm (W) x 8.6cm (H) x 1.7cm(D) and the sleeve weighs only 159 gr. If you are interested in a thorough
comparison between the FlyJacket and Compaq iPAQ original sleeves, it may be found here.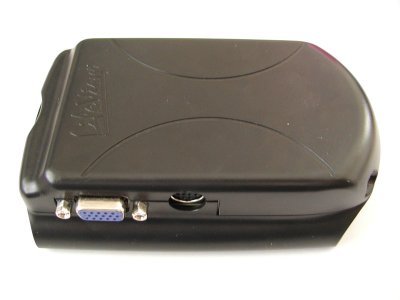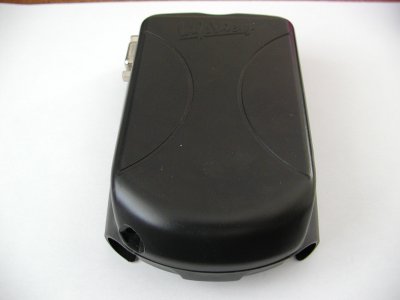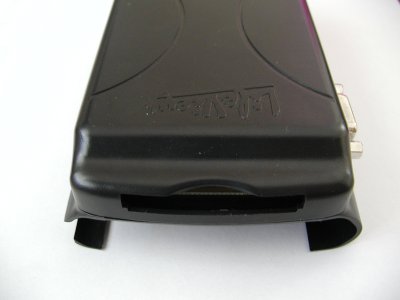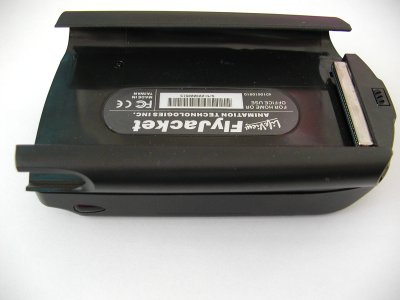 On the right side of the FlyJacket you can notice two types of connectors. The first is a typical VGA female 15 pin connector which is responsible for the video output on a VGA screen or a projector. The second connector is a special 9 pin connector where you insert the attached 4-way AV cable. On the left side of the FlyJacket you can notice
an infra red eye which gets information from the remote control. The pen-sized remote control is made of two parts. The first is a 2 button remote control which can be used during a slideshow and performs the task of Page Up\Page Down. The opposite end is equipped with a laser pointer which is a nice add-on to any presentation. The remote control\laser pointer uses 6 cell batteries (which
are included).

On the top of the unit you can find a Compact Flash slot. This is very helpful if you don't have any space left on your iPAQ or Secure Digital memory card. The card sticks out when in the sleeve, not as the usual Compact Flash sleeve. On the bottom, you
will find a charging connector to charge the FlyJacket's internal rechargeable 1400mAh battery. You may use the Y adapter which comes with the handheld to charge both the iPAQ and the
FlyJacket simultaneously. However, when keeping them attached, you may charge both, while connecting only one. Additional information may be found in the FlyJacket manual.

Setup
The FlyJacket drivers must be installed before sliding the iPAQ into the sleeve. The whole process of the installation took me less than five minutes. You may also install the IA Style PowerMedia Suite which costs nearly $55 when buying as a bunch of standalone programs. I've installed the software and it took me 2 MB space.

After ActiveSync, I slid the iPAQ inside and the FlyJacket was recognized immediately.

Each of the software titles which are included with the FlyJacket deserves its own review, however, since this is a FlyJacket review, I won't pay too much attention to the software pack. The software bundle may be divided in two. The earlier mentioned IA Style PowerMedia Suite makes the first part, while the second consists of two programs which are FlyJacket drivers: LifeView Shadow and LifeView PowerShow.
The LifeView Shadow application is responsible for the configuration of the video input. You can choose here, whether the iPAQ is connected to a VGA monitor, projector or a TV. You can configure the output resolution (640X480, 800X600, 1024X768), magnification ratio (1, 1.5, 2) and the position of the output on the screen. You may also choose whether the iPAQ will make a sound when a button is pressed on the

remote control. I usually use 800X600 resolution at 64 bit color depth, with sounds off, since usually I'm far away from the iPAQ anyway, when using the remote control. Other resolutions may not be supported by old projectors and small screen. Pay attention you can only choose the Ratio while working with TV.

LifeView PowerShow on the other hand, monitors the internal battery of the FlyJacket. This is also the program
which checks whether your drivers are installed correctly and the FlyJacket is present. If you can't enter the program and see the battery level, your FlyJacket isn't attached or something is wrong.

 
Software Bundle
The IA Style PowerMedia Suite is a special bundle available for FlyJacket users only. It consists of three IA Style programs and one IA Style special driver for the FlyJacket. The Programs are: IA Album, IA Presenter and IA Capture. I recommend downloading a new version of IA Capture (Version 2) which
gives the FlyJacket the ability of capturing video.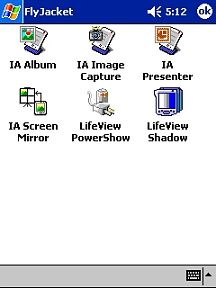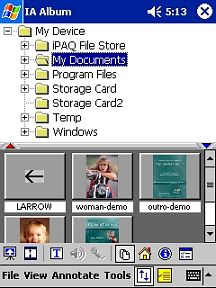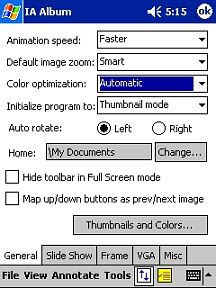 IA Album is an improved Pocket PC image viewer utility. It allows you view, organize, edit and show images quickly and easily. You may download the pictures from the PC via ActiveSync or insert a memory card, taken directly from a digital camera.
If you are interested in a screen capture utility you can find it here too, along with a nice handy utility which allows you
to frame your favorite pictures into curvy and color shapes. IA Style has an explorer based shell which makes it easy to navigate
through the pictures. You may choose to see the pictures as thumbnails or one at a time. A voice record or a note can be added to any picture to capture your
favorite moments in the best way.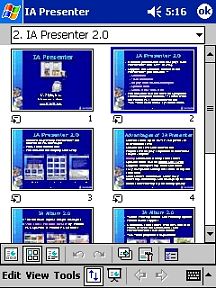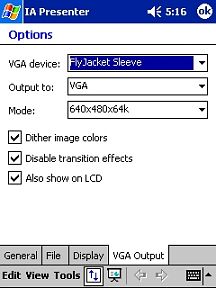 IA Presenter is IA Style's answer to PowerPoint's absence in PocketPC 2000/2002. IA Presenter comes with a desktop conversion utility which can convert PowerPoint slides via ActiveSync using the specifications you chose. Although the only thing you can choose is the resolution of the Mobile Slides, it is nice to have a small program rather
than a converter which does it all automatically. Some of IA Presenter's key features which should be mentioned are: digital ink annotation during slideshow, multiple Undo/Redo and Auto resize feature for VGA screens, when the programs detects incompatible dimensions. Some other functions include hiding slides, deleting slides, merging slideshows and preview option which
shows the actual transition effects before assigning them.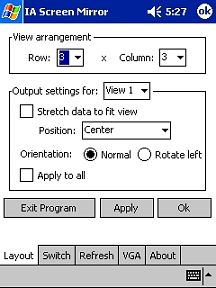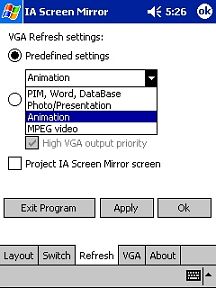 IA Screen Mirror is an improved version of LifeView PowerShow, and is responsible for the video output of the FlyJacket. This program projects the emulation of your PocketPc screen on the VGA screen, TV or projector. IA Mirror can display up to 9 multiple screens simultaneously, this allows you freeze all but one screen in a desired state and maintain one active. In addition, you may choose the refresh rates, change the output mode, choose a background and the resolution.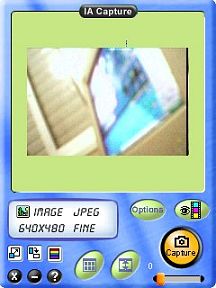 IA Capture is an image and video capture application which is designed to utilize the video input option of the FlyJacket. IA Image features a video preview area which can be expanded to a full screen, where one can see the active video stream, a capture button which allows one capture the current image or video viewed in the preview area. The program is fully integrated with IA Album, so images can be browsed, viewed and managed there.
Please notice that the FlyJacket comes with an old version of IA Capture (1.00), which doesn't allow video capture nor supports advanced image configurations. IA Capture 2, which I described is free to download for FlyJacket owners.
Presentation Setup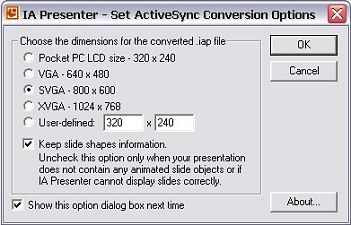 After installing the drivers, original software bundle and updated programs, and finally after charging the iPAQ it's
showtime. Before you drag and drop the presentation to your Mobile Device, you should configure the ActiveSync IA Presenter conversion program. I would recommend SVGA 800X600 resolution which is more than fine for your TV, VGA or any projector you may find. Take in mind, FlyJacket supports SVGA at 64bit depth, while at 1024X768 can only support 256 colors.
Remember the built-in Compact Flash slot? It really comes in handy now. I do have the iPAQ 3850 with a built in Secure Digital slot, however it is full with Destinator maps of Israel and other programs which were just too much for my RAM. My Sandisk 128 Ultra Flash Compact Flash did fine with my family pictures album and some presentations I dragged there after ActiveSyncing.
iPAQ 36xx/37xx owners or users who do not have a Secure Digital card, would be really happy not to place their presentations in RAM memory.
I used two TV Sets (21″ United\ 25″ Sony) and a VGA monitor (19″ MAG 810FD) while reviewing the FlyJacket. The TV sets used an additional S-Video cable I found at home. The VGA monitor didn't need anything but its own VGA cable. Laptop owners, read this twice, the whole stuff for my presentation took a medium sized pouch and included an iPAQ 3850, a FlyJacket module, a small pen sized remote control and a S-Video cable (Which is mainly used with TV sets). One more thing, now you can

forget about the boot time, the laptop battery, additional software configurations etc. Configuring a working presentation take no more than a minute, and you are on the go with a remote control/laser pointer.

Working with VGA monitor or a projector is much easier since VGA output is more customizable and the output is way better. I've been using the IA Mirror instead of the original FlyJacket driver, LifeView Shadow. You may see the results on the left. Pay attention that the output may be seen full screen, when working with landscape (normal) slides.
I've noticed a problem with FlyJacket drivers while trying to output games. I've
tried to show on screen, Tennis Addict, Soccer Addict, Pocket Bass Pro and Chopper Alley, however, neither of them was shown on the VGA screen/TV. I can't think of a reason for that.
I must say that these games were the only thing I couldn't project properly. I don't think you will have a problem using the vast majority of programs written for the Pocket PC platform, however if your main use of the FlyJacket will be with one specific utility self programmed, check it before you buy. Sometimes I
had two pictures interlaced one on the other. It was because I've used two drivers simultaneously, the LifeView Shadow and the IA Mirror. Don't use the first one and everything will be fine. I've noticed a real drop
in speed while using the FlyJacket. The reason is the drivers which are loaded each time you slide the iPAQ into the sleeve. It doesn't disturb your presentation, be sure, however if you wish to play mp3 in Media Player while the iPAQ is in the FlyJacket sleeve, forget about it. You'll be interrupted once a while.
This is the only reason I don't use my FlyJacker 24/7, since the built-in Compact Flash slot and the built-in VGA make my iPAQ an
irresistible Pocket PC.
ICAM add-on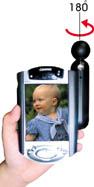 Pictures courtesy of the LifeView website.
The FlyJacket ICAM is a digital video and still camera add-on to the FlyJacket which turns the iPAQ into a low-level digital camera. The ICAM has a sleek design which hardly reminds
you of a digital camera and it gets its power from 4 N-type (LR1) 1.5V batteries. You can choose between PAL or NTSC and even adjust the focus.
The most exciting feature is the lens, which can be adjusted up to 180° in portrait mode (90° in landscape). The resolution
is similar to a cheap web camera, 0.3 MegaPixel. I can't even place it near my Olympus 2100UZ or any other semi-professional digital camera. The pictures are grainy and they have interlaced lines as you can see below. However if you do have the FlyJacket, you can pay
the extra bucks and take a fast snapshot camera for your kids. The maximum resolution can be changed between 640X480 and 720X480.
(Click the
thumbnails to see the original pictures)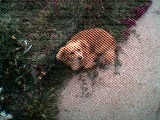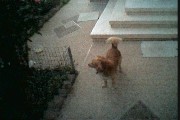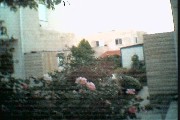 Bottom Line
The LifeView FlyJacket is definitely the most fascinating iPAQ sleeve I've ever met. Its usability is almost infinite, starting with presentations and slide-shows, video out, video in and even the add-on which makes the iPAQ a low-end digital still and video camera. If you ask me, this sleeve is not intended for everyone.
The average iPAQ user, who already has a digital camera and uses a DiskOnKey for transferring his family album, isn't one of those who will fall in love with the FlyJacket. The last are businessmen, students or teachers, anyone who needs a handy presentation device for his iPAQ, instead of taking his Laptop with him.
Let's see what we get here. The software bundle itself costs $55, if you buy it alone. A CF Expansion sleeve costs $45 more,
and the additional remote control which can be also used as a laser pointer will cost $15 more. That leaves you with the FlyJacket VGA\Video options and the whole deal costs $199. It has its cons, which can't be overlooked, but the pros make the case clear.
If you need a multi-purpose video and presentation solution, you've found it in the FlyJacket, a perfect fit for your iPAQ Pocket PC.
Price: $199
Pros: 
Built-in Compact Flash Slot
Built-in long lasting rechargeable Lithium Ion 1400mAh battery
Remote Control\Laser Pointer
VGA Output
Video Input\Output
Handy software bundle
ICAM add-on (not included) turns the FlyJacket to a video and still digital camera.
Cons: 
Slows downs iPAQ while attached. Can't play music without disturbances while slide-showing.
Somewhat heavy when compared to other presentation solutions.
Compact Flash card sticks out of the unit.
Some games can't be shown trough the VGA\Video output.