We use affiliate links. If you buy something through the links on this page, we may earn a commission at no cost to you. Learn more.
Product Requirements:
Device:
Sony CLIE T615C, T415
If you're looking for cover to protect your Sony CLIE T415 or T615C that is
both unusual and has a small form factor, the flip cover from
Xigma of Japan just might be the one for you.
Made of Napa cowhide, this cover is available in yellow, blue, red and black.
I was sent the black with blue trim version.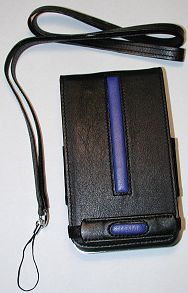 This cover has a simple design that is also unique. The CLIE slides between
two arms on either side of the PDA which hold it in place. The CLIE can slide
relatively easily between these arms, which doesn't make it the most secure
cover available. I'm not sure what the arms are made of, they were pretty
springy when I tried to bend them to make their hold stronger. You would not
want to hold the PDA by the cover alone as it could potentially slide out. For
non-extreme use, this case should be fine though.

Included with this flip cover is a leather neck strap that can be used with
the metal eyelet on the left side of the CLIE. I've never been one to want to
wear my PDA around my neck, but I guess there are people that do.
What I really like about this cover is the fact that when the CLIE is
inserted, you have very easy access to the screen, buttons, stylus, everything.
The case does not get in your way at all. The only thing that you do not have
access to is the reset switch on the back of the CLIE.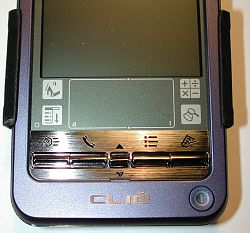 By sliding the PDA down farther between the arms, you can also sync and
charge in the cradle quite easily without needing to remove the PDA from the
cover. This is a big plus.
There really isn't much to this case. The cover portion does have some type
of stiffener to help protect the screen from bumps and knocks, but it does not
include any Memory Stick or business card slots.

The flip lid is held closed by an unusual method: an elastic band. To hold the
cover closed, you just pull the band down and around the bottom of the PDA. It's
quick and simple. The only worry I have is that the band may stretch with too
much use after time and then be worthless.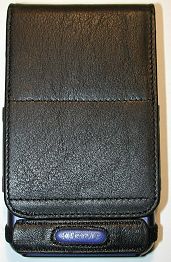 The materials and workmanship that have have gone into this case are all of
very good quality. The leather and stitching look very professional.
If you want a minimalist type case/cover that is different than most, this
one will work as advertised.
Price: $49 (includes international express
shipping)
[Many of the Xigma cases are also available in the US thru
Seidio]
Pros:
No Velcro
Complete access to screen and buttons
Can sync / charge in cradle
Cons:
Arms that hold PDA could be stronger
Reset switch not accessible
Product Information
Price:
49.0
Manufacturer:
Xigma
Pros:

No Velcro
Complete access to screen and buttons
Can sync / charge in cradle

Cons:

Arms that hold PDA could be stronger
Reset switch not accessible