We use affiliate links. If you buy something through the links on this page, we may earn a commission at no cost to you. Learn more.
Product Requirements:
Device:
Sony CLIÉ T Series PDAs
Cases for the Sony CLIÉ T615C and 415 are now starting to trickle in at a
pretty good pace. Another new case for this PDA is a slipper style case from
Case Techworks Inc. Available in black, tan with cream, and navy with cream, this case has a slight
western feel to it. I guess that shouldn't be surprising due to the fact that
the company is based out of Austin, Texas.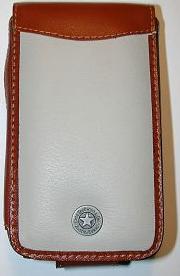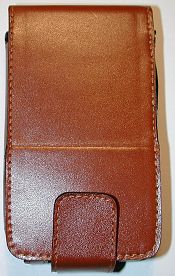 Made of leather, the PDA slides easily into the holster portion of the case.
Once inserted, you will see that there is one large square cutout for the
display, application buttons and scroll button. Below that cutout is a separate
round opening just for the power button. My review case had this cutout slightly
too high in relation to the power button. Even though the opening didn't quite
line up, I could still power the PDA on and off just fine.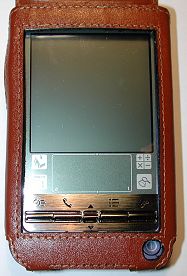 The left side of the case has openings for the jog dial, back button and hand
strap eyelet. The top of the case gives complete access to the IR port and
Memory Stick slot. The stylus silo can also be accessed, but it is a little
awkward.

The screen cover portion of the case has a protective stiffener and is also
nicely padded. On the outside of the case there is a Case Techworks logo badge
that enforces the western feel to this case. The inside of the cover has 2
Memory Stick slots as well as two business card slots. The cover is held closed
with a snap.

The back of the case also has a rigid insert in it to protect the back of the
PDA. What is unique about the back of the case is that it has a split design.
The bottom portion of the back can fold up so that you can insert the case into
the cradle for syncing and charging without having to remove the PDA. This works
really well, and I didn't have any problems getting the CLIE to sit correctly in
the cradle while in this case.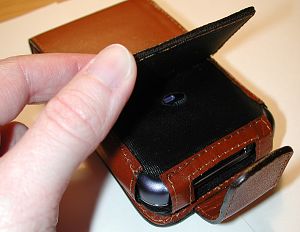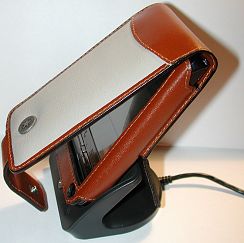 The only aspect of this split design that I don't really care for is the
satin like material that protects the back of the PDA when the back is folded
up. I have a feeling that this material may fray after time.
Overall, this is a nice looking case that gives really good protection to
your CLIE. It looks nice and the ability to sync while in the case is a major
plus. If you don't mind the fact that it does add some thickness to your PDA,
this might be the case for you.
Price: $39.95
Pros:
Good front and back protection
Ability to sync and charge in cradle
Cons:
Reset switch not accessible
Power button cutout doesn't line up correctly
Product Information
Price:
39.95
Manufacturer:
Case Techworks
Pros:

Good front and back protection
Ability to sync and charge in cradle

Cons:

Reset switch not accessible
Power button cutout doesn't line up correctly