Product Requirements:
Device:
Any PDA
An imagination is a great thing. And, you'll definitely get to exercise yours
if you decide to check out the PDA Pivot
from CyberKnight Intl. Corp. What is the PDA Pivot? Well, it is basically a
hinge that you attach to your PDA with Velcro. Doesn't sound very exciting does
it? Well, that's where your imagination comes in…
Made of a thick black plastic, the PDA Pivot is comprised of two 2.5" x 3.25"
sections that are attached at a pivot hinge point. Serrated knobs on either side
of this hinge allow you to tighten or loosen the opening / closing tension of
the two sections. From closed to open, the pivot can rotate 270 degrees.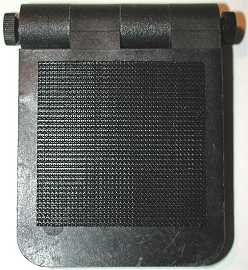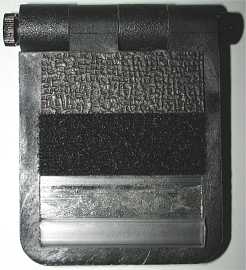 One side of the hinge has a large square of Velcro (the hook half) attached
to it. The other side has a strip of Velcro (the loop half), a strip of closed
cell foam and a plastic document clip. Still unimpressed?  Ok, just wait a
sec…
First you need to attach a square of Velcro (loop half) to the back of your
PDA. Yeah I know, Velcro is evil… But sometimes you gotta do what you gotta
do. Once you've done that, you can then affix the PDA Pivot to the back of the
PDA. At this point, it can serve a variety of purposes from a desk stand, car
dashboard stand, or
document holder, to a PDA pocket clip. It's all up to you as to what you want to do with
it. The documentation actually lists 10 different uses, with even more listed on
the CyberKnight website.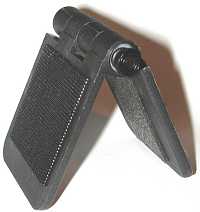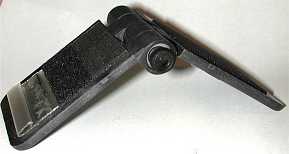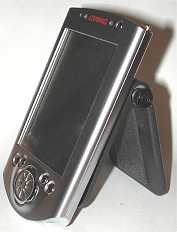 I'll admit that when I first saw this accessory, I really couldn't see myself
using it. I didn't think I needed a desk stand, or a document clip… But then, there came
a moment when the PDA Pivot was the perfect solution to problem that I just happened
to need solved. That problem was how to prop up the iPAQ while using the
Zeta Game Pad.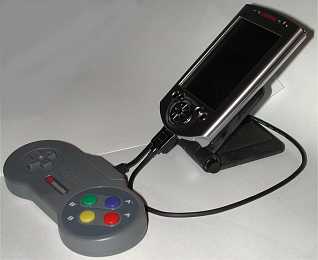 Since then, I've found myself using the PDA Pivot for non-PDA uses. One such
use is a nifty document holder. If you ever need to type something into your
computer, having the copy laying flat on a table isn't the most convenient. The
PDA Pivot can actually hold your page for you at a angle that is easy to read as
you type.
I'm sure there are many other uses for this accessory just waiting to be
discovered by someone with a little imagination.
Price: $19.95
Pros:
Many uses
 
Cons:
Attaches to PDA with Velcro
Product Information
| | |
| --- | --- |
| Price: | 19.95 |
| Manufacturer: | CyberKnight |
| Pros: | |
| Cons: | Attaches to PDA with Velcro |