We use affiliate links. If you buy something through the links on this page, we may earn a commission at no cost to you. Learn more.
Product Requirements:
Desktop:
Windows 98, NT 4.0, Windows ME, Windows 2000, or Windows XP
Judie's comments in BLACK       
Julie's Comments in BLUE
There are a couple of features that we as the PDA buying community have
learned to expect when we purchase a new device. Then there are those features that can
differentiate between a good device and a "dream machine."
For the Palm sector, a good device would probably include: 8MB of RAM,
a color screen and a memory expansion card slot of some kind. A dream
machine might have: 16MB RAM, a 16K high resolution screen, a memory slot of some
kind, a built-in camera, multi-media capability, and a soft
graffiti area. (Hmmm, sounds like I am describing the new
CLIÉ NR70V,
doesn't it?)
Is that why we BOTH pre-ordered them? :o)
In the Pocket PC community, a good device would include: 32MB RAM, 16MB ROM, a
16K high resolution screen, multi-media capability, and a built-in Compact Flash
(CF) or Secure Digital (SD) expansion slot. A dream machine might include:
a minimum of 64MB RAM, 32MB ROM, a 16K high resolution screen, multi-media
capability, two built-in expansion slots, and a small form factor
– preferably with a built-in screen cover. Of course, adding "always on"
CDMA wireless capability without compromising battery life would truly bring such a device to
"dream machine" status – at least for me, but I digress…
My dream machine would be the Toshiba e570 with the
battery life of my old Palm III, 128mb of RAM, 8mb of non-volatile RAM, built-in
Blackberry / i705 wireless features and a flip lid. :o)
Okay, if we are going to go there: Right now my dream machine would be
the new Clie NR70V…running Pocket PC 2002! But what are the chances of that
happening?;0)
While the Hewlett Packard Jornada 560 series actually comes quite close to
fulfilling many of the basic points on my "dream machine" list, there is one
area in which it falls slightly short: a second built-in expansion slot. Similarly, there are
many ways that the Compaq iPAQ 3800 series could have been a contender – but for
the lack of a second built-in expansion slot and an integrated screen cover. Manufacturers of both of these
devices have certainly come out with expansion solutions for their respective Pocket PC
models, but
the fact of the matter is that by adding their versions of expansion that
utilize "sleds" or "sleeves,"
you will also add to the original device what can amount to substantial weight
and bulk.
I agree… and that's the one reason why I've never
been completely in love with the iPAQ. Besides increasing the size of the
device, if you use a sleeve, you need a different case to carry the PDA in than
when you just use it without a sleeve. 
Casio hit a home-run with me, as many of you will recall, when they
released their latest Pocket PC, the E-200. Sporting all of the requirements on my list
(except for the built in screen protection), the E-200 seemed like a true
solution for those of us that can't leave home without two memory cards – or a
memory card and some other after-market add-on that fits in either the SD or CF slot.
Julie and I were pleased when we were offered the choice by Microsoft of
receiving either a
Compaq
iPAQ 3870 or a
Toshiba e570 Pocket PC. As many of you know, we personally purchase the
majority of the PDAs that we review here at The Gadgeteer. Since these purchases
come out of our own pockets, we often have to make the tough decision of which
PDAs we will be able to review or not, based on which ones we are willing to
buy. Since we had both already purchased
iPAQ 3835/3850s last year, and Bluetooth was the only difference between
those models and the new 3870, we each decided to ask for the e570.
Right, I wanted the Toshiba because it was something
new and different than what I had used before. That said, I pretty much hated
the style when I first saw it at Mobius 2001.
Exactly! But then, you have to remember that we barely got to handle it –
since every other person was crowded around trying to play with it, too! Plus it
had the Japanese OS, so it wasn't like we could do that much with it. ;0)
For those of you that may or may not be aware of it, the Toshiba e570 is
essentially the same exact PDA as the

Audiovox Maestro. The main differences between the two devices are the
obvious company branding and the additional 32MB RAM that the e570 has over the
Maestro. The Maestro is marketed as a consumer device, and you can purchase one
on the web or in various brick and mortar stores. For whatever reason, the e570
is aimed solely at the corporate enterprise market. In fact, the only way that I
am aware of to purchase
one is to call Toshiba directly.  Needless to say, the 64MB e570 is
definitely the version I would have chosen were I making the purchase for myself…
and why a Pocket PC manufacturer wouldn't think that everyone, consumer and
corporate buyers alike, would like that choice is beyond me.
I don't understand the way Toshiba has chosen to do
things either! The e570 could be a really popular PPC if it was available in
retail outlets. As it is, people have to 'work' at buying one. <scratching my
head on that one>
Before I received the Toshiba e570 earlier this month, I was
very happy with the Casio E-200. I figured that it would continue to be my "Daily Driver"
for some time…well, at least until the new X-Scale processor devices begin to
appear later this year. However, within 15 minutes of opening the e570's box, I
realized that I was becoming infatuated with the muted silver styling of the
Toshiba, verses the flashier personality of the E-200. Since the temptation bug
would have never bitten me if the E-200 and the e570 weren't so similar in their
hardware features, this review will contain a lot of comparisons between the two
PDAs.
Before I received mine, I was on a
'vacation' from my PPCs and using the Sony CLIÉ
T615C as my main brain. I was all set to stay in the Palm OS camp too, but
it didn't take long for me to feel a tug back into Pocket PC land when the
Toshiba arrived. The dual memory slots and size did it for me. 
Because no PDA relationship should be based solely on the lure of good looks and
a slightly smaller overall body size; I resolved to really get to know the
e570 in an effort to determine if this might really
be the right PDA for me, at least for right now.
Hardware Specifications
These are the e570's specifications, according to the Toshiba Website. Any differences I
found are noted in red, as are my comments:
Processor: Intel StrongArm, 206MHz (1.75V)
Main Memory: 64MB on board SDRAM
Program Memory: 32MB CMOS Flash ROM
Display: 3.5" A-Si TFT Reflective Color, 240 x 320 (portrait) resolution
(16bit), Fluorescent lamp front light, Internal display supports up to 64K
colors
The display actually measures 2.9" (7.3cm) tall x 2.2"
(5.7cm) wide.
Touch Panel: Analog resistance sensitive system touch panel
Buttons: 5-way navigation button, 4
(re-mappable) application buttons, and a voice
record button (also re-mappable).
Expandability: 1 Type II CF card slot (3.3V), 1 SD card slot (3.3V)
Ports: Cradle connection port, stereo headphone jack, infrared port (115kbps)
Sound: Philips UDA 1341TS Sound Chip, 13 bit stereo, 44.1kHz sampling rate, Full
Duplex support, adjustable sound volume (by software), built-in speaker and
microphone, stereo headphone port
Dimensions: 3.0" wide x 4.9" tall x 0.07" thick
Weight: 6.3oz (My e570 weighs 6.5 oz (184g) with no
expansion cards or stylus installed)
Battery Pack: Rechargeable Li-Ion battery, 3.7V x 1000mAh capacity
Operating System: Microsoft Pocket PC 2002
Warranty: 1 year parts and labor, 1 year battery
Included in the box: One (extremely flimsy)
stylus, a USB cradle, an AC adapter (w/power cable) and a soft
(supposedly) leather slipcover
(but it feels and smells like cheesy plastic!), MS
CD-ROM, and a Quick Start Guide.
My first impression of the e570 was how tiny and slightly "CLIÉ-like"
it seemed to be. When I picked it up, I liked its weight, and the way it felt in
my hand. The matte silver and grey body looked professional and slightly
understated. I liked the blue rubberized side rails, in fact, I think they lent
to the CLIÉ "feel" of the device. This is not a flashy Pocket PC like the E-200
or even the iPAQ 3800; although I do think it is just a little bit showier
than the HP 560.
My first thoughts about the Toshiba were that it seemed
more business like… more "matter of fact". It definitely looks more professional
than the HP and the Casio and not as futuristic as the iPAQ. Although I didn't
care for the style at all, when I first saw the unit months before; actually having one in
my hand for a few minutes was all it took for me to fall for it.
I really like the physical size of this Pocket PC. I'm
pretty sure that it the most compact PPC 2002 device so far that has both a CF
and SD slot built-in. I have only played with Judie's Casio E200 briefly, but I
think the Toshiba might even be a little smaller.
Actually, it is. And we will get into size comparisons in just a little
bit…
I like the e570's weight, its size, and its shape. It
feels good in my hand and is comfortable to hold and use.
Yes, next to the HP 565, the Toshiba is my pick for the Pocket PC that just
feels good to hold. This unit is solid and when squeezed from any
direction gives no disconcerting groans, so it easily passes Julie's creak test.
I should mention that since I am not usually one to actually read the
instructions, much less the "Quick Start" guide that accompanies any new PDA, I
was thrown for a loop when I first tried to turn my Toshiba on. It appeared as
if my unit was dead, and just as I was about to refer to the guide in
frustration (horrors!), I saw the little sliding Battery Switch on the bottom.
Just as on the iPAQ 3600 series, this switch will also perform a hard-reset when
pushed to the right.
Unlike the iPAQ, there is also a Battery Switch lock that will keep you from
accidentally doing this. I'll talk more about this feature later…
Heeheehee! Judie, I did the same thing! I thought mine
was DOA and started getting really disappointed. But unlike you, I did open the
Quick Start guide. Panic will do that to you, even if you are a Gadgeteer!
<blush>
The e570 has a button layout that will seem slightly
familiar to those that are used to the iPAQ's, in that there are two
application buttons on either side of a somewhat centered directional pad.
The Toshiba's joy-pad is listed as being 5-way (right, left, up, down, and
hold/select), and as such it may hinder some serious gamers. The good news
is that there are no multiple button press issues like the iPAQ
3100/3600/3700 series had.

This button layout is also reminiscent of every Palm device's, and it is
probably my most favorite.

The joy-pad is the best
one (in my opinion) of all the PPC 2002 devices so far. It is the easiest to
press and has a comfortable soft touch to it.

It is also curved slightly inward, like a bowl, so that your thumb or
finger will rest inside – just enough so that you needn't be concerned with
your digit slipping.
Because I have been happily using the E-200 for several months, and even
chose to use the HP 565 over the iPAQ 3800 when my Casio's backlight failed, I
think I can finally say that I have conquered my iPAQ bias. That stated, the
e570 is the first Pocket PC that I have felt was as visually appealing as the
iPAQ to my personal taste. One of the things that makes the Toshiba even more
attractive is the fact that you can customize it with the addition of
interchangeable side rails. Seriously. In an attempt to make the e570 more
personalized, Toshiba has released a four-pack of colorized side rails, in
black, teal, maroon, what can best be described as "puke yellow."
I also like the interchangeable side rails.
Although the colors that are available aren't the most pleasing (who picked the
mustard color?!), it's still a cool idea. What I'd like to see is brushed metal
rails or even polished wood rails… I mean, why not?! ;o)  

I think wood or metal rails would be an excellent touch, although I suppose
it might defeat the "grip" idea. ;0)

You could still have ridges cut into the rails…
That is very true – and it would look cool, I bet.

Since the Casio E-200 and the Toshiba e570 are the most similar of the
current crop of Pocket PC 2002 devices, I will conduct most of my comparisons
between these two devices.
As you can see, the Toshiba is slightly shorter than the
Casio. It is also a bit narrower, but it is of the same thickness.

This is
a picture of the e570 lying on top of the E-200. As you can see, the Casio's
body is clearly visible from behind the Toshiba.

| | | | |
| --- | --- | --- | --- |
| Measured at Widest Point | Height | Width | Thickness |
| Toshiba e570 | 4.9" (12.5cm) | 3" (7.8cm) | 0.7" (1.8cm) |
| Casio Cassiopeia E-200 | 5.15" (13.1cm) | 3.2" (8.2cm) | 0.7" (1.8cm) |


 

 

 

 

 

 

 

From top to bottom: the Toshiba e570 and the Casio E-200

 

 

 

 

 

 

From right to left: Toshiba e570 and Casio E-200

 

The Toshiba and the Casio have the exact same size
screens, which while they are slightly smaller than the iPAQ's, are
certainly easily viewable.

The screen is small like the HP 565. I think Toshiba might use the same screen because like the HP, it has a slight warm
up period when you turn it on. It takes about 5 seconds before the screen is
at its full brightness level. I think I prefer the larger iPAQ sized screen
because it doesn't have the warm up period and obviously because it's
larger.

If I understand correctly though, the smaller screens on the Toshiba and
Casio Pocket PC 2002 devices might actually be sharper than the iPAQ's,
because they are the same number of pixels in a tighter area. The main place
that this might make a difference is in the area of e-books, viewing
pictures, and when clear-type
is enabled.

I think you're right… but for me, I like the
bigger and brighter iPAQ screen.

 
Viewable Screen
Area
Toshiba e570
2.9" (7.3cm) tall x 2.2" (5.7cm) wide
Casio Cassiopeia E-200
2.9" (7.4cm) tall x 2.2" (5.7cm) wide

Here you can better see the two PDAs stacked on top of each
other, and their similar thicknesses.


From top to bottom: Toshiba e570 and the Casio
E-200

From left to right: Casio
E-200 and the Toshiba e570

…and finally, a comparison between the Toshiba and Casio's weights shows
that they weigh exactly the same emptied of all styli, CF and SD cards.
 

 
Weight Without
Styli or Memory Cards
Toshiba e570
6.5 oz (184g)
Casio Cassiopeia E-200
6.5oz (184g)

It is interesting that the Toshiba occupies slightly less space than the
Casio, yet has the same mass. Since I actually have a preference for small
items that have some heft to them, this really appeals to me.
Now that you have the comparisons of the two most similar Pocket PC 2002
devices, it is time to take a look at what makes the Toshiba unique in the
Hardware department.
 

The Toshiba's power button is located on the upper right
edge of the PDA. As a former Palm V user, I like this position as it is
familiar to me – even after all this time.

I've had a
strange problem with the Power button. More often than not, pressing it to
power off the Toshiba doesn't work the first time. I don't think it's me not
pressing it hard enough, but it's some other problem. Maybe the contacts
aren't the best with that button. All I know, is that it is annoying to have
to press it more than once when I want to turn the PDA off.

You know what, though? This isn't just a Toshiba issue. I have noticed
this problem with my other Pocket PC 2002 PDAs, but none seem to be as bad
as the iPAQ 3835, in my opinion. I would venture to say that this might
actually be a weird PPC 2002 software issue, not so much a hardware
issue.

I never had that much trouble with my 3835, but I
sure notice it with the e570!

There is a charge indicator light on the upper left edge. While the e570
is charging it will glow amber, but upon completion will glow green.

The LED will also blink amber when an alarm goes
off.

There are four programmable buttons arranged two-by-two around the joy-pad.
In their factory default settings, these will activate the Calendar, Tasks,
Home, and Contacts applications.

The speaker sits directly to the right of the joy-pad, or "cursor/navigation
button" as Toshiba calls it.

MP3 playback through the e570's speaker is decent, although using a set
of headphones is definitely my preferred method. On the Toshiba, voice
recording playback is surprisingly crisp and clear, in stark contrast to the
poor quality I experienced with the Casio.

To determine which PPC out of the 3670 iPAQ, 3835
iPAQ, HP 565 and Toshiba has the loudest speaker, I did a test where I
placed all 4 devices side by side on a wooden table and listened to them play the
default alarm sound at their max volume levels. The result of the test was
that the 3670, HP 565, Toshiba and 3835 stacked up in order of loudness.


For MP3 listening, I listened to the same songs at
the same volume level thru the same headphones (Sony MDR-G52's) on all 4
PPCs. I picked "Cowboy" by Kid Rock because it has some great separate
channel action going on in each ear, Journey's "When the Lights Go Down in
the City" because I like it when Steve Perry sings, "Woa Ooo Oh Woa Oh Oh,"
and "I am a Man of Constant Sorrow" by The Soggy Bottom Boys because I like
bluegrass. Out of the four PPCs, the Toshiba sounded just fine. I think it's
probably second to the 3835 iPAQ. The 3670 iPAQ is just too loud and makes
my ears bleed while the HP just doesn't seem quite loud enough. Actually, I
think all the PPCs make great MP3 players.
I am not sure whether the button layout of the e570
will be a problem for gamers or not. Personally, it seemed fine to me for
the logic-type games I like to play.

I found it perfectly comfortable even for some
fast paced action games. The layout isn't as gamer friendly as the Casio
EM500, but it still works fine.

The back of the e570 is quite plain, as there are none of
the removable batteries like you will find on the Casio.

For some, this
may be an issue, but I don't mind a single internal battery. My reasoning is
that when the battery gets low, a warning will show and then the unit will
power down, preserving enough juice until you have a chance to get it to the
charger.

My only concern with the Toshiba is that the battery is only
1000mAh capacity. While this is slightly better than the 950mAh of the
Casio, it bites when compared to the iPAQ's 1400mAh. Hopefully someone will
step up with a larger after-market battery…too bad Toshiba didn't. I for
one, would certainly pay for that option. :0/

Ditto on that remark. I think Toshiba dropped the
ball there. That's one of the biggest, or basically only complaint that
I've been seeing regarding the e570. A really small battery size. Personally,
I've not had a problem yet. But then I have an AC adapter at work which I
plug in if I listen to MP3s, and I frequently place the PDA in the cradle
when I'm at home.

I think that while the Toshiba actually gets quite decent battery life,
a larger battery would just be a really outstanding touch – especially
when you consider the people that are supposed to be using this device. I
would imagine that many mobile workers would want a longer lasting
battery so that they would not be tied down to a car or desktop charger.

The two little nubs that you see near the bottom of the e570's back are
for locking the unit into its cradle.


From right to left: Casio E-200 and the Toshiba e570
The top of the e570 contains the headphone jack, SD/CF
slots, and the stylus silo.

The SD/CF slot cover located on the top of the
Toshiba has been a source of consternation for some, and I am one of them.
While I like the idea of an attached cover for the expansion slots, this one
just seems ill-fitting and slightly cheesy. I will say that it is
exceptionally strong though. One of the benefits of not having actually
paid for a device, is that you are willing to be a little more daring
with your handling of it…

With that in mind, I conducted a highly unscientific stress test and
while holding onto the opened SD/CF door, I gave the e570 several really
vicious shakes. The door remained firmly attached and did not distort. I
would guess that even though the door is not perfect, it at least shouldn't break
off.

I do not like the plastic CF/SD card cover at all.
It's the cheapest part of the whole PDA. Mine doesn't even lay flush with
the top of the device. I would much rather see the slot be more like the one
on the HP 565 which is just an opening without a cover over it.
When you open the SD/CF door, you expose the
stacked SD and CF card slots. This configuration is perfect for me, as I use
two memory cards everyday.

I understand that some will say that the top of the
e570 is jam packed with both card slots, but that's where I'd rather have
them located.

You'll notice that there is a notch cut into the plastic cover that
will accommodate SD cards that stick out of the slot- which is great if you
are using SD accessories. However, there is no such cutout for the CF slot,
so you will most likely be limited to using only CF memory cards. That is,
unless you decide to remove the protective door…

I
have the Pretec CF modem, so I tried it with this PPC and it will fit just
fine. The door can bend back far enough to accommodate the card. So, I think
most over sized cards will work ok with this unit.

Okay, well then
I guess I over-reacted. ;0)

The left side of the e570 is where you will find the
Microphone, Record button, the Infrared port, and the Reset button.
As I
mentioned before, the Toshiba does a great job of recording voice
notes, so the location of the microphone does not hinder that feature in any
way. I was able to speak in a normal tone to the front of the e570, and the
recording I made was completely usable.
The Record button is slightly recessed and unobtrusive. Unlike many of my
other PDAs, I have not accidentally turned it on…not even once.
I hate the location of the Infrared port. The only good thing
about it is that since I don't use this feature that often, it's not too big
of a headache.
I don't care for the location of the IR port,
either. I've never been a fan of having it located on the side of the
device.
The reset button is next in line. While the stock stylus's tip will
easily activate it, the hole it resides in is so narrow and deep that you
almost have to use a paper-clip or the reset pin included on many
after-market styli if you decide to use a different stylus.
I know! Every time I need to reset, I'll try to
use the tip of a ballpoint pen, and every time, it doesn't reach. Hmmmm,
you'd think I'd learn after the 5th try, huh? Well don't feel bad,
I did the same thing. ;0)
I have found that the PDA Panache
Palm III stylus (the classic nail shape) fits the e570's silo just fine, and
therefore that is the one I am using. As an added bonus, it has a nice long
reset pin hidden under the screw cap.
As with most PDAs, the right side of the Toshiba e570 is totally plain.
The bottom of the Toshiba has the Battery switch lock, the
Battery switch, the Cradle connection port and the AC adapter jack.

As I touched upon earlier, the e570's battery switch is very well thought
out, because you can't accidentally perform a hard reset. You have to
consciously move the battery switch lock, then slide the battery switch
before a reset will occur – a nice safety feature!

Since I already have many iPAQ accessories, I was happy to find that the
3600 chargers seem to work just fine on the e570. At least that's one less
thing I need to buy! ;0)

Exactly! I took my extra
iPAQ charger to work as a backup. One thing that I noticed, when I went to
buy a serial cradle for the Toshiba was how freaking expensive they are
compared to other PPC accessories! I about fainted at the $59 price tag! I
decided I didn't need it THAT bad.
Once again, I have been fortunate and have received a dust free PDA. It is
sad that I should feel grateful for this, but I do.
When I compare the e570 with
the E-200, with both PDAs on their maximum brightness settings, the e570's screen
appeared "whiter," while the E-200 had a "grayer" cast to it.


Comparing the 3670 iPAQ, 3835 iPAQ, HP 565 displays to the Toshiba, I found
that the screen at full brightness had least vivid colors of the bunch. Some
people have said that the Toshibas have a pink tinge to them. I don't see
this with mine. I would say that mine has a slight greenish or bluish
tinge… I do notice that my Toshiba isn't as evenly lit as my other Pocket
PCs. It seems to have darker corners.

But see, when I hold my Toshiba and look at it straight on (medium
brightness), I don't see any dark areas. It is when I have the screen tilted
that I notice "shadows." This may just be a matter of one needing to adjust
the way they hold the PDA.


If I compare the PPCs all displaying the same image at max brightness, I
find that my eyes like the 3670 and Toshiba (after it warms up) the best.
They both have the brightest screens although maybe not the best/brightest
colors. For color depth / warmth, I think the 3835 iPAQ has an edge over the
other PPCs.



From left to right: Compaq iPAQ 3670, Compaq iPAQ 3835/3850,
Toshiba e570, HP 565


From left to right: Compaq iPAQ 3670, Compaq iPAQ 3835/3850,
Toshiba e570, HP 565
The cradle that comes with the Toshiba has a nice heft to
it, and like the Casio's it takes a little bit of practice to perfect the
art of removing your PDA with one hand. Since I am right handed, I place the
tip of my right ring finger on the cradle's base, and push down as I use my
thumb and pointer to grasp the e570 and pull it up and out.

The cradle has a great weight, but unfortunately it
takes two hands for me to remove the Toshiba from its base.
 

As usual, the stock stylus included with the e570 is the
typical light-weight tacky plastic toothpick that we are all accustomed to.
You need to watch out for the tip on it, too…

Yes,
the stylus that comes with the Toshiba should be registered as a 'deadly
weapon'! Why? Because it mutilated my display on the 2nd day after getting
it. >:o[ I was NOT happy! This is the first PDA I've ever scratched… As a
result, I actually put a screen protector on the screen! I never used
protectors before, so it has been a slight adjustment getting used to them.

 
Just like you'll find with the Casio and the iPAQ 3600 series, Toshiba has
included a cheesy slipcover. Although it is described as leather in the
accompanying literature, I can tell you that it doesn't smell or feel like
any leather I have ever purchased on purpose. My guess is that a lot of "naugas"
were relived of their "hydes" to make these. ;0)

I have to admit that I have done a 180º turn
in my position on slipcovers. I used to absolutely hate them, and
don't get me wrong, the stock ones generally deserve such loathing, but I am
growing to like the idea of a simple slipcover. If I could have one
that was elegantly done in say, a brown crocodile…or even better, a
Louis Vuitton fabric, I would
definitely be interested.

I'm with you! The less bulk the
better as far as I'm concerned. Most of the time, I'd end up taking my PDA
out of the case to use it anyway… So a slip cover just seems more
convenient.
So what's the verdict on the Toshiba e570 regarding hardware? I like it!
I like the layout of the buttons, the clarity of the speaker, the size of the
unit, and the fact that it packs two expansion slots in such an elegant manner.
Did it replace my Casio? You bet it did. The styling of the Toshiba is more "me"
and as a result the e570 is the device I will be packing.
I also like the Toshiba quite a bit. Right now, it's my
main brain. The only thing I would want changed is a
brighter screen. Other than that, I'm very happy with the e570.
Software Specifications
When you first get your Toshiba e570, there are two things you need to do
before you load a single bit of software on the device. The first is to install
Microsoft's

DRIVER UPDATE, which is a Pocket PC 2002 patch that will noticeably improve
speed and performance.
Next, you need to follow the instructions listed here to perform the

SD AND CF FIX. "What in the world?" I can just see you shaking your
head and wondering.
Here's the deal: Like Compaq, Toshiba released a Pocket PC that listed cards
as "Storage Card" and "Storage Card2." YUCK! When I first realized this I was
ready to riot! Remembering all the grief I went through with my iPAQ, I was
almost tempted to blow the Toshiba off as my "Daily Driver" for this
transgression (yes, I can be that petty). Fortunately, I didn't have to,
as some forward thinking individual discovered this registry change that makes
CF cards show up as CF cards, and SD cards as SD cards. YAY!
I applied this registry hack after Judie told me about
it, and was very happy!
With those two fixes out of the way, it's time for a minor rant…Why
do these Pocket PC manufacturers short the consumer when it comes to the
software included on the CD? I mean, so what if it is for a corporate end
user?! I mean, how much trouble would it be to get together a CD that contained
some great business oriented freeware and shareware that was specifically
directed to corporate users? It makes sense to me, but I guess it doesn't to the
powers that be.
Tell me about it! I think the Toshiba has the worst
bundle of any PPC so far! That's because it does!
With that said, let's jump right into the software portion of this review…
Pocket PC 2002 Software Included in ROM:
Pocket Outlook – This is your PIM (Personal
Information Manager) Suite of applications. You get Contacts, Calendar, Tasks,
Notes, and Inbox. All of these applications will sync directly to Outlook 2002
on your desktop PC. Inbox can now sync multiple folders!
Pocket Internet Explorer – Web browser.
Pocket Word – View and edit Word documents.
Pocket Excel – View and edit Excel documents.
Microsoft Reader 2.0 for Pocket PC – Read
electronic books.
Windows Media Player 8 for Pocket PC – Listen to
digital music and watch movies.
MSN Messenger – Instant Messaging client just like
the one on your desktop.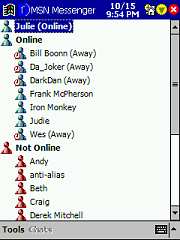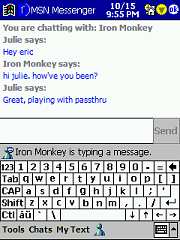 Microsoft Transcriber – Handwriting recognition
input method. This is now part of the ROM instead of an optional installation.
Block Recognizer – Graffiti clone input method.
If you have a Palm OS PDA and know Graffiti, then you'll be right at home with
this input method.
This is my favorite input method. It helps keep me proficient in my
graffiti for when I am using my Palms. :0)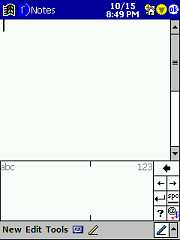 Terminal Services Client – With the terminal
services client a Pocket PC user can access Windows Terminal Servers and run
Windows applications. It only works with Windows Terminal Servers, which run on
NT 4 servers and Windows 2000. It does not work with 95, 98, or ME.
Spellchecker – A great new spellchecker
available for use in Word, and Inbox. Unfortunately, it's not available in the
Notes application.
Voice Recorder, Calculator, Solitaire – We can't forget your typical
voice recorder interface, a simple calculator and the solitaire game!
e570 Specific ROM Software:
Built in Storage – If you were looking for space in the Flash ROM
for extra storage, such as is available with the HP 560's Safe Store, the iPAQ's
File Store, or the Casio's Built-in Storage, you will be sorely disappointed.
Once again, I am left wondering Why?? Perhaps this is yet another penalty
for being a corporate consumer. Not only do you not get any exciting software on
your setup disk, you also don't get access to the extra 5-point-whatever-MB of RAM
that the PPC 2002 OS didn't use…BIG CON in my book. Perhaps there is an
explanation for this, but I don't see any special built-in Flash ROM 
programs included with the e570 that would eat up this memory, so my guess is
that Toshiba just decided not to share it. BLAH!
It makes me mad that there might be some extra memory
available that's just sitting there being wasted! I wonder if someone can write
an app to "unlock" it?
Oooooo – I hope so. Okay, I am issuing the challenge…unless someone knows
of a reason why it wouldn't work?
Optional Software to Install:
The included setup CD the typical one that contains Outlook 2002, and Active Sync
3.5. It also contains the following:
Microsoft Money for Pocket PC –  Works with Microsoft Money 2002 on
your desktop computer. Putting Money on your Pocket PC provides a convenient way
to keep up with expenses  while you are out and about – then you can sync
everything when you get back home. I've been using this updated version for a
while now, and I am happy to report that it works way better than the 2000
version ever did – it also has a plug in for the today screen that simply
rocks! :0)
Microsoft Reader – This is the version everyone was waiting for –
solves the DRM problem, and allows you to download protected books from sites
such as Barnes
and Noble,
eFollet (excellent selection) and

Amazon (affiliate link). You can even listen to
Audible books from within Reader! You will
have to activate your Pocket PC to read the more current titles, but at least
you can use up to four devices with the same activation passport. Once you have
activated, there are several free titles you can download courtesy of Microsoft.
Hey – you can even load Reader to your computer, and it will read un-encrypted
books out loud to you!
Microsoft Pocket Streets – Portable maps for your Pocket PC.
AvantGo – Allows you to take personalized web content on the go, with
you, on your Pocket PC.
MSN Mobile – Hotmail service for inbox.
Microsoft pocket PC Games – Includes Hearts, Reversi and Minesweeper.
These games are actually already available (for free) from the Microsoft Pocket PC site.
Manuals – The entire Toshiba Hardware manual, in .pdf format, as
well as the e570's Users Guide
Just as Casio did, Toshiba has completely under-whelmed me with their
lame software selection. Once again, if you don't already own quite a bit
of Pocket PC ARM software (as I already did), you might be compelled to look
further into a different Pocket PC – such as the Compaq iPAQ or the HP 560. Yes,
regarding software, Toshiba dropped the ball…
Oh well, unless the manufactures would include full
versions of their software with the PPCs instead of just shareware versions,
it's not that big of a deal. People can just go search for what the need. But I
do agree that it is disappointing not to include anything but stock Microsoft
apps.
Summary:
Poor CD software package and lack of "built in storage" file notwithstanding, I am very impressed with the Toshiba
e570. The hardware is notable due to its small size and sturdiness. Since the
Toshiba does have the benefit of at least running on an operating system with
which I have been relatively pleased, I can make up for software deficiencies by
adding my own. Some of the first programs I installed were Pocket Informant,
Loan Analyzer, and
Palm Reader.
During the e570's evaluation period, I have begun to read new meaning into
the slightly crass one-liner that goes, "He may not be Mister Right, but he is
Mister Right Now." I mean, just because the PDA looks a certain way
and feels a certain way in hand, does that necessarily make it better? The reality
is, that with the relative uniformity that the different Pocket PC devices
feature – especially between the E-200 and the e570 – it really does just seem to
come down to what style PDA you prefer.
That's right. Now that all the PPCs use the same
processor and for the most part all have the same features, it's the one that
looks and feels the best to you that you should buy.
Price: $569
Pros:

Dual expansion ports built into very little more space and weight than a
single slot Pocket PC
Very solid and compact Pocket PC
65,000+ color screen is viewable outside
Cons:

No built-in file share as with other PPC 2002 devices
Anemic collection of software included on CD
Included slipcase is cheesy
SD/CF cover is poor fitting and cheesy
Product Information
Price:
569.0
Manufacturer:
Toshiba
Pros:

Dual expansion ports built into very little more space and weight than a
single slot Pocket PC
Very solid and compact Pocket PC
65,000+ color screen is viewable outside

Cons:

No built-in file share as with other PPC 2002 devices
Anemic collection of software included on CD
Included slipcase is cheesy
SD/CF cover is poor fitting and cheesy