We use affiliate links. If you buy something through the links on this page, we may earn a commission at no cost to you. Learn more.
Product Requirements:
PC or compatible running Windows 98 or
later
USB port
CDrom
50MB free hard disk space
Power outlet (110/120V AC, 60Hz)
Monitor capable of displaying 800 x 600 pixels in 16 bit color
I think digital cameras are one of the greatest inventions of the last 50 years.
With them, you don't need to shell out money for prints. You either print them
yourself, or you just view them on your computer screen. Herein lies the only
problem with a digital camera in my opinion… Since I don't use film cameras
anymore, I also don't have physical prints anymore. That means I don't really get the same
enjoyment out of my images as I once did. Remember curling up on the couch looking thru photo albums on
a boring day (maybe it's a girl thing…) reliving fun memories? I don't do that anymore, and I admit that I
kind of miss it. Sure, I could print the images out on photo paper using my
color printer, but hey, I'm too lazy to actually do that! I'm the Gadgeteer
after all, I need a gee whiz way to view my photos. :o) The Kensington Digital
Photo Album is just such a potential gee whiz solution. It's actually a photo album that
turns the pages for you!
It is an electronic picture frame that you can plug into your PC via a free
USB port and pull off up to 12 of your favorite images for a slideshow display in any room
(with an AC outlet) in your house.
Specs:
Display resolution: 320 x 240 pixels (4.5 x 3.4in images)
Viewable area: 5.7 inches diagonal
Image format: .JPG, .BMP, .TIF, .PSD, .PCX, .PNG, and .TGA
Number of internally stored images: 12
Additional storage format: None
The frame is a 9.75 x 6.00 x 2.00in in size. It has a plain grey silver case
that is neutral enough to fit into any decor. If you prefer more style, you can
actually customize the Digital Photo Album by purchasing other coverings for it
at http://www.eframes.com.
The frame has a nice weight to it that
allows it to sit securely on any flat surface.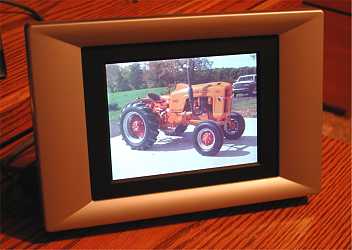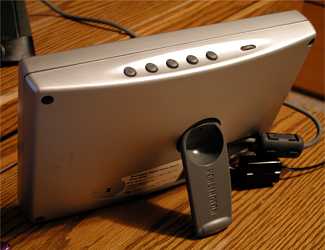 A clever stand on the back of the frame allows you to rotate it into either a
landscape or portrait orientation. Below the stand is a snap off cover that
conceals the USB connector and AC jack.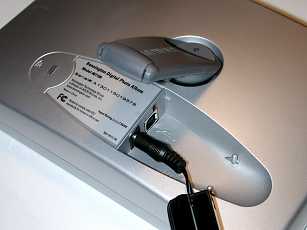 The top of the frame has 5 buttons and a contrast wheel. The buttons give you
typical VCR-like controls to Start, Rewind, Forward, and Stop the slide show.
There is also a Sleep button that looks like a moon. This button turns off the
frame. The contrast wheel adjust the brightness setting.

The screen is bright and clear. It does have a few problems though. The main
problem is that pictures are best viewed head on. If you are at more than a 45
degree angle to the frame, you can not see the image. It is similar to many
laptop/notebook screens in that respect. Another problem is that pictures tend
to be  somewhat pixilated depending on the subject matter. I also noticed
that if I looked closely, that there were squiggly lines that floated up the
screen. This wasn't noticeable just glancing at the pictures though, you had to
actually stare at them for a while to see it.
The unit can hold a maximum of 12 images which is the biggest drawback. It
does not have a slot for a compact flash or other memory card. Other digital
frame models do have a memory card feature, but of course they are more
expensive. To transfer
photos to the frame, you must use the supplied album manager software and USB
cable.
The software is as easy to use as your regular file manager. You just drag
and drop the images into the 12 slots and then click one button to transfer all
12 images to the frame. The transfer is really quick, only taking about 7
seconds to transfer all 12 images at once to the frame.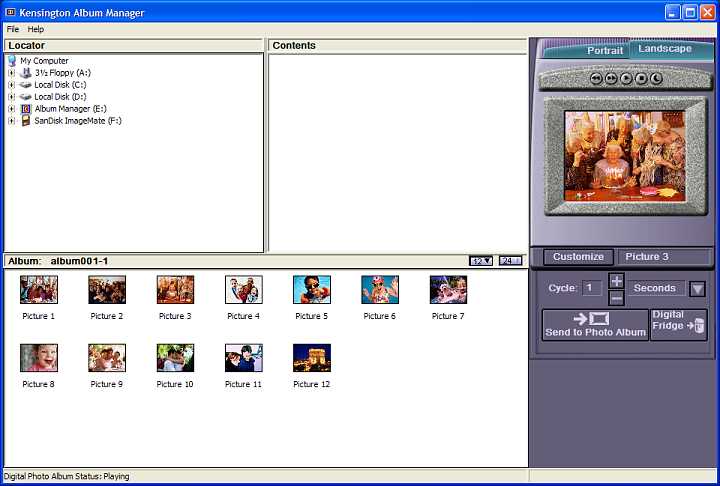 The software also allows for easy photo editing. You can size and rotate the
images to best fit in the 4.5 x 3.4in viewable area. In addition, you can vary the
slideshow timing interval between pictures from 1 second to 24 hours.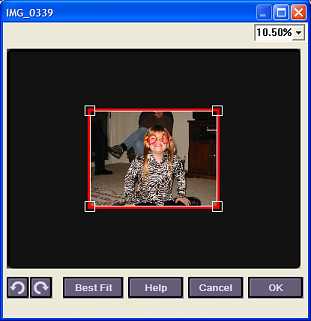 Besides transferring pictures to the digital photo album, you can also
transfer them to a website called the Digital Fridge. On this site, you can view
and download other people's albums as well. It is a neat and free way to obtain
other interesting pictures for your frame.
I think this idea of a digital photo album is great. It just needs to be a
little more refined. This frame would be much better if only it had a memory
card slot. With only 12 pix max, it feels very limited. However, the ease of use
and price make it tempting to buy.
 
Available at eframecentral.com
Price: $89.95
Pros:
Simple to use
Can upload and download other people's albums thru the web
Doesn't need to be attached to a computer to view images
Cons:
12 pictures limit
Need to be right in front of the frame for the best view
Somewhat pixilated
Product Information
Price:
89.95
Manufacturer:
Kensington
Pros:

Simple to use
Can upload and download other people's albums thru the web
Doesn't need to be attached to a computer to view images

Cons:

12 pictures limit
Need to be right in front of the frame for the best view
Somewhat pixilated