We use affiliate links. If you buy something through the links on this page, we may earn a commission at no cost to you. Learn more.
Product Requirements:
Device:
Compaq iPAQ 31/36/37/3800 series Pocket PCs
I feel like singing "nanny nanny noo noo" while I wiggle my fingers and put my
thumbs in my ears! Why, you ask? Because I am the proud owner of the very
first 256MB Compaq 3835 iPAQ Pocket PC! Yes, you read that correctly, 256
wonderful megabytes that are mine, all mine!!!! Ok, I'll try to contain
myself long enough to tell you more about this upgrade that you too can have…
for a price!
You may have read our earlier reviews of the
64MB upgrade and
128MB upgrades as performed
by Times2 Tech. Judie was the lucky one
to get the 128MB upgrade for her iPAQ, so after I purchased my 3835 unit, I
fired off an email to Mack at Times2 Tech to see if there was any way to upgrade
my Pocket PC to 256MB. Although they had already been doing 256MB upgrades on
the 36/3700 series iPAQs, they had yet to perform one on the new 3800 series. Of
course, I was more than happy to sacrifice mine to be the guinea pig! :o) Judie
was super jealous when I told her about it… Even though she doesn't use an
iPAQ anymore, she wished she could have the upgrade on her Casio E200.
Before I go any further, here's a little background about the team that makes
these Pocket PC memory upgrades possible. The 'team' is actually comprised of
two separated companies: Times2 Tech and
Portable Computer Enhancements (PCE2000).  They joined forces and
talents to do memory (and other) upgrades for Pocket PCs. So, no matter which
company you go with for memory upgrades, you'll see that they share the same
pricing structure and great service.
Typically, you ship your iPAQ to them, and about 4 days later, you'll receive
your upgraded iPAQ back to your door! Super fast service! I also found that both
Mack from Times2 Tech and Leonard from PCE2000 were always very quick to respond
to my emails.
Although it usually only takes 4 days to get your unit back to you, it took
mine a few weeks. That's because it was the very first 3800 that they had worked
with. This new model iPAQ has a different motherboard which required some
detective work to find the right trace that enabled the extra 128MB.
After this 'problem' was solved, they were able to use a new upgrade process
that they developed that enables the use of lower priced memory chips instead of
really expensive hi-capacity memory chips. They named this process the
Stacked Memory Upgrade because that's exactly what they do, stack chips!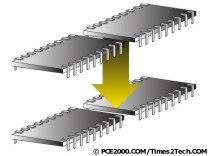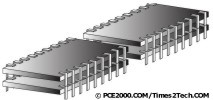 As you can see from the images above, the leads of the chips are bent in a
special way so that they can be stacked and soldered together. Below you can see
an actual picture of two stacked and soldered chips.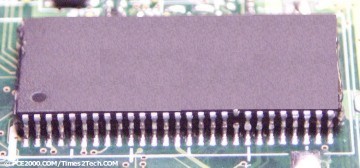 By itself, the Compaq iPAQ is only capable of recognizing a maximum of 64MBs
of memory. To get around this restriction, a special software driver must be
installed to allow the rest of the memory to become available. The driver is
very small (37k). Once it is installed (Times2 Tech or PCE2000 do this for you
before sending back your unit), the Asset Manager and Memory Manager will still
only show 64MB, but the additional 192MB will show in File Explorer as "T2T
Disk". Think of it and use it just like you would SD or CF cards that show up as
"Storage Card" or "Storage Card2" in the file manager when you copy files, or
when you install software using ActiveSync.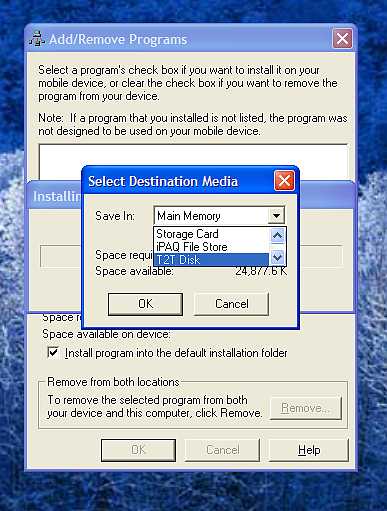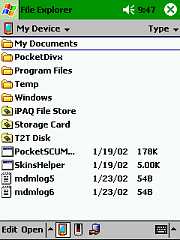 If you ever have to do a hard reset on your PDA, you will need to install the
driver again before you can access the extra memory. Also, any data on the
T2TDISK will not be erased unless a hard-reset is performed.
Other than displaying the total memory and total memory free on the T2TDISK,
the driver is also a utility that allows you to format, rename the disk from
T2TDISK to something else, and perform memory tests.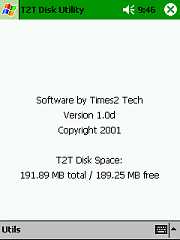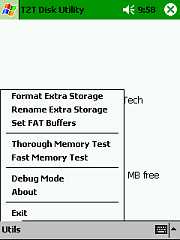 I've had my upgraded iPAQ back for a little over a week now and I have to say
that I absolutely love all this extra memory. I find that I'm not using the CF
sleeve much at all now. I've been installing all my applications on the T2TDISK
and leaving the regular 64MB of RAM alone. If I want to listen to MP3's or read
ebooks, I save them to my 128MB SD card. This practice has been working well for
me so far and I really like carrying the naked iPAQ!
Of course, you will probably be wondering if this upgrade will have any
effect on battery life… The guys at Times2 Tech and PCE2000 told me that based
on their 3600 series testing, power on usage would be reduced by about 5% or
less. However, suspend time will be shortened considerably. On the 3600/256,
suspend time on a full battery is 3 days max instead of 4 to 5 days on
unmodified units.
I'm in the process of doing some of my own tests with my upgraded 3835. This
review will be updated as more data is collected (I'm having Judie do some tests
with her unmodified 3835 as a comparison).
My first test was to totally charge the iPAQ (naked, without any sleeves) and
then to record the battery percentage as displayed in the Power Settings
application every 2 hrs. The only steps I performed were to turn the unit on,
navigate to the Power app, record the battery percentage and turn the unit off.
Here are my results:
| | |
| --- | --- |
| Time | Battery Percentage |
| 12pm | 100% |
| 2pm | 98% |
| 4pm | 96% |
| 6pm | 94% |
| 8pm | 92% |
| 10pm | 90% |
Judie did the same test on her unmodified 3835, and here are the results:
| | |
| --- | --- |
| Time | Battery Percentage |
| 8am | 100% |
| 10am | 98% |
| 12pm | 98% |
| 2pm | 96% |
| 4pm | 96% |
| 6pm | 95% |
| 8pm | 94% |
For my 2nd test, I decided to see how much life I could get out of one charge
with regular usage. Here's what I've come up with so far on this charge (I'll
update again tomorrow). The test was started with a full charge and with a CF
sleeve 256MB CF card installed the whole time.
Charge
Time
On Time
Task
100%
9:15am (Day1)
–
Power on after charging
88%
9:15 – 10:10am
55min
MP3 listening with screen turned off
88%
10:10 – 11:00am
–
Powered off
84%
11:00 – 11:15am
15min
MP3 listening with screen turned off
83%
11:15 – 12:45pm
–
Powered off
67%
12:45 – 2:00pm
75min
MP3 listening with screen turned off
67%
2:00 – 2:30pm
–
Powered off
61%
2:30 – 3:00pm
30min
MP3 listening with screen turned off
59%
3:00 – 3:10pm
10min
MP3 listening with screen turned off
54%
3:10 – 10:20pm
–
Powered off
0%
(not dead)
10:20pm (Day1) –
8:30am (Day2)
–
Powered off
Total "on time" for one charge was 3hrs, 5min
Three hours sure doesn't sound like much, does it? But unfortunately, It's
only about 25mins less than what I remember getting with my 3650.
Remember at the beginning of this review when I said that you too could have
this upgrade, for a price? Well, the price for this mod is quite hefty… at
$499, this isn't going to be something that everyone will want or be able to
afford. Heck, it's $100 less than the price of the 3835 itself! That said, this is another one of those mods that diehard iPAQ people drool over. 
Just like a car enthusiast is always looking for something that will make his
engine faster, the extreme PDA enthusiast is always looking for things that make
his or her PDA stand out and push the limits. So, if you have the cash and need
a memory fix, this is really the ultimate! On the other hand, if you don't have
that much cash, you can always by the largest SD memory card that you can
afford.
(If you don't have an iPAQ and are interested in memory upgrades for your
Pocket PC, be sure and check their respective sites to see the upgrades
available for your model)
Price: $499 (includes 2nd day return shipping)
Pros:
Professional, quick and excellent workmanship
More memory for storing programs, applications, e-books, MP3s, etc.
Cons:

Very expensive
Voids your Compaq warranty
Shortens idle battery time
Product Information
Price:
499.0
Manufacturer:
Pocket PC Techs
Pros:

Professional, quick and excellent workmanship
More memory for storing programs, applications, e-books, MP3s, etc.

Cons:

Very expensive
Voids your Compaq warranty
Shortens idle battery time