We use affiliate links. If you buy something through the links on this page, we may earn a commission at no cost to you. Learn more.
The next time you are sitting in front of your television and you are
working on your laptop – cursing the fact that your knees don't make much of a
desk – remember that it was me that told you about the
Lapstation. I guess that the fact is that there are many of us that have Laptops and we
all seem to try to work on them in the oddest places.
Intrigo, makers of the Lapstation, have created a product that addresses those that work
in situations like this, by
making a product that unfolds into a small desk upon which you can toil while away from a conventional table.
Evidently there are so many people that see the value of this type of
product, that the Lapstation Pro was awarded "Best of Show" at the 2001
Consumer Electronics Show (CES) in Las
Vegas.
I received the
Lapstation Pro, which is the most diminutive model of the Lapstation line
and is touted as being "the world's smallest workspace" on the company's
website. When folded, this Lapstation measures 11" (28cm) high x 10" (25.5cm) wide x
1.25" (3.2cm) thick
and according to my scale weighs 2.15 lbs (1.34kg). I was very impressed with
the quality of this product, and I could immediately envision the different
scenarios where I would be able to use this desk. Hey – what can I say? I am a
total geek! :0)
The Lapstation Pro is quite portable and easy to operate. It is so small that
it looks dwarfed in the Laptop bag that Julie's and my "partner in crime"
eric Levine
recently gave me.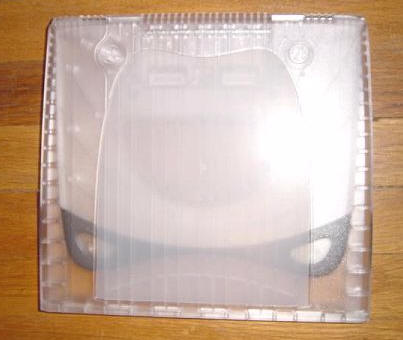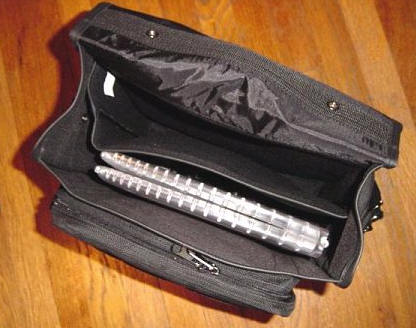 It takes about two seconds to unfold the Lapstation, upon which time it becomes a
flat 20" (51.75cm) long x 11" (28cm) wide surface raised up 8"
(20.25cm) by its two wide legs,
effectively creating a laptop desk.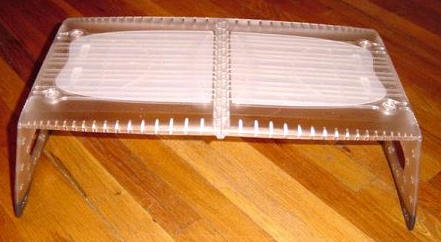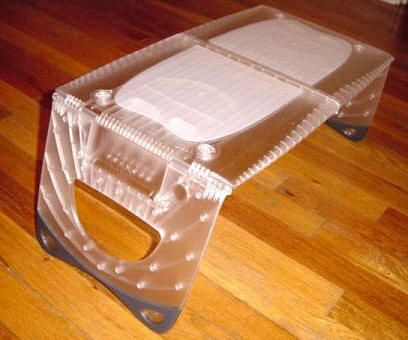 These legs are reinforced in their position by wide locking hinges on the
Lapstation's underside.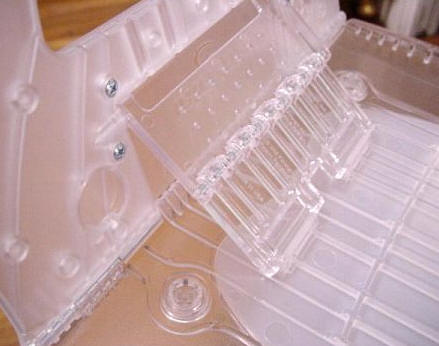 There are grippy rubber inserts on the top of the Lapstation, which make it
unlikely that your laptop or other items could slide off.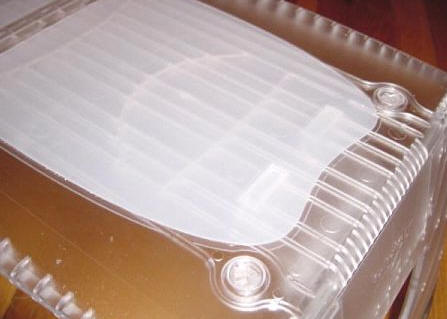 Available
accessories for the Lapstation generally utilize one of the easy to
twist out "expansion ports" located at each outer corner of the opened desktop.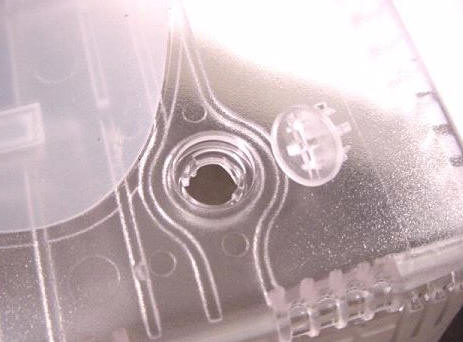 When opened, the Lapstation Pro is quite sturdy and it feels very solid. I
certainly am not saying that it is strong enough for you to sit or stand on, but
it is strong enough to hold even the heaviest laptop, such as my
gigantic Gateway Solo 9550 XL, which weighs roughly 9 pounds!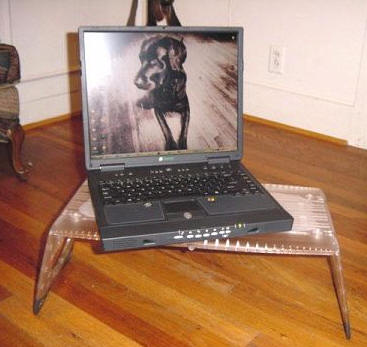 Even though the Lapstation Pro is small, it is not petite enough that you
could open it while on a plane, train, or the front seat of an automobile –
unless you were sitting on a bench seat, that is. With that said, you can
use the Lapstation just about anywhere else.
You can even buy an optional document holder ($14.95) or a battery powered
light ($39.95) that will snap into the Lapstation expansion port of your choice,
further adding to the Lapstation's usefulness (though not necessarily its
portability).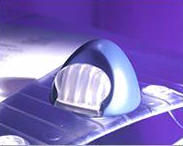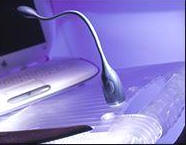 These pictures are from the
Lapstation website
Whether in a hotel room while on the road or even while sitting on the couch in your
living room; the Lapstation makes a great gift for people like me,
that need a comfortable place to work that isn't always at a conventional desk..

Price: $79.95
Comes in clear molded plastic, with either lava (gray), blue or flame (orange)
anti-slip leg over-molding
Pros:
Folds into a portable package
Extremely well made
 
Cons:

Yet another piece of equipment to pack
Expensive