Piel Frama is a leather goods
manufacturer located in Ubrique, Spain (The Land of Leather). In business since
1960, they have just come out with their first line of PDA cases. Created in the same
style as cases made by Vaja, they are the slipper / play through variety.
Versions are available for the Palm m505, 500, Palm V/Vx series, Casio
Cassiopeia em500, 505, Compaq iPAQ naked, with CF sleeve, or with PC Card
Sleeve. They come in two color styles: Black or Black with Tan.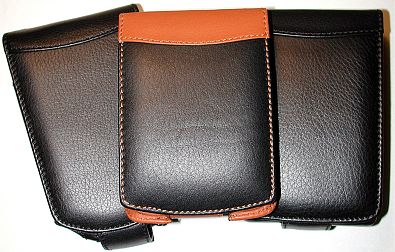 Made of quality cowhide leather, they look nice and feel great in your
hand. Here's a look at each of their current offerings.
Palm m505, 500, Palm V/Vx Series Case
This is a nice slipper style case that cradles your Palm PDA in soft padded
leather. Unadorned, the front of the Black and Tan version of this case is a combination of mostly black leather with a tan top.
The style is very similar to the Vaja
Palm case.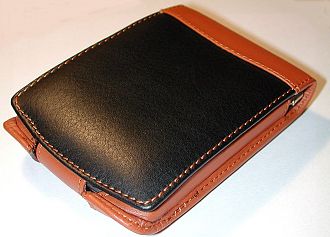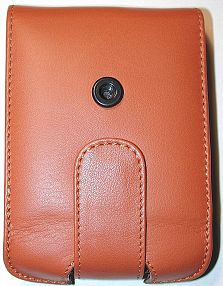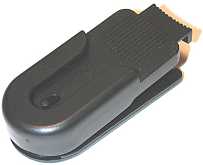 The screen cover is padded and has a semi rigid stiffener to protect the screen from
bumps and knocks. The inside has 2 card slots with one larger slot behind them.
The cover is held closed with a snap tab. This tab wraps around the bottom of
the case protecting the hotsync port.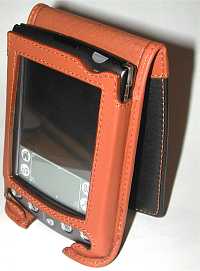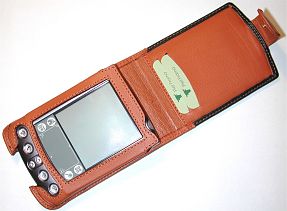 The tab is so long that it could be used to create an easel of sorts. If you
fold the cover back and snap the tab, you can then sit the PDA up on end. Not
sure how useful this is, but I thought I'd mention it…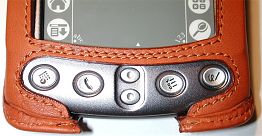 The holster portion of the case has a large cutout area for the screen and
application buttons. There is also a large opening for the hotsync port.
Although you can't sync the PDA in the cradle while it is in this case, you can
use a hotsync cable.
Because the hotsync opening is so large, it makes it much easier to activate the up
/ down scroll buttons on the PDA. I found this slipper case to be the best one
yet for use while playing games.
The back of the case has a plastic belt clip stud. While on your belt, the case
can swivel freely on the clip. 
I love how this case feels in my hand. The leather is really soft and cushy.
Much more so than a Vaja case. I think this is because the leather
used in these cases is thinner than Vaja cases and more foam padding is
used. Quality-wise, I could find no defects in
the leather or stitching.
At $60, you're not going to save a lot of money buying this case over a
similarly styled Vaja case.
Price: $60 (UPS Shipping included)
Pros:
Ample cutout for application buttons and hotsync port
Cons:
Not available without a belt clip
Have to remove PDA to hotsync in cradle
Compaq iPAQ Case
The iPAQ case is another 'copy' of a Vaja
iPAQ case. It has the same features as the case above: padded, rigid screen
insert, 3 card slots, and belt clip.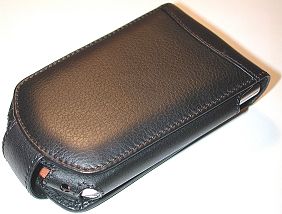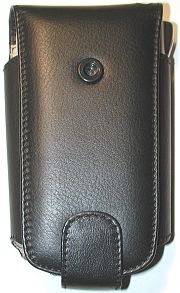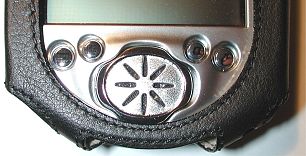 In addition to those features, this case also has a cutout for the headphone
jack. It allows you to plug you headphones into the iPAQ while the case is
closed.

Although it appears as if you might be able to sync your iPAQ in the cradle
while in this case, you can't. The lip around the bottom of the case prevents it
from seating properly on the connector.
This case is well made and I found no defects whatsoever.
Price: $60 (UPS Shipping included)
Pros:
Nicely padded
Cons:
Can't sync in cradle
Not available without a belt clip
Casio EM-500 Series Case
Here's yet another Vaja reproduction for the Casio EM-500 Pocket PC. It is almost like they
made an exact template out of the Vaja
EM-500 case and used it to create this one. Right down to the shape of the
screen cutout.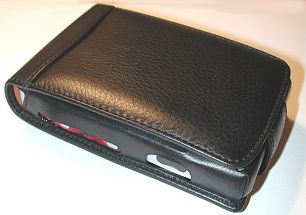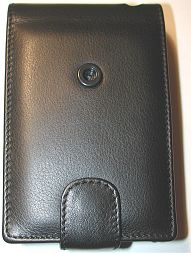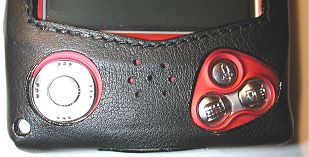 The only thing missing with this case is an opening on the back for the reset
switch. Other than that, there are really no surprises. It is well made and
looks nice. The only question I have about it is concerning 3 small circle cutouts along the bottom of
the case. I don't know what they are supposed to match up with. It is possible
that the Japanese version of the EM-500 might have a need for these openings.
Price: $60 (UPS Shipping included)
Pros:

4 card slots
Cons:
Not available without a belt clip
No reset switch cutout
Extraneous cutouts
Summary
In summary, the Piel Frama PDA cases are nice. I just wish they were a little
more unique than Vaja cases. As a copy, they compare fine and I really can't
find anything to complain about as far as construction. In a choice between them
and Vaja, I would probably choose a Vaja case because they come in a wider
variety of colors and options.