We use affiliate links. If you buy something through the links on this page, we may earn a commission at no cost to you. Learn more.
Product Requirements:
Device:
Compaq iPAQ 3100/3600 & 3700 series
I can't count the number of times I have been looking around in PDA
bulletin boards, only to stumble across people asking if there will ever
be a stylus available for the iPAQ that has a built-in ballpoint pen. A stylus
that also fits inside the iPAQ's silo. Well, until now, there simply wasn't one.
Pilot Pentopia, the company that makes the popular line of Chameleon styli,
is now producing a version that will not only fit perfectly inside the iPAQ's
silo…it also includes a ballpoint pen.

As you can see, the Chameleon is an almost exact reproduction of the black plastic stylus
that comes with your iPAQ, except for a couple of major differences. For
starters, let's consider the actual stylus tip.
The tip is almost red, and quite rounded. I would have been
plenty satisfied with how this stylus tip performed compared to the stock
stylus, but then Pentopia had to go and improve it further! Like the
other Chameleon styli I have seen, this tip has a spring action to it, so
that when you write, the tip reacts under the pressure of your hand. I really like
this type of stylus tip, and am pleased that it is used here.
You will find that the Chameleon sits a little bit lower in the silo than the
stock stylus. As evidenced by this picture, there is a small ball on the very
end – that will slightly stick out of the iPAQ when the stylus is fully
inserted. I thought at first that
this might be a type of reset pin, so that you wouldn't ever damage the tip of
the stylus by using it to push the reset button. But alas, the ball is too wide to use in that manner. It
may just be for looks – but if you have a clue as to a use for it that I am not
seeing – please feel free to point it out. :0)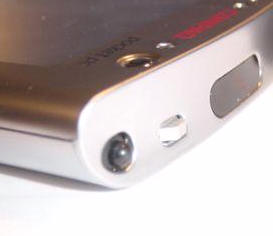 Then there is the matter of the hidden pen. The far end of the
stylus removes to reveal a black ballpoint. While this is not the most
comfortable solution in the world for anything other than jotting a quick note,
or writing a check – just knowing that you have a pen handy if you should need
it, is great!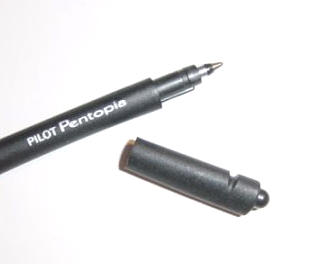 I tried this stylus in a couple of iPAQs that had both the stock plastic stylus latch and the upgraded aluminum one offered by
Times2 Tech. In each case, the stylus
worked great!
The only gripe I have with the Chameleon is the fact that it is so
light! I believe that it was Chris De
Herrera, that told me there was actually a metal shank in the stock stylus,
and that's why it wasn't as light as it might have been. Well, even so – I still
thought the stock stylus was a bit too light. This stylus is even lighter. While
the stock stylus weighs in at 0.2oz (6g), the Chameleon weighs only 0.1oz (3g) –
which is way too light for me, personally – but it may not bother anyone else.
Over all, I think that the iPAQ Chameleon is a welcome addition to a growing
list of available iPAQ accessories. This stylus fits perfectly in the
silo, has a bright colorful tip, and a hidden ballpoint pen. The price is fair
and the quality evident. If you don't mind a light-weight stylus, then the Chameleon
should be perfect!
The Pilot Pentopia Chameleon Stylus for the Compaq iPAQ is available at
Stylus Central, and other fine
retailers.
Price:  $18.95
Pros:

Spring-action tip
Bright easy to see stylus tip
Fits perfectly in the iPAQ's silo
Built in ball-point pen
Cons:

My only gripe is that I wish they could have made it a little
heavier