We use affiliate links. If you buy something through the links on this page, we may earn a commission at no cost to you. Learn more.
Have you noticed how many companies are coming out with their own versions of screen accessories for the various PDAs? Everything from screen buffers and cleaners, to various forms of screen protection. Evidently I'm not the only person out there that wants to keep my PDA's screen pristine; It looks like this is becoming a booming industry in and of itself.
The latest screen accessories I have come across are from CompanionLink For those of you that are unfamiliar with this company, they have actually been around for some time. Their flagship product is the CompanionLink Synchronization Manager software, and they also own the popular PDABuzz website.
Today, I am going to take a look at the CompanionLink screen cleaners and screen protectors.
PDA Screen Cleaner:
This product uses two steps, as do some of the other screen cleaning solutions you may be familiar with, such as Tech Media's or Fellowe's.  PDA Screen Cleaner comes in a foil packet that has two sides: a wet and a dry.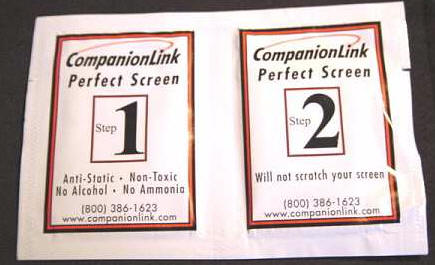 To use the cleaner, you will open the "Step 1" side, which contains a premoistened towelette. According to Companion Link's packaging, this is an
anti-static product that contains no alcohol or ammonia. I was pleased to find that it released little to no lint as it cleaned my PDA's screen.
After wiping down your PDA's screen, you will open the "Step 2" side to reveal a soft, lint-free wiping cloth. A quick rub-down with this product, and
your PDA will be primed and ready for the installation of your preferred screen protection.
These screen cleaners come in a box of twelve, and include a bonus True Tip™ finger tip stylus.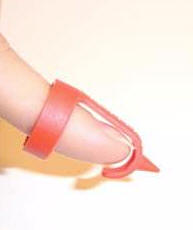 While I like using a two-step screen cleaner such as this one, I did feel that they were priced a bit high.
Price:  $19.99 for 1 dozen. Includes a bonus True Tip™ stylus
Pros:
They manage to clean your screen without depositing lint
Perfect way to prepare a screen before adding your preferred method of screen
protection
Cons:
Expensive
PDA Screen Protector:
It is worth noting that the CompanionLink Screen Protectors are made under License of

US Patent RE 35,318, which is held by Mr. William J. Warman. In a quote from their press release, Katie Phillips, Vice President of Sales and Marketing for CompanionLink Software said, "What CompanionLink is offering is the only licensed screen protectors on the market. The CompanionLink Screen Protector, being the only officially licensed product gives the user the assurance that the product will remain available with no potential patent  infringement issues."
The CompanionLink Screen Protectors are very similar to the protectors that are offered  by both Tech Media and Fellowe's. These are also held in place by the use of a mild adhesive that is supposed to be easy to remove with no lingering residue.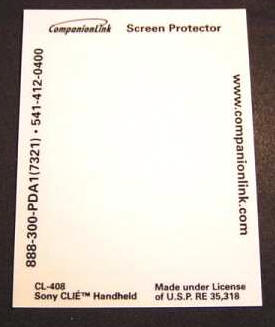 I did find that the CompanionLink protectors used a very glossy, glass-like surface, even for their monochrome version. I prefer this, as it does not dull
the screen in any way. The trade-off is that there is no dampening of screen-glare, but that is a minor quibble to me.
Like other "stick-on" protectors, care must be taken to ensure that there are no bubbles or debris trapped under the film as you lay it down. A squeegee card is included with the dozen protectors to help with installation. If you have never installed this type of protector, you can expect to waste several before
you perfect the installation method.
| | |
| --- | --- |
| | Here you can see a Sony Clie with the CompanionLink Screen Protector in place. You'll note that there are no bubbles, and the protector is as smooth as glass – just the way I like it. |
I like the way my stylus feels as I write on the glossier protectors, so I would rate this protector's surface highly. Those of you that prefer a more matte protector, one that simulates a paper-feel when you write on it, might not be as satisfied.
As prices for "stick-on" protectors go, the CompanionLink version is about right. There a one dozen in the package, and each protector is supposed to last
for one month. For under $2.00 a month, you can keep your PDA's screen in like-new condition.
Price:  $19.99
Pros:
Glossy, glasslike screen protection
Reasonably priced
Cons:
New users may waste quite a few as they perfect their "no-bubble"
application technique