We use affiliate links. If you buy something through the links on this page, we may earn a commission at no cost to you. Learn more.
Product Requirements:
Device:
Compaq Aero, iPAQ 3100, and 3600 series
Picture this scenario: You're sitting in an airplane happily listening to
Cake sing Short Skirt/Long Jacket on your
iPAQ when your PDA starts complaining about fatally low battery levels and shuts off. ACK!
What do you do now, your flight still has several hours left. You look out the
window for awhile but it's too cloudy to see anything interesting. You flip thru
the outrageously priced catalog in the seat pocket in front of you, then you
read the laminated safety sheet, and finally, you examine the barf bag and
wonder just how many people really use them during a typical flight. At this point,
you look at your watch and realize that only 5mins have passed! ARGH! You then spend the
rest of the flight in total boredom… Of course, this wouldn't have happened to
you if you would have brought along an external battery pack like the iPAQ ePack from
ARA Engineering.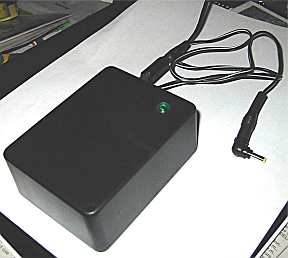 You may recall my review of the
iPowerPak for
the iPAQ. It was an external battery pack that was actually a housing for 4 AA batteries and would
give the iPAQ approximately double its regular battery life. The ePack on the
other hand, is a rechargeable unit that can give your iPAQ up to an  15 hrs
of additional
use!
Hardware Specs:
Size: 3 x 4 x 1.5in (7.62 x 10.16 x 3.81cm)
Weight: 11.92oz (337.92g)
Output: ~5.1V
Internal Battery Type: Rechargeable NiMH
The ePack is a black plastic block with one large green LED and
two cables coming out of it. One cable is 27in long and connects directly into
the
iPAQ's power connector while the other cable is basically a 2in long connector that sticks out of
the box. The included AC adapter plugs into this connector to charge the ePack's internal batteries.
The ePack is a hefty module and isn't quite as portable as the iPowerPak,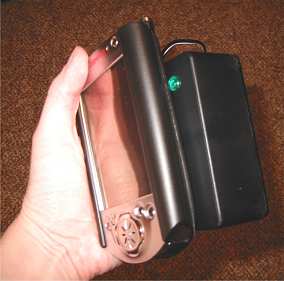 The LED on the box glows green while the unit is plugged into the AC adapter.
Unfortunately, the LED does not turn off to indicate when its batteries are fully charged.
That's my biggest gripe about this product. What's more, if you would happen to leave the ePack connected to the AC adapter for more than 36hrs, it could potentially ruin the NiMH pack inside. I don't like to worry about things like this… I'm a basically lazy person. I want to be able to plug it in and not think about it.
In my opinion, there really needs to be some type non-damaging trickle charge feature that kicks in once the pack is fully charged.
The first time you use the unit, you must charge it for 10hrs. Subsequent
charges take about 8hrs to fully charge the ePack. That's quite a long time! However, the ePack can be recharged 1000's of times and does not have any memory effect.
Once the ePack is charged, you're good to go. You can plug it into the iPAQ and use it to charge or top off the
PDA's internal battery. You can also use your iPAQ while it's plugged into the ePack.
It will take longer to charge the iPAQ's batteries when you are using it while
it is charging.
While it is plugged into the iPAQ, the iPAQ's charging LED will blink just as it does when you have it plugged into the cradle. This is the indicator that your batteries are being charged. The LED on the ePack does not light up when the unit is plugged into the iPAQ. I really wish there was some type of battery level indicator on the ePack itself or thru the iPAQ so that you could see just how much use was still left in it before you needed to charge it again.
Although it is not a good idea to leave the ePack plugged into the AC adapter, it doesn't hurt to leave the ePack plugged into the iPAQ. The ePack
has built-in over charge protection so it will not hurt the iPAQ's internal
battery.
According to ARA Engineering's website, you can get up to 15hrs of additional running time out of your iPAQ depending on how you have your screen brightness set. Take a look at the table below for more details:
iPAQ Usage

Average Battery Life Without
ePack

Average Battery Life With
ePack

Normal Usage With Med Backlight

3.5 Hours

15 Hours

Normal Usage With Super Backlight

2.5 Hours

9 Hours

Usage With Microdrive

1.5 Hours

7 Hours

Wireless Web Browsing

1.5 Hours

6 Hours
In my tests, I found the numbers to be pretty accurate for regular use under different brightness settings. Since I don't have a
Microdrive or the ability to surf wirelessly, I didn't test under those situations. I did
run several tests with the ePack during the review period. I used it as a charger and as an extender. One of the tests involved timing how long it would take to fully charge an iPAQ's internal battery
when it was at a 20% charge. I took 2hrs. I also used the ePack on several
occasions as a battery extender when my PDA's battery level was low. This worked
really well and allowed me to watch an entire movie on my iPAQ without any
battery warnings.
The real selling point to the ePack is the fact that it is rechargeable. Unlike the iPowerPak, you don't have to go out and buy more AA's once they are drained. Sure, you could fill the iPowerPak with
rechargeable batteries, but you would also have to take them out of the pack to recharge them. With the ePack, you have the
convenience of just plugging it into the AC adapter when it needs to be charged. That said, the ePack
is an expensive and bulky solution that won't appeal to everyone. I see it as
being better suited for the traveler that is away from an AC outlet. It is
especially nice for long plane or car rides.
Price: $79.99
Pros:

Up to 15hrs additional battery life
Can charge iPAQ's internal battery while using the iPAQ at the same time

Rechargeable
Cons:

Pricey

No battery level indicator

Bulky
Product Information
Price:
79.99
Manufacturer:
N/A
Pros:

Up to 15hrs additional battery life
Can charge iPAQ's internal battery while using the iPAQ at the same time
Rechargeable

Cons:

Pricey
No battery level indicator
Bulky