We use affiliate links. If you buy something through the links on this page, we may earn a commission at no cost to you. Learn more.
I'm sure everyone has heard the terms "wearable computer" and
"mobile computing". But, how about the term Personal Area
Network  (PAN)? Does that ring a bell? Probably not, but it should as PANs
are what real mobile wearable computing should be. Ok, I can see the gears
turning in your minds. You're all picturing little boxes with flashing lights,
wires, head mounted displays, and handheld mini keyboards Velcroed to your wrist
right? Beep, wrong! You should have been picturing a cotton vest instead. Yes,
you read that correctly, a vest. You know, the kind you wear… Only,
this isn't any ordinary vest, it is a vest that allows you to carry all your
small mobile computing devices on your person. Hence, wearable
mobile computing in a Personal Area Network… get it? 
This special vest is called the SCOTT
eVEST. It is made of a light weight water-repellent material composed of 67% cotton / 33%
nylon and is available in black and khaki. It also comes in several sizes:
| | | |
| --- | --- | --- |
| SIZE | CHEST | WAIST |
| M | 38-40 | 32-34 |
| L | 42-44 | 36-38 |
| XL | 46 | 40 |
| XXL | 48-50 | 42-44 |
Unfortunately, it doesn't come in Small. I was sent Medium and
as you can see from the pictures below, it was way too big for me. I'll also say
right from the start, that this vest isn't something I think most women would
wear. It looks very masculine and isn't something I would personally want to wear.
It made me feel like a cross between Dan Rather on assignment and a big game
safari hunter. That
said, let's take a look at the features…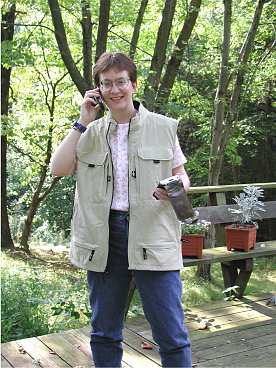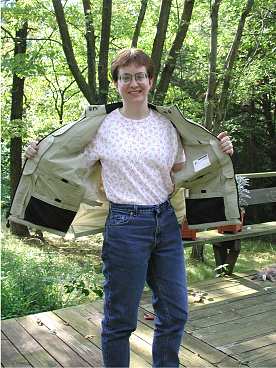 If you like pockets, you're going to love this vest. It has pockets galore!
On the exterior there are two large gusseted breast pockets with Velcro flaps. An additional
zippered pocket lies behind each of them. There are two zippered slash pockets
on each side. The right slash pocket has a strap with a plastic clip that can
attach to your key ring. No more misplacing your keys.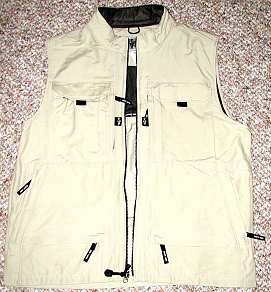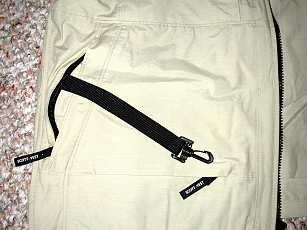 The exterior also has two more zippered pockets along the bottom edge of the
vest. All my PDAs fit fine in all but these bottom pockets. They are
not quite tall enough for larger PDAs.
That makes 8 different pockets on the outside of the eVEST. Now let's take a
look at the interior which is where the true innovation of this vest lies.
As for pockets, there are 2 large semi-see thru mesh pockets along the bottom
edge of the vest. These pockets are held closed with a long strip of Velcro.
Behind these pockets is another very large pocket that is just big enough to fit
an Apple Message Pad 2001 into. There is also a small zippered pocket on the
inside of the left shoulder area.
A white label is sewn on the inside of the vest. You can write your name and
address on this label in case of loss.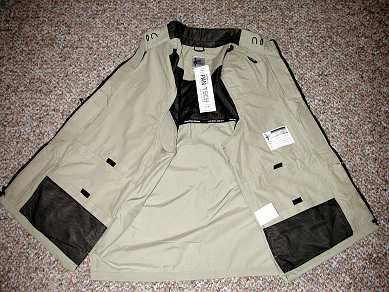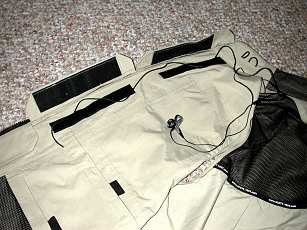 The real feature of the SCOTT eVEST is the PAN (Personal Area Network). No,
the vest isn't wired and doesn't require batteries. What it does have is a
unique conduit system which allows you to route wires from devices such as ear
phones thru most of the pockets in the vest. There are Velcroed flaps along both
edges of the zip up front. Here's how it works… You put your Pocket PC, radio,
CD player, MP3 player etc, in one of the main pockets and then run the wires
thru the opening in the pocket (all the pockets except the small zippered one on
the inside shoulder have an opening in them) to the conduit area. Situate the
wires so that the ear buds or phones come out up near the collar and then fasten
the Velcro flaps back down. There are two small elastic loops on either side of
the collar that you can use to hold the ear buds, phones, or even a microphone
for your cell phone. The cool thing about the PAN is that all the wires are
concealed and tucked neatly away. If you're anything like me, I hate getting my
ear bud wires all twisted, knotted and kinked. With this vest, that won't happen
anymore.
The back of the vest is plain except for Velcroed waist adjusters on each
side.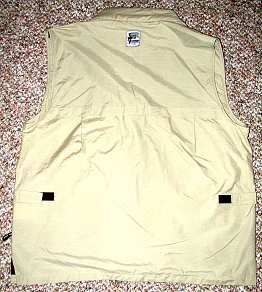 In true Gadgeteer form, I had to do a real life test on this vest. So, I
loaded it down with all the things that I carry in my gadget bag on a typical
day. Here's the list of items:
iPAQ with SilverSlider3 in a Vaja case
Palm Vx with a PyroPro MP3 Player attached and ear buds attached to it.
Canon S110 digital camera and charger
Handspring Visor Prism
Blackberry RIM 950
Cell phone
Stowaway keyboard for the iPAQ
Swiss Army Cyber Tool
Pretec CF modem
CF Ethernet card
Car keys
Billfold
Checkbook
Chapstick
Tin of asprins
Pack of gum
I thought it would feel pretty heavy wear the vest with all these things in
it, but it really wasn't bad at all because the pockets are balanced on each
side.
The SCOTT eVEST is one of the first products in the emerging line of mobile
clothing. It is well made and has a unique wire routing system. That said, there
are a few things about it which in my opinion could be improved. One of the
things I didn't like about this vest is that the material wrinkles very easily.
I also found that the material on the back of the vest is very thin. I know it
isn't supposed to be an actual jacket, to protect against the elements, but a
little bit heavier material would make the vest feel more substantial. 
The biggest deterrent from buying this vest is the price. $160 is a lot of
money for something that doesn't even have sleeves! If you just want a vest that
can carry all your gear and you don't mind not having a PAN, you might want to
consider buying a fisherman's or photographer's vest. I found several for less
than $50. Some places to check out are:  LL
Bean, Orvis and Travelsmith.
However, if you do want to wear a wired garment and don't mind shelling out
the cash for one, the SCOTT eVEST might be just what you're looking for.
Price: $159.99
Pros:

PAN wire conduit system
Tons of pockets
Cons:

Expensive
Too large for the average size woman
Wrinkles easily

Product Information
Price:
159.99
Manufacturer:
SCOTTeVEST
Pros:

PAN wire conduit system
Tons of pockets

Cons:

Expensive
Too large for the average size woman
Wrinkles easily