We use affiliate links. If you buy something through the links on this page, we may earn a commission at no cost to you. Learn more.
Product Requirements:
Device: Any
Pocket PC device
What do The Citadel,
Bass Brewers and The Gadgeteer have in
common? We have all had Custom Skins
designed for us by Debbie McCormick!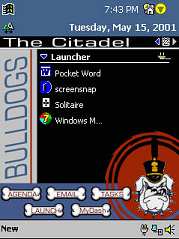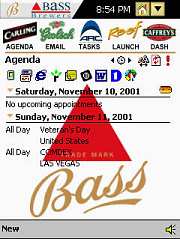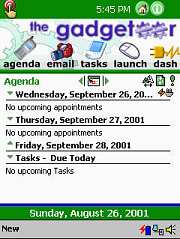 These skins appear courtesy of
WebMcDeb
Debbie has also created custom skins for the
Democratic National Party,
Standard and Poors,
CNN, Dale
Coffing's Pocket PC Passion,
Mercedes Benz, Sony,
Honeywell, and
Toshiba, to name a few.
Before I go much further into this review, I should tell you that in order to
use Debbie's skins, you will need to download two programs. The first is
Snoopsoft's Dashboard.
This is a $13.00 Today Screen replacement application that allows you to
customize and "skin" screens that display your personal information: such as
agenda, mail, and tasks. There is also a program launcher, that allows you to
display the icons for every program installed on your Pocket PC.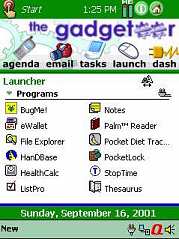 You should also download
Wisbar, a free utility that allows you to manage your Pocket PC's programs
and to customize the Taskbar's appearance. Once both of these programs are
installed, you will be able to view and use Debbie's skins in the manner in
which they were intended.
For those of you that are unfamiliar with Debbie McCormick, I can tell you
that like many of us, she is a self-professed "geek"; and according to
her web site, she has a "real
passion for technology. Computers, PDA's, gadgets, audio, video, etc. [She
has] owned several Palm devices, an HP Jornada, and presently [she is]
the proud owner of a Compaq iPAQ Pocket PC."
I first became aware of Debbie, or "McDeb"
as she goes by on the web, earlier this year when I came upon an entry she had
made on another site's bulletin board telling everyone about a skin that she had
created.
It wasn't much longer before she set up a website, which of course – I then
had to check out.
I was pleasantly surprised to see that not only did she offer a plethora of
free skins, she was also willing
and able to do custom skin designs
for a reasonable amount. That's where I got the idea to have her design a
Gadgeteer screen.
Debbie has provided an awesome service to the Pocket PC community by creating
a new Skin every week, and posting
a link to it on almost every Pocket PC site's bulletin board. Here are some
examples of the free skins that she has offered and that are available from her
site.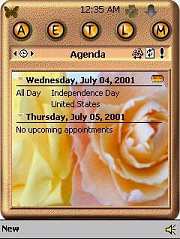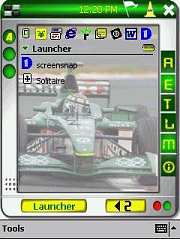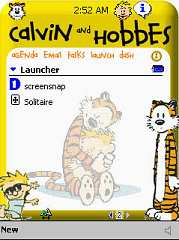 These skins appear courtesy of
WebMcDeb
There are even skins available for you NFL fans! Here are a few examples: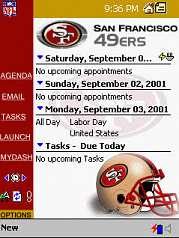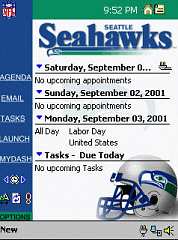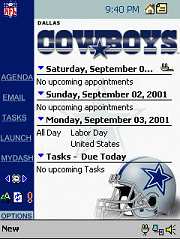 These skins appear courtesy of WebMcDeb
Installing one of Debbie's skins is easy:  You simply download the skins to
your computer and then move the files to a specific skin folder on your iPAQ
through your ActiveSync.
Debbie has a FAQ posted if you
have questions about the process.
Let's say that you have an idea for a custom skin, and you are ready to take
the plunge and have Debbie design something just for you. The process is
virtually stress-free. You will fill out a
web-based form that asks what you would like incorporated in your design.
When you click "submit", you will be taken to Debbie's PayPal page and charged
$5.00 for her to create an initial design for your approval. Once the primary
design is made, she will then send you a link to a page displaying it – where it
will be waiting for your approval or for her further tweaking. When you are
satisfied with the end result, you will then pay the balance of $20.00 through
PayPal, and you will be given a link to download your complete skin.
From my personal "custom skin experience", I found Debbie to be extremely
open to suggestion and easy to work with. She truly takes pride in offering her
pieces of art.
I would like to bring special attention to a skin that Debbie created after
the terrorist attacks that occurred at the Pentagon and the World Trade Center
Towers last week. This skin is called God Bless America, and it was
created "In honor of our country, the victims, and our fallen Police Officers
and Firefighters".
According to Debbie, "The 5 views include a photo of the NY City skyline
and the World Trade Center twin towers in all their glory, the Pentagon, the
National Fallen Firefighters Memorial, the National Law Enforcement Officers
Memorial, and our beacon of freedom: the Statue of Liberty."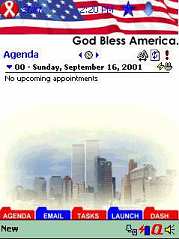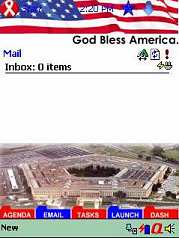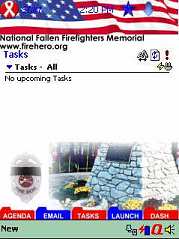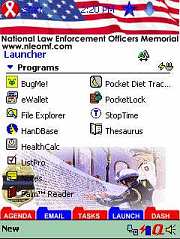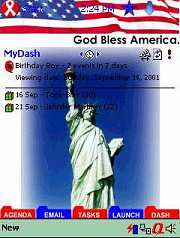 Debbie has gained recognition for her creativity, in fact she was recently
named one of Pocket PC Magazine's "Best
Sites". She has even been mentioned in

USA
Today!
I asked Debbie if she had something she would like to tell you all, and this
is what she had to say: "I started Web McDeb
in May of 2001 as a place to showcase and organize some Pocket PC Dashboard
skins that I was having fun creating. As the content grew, so did the site's
popularity. There are currently 107 free skins available for download. The
majority have been made by me along with quite a few contributed by Andy Roberts
(aka Dakkard). The made-to-order custom skins have become a great way for Pocket
PC owners to personalize their devices, and I've had a great time making them."
Those of you that will be running Pocket PC
2002, and are interested in skins for your Today screens, needn't feel left out.
Debbie says, "With the release of Pocket PC 2002 just around the corner, I
plan to add some Pocket PC themes to the site that will allow users who do not
use Dashboard to customize their today screen as well."
Whether your are interested in installing a different skin every week; or if
you want a custom skin that identifies your business or interests – you are sure
to find something that will make you happy at Debbie's site.    
Price:  $25 for custom skins, All
others are free
Pros:

Free skins offered that portray a multitude of subjects

Custom skins available that pertain to your particular interests
Easy to install
Cons:

None