We use affiliate links. If you buy something through the links on this page, we may earn a commission at no cost to you. Learn more.
Product Requirements:
Device:
Palm III series (not including IIIc), Palm VII
series, Palm V series
What is the first image that comes to mind when I say the words: Swiss
Army? For me, I think of those nifty red pocket knifes with a multitude of
blades (I love the tweezers!). What about PDA cases, did that image pop up for
you? Yeah, me neither… But that will be changing as there is now an entire
line of Palm specific leather PDA cases made by Swiss
Army. Although I reviewed their Code
V case for the Palm V earlier this year, these new cases are a little more
interesting because they have an ingenious method of securing the PDA to the
case. More about that in a minute.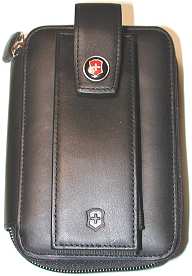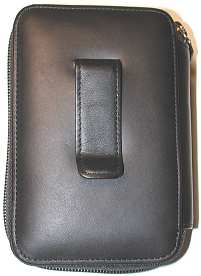 The Broadcast is a zippered book style case made of black Italian leather
specifically for the Palm III series, Palm VII series or Palm V series PDAs and
a cell phone. At first glance it looks like many similar book style cases except
that it has a smaller cell phone holder attached to it. But what really makes
this case different, is the method used to attach the PDA to the case. Instead
of using Velcro (can you say ECK), the case comes with 3 plastic quick-release
clips. One clip for each Palm model (Palm III, VII or  V). Unfortunately,
there isn't a clip for the Palm IIIc, m100 or m500 series yet. This doesn't mean
that you can't use those PDAs with this case though. The case comes with Velcro
that you can attach to various PDAs to hold them in. I found that the case
worked fine with the Compaq iPAQ (naked or with the CF sleeve), Casio E-100
series, Visor Prism, and HP 548. It will basically work with any PDA that can
fit into 5 1/2" H x 4" W x 1 5/8" D.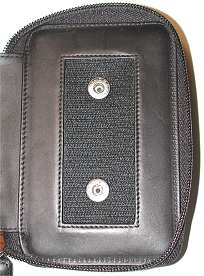 The special clips have two heavy duty snaps on them which match up with two
mating snaps on the inside of the case. You just snap the correct clip to the
back of your Palm and then snap the PDA into the case. Voila, the PDA is now
securely in place!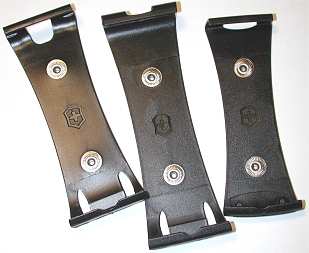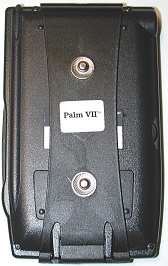 Putting the clips on the back of the PDA is pretty easy. Getting them off is
a little more difficult, but not too bad. With a little practice, I was able to
pop them off with one hand. The only real problem with these clips are that they
cover up the hotsync port. So, you will have to totally remove them to sync in
the cradle. If they had left an opening, you could at least use a cable to sync.
As it is, your only option for not removing the clip is to sync via IR.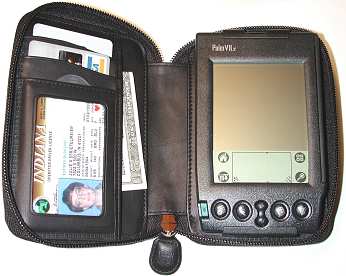 The case construction is pretty rugged. The front and back of the case are
padded and have really rigid stiffeners. The screen cover portion of the case
has 3 card slots with one slot having a see thru window and a plastic pull out
tray. This works great for pulling out your drivers license for display. Behind
these card slots is a large slot that can be used for currency or other small
papers. The whole interior of the case is lined in black leather which makes it
look and feel more substantial.
On the outside of the cover is a cell phone holder. This holder has a leather
top with black elastic sides. Cell phones less than 5" H x 2" W x
1" D should fit in the holder just fine. A leather loop with a heavy duty
snap keeps the cell phone from falling out of this holder.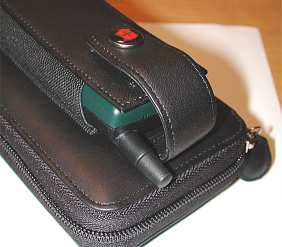 The back of the case has a leather covered belt clip. This is the type of
clip that just slides over the belt or waist band. There is nothing to keep the
case being pushed up and off your belt accidentally. Due to that fact, I
wouldn't recommend wearing this case on your belt.
The Broadcast is a zippered case and as such, it has a black nylon zipper
around three sides of the case. A nice padded black leather pull with the Swiss
Army logo hangs from the slider part of the zipper. Zipper action is smooth and
free from sticking or jamming. However, it is a bit stiff. I'm sure that will
loosen with use though.
This is a nicely constructed case that can do triple service as a PDA case,
wallet and cell phone holder. Because of the padding, I believe it will protect
your PDA easily from the effects of a short drop. The only trouble I see with
the Broadcast is it's size. Because it is so large, there is no way it will fit
in a pocket. So, this is a case that you will either be carrying around in your
hand, or another bag. If you don't mind the size, this is a quality case that
looks good and protects well.
Price: $75.00 Available at StylusCentral
and other PDA stores
Pros:
Secure PDA attachment method
Includes a cell phone holder
Cons:
Large
Have to remove clip to sync with desktop
Belt clip can slide off belt easily
Product Information
Price:
75.0
Manufacturer:
Swiss Army
Pros:

Secure PDA attachment method
Includes a cell phone holder

Cons:

Large
Have to remove clip to sync with desktop
Belt clip can slide off belt easily