We use affiliate links. If you buy something through the links on this page, we may earn a commission at no cost to you. Learn more.
Product Requirements:
Device:
Any PDA up to 5.3" (13.5cm) tall x 3.2"
(8.3cm) wide x .75" (1.9cm) thick

Ok, I have to admit that it was news to me when I found at that Waterford
(the fine crystal company) was also Waterford
(the accessory company), that sells PDA cases, among other items, such as
briefcases and fine writing instruments. I mean, it's a bit of a
stretch, don't you think? 
But at the same time, perhaps not. 
Waterford is known for providing fine items that connoisseurs desire. I would
hazard to guess that most connoisseurs do things other than just drink out of
fine crystal…they also have other passions. It stands to reason that some of
them might desire a stylish and functional case to hold their PDAs, too. 
So, If you were also unaware that Waterford was now in the personal 
accessories business, let me introduce you to one of their offerings: The Waterford
Tri-Fold PDA Case. 
As you can see, the Tri-Fold appears to look like so many other
binder/book-style cases, although is a bit more fashionable, perhaps. It
features a flap that snaps to the front of the case to keep it securely closed.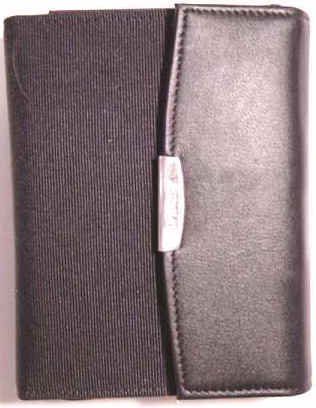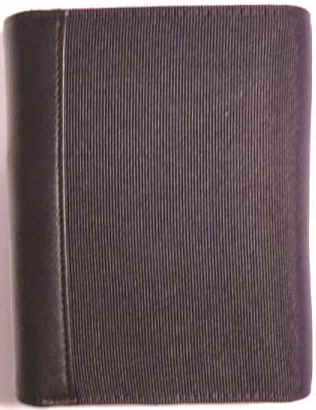 The dimensions of this case are 5.5" (14cm) tall x 4.5" (11.5cm) x
1.5" (3.7cm) thick. While you won't find the Waterford to be particularly
pocketable, it will easily fit in a briefcase, purse, or gear-bag.
Done in Waterford's black Neoweave,
which is their proprietary nylon micro-fiber cloth, and then trimmed with smooth
black leather. The Waterford appears to be an accessory that would look equally
good being carried both in the office and around after-hours. 
I find that one of the really good things about all of the micro-fiber cloth
accessories that are available these days is that they are highly durable and
easy to clean if they should become dirty. You simply brush them off with a damp
rag.
Opening the Tri-Fold, you are greeted with a small notepad on the left side,
and a holster for your PDA on the right. Your PDA is held into the holster with
a small strip of Velcro. <sigh>
This is the first case that I can think of (off the top of my head) that uses
a holster like this, that allows for built-in protection for every side of your
PDA but its top. Built into the right side of the holster is a stylus holder,
and built into the flap is a shorter pen holder.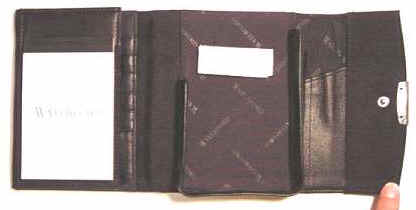 Opening the flap that holds the note-pad, reveals a section with built in ID
or credit card slots. There is also a slot pocket on the far left that should
prove handy for carrying business cards. I was a little bit surprised to find
that there was no slash pocket hidden behind the ID/credit card section, but if
you don't have a lot to carry – you shouldn't miss it.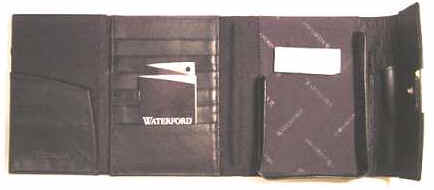 As you can see here, the Compaq iPAQ is one of the PDAs that will easily fit
in the Waterford. Unfortunately, you won't be able to fit any sleeves – unless
you don't mind adding Velcro to Whitney's
CF BaqPaq (Blasphemy!).  You can add a little bit of room to the holster
area by removing the notepad. I found that when I did this, it was the only way
my Silver Slider would fit, and still
allow the case to close properly.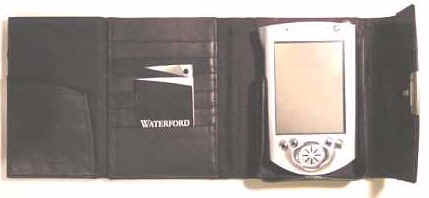 With all the leather and Neoweave between your PDA and the rest of the world,
when the Waterford is folded up and closed, I would have to say that it
definitely offers decent screen protection. It is definitely not crush-proof though, of
course.
Here is a view of the Jornada 548 in the Tri-Fold. As you can see, the built
in stylus holder is a necessity for this PDAs owners, as they will not be able
to use their flip-lid with the built in silo. The PalmPoint
Dual Action Stylus fits easily in the pen pocket.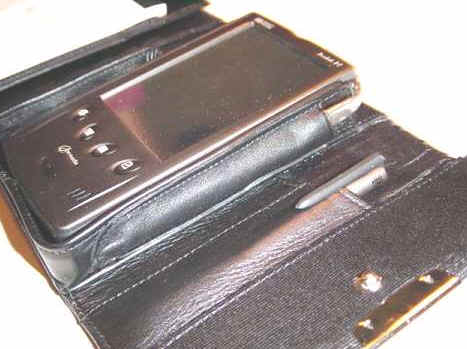 Remember the holster I mentioned at the beginning of the review? Well here is
how it makes this case so special. As you can see, when this book-style case is
closed, the bottom of your PDA is fully protected. You will still have total
access to the top of your PDA, should you wish to use the head-phone jack.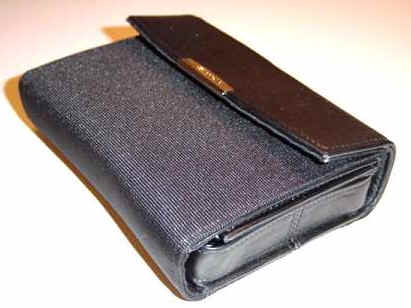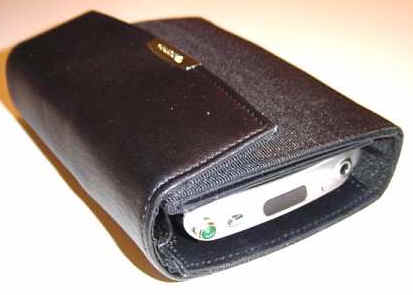 Even the Casio EM-500, the widest PDA I have, fits easily in the
holster.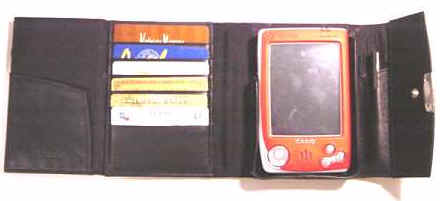 I think that the Tri-Fold is great option for those that would like to carry
their cards and ID with them. Since it doesn't have a suitable money slot, I
wouldn't consider it a wallet replacement – but then I bet that some of you out
there might seldom carry cash, and it might fit the bill for you. I find that
the price is way below what I would have expected, considering that the case is
a brand name. If you don't mind the tab of Velcro that you must use to secure
your PDA, then this case might be for you.
The Waterford Tri-fold PDA Case is available at Stylus
Central, and other fine retailers.
Price: $39.00
Pros:

Excellent Price
Case looks sharp, and is made of durable materials
Head-phone jacks are accessible on PDAs that have them
All sides but the top of the PDA are protected
Cons:
Must remove PDA to sync
Must use Velcro to attach PDA
Product Information
Price:
39.0
Manufacturer:
Stylus Central
Pros:

Excellent Price
Case looks sharp, and is made of durable materials
Head-phone jacks are accessible on PDAs that have them
All sides but the top of the PDA are protected

Cons:

Must remove PDA to sync
Must use Velcro to attach PDA