We use affiliate links. If you buy something through the links on this page, we may earn a commission at no cost to you. Learn more.
Product Requirements:
Device:
Various handheld PDAs
The Targus Leather Universal PDA Case will fit any PDA with measurements up to 5.375"
x 3.875" x .875". In case you are wondering, this includes all Palm &
Handspring models, the TRGpro, the Sony Clie, the Compaq iPAQ (without an
expansion sleeve), the HP Jornada 548, the Casio E-100 series, and the new Casio
EM-500. I'm sure that there are a few that I may have left out – but you get
the general idea.
The
outside of this Targus case is beautiful. Itis made of smooth black
glove leather, and has contrasting gold stitching all around the borders, and
down the backside.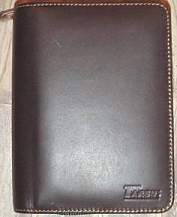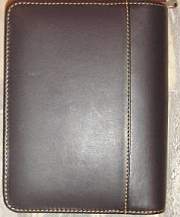 The front cover has an embossed Targus logo on
the bottom right corner. This is the only real imperfection that I found with
the appearance of this case. Personally, I think that the Targus logo is just
too blocky and big, to emboss on the front of an otherwise flawless exterior. I
believe that the logo should have been placed on the inside of the case, and
believe it or not, they embossed their logo there, too – on the off chance
that you missed it on the front side. J
The stitching that runs down the middle of the
backside, almost gives the appearance that there is a pocket there. There
isn't, but it would have been a great place to put one.
The Targus Leather Universal PDA Case unzips on
three sides in order to lay flat, like an open book. This style always makes me
think of the Day Runners, Day-Timers and Franklin Planners that I am sure many
of us started out with years ago. Only, instead of a binder full of paper, when
you open this book, you are greeted with your PDA of choice, which in this
picture happens to be the new Handspring Visor Prism.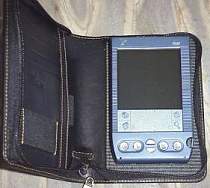 Upon opening this case, you will find places for almost everything that you
might need to carry. The left side has four ID or credit card slots, and two
vertical deep pockets. There is an elastic loop for a slim, replacement-style
stylus, and a wide elastic memory-card holder.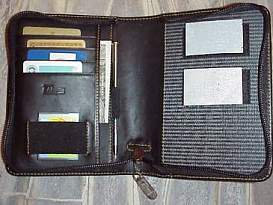 I put a compact flash (type I) card in this
holder, with my HP 548 also in the case, and I found that I kept turning on my
PDA even when I had the Jornada set to only come on when the Power button was
pushed, not the hot keys. Well, the power button is evidently where the Jornada
was being pushed, so I found that it wasn't a good idea to use the cardholder
with this particular PDA. I suppose you could leave the flip cover on your HP
548, if you needed to carry the extra CF card – However, this seems like
overkill.
When there is no card inserted in the elastic,
none of the PDAs I experimented with accidentally turned on. Now, I realize that
it is highly unlikely that you will be toting a memory card around with your
Palm OS PDA (unless you have a TRGpro), however, since the slot is there, I
wanted to show something in it, and point out the problem – in case you have
something of similar size that you were thinking about putting in this slot.
On the inside right, there are two Velcro
fasteners, so that you can affix the Velcro to your PDA in a place where nothing
important is covered up – such as your reset button, springboard slot, serial
number, or what have you. You can either discard the extra fuzzy-piece of
Velcro, or save it for the likely event that you will peel the first piece off
your PDA eventually, and will need the replacement.
Just for size-comparison's sake, here are some
PDAs in this Targus case. From the top left, I show the Palm IIIc, the HP
Jornada 548, and the Palm m100: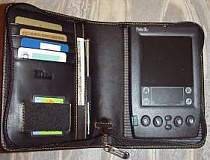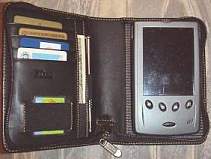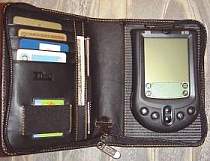 You can see that this case looks good with just
about any PDA in place. Even though it is generic as far as fit, its not too
big, so as to "swallow" the smaller PDAs.
This case seems to offer some defense from dings
to the screen of your PDA; however, it is not overly padded, and it is
definitely not crush-proof. I do believe that for ordinary day-to-day use, it
should provide adequate screen protection, though.
All in all, I think that this is a great case, as
long as you don't mind affixing a tab of Velcro to your PDA. Measuring in at
5.875" x 4.375" x 1-1/8",
It is a little too large to fit in a suit jacket, but it will fit well in
a medium to large size purse. Of course, it can fit in any briefcase, and can
also be carried on its own as a daybook/wallet.
Price: $39.99 – Comes with a Lifetime Warrantee
Pros:
Very nicely styled, Looks & feels expensive
Can use as a daybook/wallet
Cons:
Large "Targus" embossed on the bottom front
Must stick a piece of Velcro to your PDA
If you put a CF card in holder, some PDAs will accidentally power on
Product Information
Price:
$39.99
Manufacturer:
Targus
Pros:

Very nicely styled, Looks & feels expensive
Can use as a daybook/wallet

Cons:

Large "Targus" embossed on the bottom front
Must stick a piece of Velcro to your PDA
If you put a CF card in holder, some PDAs will accidentally power on