We use affiliate links. If you buy something through the links on this page, we may earn a commission at no cost to you. Learn more.
Most people tend to carry a photo or two of their families or pets in their
wallet. But how would you like to carry 100's or 1000's of photos in your wallet? You can
with the Photo Wallet by VideoChip
Technologies. The Photo Wallet is a dedicated image displaying device. It
reads images from a Compact Flash card and displays them on a color screen.
Hardware Specs:
Backlit 1/4 VGA AMTFT display with 110 degrees viewing range (4″
diagonal display)
320 x 240 Resolution, 24 bit color (16.3 million colors)
Compact Flash Type 1 Slot
5.00″ (H) x 3.75″ (W) x .81″ (D), 10.5 oz.
Powered by 2 DL-123A 3 Volt Lithium Batteries yielding approximately 3 hrs of
use.
AC Adapter input: 110V, 60Hz AC, 20W / output: 6-7V DC, 1.5A
The Photo Wallet is a plastic handheld unit that is similar in size to a
Pocket PC. The sole purpose of the Photo Wallet is to display images stored on a
Compact Flash (CF) card.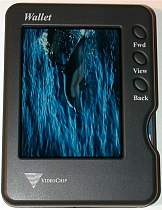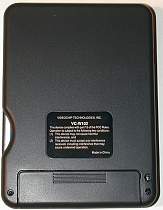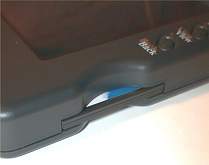 The unit itself feels solid and sturdy in your hand although it is pretty
wide. It has 4 buttons. A power button on the left side of the unit and 3
command buttons on the face of the unit. On the right side of the unit is the CF
slot.
The screen on the Photo Wallet is outstanding. It is a 24bit display and
really looks great. The colors are very vivid and bright. The images I have here
don't do it justice. They look darker here than in real life. As you can see
below, I have shown the Casio E-115 next to it in comparison. Both units are
displaying the exact same picture. The Casio's image isn't rotated, but you get
the idea.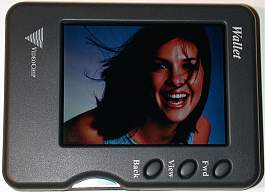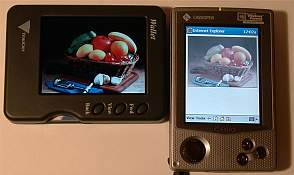 I didn't get the chance to test the Photo Wallet display outdoors on a sunny
day. I've not seen the sun around here for any length of time in weeks. I'm
assuming that like most non-reflective displays, this one will also wash out in
the direct sunlight. I did however test it outdoors on a gloomy day and it
looked fine.
The images on the CF card have to be in JPEG format. The instructions that
come with the Photo Wallet state that the unit views sequential JPEG format
instead of progressive JPEG images. I've never known that there was a
difference… I was able to view any .JPG image that I copied to the card. I
also was able to snap a few pictures with my digital camera and then take the CF
card directly from the camera, insert it into the Photo Wallet and immediately
view the images. The Photo Wallet didn't care that my digital camera created its
own folder to store the images in. It found them just fine. According to the
information included with the unit, it is capable of displaying up to 3.3
megapixel sized images. It resizes the images to fit the display.
As far as viewing the pictures, you have a couple options. You can view them
one at a time by manually cycling thru them forwards or backwards. You can
display thumbnails of the images and by using the forward and back buttons,
select the specific image to view. You also have two presentation (slideshow)
modes. By double clicking the forward button, the pictures display one after the
other with a few seconds pause. By double clicking the Back button, the pictures
display one after the other with a nifty fade transition. Either way, the images
load quickly and the transitions are fluid.
There are supposed to be some other features to the Photo Wallet that I
wasn't able to test. A special menu is supposed to be available that allows you
to set the idle time, time to power off, transition time between photos,
grouping of photos and a pan and zoom of photos. Unfortunately, I could not get
this menu to come up. I finally realized that I didn't have the latest firmware
loaded into the device so I downloaded the update and followed the directions on
the website for installing the update. To sum it up, it didn't work. I kept
getting a software mismatch error… So your mileage may vary…
The Photo Wallet doesn't come with any type of case. But the unit comes with
a stand/screen cover that can easily be slipped on or off the device.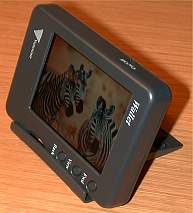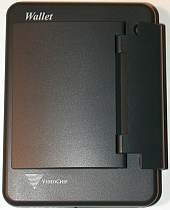 It also comes with an AC adapter which can plug into the back of the device.
The AC adapter is huge! It's about as big as the Photo Wallet. When I first saw
it, I thought it was a combo AC Adapter and battery charger… But no, the Photo
Wallet runs on 2 3V DL- 123A Lithium batteries. This is a big gotcha as far as
I'm concerned. I like rechargeable… I don't want to go to the store every
other day for new batts. Being able to just plug it in and recharge when needed
is essential as far as I'm concerned. Maybe there are such things as rechargeable
3V batteries but I'm currently not aware of them.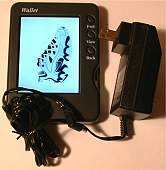 The Photo Wallet is nice gadget, but for the price I think it should do A
LOT more than it does. If it were able to read both CF and Smart Media cards
directly, had rechargeable batteries, was able to show MPEG or AVI movies, and
record sound bites for each picture, I'd be more inclined to feel favorable
towards it.  As it stands, I think you'd be better off just getting double
pictures from your next roll of film at Wal-Mart and carrying them around
instead.
Price: $349
Pros:
Great screen, vivid colors
No computer needed
Easy to use
Cons:
Expensive
Batteries not rechargeable
Needs more features to justify price

Product Information
Price:
$349.00
Manufacturer:
Video Chip Technologies
Pros:

Great screen, vivid colors
No computer needed
Easy to use

Cons:

Expensive
Batteries not rechargeable
Needs more features to justify price