We use affiliate links. If you buy something through the links on this page, we may earn a commission at no cost to you. Learn more.
Product Requirements:
Device:
All Palm PDAs, All Handspring
Visor PDAs, Sony Clie, HP Jornada 540 series, & perhaps others…
The Targus Leather Belt Case is a rich chocolate brown leather pouch, with a rotating
leather covered metal clip on its backside for attaching to your belt or pocket.
Contrasting gold stitching adds to the finished look.
Because the leather is so smooth and with such a
soft grain to it, my husband at first asked if it was really leather – I told
him to smell it, and that's all the confirmation he needed. This pouch reminds
me of a pair of well-oiled field boots; very smooth yet rugged.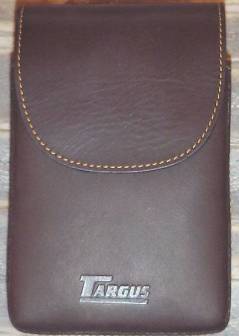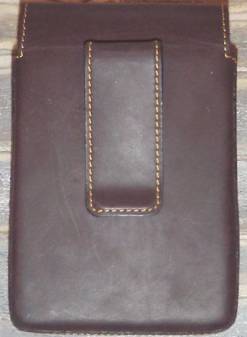 The pouch flap closes with a tab of Velcro, which
is okay. Ordinarily, I really hate to have Velcro on any case that I am using,
however, the Velcro on this case makes it possible to carry such a variety of
PDAs that I feel its presence should be overlooked.
The Targus Leather Belt Case is lined in soft velour, which seems like an ideal
fabric for any PDA or its screen to rub against.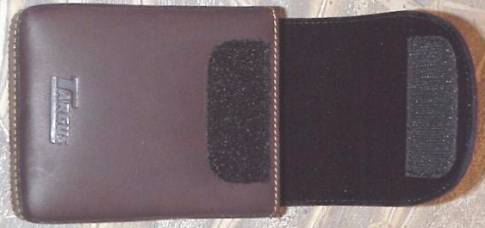 The exterior dimensions of this pouch are 5"
x 3.25" x 1" with the pouch's fold-over top closed down all the way.
Targus designed this case to hold PDAs up to 4 3/8" x 3" x 5/8"; however,
because of the wide Velcro tab closure, you can actually fit a slightly taller
PDA into the pouch.
Because the belt-clip rotates, you can choose to either wear the case straight
up or rotated on its side, when it is attached to your belt.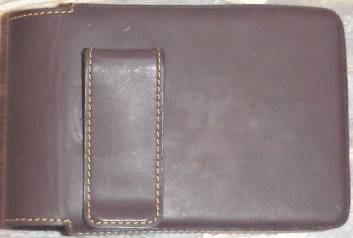 Although this case may have been
specifically designed to hold the Palm III, V & the original Handspring
devices, I was pleasantly surprised to find out that it would also hold a few
other PDAs as well.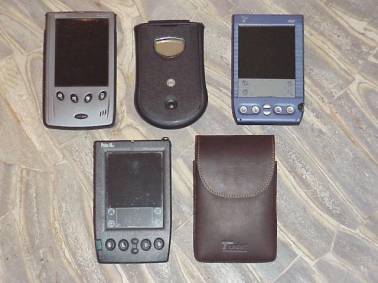 I put my Palm IIIc, Visor Prism, Palm m100, and HP
548 into this case, and all fit quite acceptably. I don't have a Sony Clie yet
(I'm waiting for color!), but due to the dimensions of this case I have no
doubt that the Sony will fit perfectly.
Just as an example of what to expect with your PDA
in the Targus case, flap closure wise:
With the m100 in the case, the flap will close
completely.
With the taller Palm IIIc, the flap is closed,
just not quite so far down.
For the tallest PDA I own, the HP Jornada 548, you
will see a bit of Velcro under the flap. However, the case is still securely
closed.
This case should be especially good news for those
of you that have been waiting for a distinctive clip on pouch for your Palm
m100. The m100 fits like a dream inside, either with, or without, it's flip
cover.
All in all, this case is an excellent choice, if
you need a belt pouch for your PDA.
Price: $29.95
Pros:

Can fit a variety of PDAs
Cons:

None
Product Information
| | |
| --- | --- |
| Price: | $29.95 |
| Manufacturer: | Targus |
| Pros: | Can fit a variety of PDAs |
| Cons: | |