We use affiliate links. If you buy something through the links on this page, we may earn a commission at no cost to you. Learn more.
Device:
Almost any PDA, such as: All Palm Models, All Handspring Visor Models, Sony Clie, HP Jornada P/PCs, Casio E-series P/PCs, Everex Freestyle, iPAQ, Phillips Nino, etc.

My first impression when I unwrapped the Base Camp PDA Bag by Grinder Gear was that this happens to be one rugged little beast!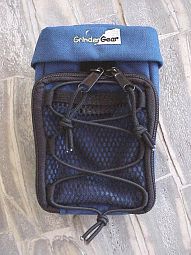 The Base Camp looks like a slightly over-large Cordura pouch with honeycomb webbing & elastic lacing on the front. A closer look reveals that the honeycomb webbing is actually a pocket that closes with a small Velcro strip – making it an ideal place to carry little loose items, or your cell phone if you have a really small one, which I do.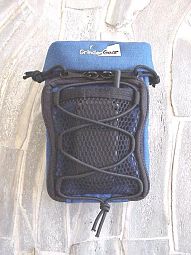 Right on top of the webbing and elastic lacing are two zippers that open to reveal a handy drop-down compartment that can carry your ID, spare change, compact flash card, spare cellular battery, or even a couple Visor springboards.
Opening up the main compartment (which is also secured with a patch of Velcro), you will find a thick, padded fleece lining just waiting to cradle your PDA. I can't think of a more protective or non-abrasive material to use for surrounding my Palm.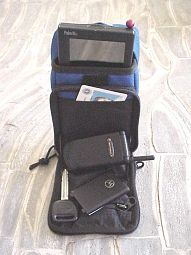 As you can see, I was able to put my Palm IIIc, my Motorola Vader, and extra cellular battery, my ID, and an extra truck key into this bag. Now before you start thinking that this is some huge "hip-monster", be aware that the approximate dimensions are only 4.3″ W x 6.3″H x 2″D. Grinder Gear calls these measurements approximate, because they claim that the Base Camp will "stretch to accommodate your device". If you have a smaller PDA, it will be a little looser in the pouch; a larger PDA – the pouch fits a little tighter. It all hangs quite well from your belt.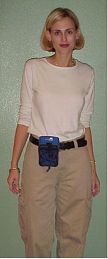 There are actually a couple of ways that you can attach the Base Camp to your belt: there is the plastic belt clip for up to a 2″ belt size; then there are two sets of webbing loops on the back, that you can run up to a 2″ belt through. If you know that you will most likely never use the plastic belt clip, you can even remove it – underneath it are tough plastic slots that up to a ½" belt could pass through. There is also a loop on the top rear of the bag that is similar to a mini-handle.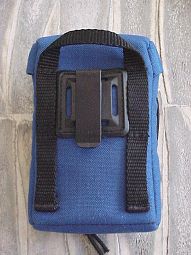 While most of the cases that I use offer enough protection for normal everyday use; most are not practical for when I am taking care of business at my day job, which is managing a working cattle ranch.
As the mental image you may have just conjured up portrays, that means lots of 4-wheeler riding, occasional horseback riding, and more day to day dings and shocks than most PDAs will ever come into contact with. Which is why I usually won't carry my Palm with me when I am doing these activities.
The best way to find out if a product will in fact do as it claims is to actually use it in the way it was intended. So, instead of leaving everything but my cell phone in the truck, like I usually do, I decided to load the Base Camp with my goodies and put it to the test…
The first thing that I realized was that the belt clip just got in my way. The literature that came with my bag did say that the belt clip is only intended for light-duty use, such as wearing around your home or office. It was easy to see that if I used it to secure the Base Camp to my belt, I would most likely be spending a good part of the day looking for my missing Base Camp, once I realized that it was gone. So I removed the plastic belt clip, and passed my belt through the Cordura webbing.
I wore the Base Camp threaded through my belt in the rear right position. Of course, this is a matter of personal preference.
I needed to ride fences and check livestock the day that I was experimenting with the Base Camp. On the 4-wheeler, I could feel the case lightly bouncing on my hip as I went over rocks and rough patches of prickly pear. For once, I was able to stop and make notations on my Palm about where deer and feral hogs had been making new holes in the fence, as I repaired them. I was able to consult my Palm when I counted the cattle in a particular pasture, to be sure that every animal was present and accounted for. Not only was I riding on the 4-wheeler, but I would also get off occasionally – trekking over to where I saw a deer antler "shed" laying on the ground, or a turkey feather I thought my daughter would admire.
It is safe to say that the Base Camp got a very good testing that day at the ranch. I am pleased to report, that not only was I able to write down events going on in the "office" as I discovered them; I also didn't fear for the well-being of my Palm –
while it was in the case! Once it was out of the Base Camp however, that was another issue altogether. Since the Base Camp was firmly attached to my belt, I had to completely remove my "nekkid" Palm in order to write on it. That was a bit scary!
This point brings me to the one thing that I wish that Grinder Gear could improve: I use a belt clip with my cellular phone, and I've never lost it while at the ranch. Just the same, I feel like there has to be a durable clip that would work like that on this bag. I think that if Grinder Gear would have used a detachable hard plastic clip, something like what E&B or Extreme Limits Cases use, they could offer a belt clip that could take a little more abuse; yet at the same time, could come off the unit completely when you wanted to thread your belt through the loops for maximum peace of mind.
The clip that comes on this case, for lack of a better word, just seems cheesy. It grips the bottom of your belt somewhat, yet I fear that over time it may loose its integrity, and break.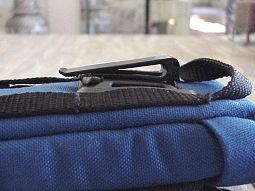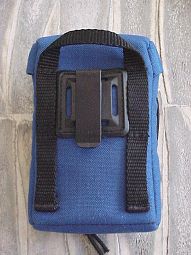 Well, here's something that happened when I got back home:
I thought it would be funny to emphasize how durable this case was to my 11 year old daughter, so I tossed it onto my office floor and said, "look at what a tough case this is!" What I failed to mention was that my IIIc wasn't in it at the time.
I walked in a little later, and she decided to surprise me by doing the same thing –
only her Palm was in the case this time! I about died!
But believe it or not, when we opened the case up, her Palm was just fine. While I certainly don't recommend playing "toss" with your PDA in a Grinder Gear Bag, or any case for that matter, I will say that in most drops, your PDA should be adequately protected in the Base Camp Bag. Be aware though, that while the bag is insulated for falls and dings, it is not crush proof.
As I mentioned, the one thing I would improve on this bag would be the type of belt clip used.
Otherwise, I think it is a great bag that delivers what it promises: "Toughest protection in the least obtrusive form."
Price: $39.95 – Grinder Gear is offering 5% off at this time.
Comes in Black, Royal Blue, and Forest Green (my favorite color!)
Pros:
Fleece offers excellent insulation & protection for PDA
Can carry lots of extra "stuff" with your PDA
Very tough case.
Cons:
Belt clip can only be used in low impact situations
Product Information
Price:
$39.95
Manufacturer:
Grinder Gear
Pros:

Fleece offers excellent insulation & protection for PDA
Can carry lots of extra "stuff" with your PDA
Very tough case.

Cons:

Belt clip can only be used in low impact situations