We use affiliate links. If you buy something through the links on this page, we may earn a commission at no cost to you. Learn more.
Product Requirements:

Desktop:
Any PC with a PS/2 Keyboard connector
The Flexboard Keyboard from Man & Machine, Inc.
is the first keyboard that I have seen that you can roll up into a 4″ roll. Yes, I said roll up!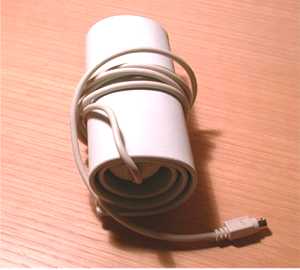 The keyboard comes in several colors and versions. The Flexboard Office comes in dark gray, light gray, yellow, blue and green. This keyboard resists common household cleaners such Lysol and Fantastic. The Flexboard Industry comes in dark gray and light gray and resists petrochemicals and MEK (an industrial solvent). The Flexboard Medical which is available only in green resists acid based disinfectants and bleach. All of the models look and function similarly.
The keyboards are waterproof and dustproof. They are totally sealed. So if you accidentally
spill a soda on it, you're fine. I found that the keyboard felt somewhat rubbery and just a bit
tacky to the touch. I'm wondering if dust might stick to it easily. If it does, the keyboard can be cleaned easy enough. You might be thinking that too much washing might cause the key cap lettering to fade or rub off. According to the literature, the characters are laser etched and are fade proof.
The keyboard dimensions are 499mm wide x 175mm deep x 7mm high and weighs 700g. When this keyboard is flat, it is a
full-sized keyboard with pretty much full sized keys. The key caps are not
square like a typical keyboard, they are round. I didn't find this to be a
problem though. The model that I reviewed (Flexboard Office) even had the special Windows keys.
The one with the Windows logo pops up the start menu and other key does the equivalent
of a right mouse click. You can even freeze input to the keyboard by pressing the two CTRL keys for 4 secs. This will let you pile things on the keyboard if you need extra space… or it is also good for preventing kids from activating something they shouldn't.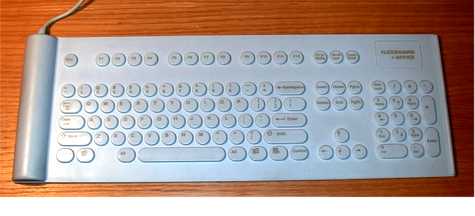 The actual feel of the unit was not what I had expected. When I first saw it, I thought I would have to mash the keys to make contact since the keys don't actually travel. Instead I was
pleasantly surprised that it took a very light touch to activate the keys. You don't get any feedback
such as key clicking while typing which might take a while to get used to, but typing is quite easy and comfortable.
The sensitivity is great.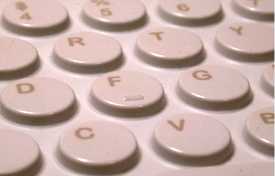 The keyboard comes with a standard PS/2 connector that is compatible with all PCs (some older PCs may need a PS/2 adapter). Soon, there will be USB (for Macs) and Palm OS device models available. No special drivers are needed. You just plug it in and start typing. The connector is on a 6.5ft cable which is nice and long.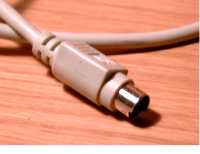 Although I wouldn't necessarily pick this keyboard as my everyday PC keyboard, I do think it
is a good solution for Industrial, Kitchen, Restaurant, Hospital, Marine and other 'dirty' environments. The keyboard is made well, is sensitive enough for any touch typist and can be easily washed.
Price:
Flexboard Office $129, 1yr warranty
Flexboard Industry $229, 2yr warranty
Flexboard Medical $229, 2yr warranty
Pros:
Sensitive
Washable
Flexible, can be rolled up for transport
Cons:
Expensive