We use affiliate links. If you buy something through the links on this page, we may earn a commission at no cost to you. Learn more.
Program Requirements:
Device:
Handspring Visor
150 K free RAM
The Xircom SpringPort Modem 56 GlobalACCESS is a great option for Handspring Visor owners looking for an inexpensive way to get their device on the Internet.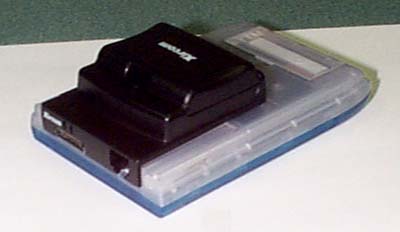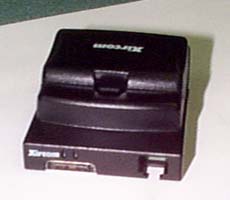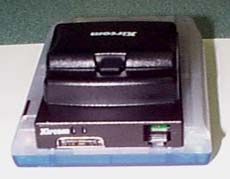 This conventional modem is made of black plastic and has two lights on the top to indicate connection status. Xircom made a smart move with this modem by putting a standard phone jack on the device (if you're like me, you go through life praying that you don't misplace the proprietary dongle that came with your PCMCIA modem). It also has a connector on top that provides support for GSM 900/1800/1900 connectivity (using the optional GSM kit). The modem has a half-megabyte of flash RAM that contains AvantGo and Actual Software's MultiMail Pro II, which install
automatically when you insert the device. Your settings and data are not erased
when you remove the SpringPort. They are stored on the Visor and are also backed
up during hotsyncing.
There's also a utility called File Mover that allows you to move things to and from the
flash RAM on the modem (there's 188k free on the device).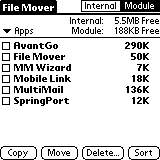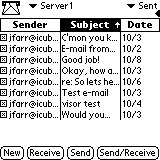 The modem is powered by 3 AAA Alkaline batteries. I used this device all weekend to check my e-mail and browse a few Palm-friendly sites, and the batteries are still going strong. They're housed in a removable pack, but I can't really see the reason for removing them, since the modem and Visor together are too large to fit in my leather pouch. Perhaps a larger/stretchier case will accommodate them both.
You can however remove the battery pack while you're not using the modem to make
the unit a little lighter and smaller. Doing this does not make the module flush
with the back of the Visor though.
All in all, I'd say I'm very pleased with the device. I was able to make flawless connections and it never dropped the connection once. It doesn't weigh much and I find it's actually more convenient to use the Visor with the modem attached, as it props the device up much like the cradle.
Price: $149.99
Pros:
Small size
Makes very consistent connections
Comes with browser and e-mail client
Cons:
Removable battery pack can be a pain
Product Information
Price:
$149.99
Manufacturer:
Xircom
Pros:

Small size
Makes very consistent connections
Comes with browser and e-mail client

Cons:

Removable battery pack can be a pain