We use affiliate links. If you buy something through the links on this page, we may earn a commission at no cost to you. Learn more.
Program Requirements:
Device:
Palm V/Vx (StreetFinder for the Palm III also
available)
145 K free RAM for application, maps take up additional space

Desktop:
Windows 95/98 or NT 4.0
CDrom
24MB Ram, 125MB HD space
The StreetFinder GPS for the Palm V/Vx is a clip-on GPS module from Rand
McNally. If that name sounds familiar, it should as they are the well respected
geographic and travel information company that has been around since 1856.
The StreetFinder GPS is a kit that contains the Palm V/Vx clip-on module, 2
AAA batteries, 12V car adapter, car mount, carrying case and StreetFinder Deluxe
software for your PC. The actual company that makes the GPS is Magellan.
If you don't know what a GPS is, it is a Global Positioning System. 24
satellites circle the Earth twice a day in a very precise orbit and transmit
information to Earth. The StreetFinder GPS uses between 3 and 12 of those satellites to
help pinpoint your location to show where you are on a map.
The clip-on module is basically the same module as the
clip-on Palm V modem. The only difference is that there is an antenna popping out
of one end and a place to plug in the 12V car adapter (cigarette lighter
power adapter). The module requires 2 AAA batteries or the 12V adapter to power
it. The module is small and pretty sturdy. The only thing I noticed
was  that the antenna could be wiggled back and forth a tiny bit.A button on the front of the unit starts operation. The GPS receiver
will shut itself off automatically after a 90-second delay (after you turn
off the Palm V).
The kit comes with 3 CDs. An install CD installs the StreetFinder application
onto your Palm V/Vx and the StreetFinder Deluxe software onto your PC. The 2
other CDs are data CDs. One is for the Eastern US and the other is for the
Western US. These data CDs contain US streets and over 1 million business listings.
The PC software can actually be used on a laptop with a GPS attached.
The first thing you do is install the application (.PRC) onto the Palm V. The
only problem I ran into was that after it asked if I wanted to install the software on my Palm V, it
also wanted to install TripNotes (whatever that is) onto my HPC… which I
don't have. I do have a Pocket PC though. The software must check to see if you
have the ActiveSync for Windows Powered devices installed.
After you have installed the software on your Palm V and on to your PC. You
can create maps and address to address directions that you can install on your
Palm V. The StreetFinder software has a lot of features. You can easily
zoom in and out on a map of the entire United States including Hawaii. The
farther you zoom in, the more details you'll be able to see. You can turn on the
ability to see things such as banks, hotels, restaurants, schools, parking
garages, etc. There are quite a few items that you can see. These items will
show up as little icons or blocks depending how far you are zoomed in. You can
click on one of these items and to see the name and address. You can then add
the address to the address book that is built into the software.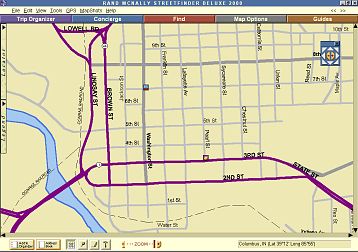 Although this is pretty cool and could be quite useful, I found that at least
in my area (Columbus, Indiana) that quite a few places that have been around for
years and years did not show up on the map. I also found some incorrect or
misplaced items. Bigger cities might not have this problem…
You can copy two kinds of maps to the Palm V. A regular map or address to
address directions with a map. Maps can contain info on restaurants, hotels etc.
Address to address directions can be plotted on the map and listed in text form
on the PDA screen. Creating just a map is easy. You just zoom in to an area that
you want and click on the MapShots button and a map will be created and
automatically put in your hotsync queue. You also can see how large the map is
before you download it to the PDA. Maps can be really large! I created a map Columbus and
Bloomington and it was almost 1.5meg in size. Syncing this map seemed to take
forever.
Creating address to address directions can be more frustrating. It's easy if
you want to create driving directions from a place that is shown on the map like
a restaurant to another place that is shown on the map like a school. Doing this
is pretty easy. But, if you want to create directions from an address like your
house to another address, good luck. For example, I wanted to create directions
from my house to my place of work. First it couldn't find my home address. The
road that I live on was marked as Unnamed on the map. I could create a spot on
the map and mark it as home, but I couldn't set that spot as the starting point
for my address to address directions.
Then when I tried to find the destination address of the place where I work, it
couldn't find it either (it's been there for over 20yrs or longer). What really
annoyed me with the software was that when you search for an address, you can
put in the address, city, state and zip. It will then search for it on the CD.
What's annoying is that it will ask you to swap CDs if it can't find it on the
first one. I find this strange because if I specify the state, it shouldn't try
to find the address in the other part of the United States!
Once you do succeed in setting your starting and ending destinations, you
have to be online to the internet for it to create the actual directions. In my
opinion, if you have to use the internet to create the directions then it should
just use the internet for the whole application. I know that my home address and
work address are available when I use mapping sites like Mapquest…
so why can't this software also find it?  Getting the directions is quick.
But then the software will ask you to put the original installation disk back into
your CD drive. Ok, you do that and then you can copy the directions to your PDA.
Then you'll have to put the mapping CD back into the drive to look up something
else. Swapping CDs can be annoying as well.
The GPS kit comes with a nifty car mount that uses three suction cups to hold
the GPS and Palm V to your windshield. The Palm V with GPS attached can be
easily inserted and removed from this spring loaded mount.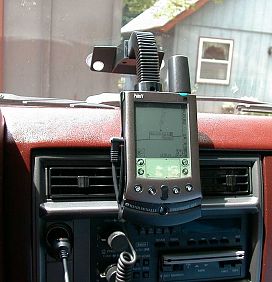 The GPS receiver must have an unobstructed view of the sky in order to obtain
a signal. GPS signals do not pass through solid objects such as roofs, tall
buildings or tree cover. So it won't work well if you just hold the unit in your
lap as you drive. You have to have it pointing out of your window.
The first time you use the GPS, it usually takes about
10mins to initialize it. After that, it usually only takes less than a minute to
acquire a signal.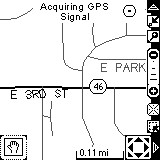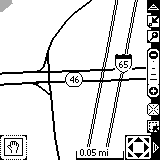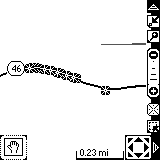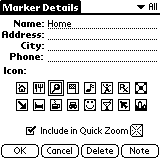 When you have a signal and are moving, a little star icon will move along the
map to show where you are and where you're going. You can also display a
distance scale to give you an idea how far away the next turn is. When you get to the edge of
the screen, the software will scroll with you. Sometimes this takes a couple of
seconds. This might take longer depending on how large of a map that you're
using.
The StreetFinder software on your Palm has the ability to zoom in and out of
the map, mark points of interest, and find addresses using a toolbar on the
right side of the display. You have the option to turn this toolbar on or off as
you desire.
When you use address to address maps, you can either look at the map to see
view the path you should be taking, or you can view text directions. You can
easily toggle from the map to the text directions. You can either see a trip
summary that shows all the steps of your trip, or you can see step by step
instructions.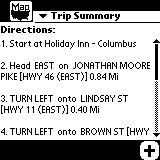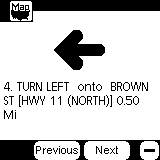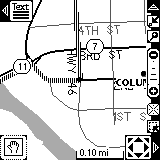 There are a couple things missing from the Palm software that I would like to
see. One thing is a compass. It would be nice to have the software tell you what
direction you are heading. It would also be nice if the software would tell you
your speed and elevation or latitude and longitude. Other than that, this kit is
pretty nice as long as you don't mind swapping CDs all the time.
Price: $199
Pros:
Small unit.
No wires.
Kit contains everything you need.
PC software can be used on a laptop with a GPS.
Cons:
Finding addresses requires annoying disk swapping.
Noticed some incorrect locations on the map.
Address to Address directions finder requires an Internet connection on your PC.
Product Information
Price:
$199.00
Manufacturer:
Rand McNally
Pros:

Small unit.
No wires.
Kit contains everything you need.
PC software can be used on a laptop with a GPS.

Cons:

Finding addresses requires annoying disk swapping.
Noticed some incorrect locations on the map.
Address to Address directions finder requires an Internet connection on your PC.