The Slipper C100 case by E&B Cases
is a leather play through case for the Casio E-100 / 105 Palm-size PC. It comes
in both a belt clip and non-belt clip version. I'll be reviewing the non-belt
clip version.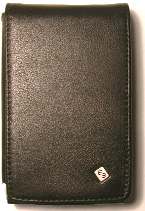 The case has a stiffened cover that has 2 card slots. One is longer and the
other is a smaller business card type slot. The cover is held in place by two
small pieces of Velcro. During my review of the case, I found that the Velcro
didn't always hold the cover securely closed. I would rather see some other type
of closure system other than Velcro.

The Casio slides into the case from the top with a nice snug fit. There is a
large clear plastic covered window for the joypad and 3 hardware buttons. There
are small holes over the speaker. Pressing the buttons thru the plastic worked
fine for normal use, but for a person that likes to play a lot of games that use
the joypad and buttons, I wouldn't recommend this case as you lose some feeling
thru the plastic.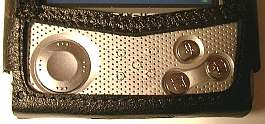 There is also a plastic window on the left side of the case that has openings
for the earphone jack, action button and IR port. The other buttons are covered
with the clear plastic. It isn't that easy to press the correct button without
looking at it as you can't feel the buttons thru the plastic. I personally do
not like plastic covered cutouts. I would rather just leave them open.

The right side of the case has a small cutout that allows you to push up the
stock stylus. I found it really hard to remove the stylus from the Casio while
in this case. I prefer using a PDA Panache replacement stylus with my E-100. It
is no problem removing it from the Casio while in the Slipper case.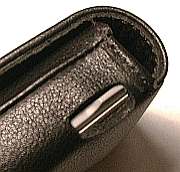 The bottom of the case has an opening for the serial connector which allows
you to put the PDA in the cradle and sync while it's in the case. This makes
using this case very convenient because you don't have remove it in order to
sync.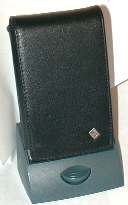 Overall this is a nice case. The leather and stitching are first rate. It
also really doesn't add that much to the overall size of the Casio. If you don't
mind the clear plastic over the buttons, then this might be the case for you.
Price: $33.26 (belt clip version $35.96)
Pros:
Play through.
Can sync while in the case.
Cons:
Clear plastic covers buttons.
Velcro doesn't hold the cover down all that well.
Hard to remove stock stylus.
More of our stories that you'll enjoy: