We use affiliate links. If you buy something through the links on this page, we may earn a commission at no cost to you. Learn more.
The Ondata Palm V case arrived on my
doorstep direct from Italy. It came wrapped in blue fabric inside a gray box.
The moment I saw it, all I could think of was "Wow".  You could
tell this wasn't an ordinary PDA case, this one came with a certificate of
authenticity that was hand signed by the actual craftsman that had made it.


This is a leather form fitting play through case for your
Palm V (there is also a version available for the Palm III) that is
available in a variety of colors including burnished, black, red, green,
and blue. This case is similar in design to the E&B Slipper cases.
But, the similarity ends when you hold this case and really look at
it. The Ondata is made of very fine Italian leather and is designed,
hand-stitched and individually numbered by the artisans in Riola, Italy.
The Palm V slides into the case from the top. Two snaps hold the PDA in
place. The case fits the Palm V like a second skin. You can even hotsync your
Palm V while it is in this case. I did have some problems with this though. At
first I had to press the PDA down into the cradle in order for it to make proper
contact. When I would let go of the PDA, it would lose contact. After quite a
few tries I was about to give up on syncing while my Palm V was in this case.
But, it then started working. I think that the leather finally stretched and
molded itself correctly to my Palm V.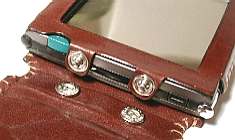 The case has a nicely padded and stiffened screen cover that has one card
slot in it. The cover is held in place with a unique magnetic closure. There are
two magnets on the underside of the cover and two magnets above the application
buttons. At first I as a bit worried that the magnets might be 'bad' for my Palm
V. So, I asked a very knowledgeable electronics friend and he assured me that
there wasn't any reason to worry. I really like this closure system. There's a
satisfying feel when the cover pulls itself shut as you lower it in place. The
magnets are also quite strong so it takes a good tug to open the cover. I don't
think there are any worries that the cover will accidentally come open. The
cover also has a polished nickle clasp that really makes the case look classy.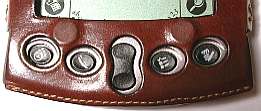 There are access cutouts on both sides of the case for the styli and on the
back, there is a cutout for the hotsync port. A cutout for the power button
allows you to easily turn the PDA on and off. The application button cutouts are
perfectly placed making all the buttons easy to use. The only things that can't
easily be accessed while the Palm V is in this case are the contrast button and
the IR port. Although, by unsnapping the two cover snaps, you can access them.
It just isn't as convenient as having them readily available. For those of you
that use the IR port to sync and/or beam, you should consider this fact before
purchasing this case.
The Ondata has an interesting feature on the back of the
case. It has an elasticized leather hand harness. The idea is that you can
slide your hand into this harness and not fear dropping your Palm V while
you're using it. In reality, I personally don't care for this feature for
several reasons. For one thing, I would never use it as it takes too much
time to get your fingers under it.  Secondly, I'm afraid after using
it over and over, the elastic might become stretched and saggy. And
lastly, it just isn't comfortable. One nice thing though, the harness is
ambidextrous for lefties like me.
The overall feel of this case is of pure luxury.  It looks beautiful and
is made better than any case I've seen so far. And it should look good because
it costs more than any case I've seen so far! Keep in mind, that this case isn't
marketed towards your regular Joe or Jane Shmoe like me. No, it's mainly being
marketed towards executive types that also wear a Rolex watch, shop at Saks
Fifth Avenue (this case is actually available there), and have quite a bit of
disposable cash. Don't get me wrong though, if you are a regular Joe Shmoe and
want this case, go for it! It is the finest case you can buy right now.
Price: $119.99
Pros:
Excellent quality.
No Velcro.
Magnetic closure.
Play through design.
Cons:
Very Expensive.
IR port covered.
Contrast button not accessible.

Product Information
Price:
$119.99
Manufacturer:
Ondata
Pros:

Excellent quality.
No Velcro.
Magnetic closure.
Play through design.

Cons:

Very Expensive.
IR port covered.
Contrast button not accessible.