We use affiliate links. If you buy something through the links on this page, we may earn a commission at no cost to you. Learn more.
For the person who has everything, I'll bet you don't have one of these…..yet. I'm talking about a nifty new PDA protective case called the Otter Box.  This case is not only designed to be watertight, but you can literally drive a truck over it! I'll break the review down to two levels. First, I'll look at the Otter Box with regards to "doing what it was designed to do". I'll also look at the Otter Box as, specifically, a PDA case.
The Otter Box is a hard plastic case that has a water tight seal, which the manufacturer claims it will be watertight up to, and perhaps over, 100 ft. This will certainly keep anything that you place inside it dry, especially if you are only concerned with dropping it off a boat, (or into a bucket of water). If you do drop it into the river or stream while on a camping trip, have no fear because it's also designed to float. Below is a picture of a Palm getting dunked into a bucket of water. No harm done!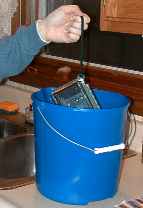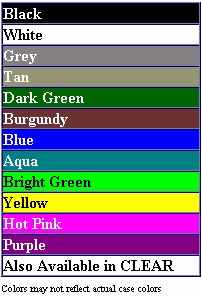 The Otter Box comes in 13 different colors, including clear. Inside the case is a foam lining. The foam lining is only on the colored halves, so if you want maximum protection, get one with both halves colored. The one that I  reviewed was dark green with a clear top, (which had no lining on the top). A completely clear case would have no lining on either halves. I would recommend that if you decide to get this case for a PDA, that you get one that has padding on at least one side. This way, you can glance through the clear top to see if your PDA baby is safe, and dry. I mention dry because although the case is designed to be watertight, if you don't close it properly, you would compromise the seal. Since the hinge and clips are extremely well designed, you should have no problems closing the case, but there are those of us out there…
Keep in mind that there is nothing in the case to secure your PDA and that this is not a play through case. It is designed to hold your PDA and keep it safe and dry. You would be able to read the PDA screen if you have an alarm that goes off, (although you would have trouble hearing it), but you would have to open the case to get at your PDA.
The Otter Box is just the right size for a PalmPilot, Palm III, or Palm V. It also has a big brother, Otter Box2. Otter Box2 is designed to accommodate your PalmIII with a modem case, (or another accessory that uses the "modem" housing), attached. See the dimensions below to make sure that you can fit what you need into fit in the case before you purchase one.
Case

Outside
Dimension/
Inside Dimension

Length
Width
Height

PDA-Pak

OD

6 1/2″

3 7/8″

1 5/8″

PDA-Pak

ID

6″

3 3/8″

1 1/4″

PDA-Pak2

OD

8 3/8″
4 3/8″
1 7/8″
PDA-Pak2

ID

7 7/8″
3 13/16″
1 1/2″
When the manufacturer of Otter Box says it is crush-proof, they mean it! Below is a picture of an Isuzu Trooper driving over the Otter Box! Now I wish I could confirm this test for you, but alas I lost my Trooper in a collision last year. All I can say is that my Trooper weighed 3000 lbs. Suzi would have been 9 this year :'-(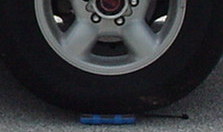 Anyway, this is all just a testament to the fact that this case is tough and will protect whatever you put in it. But let's look at this from the viewpoint of a PDA case. Although I can drive a truck over the Otter Box, I will still run the risk of damaging my Palm inside if there is nothing to dampen or cushion it when it is dropped. The shock on the electrical components is not going to be buffered, even though the case will bounce off the ground. (Imagine, if you will, placing a Palm V, which is smaller, inside the case, closing it, and shaking it vigorously. If you don't secure the Palm inside, it's going to be damaged). I don't know if the cases with padding on both sides offer enough cushion for the PDA, and the Otter Box I tested only had padding on one side. If someone else can answer this, please put it on the Bulletin Board comment page linked to this review.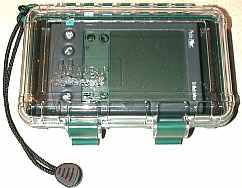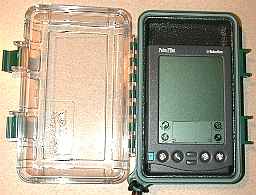 Overheating is another issue.  I could see some value in using Otter Box on a camping trip, boating trip, etc… But I would still pack it properly and make sure that you don't leave it out in direct sunlight. Anytime you take your Palm outdoors you need to be careful of where you leave it, and your Palm may overheat if you leave it out in the sun in Otter Box.
Overall, I think this is a quality piece of gadget gear. If you are looking for watertight, crush-proof design, Otter Box is hard to beat. But put something in the case, like Velcro, to hold your PDA down, and don't leave it in direct sunlight.
**Footnote: If you need a size that is different than the ones above, contact Otter Box. (I know that they stock many other different sized cases.)
Price:

Otter Box- $14.99

+ S & H
Otter Box

2- $19.99

+ S & H
Pros:
Watertight seal.
Crush-proof.
Comes in many colors.
Con:
Does not secure the PDA.
PDA might overheat in this case if left in the sun.