Device:
PalmPilot or Palm III series PDA with Modem
The Versid Protective Field Case from Tangent Systems,
Inc. is a black non-leather play through case for your PalmPilot or Palm III with an
attached modem module. This case was actually developed for use with their temperature
acquisition module which uses the modem housing. It was used during Nascar races to check
tire temperatures.
The case has a plastic play through screen cover (similar to the PalmVelope cases). This clear cover allows you to
actually write and tap through it while protecting your PDA and screen from dust, dirt and
other debris.  The clear screen cover is a bit harder to write through than the
PalmVelope's screen cover. I think it is because the plastic is held more taunt on the
Versid case. This requires you to use more pressure to actually make contact with the
screen. Once you get used to this, it isn't too bad. But, I wouldn't want to use my PDA in
this case for long Graffiti sessions though…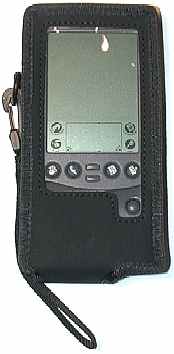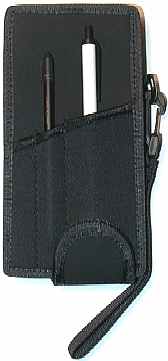 The case itself has a front and back made of some type of faux leather while the sides
are made of stretchy neoprene. The back of the case also has 3 neoprene pockets. They are
quite narrow and mainly useful for holding styli. The top of the case has an opening for
the IR port and bottom of the case has access to the modem port. There is also a
detachable handle on the side of the case.
The PDA with modem attached slides into the case from the bottom and is held inside
with a big Velcro tab. It is easy to insert and remove the PDA and it feels very secure
when it is in the case (i.e. won't fall out). However, there isn't a way to access the
stylus, power button or contrast wheel while the unit is in this case. There are ways
around these problems though. First, you can store the stylus in one of the narrow pockets
on the back of the case. Two, you can turn the unit on via one of the application buttons
on the front. As for the contrast wheel, there's not much you can do about that problem
unfortunately.
This is a nice case that is made very well and in many ways I like it better than the
PalmVelope type cases. It feels more sturdy. But, like the PalmVelope, this case needs
some type of flap to cover the screen when you're not using the case. Otherwise the screen
will not be protected from impact with other objects.
If you are looking for a play through case that can hold your PalmPilot and a modem,
this one might be for you.
Price: $34.95
Pros:
Holds both the PalmPilot and modem in one case.
Clear play though screen.
Cons:
Have to store styli in pocket on case.
No access to power button and contrast wheel.
More of our stories that you'll enjoy: