Program Requirements:
Device:
Palm V, Palm IIIx, Palm III, and Older PalmPilots that have
been upgraded to the Palm III level with the 2meg upgrade board (with IR)
50 K free RAM for the OmniRemote software which is not included.
Tech Center Labs is always coming up
with nifty little PalmPilot accessories. Their recent additions are called IR Blasters.
These are small modules that can plug into a Palm V and a Palm III to increase the power
of your IR signal for use with the Pacific Neo-Tek
OmniRemote software. This software allows you to
control IR devices like a TV, VCR, Satellite dish, etc. The software is not included with
the IR Blaster, but a demo version can be downloaded from Pacific Neo-Teks website.
These IR Blasters are transmit only devices. They can not be used to receive IR signals
either with learning commands from remote controls or to received beamed programs from
other PalmPilot users. As a result you have to train the OmniRemote software using the
built in IR first. Then you can switch it to use the external module.
The Palm V IR Blaster is a small black module that plugs into the hotsync port on the
Palm V. It is made especially for the Palm V and will not fit any other Palm OS models.
It is solid and easy to connect and remove. The Palm V IR Blaster does not have a
battery. Instead it steals power directly from the Palm V. The module does not take much
power so you shouldn't notice your batteries draining faster than normal while using it.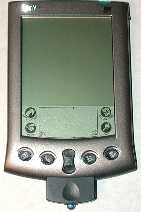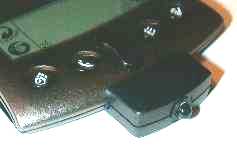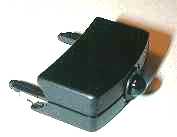 There is also an IR Blaster for the Palm III. This is a larger module that also plugs
into the hotsync port on the Palm III. This module does have a NiMH battery inside. The
battery charge is kept topped off while it is plugged into the Palm III. Like the Palm V
Blaster, this one is solidly made and also easy to insert and remove.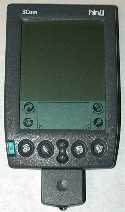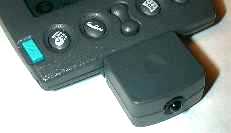 I tested OmniRemote on my Palm V and Palm III with and without the IR Blaster module.
After I had trained my three devices, I conducted a test to see how strong the internal
Palm V and Palm III IR was versus the external IR Blaster modules. Here were my findings:
| | | | |
| --- | --- | --- | --- |
| | Magnavox TV | RCA VCR | RCA DSS Satellite System |
| Palm III using internal IR | 5ft | 3ft | 3ft |
| Palm III using Omniremote external IR module | 7ft | 14ft | 12ft |
| Palm III using IR Blaster external IR module | 10ft | 12ft | 11ft |
| Palm V using internal IR | 2ft | 2ft | 3ft |
| Palm V using IR Blaster module | 18ft | 18ft | 20ft |
From my measurements, it seems that the Palm V with an IR Blaster works the best. The
OmniRemote IR module and IR Blaster module for the Palm III seems to have about the same
power. If you have a Palm III, you'll spend $29 for the IR Blasters from Tech Center Labs
and then $20 for the OmniRemote software. That's a total of about $50. You can buy an IR
module and OmniRemote software from Pacific Neotek for $40. Since Pacific Neotek's module
has about the same signal strength as the IR Blaster, I think this is a better deal and it
will save you about $10.  If you have a Palm V, you don't have that choice and will
end up spending $50 buying the IR Blaster and software. Either way, you'll be happy if you
choose the IR Blasters as they work as advertised.
Price: $29 each (OmniRemote software not included)
Pros:
It transmits a much stronger signal than the built in IR.
Cons:
Can not be used to learn IR commands. Built in IR must be used for that.
Only works with OmniRemote and not WedgeTV.
More of our stories that you'll enjoy: