We use affiliate links. If you buy something through the links on this page, we may earn a commission at no cost to you. Learn more.
(5/22/99: Updated original review to reflect changes to the case
by Dooney & Bourke.)
The Palm V Slim Case by Dooney &
Bourke is a leather cover specifically for your Palm V. It has one business card slot
and is attached to the Palm V via the side stylus slot. I hesitate to call this a case as
it really just protects the screen and back of the Palm V. The sides, top and bottom of
the unit are left exposed. Also there isnt a snap or zipper to hold the cover closed.The
cover is made in the USA with a very high grade of leather as are all of the cases that
Dooney & Bourke make. The cover I reviewed was a grey color. This cover comes in a
variety of other colors (visit their site for the specific color availability). The Dooney
& Bourke logo is branded into the front of the cover.

This cover makes your Palm V feel like a small expensive leather bound book. The cover
really has a nice rich feel to it. It also doesn't add that much to the overall size of
the Palm V. The size of the cover is: H 4.75″ L 3.375″.

The cover is held in place by using the side stylus slot on the Palm V. A metal rail
that is sewn into the case slides into the left stylus slot. This rail has 3 little rubber
O-rings which keep the rail securely in place.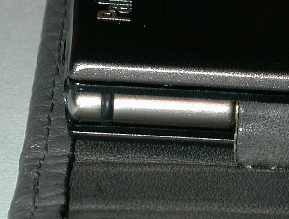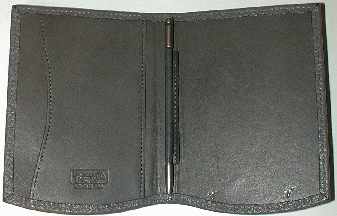 (Dooney & Bourke's first set of cases only had one O-ring at the very
top of the rail which didn't hold as well. Now that they use 3 rings, it works great.
People that bought the first cases can get a free fix-it kit by contacting Dooney &
Bourke directly.)I found that the cover didn't want to completely lay flat when closed.
This might change once the cover was worn a bit. When the cover was held closed I didn't
notice it pressing the hardware up/down scroll buttons. So, I don't think this cover would
have the alarm problem that original cover has (pressing the up/down button while an alarm
goes off will cancel the alarm without you hearing it).
The stitching and leather on the Dooney & Bourke slim case are all of the most
highest quality. Although this is a very well made case, it is hard to recommend it due to
its high price. But, if you like to have the finest leather cases, you should take a look.
Price: $49.95
Pros:
High quality leather
Doesn't add much to the overall size of the Palm V
Cons:
No snap or zipper to hold the cover closed
High Price
Product Information
Price:
$49.95
Manufacturer:
Dooney & Bourke
Pros:

High quality leather
Doesn't add much to the overall size of the Palm V

Cons:

No snap or zipper to hold the cover closed
High Price