We use affiliate links. If you buy something through the links on this page, we may earn a commission at no cost to you. Learn more.
Note: This product is no longer available…
The Toga screen cover for the PalmPilot is a one piece plastic cover.  It is made out of recycled plastics and as a result closely resembles the plastic that milk jugs are made of. It is about 1/16th of an inch thick.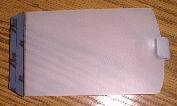 The package comes with the Toga, an alcohol wipe, instructions and a graffiti reference sticker (similar to the one that came with your PalmPilot). Installing the Toga is just a quick matter of cleaning the top of the Pilot with the alcohol, removing the adhesive backing on the Toga, and pressing it onto the Pilot. The adhesive is very strong so you have to get it right the first time. The included instructions are clear and thorough and make the installation a snap.

The Toga is held on by Velcro. I really don't like 'sticking' something on to my Pilot. I'm always worried that I won't be able to get it off later. The hinge itself is plastic and doesn't look very sturdy. I'm afraid it would tear with a lot of use.