If you are a shutterbug (and why would you be interested in mini tripods if
you are not?), you might have read my review on the

Clamperpod a few months ago. A few weeks ago I
noticed that Fred at clamperpod.com was
starting up a new site for mini tripods (ironically called
minitripods.com). I suggested to Julie
that it might be cool to review all of Fred's new tripod offerings in a single
review. It would give me a chance to try out several different table top tripods
and provide Fred with some exposure for his new endeavor. Julie contacted Fred
and we were off and running with my great idea.
Then reality set in.
I didn't know there would be so many! Fred sent over eighteen mini tripods –
one each of his entire inventory. Some I liked a lot, some were serviceable, and
others were not so great. I love photography equipment, but this could be
considered overkill. The mini reviews that follow are in no particular order.
Let's get to it.
Model: M343E
Price: $72.95
Range: 16.6-62.4 in
Closed: 17.5 in
Weight: 1.9 lb
Capacity: 8 lb
Head: Ball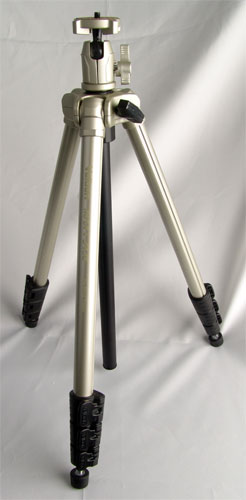 This one is somewhat out of place in a review for mini tripods. It does fold
up into a fairy small (17.5 inches collapsed) package, but I would call this a
full size tripod – maybe medium sized. Having said that, I
am still glad that Fred sent this over for me to review. In fact, I
believe I will be carrying one of these with me for general use from now on.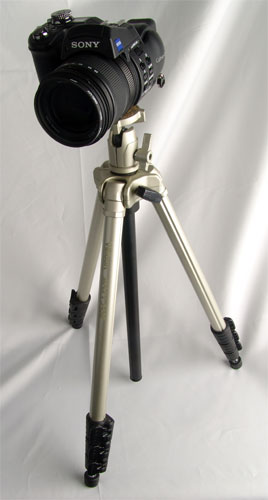 The legs are a bit on the spindly side, but the shape (Velbon
calls it a Trunnion shaft) provides adequate
stiffness for most photographic situations.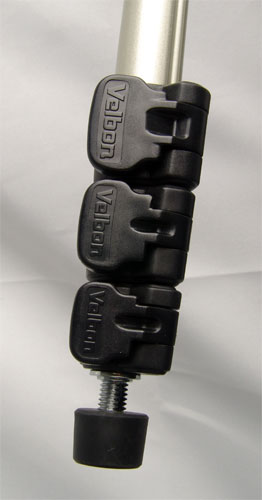 These leg clamps are solid and well designed. The rubber pads on the ends can
be screwed up to reveal a pointed spike for field work.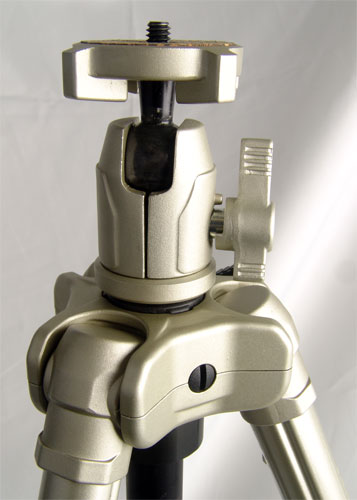 This tripod comes with Velbon's PH-243 ball and
socket head. This head looks good and performs well. A single lever controls
tension and the head will allow you to position your camera at virtually any
angle.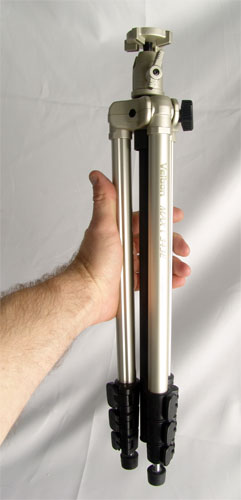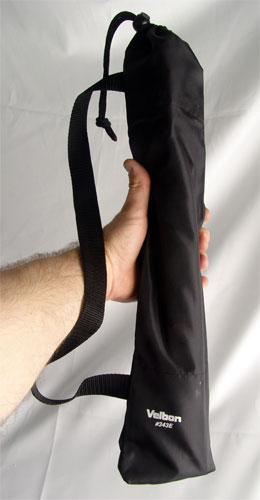 As you can see, this tripod is a bit large for mini tripod status, but it is
small and portable when collapsed. Velbon includes
the fitted pouch.
I highly recommend the MAX I 343e from Velbon.
Model: 620-350
Price: $29.95
Range: 8.3-12.5 in
Closed: 8.3 in
Weight: 12 oz
Capacity: 2.2 lb
Head: Ball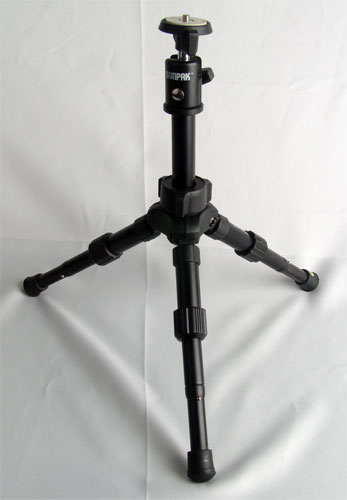 This stubby little fellow comes complete with Sunpak's
compact ball head. It is not as pretty as Velbon's
PH-243 head, but provides the same functionality. The legs have three sections.
The bottom section must be fully extended when used, but the center section is
adjustable using a twist lock collar. This willallow you to level this tripod on
uneven terrain.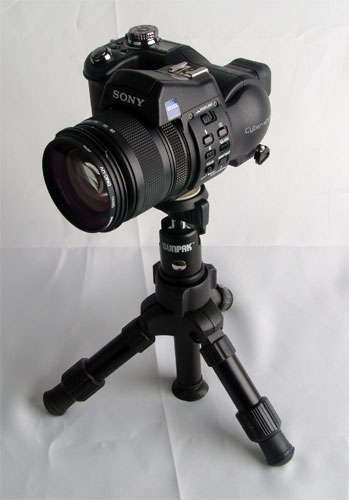 Although small, this tripod is designed to handle large cameras (like my Sony
DSC-F828). Contrary to rumors circulating around the office, I bought this large
camera for the high resolution and excellent zoom lens – not to compensate for
any real or imagined inadequacies.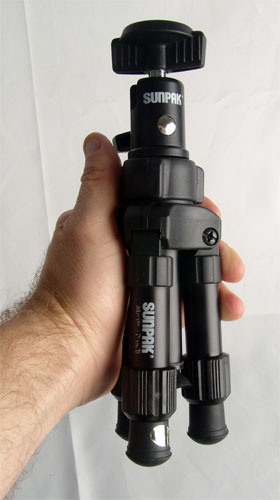 As you can see, this is not a tiny tripod. Unless you have cargo pants, you
won't be slipping this into a pocket. I think it fills a niche between full size
and pocket sized tripods and I recommend it to anyone looking for a mini tripod
this size.
Model: 620-200
Price: $20.95
Range: 8.5-12.1 in
Closed: 8.5 in
Weight: 14 oz
Capacity: 2.2 lb
Head: Three-way Pan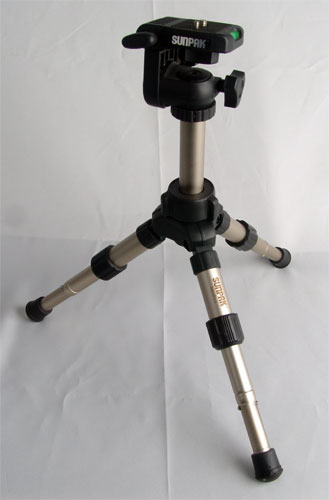 The body of the MiniPlus carries the same design
as the MiniPro Plus/B, but it lacks the cool
all-black color scheme. The three section legs are adjustable in the middle
(twist lock collars) with the bottom section either fully extended or collapsed.
The main difference, aside from the aforementioned cosmetic change, is the head.
This one comes with a three-way pan head. It is also a little bit cheaper than
the MiniPro Plus/B.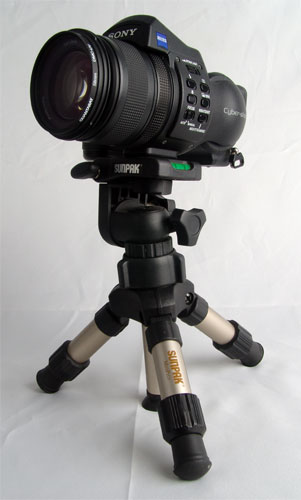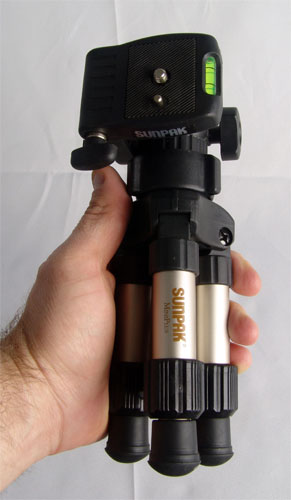 The head includes a bubble level. I recommend this tripod.
Model: 620-101D
Price: $16.95
Range: 6.7-11.5 in
Closed: 6.7 in
Weight: 8 oz
Capacity: small or compact cameras
Head: Ball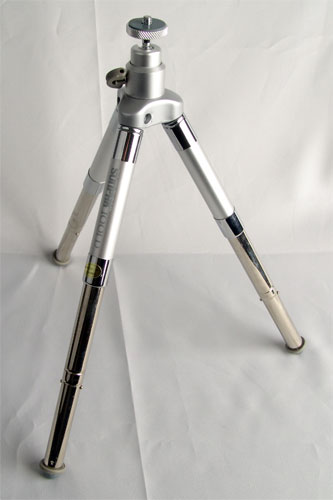 This fairly inexpensive tripod has a nice range. It is lightweight and easy to
set up.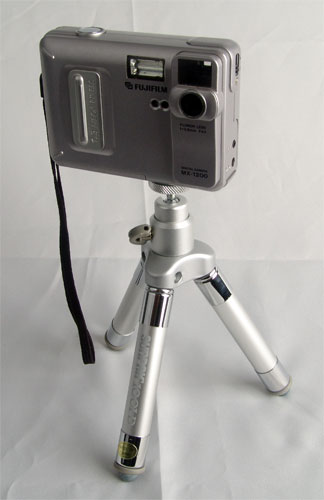 It can only handle small or medium sized cameras.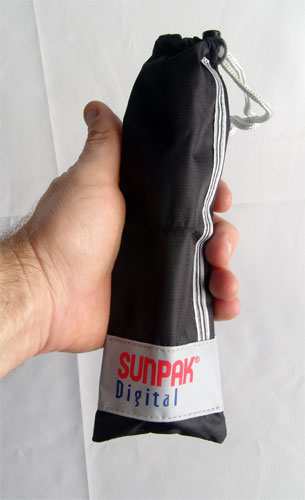 As you can see on the included pouch, Sunpak is
marketing this tripod for digital camera owners. For my money, it is worth a few
extra dollars for one of the two previous Sunpak
tripods. They cover the same basic range and can handle full size cameras.
Besides, they just look cool.
Model: ATTP
Price: $4.95
Range: 3.3 in
Closed: 6.0 in
Weight: 3 oz
Capacity: small or compact cameras
Head: Vertical (one axis)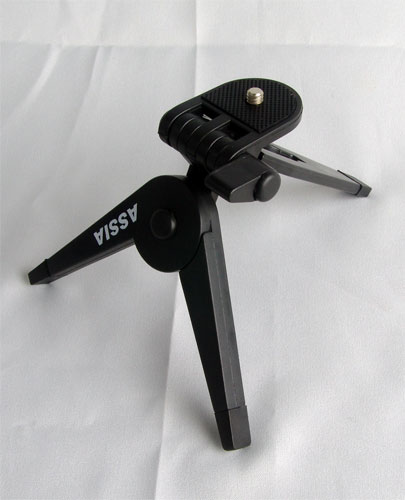 This tripod from Assia is one of two really unique designs in this round up
(we'll get to the Giottos U.Pods soon, so try to be patient). The head allows
the camera to move only in the vertical direction. You will have
reposition the mini tripod for side to side movement.
I suppose you could call this a one-axis pan head?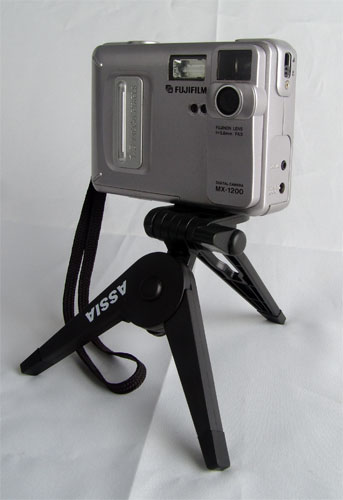 This one can only handle a fairly small camera.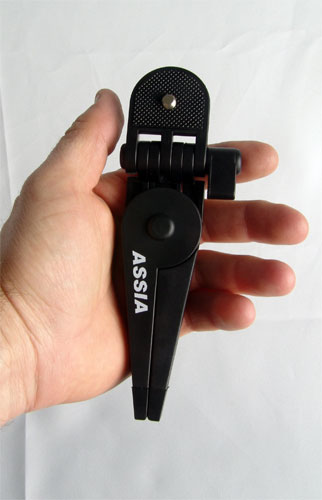 Here is where the unique design kicks in. When folded up, this mini tripod
has a flat profile – excellent for sliding into the pocket of a small camera bag
(or your jeans pocket). I really like it and I will carry one of these if I ever
purchase a small camera.
Model: ACTM
Price: $19.95
Range: 9.3-31.0 in
Closed: 9.3 in
Weight: 1 lb
Capacity: 2.2 lb
Head: Ball/pan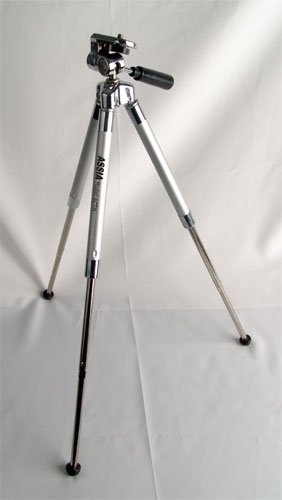 This is possibly my least favorite of the entire roundup. The legs were
extremely difficult to collapse. Sometimes I had to actually hold the little
ball locks in with my thumb and bang the leg on the floor to get it to slide in.
Julie will tell you that I rarely cuss, but collapsing this tripod drove me to
do just that – and more than once. There is really no need to ask Julie about
the whole cussing thing…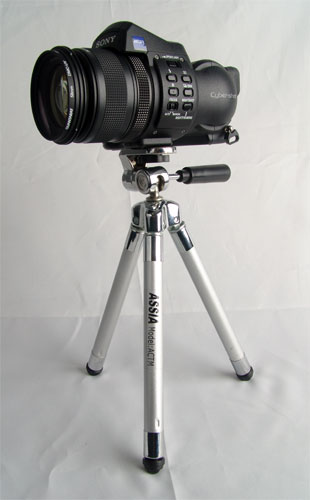 It has a tricky pan/ball head with one adjuster. It is too tricky and really
doesn't work very well. The whole thing just looks cheap to me. This one was set
aside pretty quickly.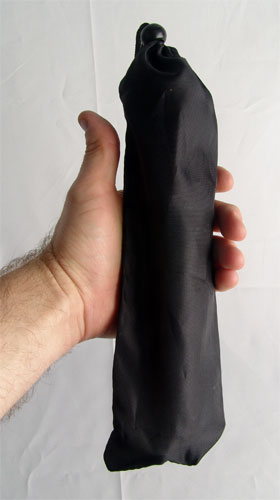 Even the nylon pouch can best be described as simply "Better than nothing."
Buyer beware.
Model: ATTF
Price: $6.95
Range: 4.0 in
Closed: 4.1 in
Weight: 4 oz
Capacity: small or compact cameras
Head: Ball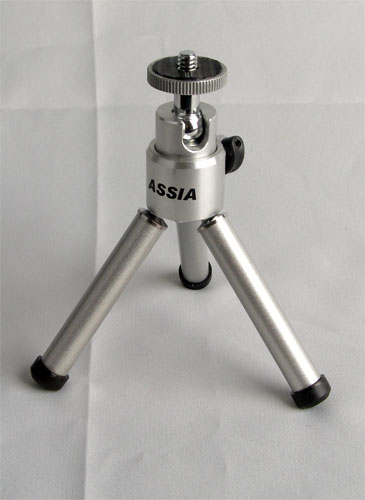 At this point, Assia was batting .500 – one nice tripod and one really bad
tripod. This one put them over the top.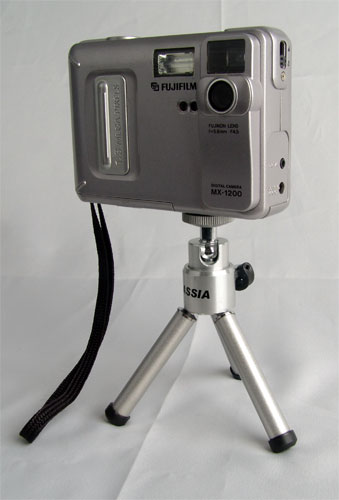 It is a simple and inexpensive tripod excellent for small cameras on flat
surfaces.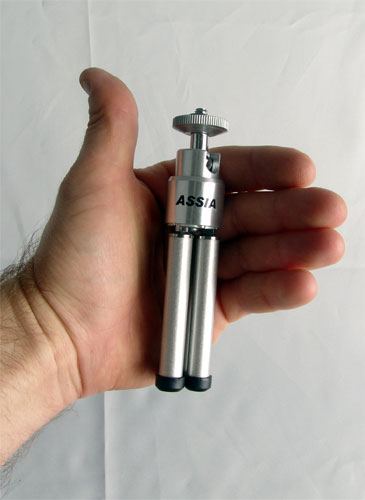 Folded it almost fits completely in the palm of my rather small hand (don't
get me started). This one is easly worth the $7
price tag.
Model: 400280
Price: $14.95
Range: 4.0 5.7 in
Closed: 5.7 in
Weight: 4 oz
Capacity: small or compact cameras
Head: Ball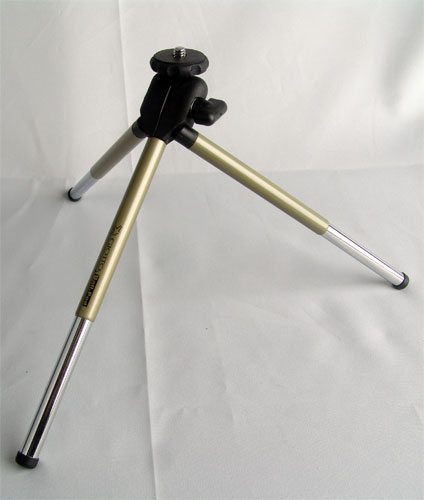 This is the first of five extremely small tripods from Giottos that Fred from
minitripods.com supplied for this
review. There were also two medium size tripods from Giottos that will follow
the five tiny tripod reviews. The reviews will actually be regular size, but the
subjects of the reviews are very small. OK, OK, the reviews are pretty small,
too. Look, I had to write about eighteen of these things.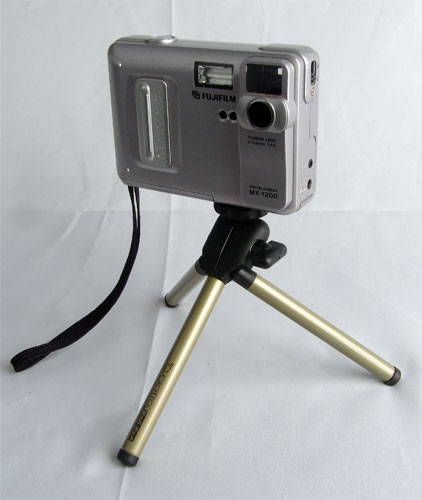 I like the look of these tripods from Giottos. This one has two leg sections
and a ball head. The ball head has very little clearance on the sides, so you
are pretty much restricted to vertical movement. Some of the other
mini's from Giottos have the one-axis pan head. There
is really very little difference given the clearance issue with the ball head.
All five of the Giottos mini's support small cameras only.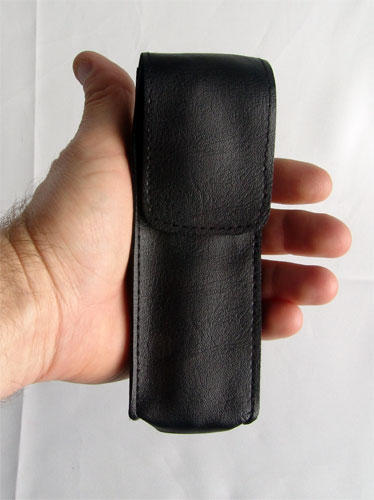 The thing folds up and fits neatly in the leather-like case that comes with
it. I like this one, but $15 seems a bit pricey. Ambico
makes one very similar to this model for $8 (see review farther down the list).
Model: 400270
Price: $16.95
Range: 3.0-4.0 in
Closed: 5.0 in
Weight: 4 oz
Capacity: small or compact cameras
Head: Vertical (one axis)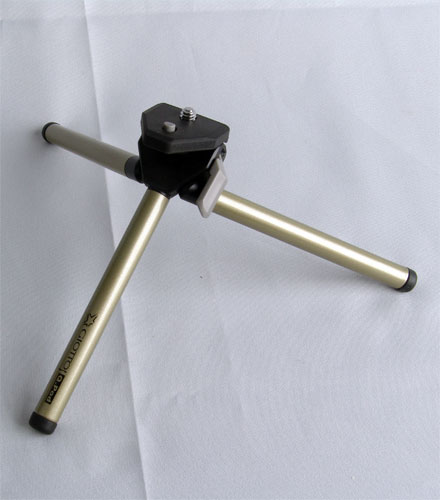 This one has no leg extensions and the one-axis pan head.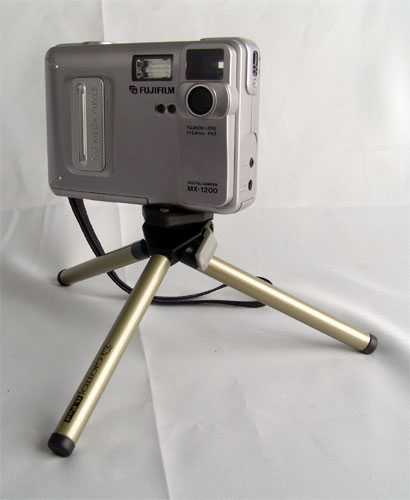 You will need a coin to attach and remove the camera with this one.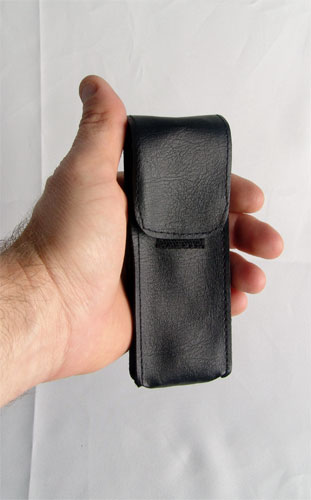 For some reason this one is smaller and costs more than the previous model —
$17 is really just too much.
Model: 400285
Price: $18.95
Range: 2.1-4.0 in
Closed: 3.5 in
Weight: 4 oz
Capacity: small or compact cameras
Head: Ball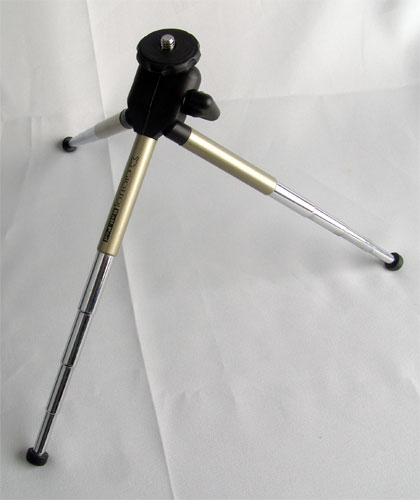 Here we have five sections and the limited movement ball head.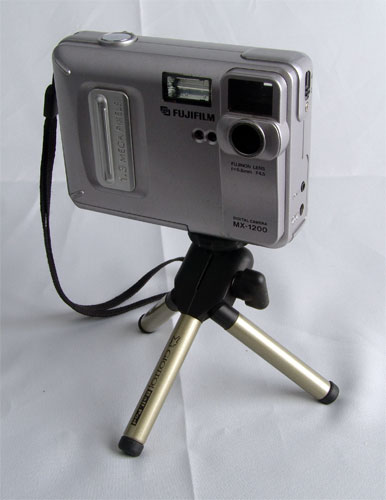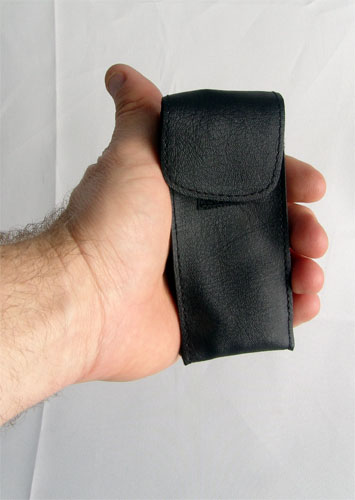 $19 dollars is just too much…
Model: 400275
Price: $21.95
Range: 2.1-4.0 in
Closed: 3.5 in
Weight: 4 oz
Capacity: small or compact cameras
Head: Vertical (one axis)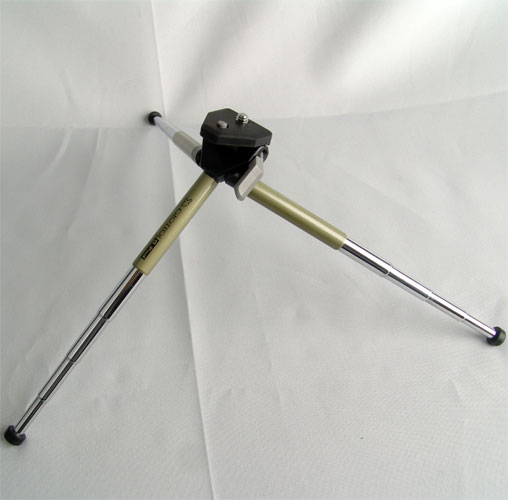 Five sections and the one-axis pan head.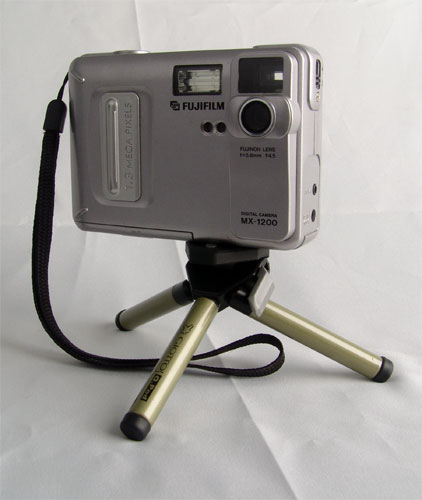 You need a coin for this one, too.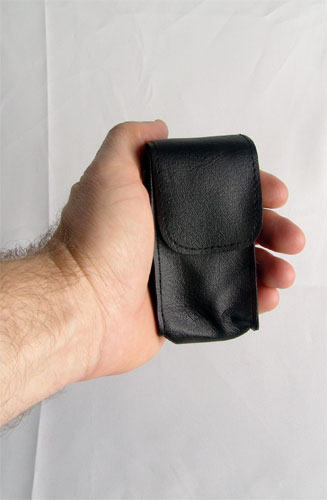 Like all the rest in this series, a nice leather-like case and a too high
price — $22 for this one.
Model: QU100
Price: $33.95
Range: 10.5-14.3 in
Closed: 8.5 in
Weight: 9.5 oz
Capacity: 6.5 lb
Head: Two-way Pan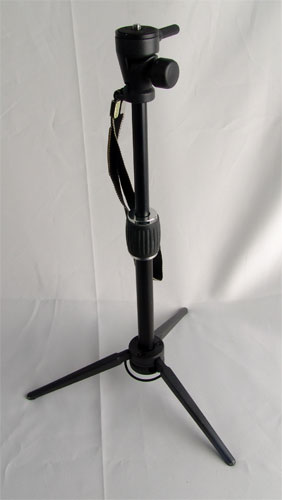 Finally, A product from Giottos that I can get behind! I mentioned earlier
that there were two designs that really caught my eye in this round up. The
first was the little table pod from Assia that folded up into a flat profile.
This is the other design that just grabbed me. There are actually two tripods in
this review that share this unique design – one with a ball head and this one
with a pan head. The locking collar in the center of the vertical shaft above
allows you to raise or lower the camera.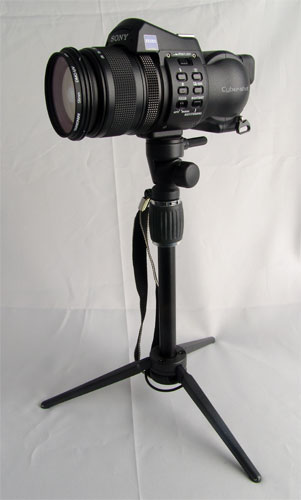 Here is the tripod with the vertical shaft collapsed. This is the minimum
height for this tripod. Of all the mini tripods reviewed, the two U.Pods felt
the most secure with my precious (using my best Gollum impression) Sony
828.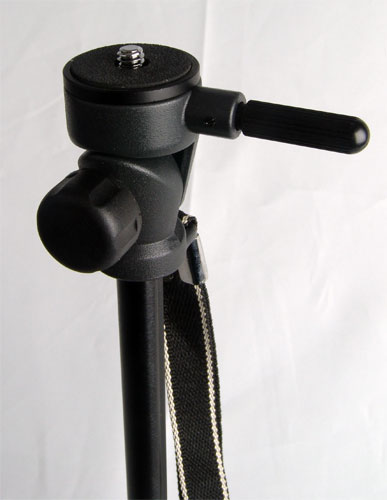 Here is a look at the two-axis pan head. This is well constructed and looks professional. You can tilt the head all the way over to one side for portrait orientation, but you will lose the rotational axis. You can just rotate the whole tripod if necessary. This tripod also comes with a quick release plate typically found on full size tripods.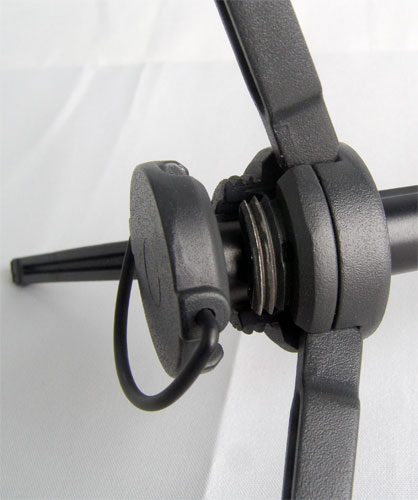 Above you will see the unique aspect of this design. The threaded hub slides
up under the vertical locking collar and the legs fold into three grooves cut in
the base for stowing the tripod. To set it up, you fold out the legs, slide the
threaded hub down to the base and screw it in. This creates a nice wide base
with a very low profile. The solid metal construction makes this arrangement
feel really solid.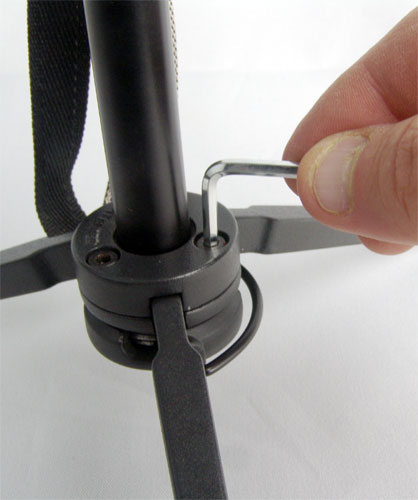 The tripod comes with an allen
wrench that fits the three hex screws in the hub. This allows you to adjust the
tension on the legs.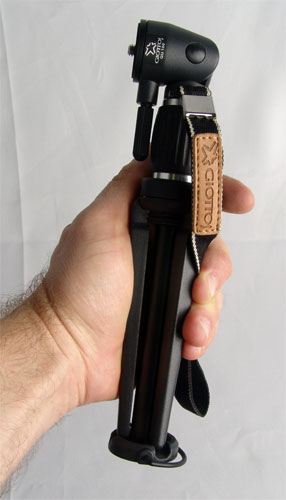 Here it is all folded up. Note how the legs fold up into the base. It comes
with a nice wrist strap.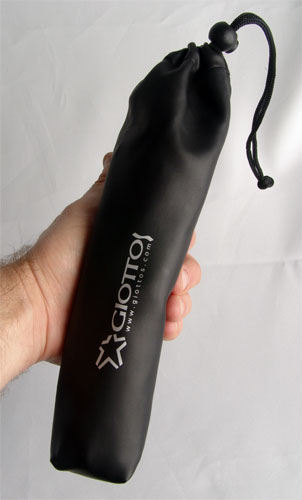 This pouch is the best of any included in the round up. It is a nice addition
to what was already one of my favorites. $34 dollars seems like a lot, but this
could be the gift for that hard-to-buy-for photographer you know.
Model: QU200
Price: $31.95
Range: 10.5-14.3 in
Closed: 8.5 in
Weight: 8 oz
Capacity: 6.5 lb
Head: Ball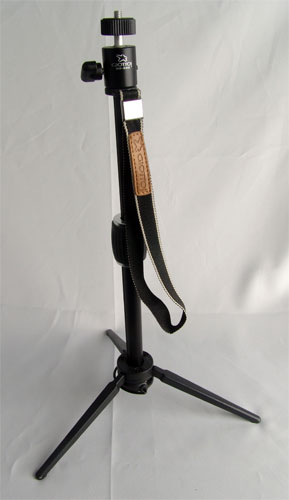 This tripod is virtually identical to the one above with a single exception.
This one comes with a ball head.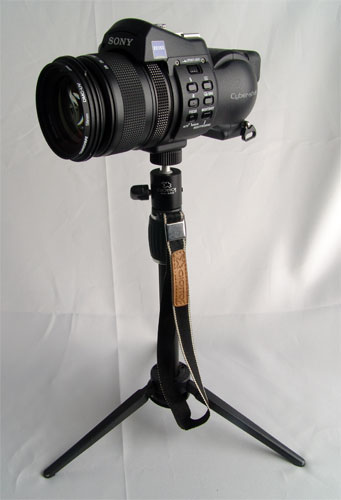 The ball head allows you to move the camera into any position desired.
Although I like the Giottos pan head on the previous tripod, I will probably opt
to carry this one. It is $2 cheaper, too.
J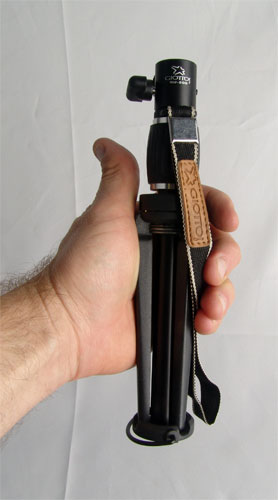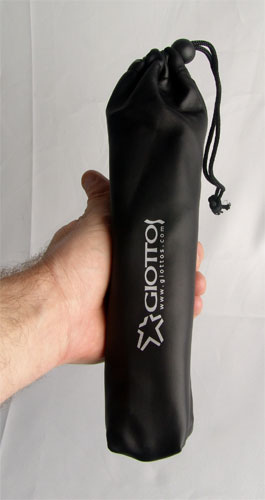 Model: V-0615
Price: $7.95
Range: 3.3-4.1 in
Closed: 4.2 in
Weight: 4 oz
Capacity: small or compact cameras
Head: Ball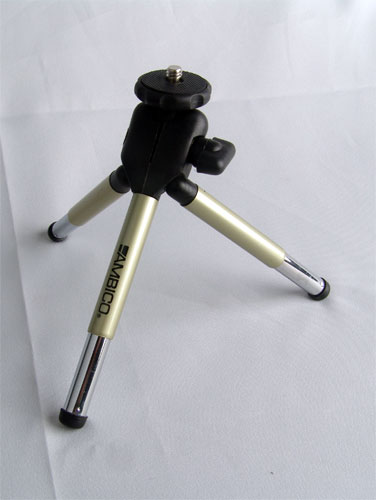 Inexpensive knockoff of one of the Giottos tripods from
earlier in this review.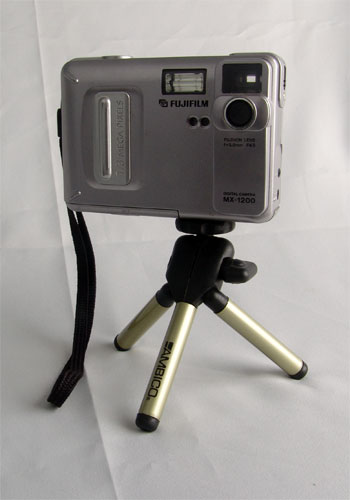 This one can only handle the little cameras.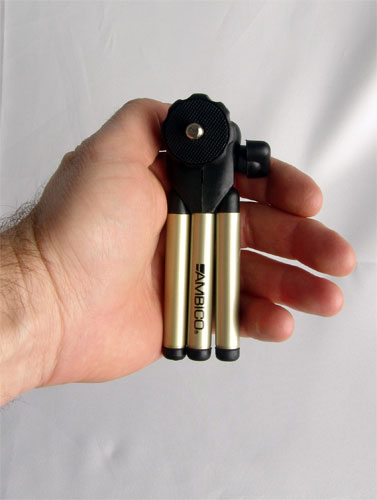 Palm-sized when collapsed. Get one of these if you need something this size
for your small digital camera.
Model: ST10TK
Price: $13.95
Range: 4.8-6.8 in
Closed: 5.7 in
Weight: 6 oz
Capacity: small or compact cameras
Head: Ball/Pan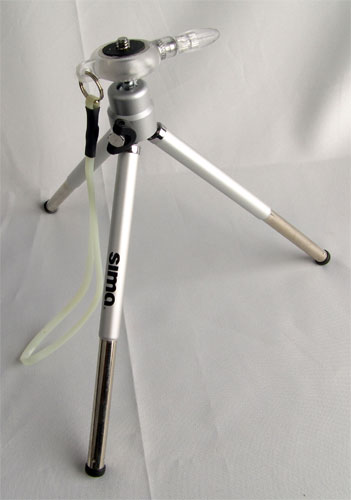 One quick note — this tripod is one of two in the round up with a quick release mechanism. The other was the Giottos U.Pod with Pan Head. I am not going to waste a lot of our precious time with this one. I feel like I have aged significantly since I began to pen this review and I simply do not have time for trifling, cheaply constructed mini tripods.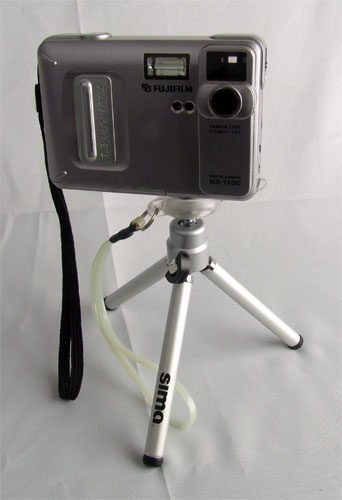 Much of the ball/pan head is constructed of clear plastic and just screams
"CHEAP!" I don't even like the wrist strap.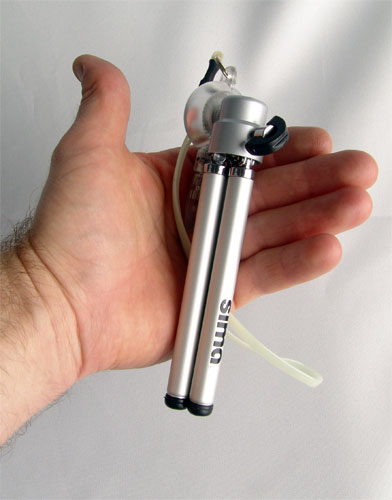 It is small. It fits easily in the palm of your hand when collapsed. You
don't want one.
Spend your $14 on one of the better constructed mini tripods.
Model: VS55
Price: $11.95
Range: 3.2-5.5 in
Closed: 4.1 in
Weight: 5 oz
Capacity: small or compact cameras
Head: Ball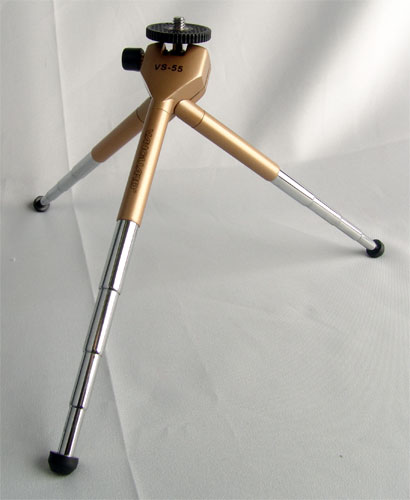 This is very similar to the Giottos Q.Pod Mini
Ball reviewed above with a couple of exceptions. It is $7 dollars cheaper and
the ball head has better freedom of movement.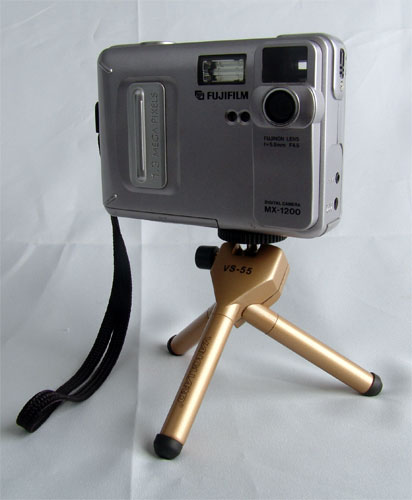 The paint job makes this little number cosmetically competitive with the more
expensive Giottos, as well. Use this with small digital cameras.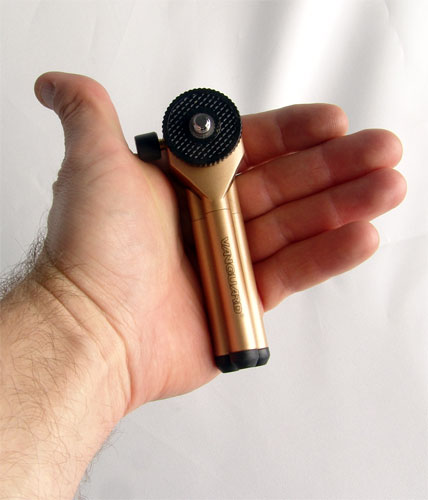 Folds up into a convenient small size that will fit into your small camera
bag or hip pocket. I recommend this tripod.
Model: VS52
Price: $9.95
Range: 3.7-5.2 in
Closed: 5.5 in
Weight: 5 oz
Capacity: small or compact cameras
Head: Ball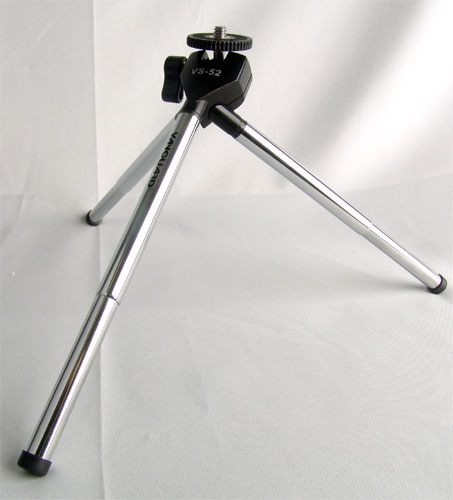 This one is very similar in functionality to the VS-55 just above. You can
save $2, but the 55 looks better.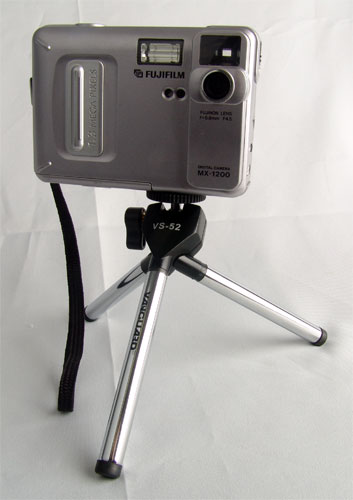 The silver just doesn't look as nice as the gold on the VS-55.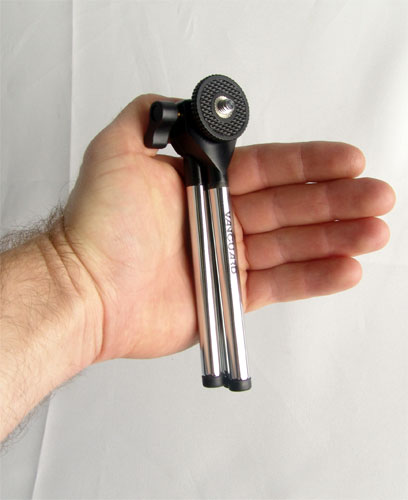 The VS-55, with its five section legs, folds up a little smaller. Get this
one if saving two bucks is really that important to you.
Model: VS34
Price: $17.95
Range: 5.1 in
Closed: 7.0 in
Weight: 1 lb
Capacity: Large camera
Head: Ball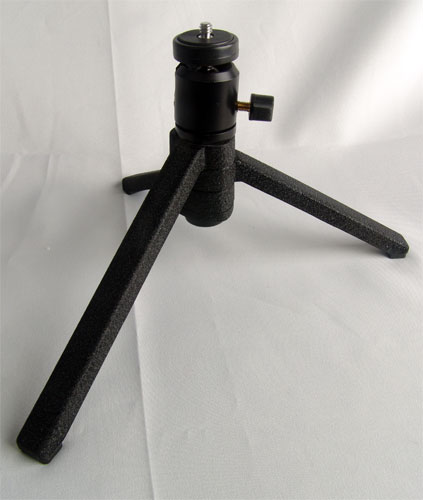 The best way to describe this baby is "solid". It seems to be based on a
background light stand design. I have one that I use out in the studio which is
very similar, only it has a monolight mount rather than a camera mount. The
three legs rotate around the center until you reach stops for each. Then add a
camera and set it on something.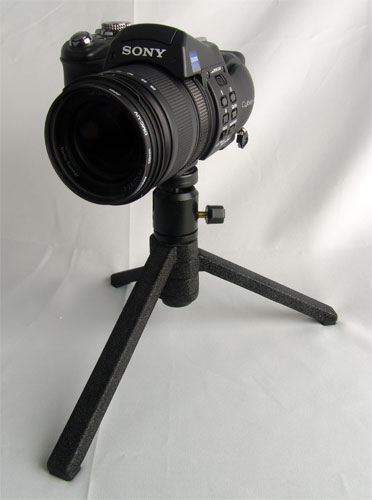 This is a solid metal piece of equipment that sits low to the ground (or table or porch or . . .). The ball head gives you freedom of movement.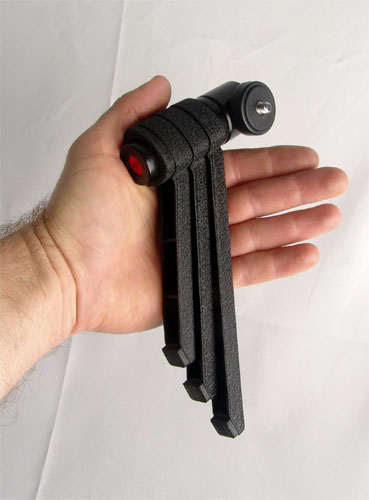 Here it is with the legs rotated back into the stowed position. This is a
solid (I keep using that word) tripod, but my $17 dollars would go for one of
the more versatile mini tripods reviewed earlier in the round up.
That is all I have for you shutterbugs. If you are reading this, you have
slogged through the entire review (or skipped straight to the end). Good luck
choosing the mini tripod that is right for you.
More stories from The Gadgeteer