We use affiliate links. If you buy something through the links on this page, we may earn a commission at no cost to you. Learn more.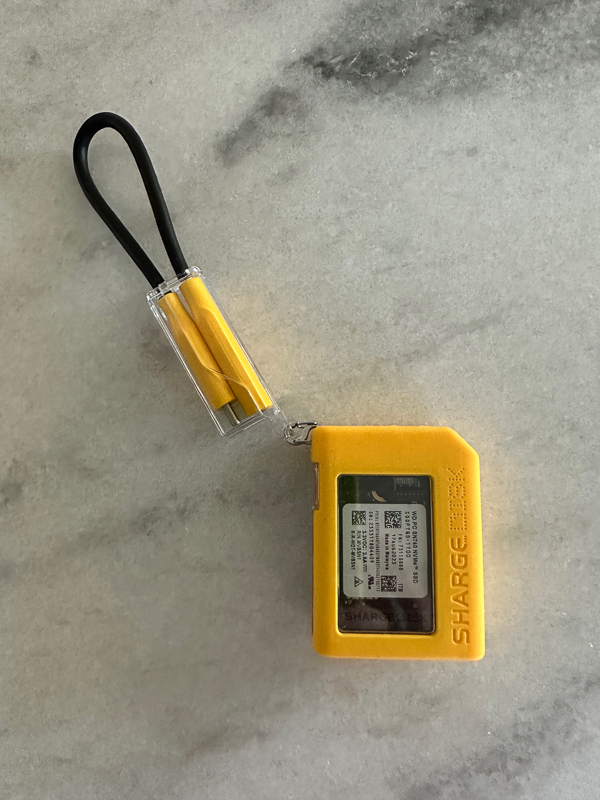 REVIEW – USB stick data storage drives have been around for several years now.   I have used several in my IT career and have found them to be very convenient to carry data around with me.  I have mentioned in a few reviews that I have a marching band action photographer side gig.  Just this past Monday, I took over 13,000 pictures, which added up to 23.2 GB of data.  We had state marching contests and Bands of America competitions running over a total of eight days in the past two weeks.  As each day completes, I need to copy the data off my laptop and store it on another drive as a backup copy.  Until the Sharge disk came along, I used a Samsung 2TB portable SSD drive.  I took the Sharge disk along with me to these competitions.  Let's see how it handled my storage needs.
What is it?
The Sharge Disk is a very small M.2 NVMe SSD disk enclosure system.  It can hold up to a 2 TB drive.  It has a built-in storage fan and can come with a silicone storage case with a 10gbps USB C to C cable.
What's in the box?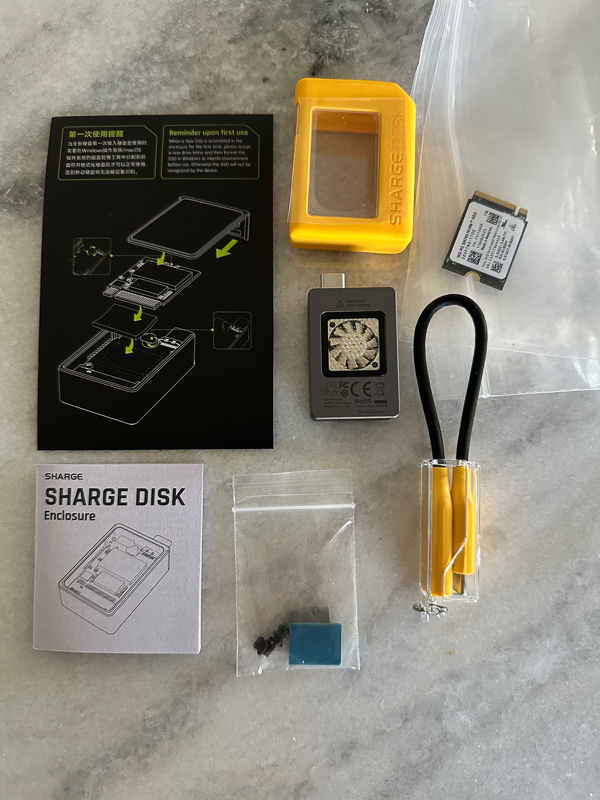 Note, I received a pre-retail package.  The Indegogo project is just getting ready to deliver to backers.
Assembly card
Instruction book
Sharge enclosure
Silicon case
USB C to C cable
1 TB card
rubber grommet to hold card in place
two silicone thermal pad stickers
Hardware specs
Up to 2 TB of small portable M.2 NVMe SSD
Active Heat Dissipation System – built-in 13000rpm silent fan
high read/write speeds of up to 1000 MB/s
physical switch to lock drive into read only
Silicone case – 6.56 ft drop proof.
tool free memory card changes.
Design and features
The picture below shows what I consider the bottom side of the case, but it is the side you want to stick up when you plug it into your computer.  The fan needs to be able to pull in air through the air holes to cool the memory chip.  They even have a note on the case to not cover the fan when using the disk enclosure.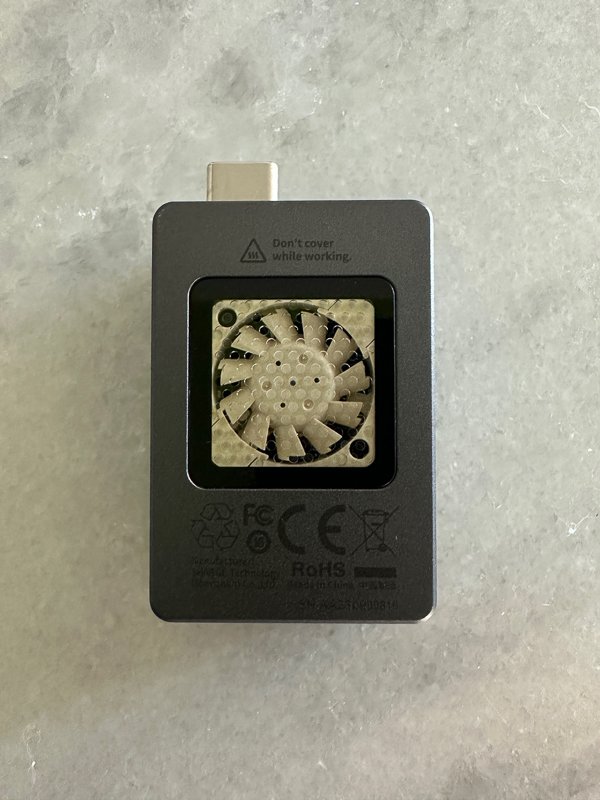 On the top side you see the window where the memory card would be inserted.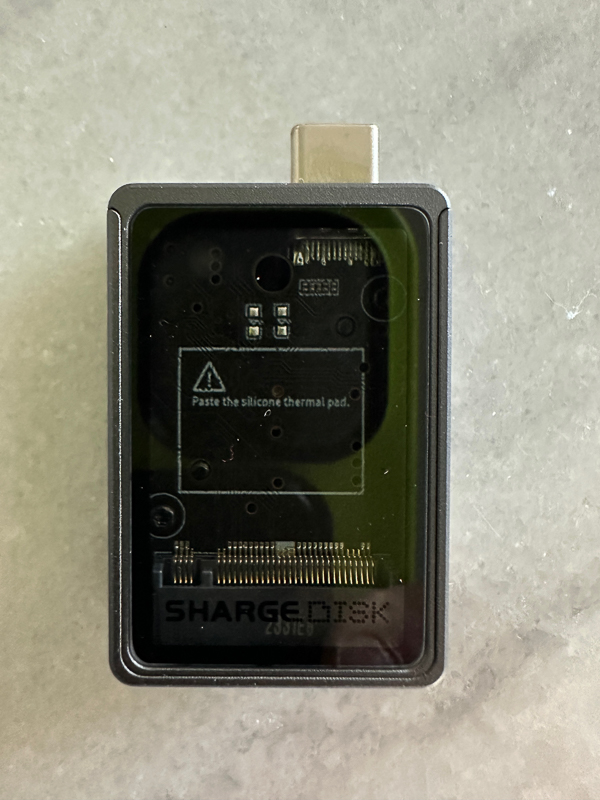 On the left side of the enclosure, you will find the fan output holes and the switch that will allow you to lock the drive and not allow it to be written to.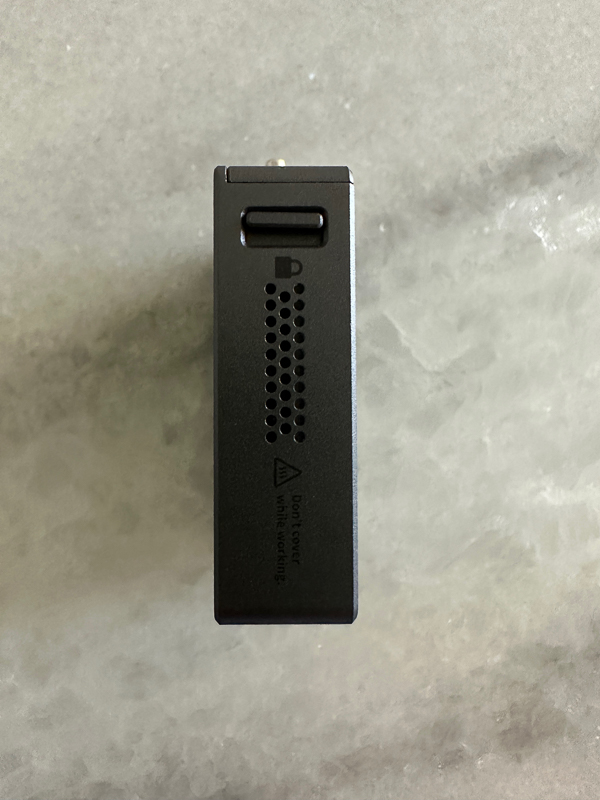 Setup
The instruction card has all the information you need to get your disk ready to use.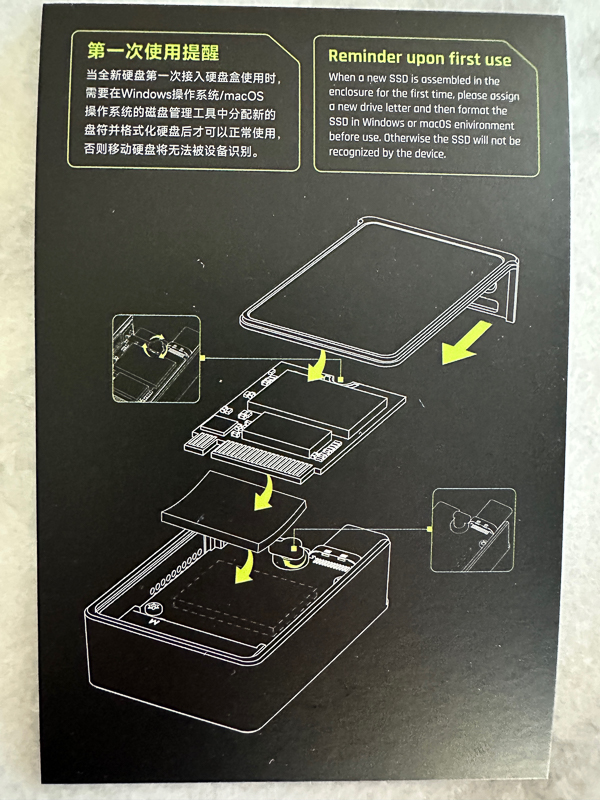 To open the enclosure, I pressed down on the glass on the front and pushed it towards the USB C port.  In the picture below you can see the top lid start to slide out towards the top of the enclosure.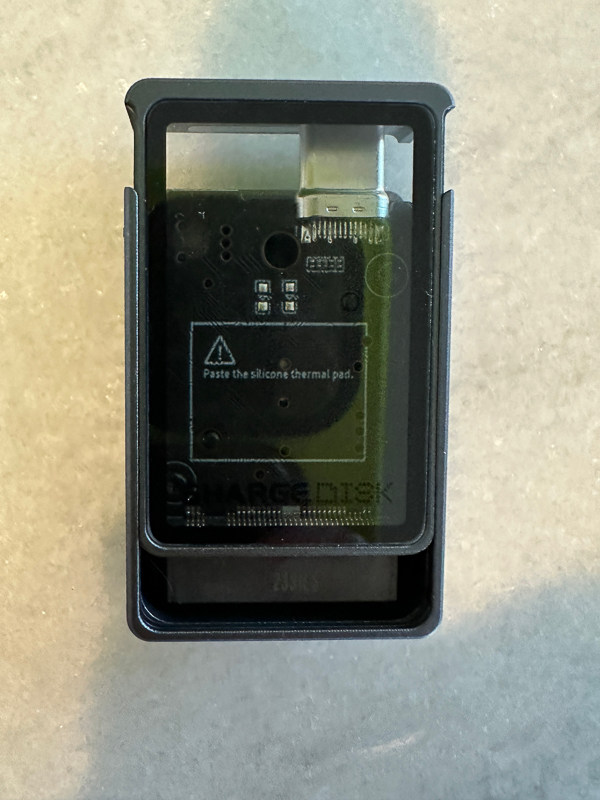 Here is a picture with the lid completely removed.  You can see the square outlined where you will have to place the silicone thermal pad.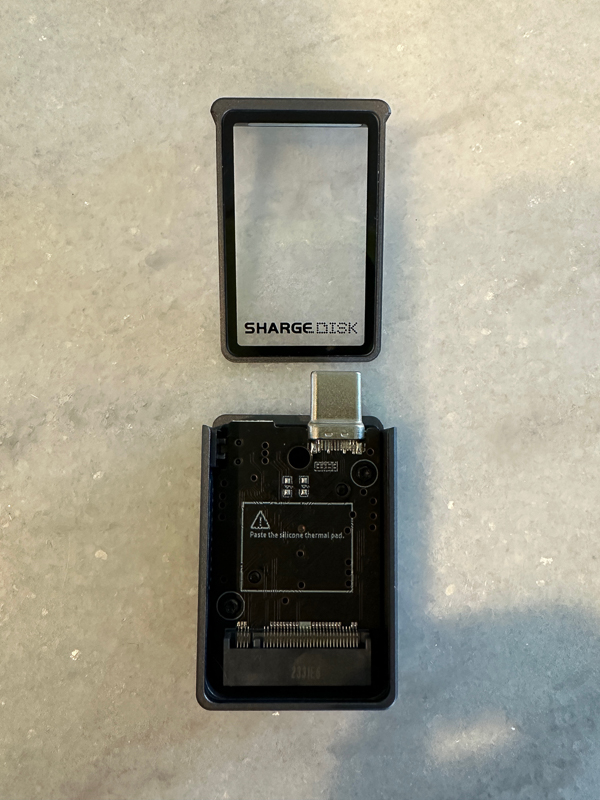 Here is a picture with the pad installed.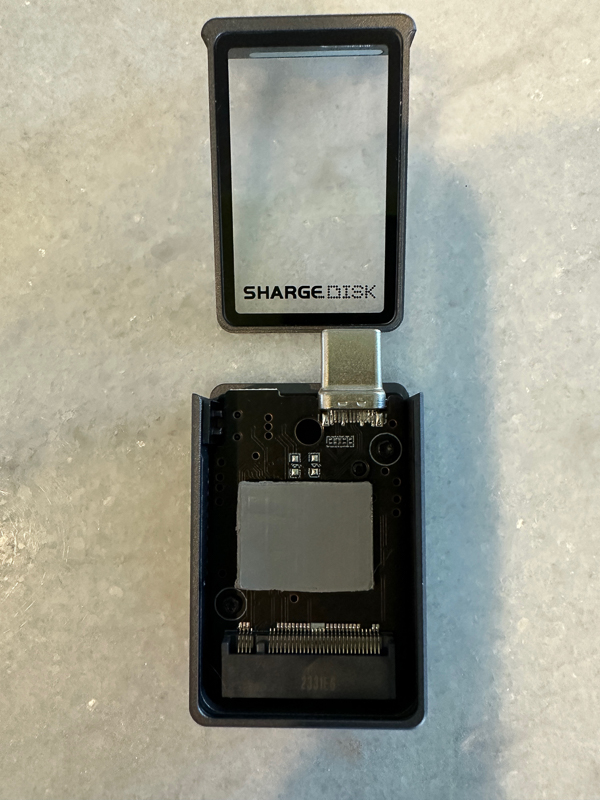 Now, of course, I did not follow instructions and immediately tried to install the SSD card.  It goes in just like a memory card in a computer does.  It slides in at an angle.  Then you must press it down.  Here is where I realized that I missed the step to install the rubber grommet that will hold the card down at the top of the chip.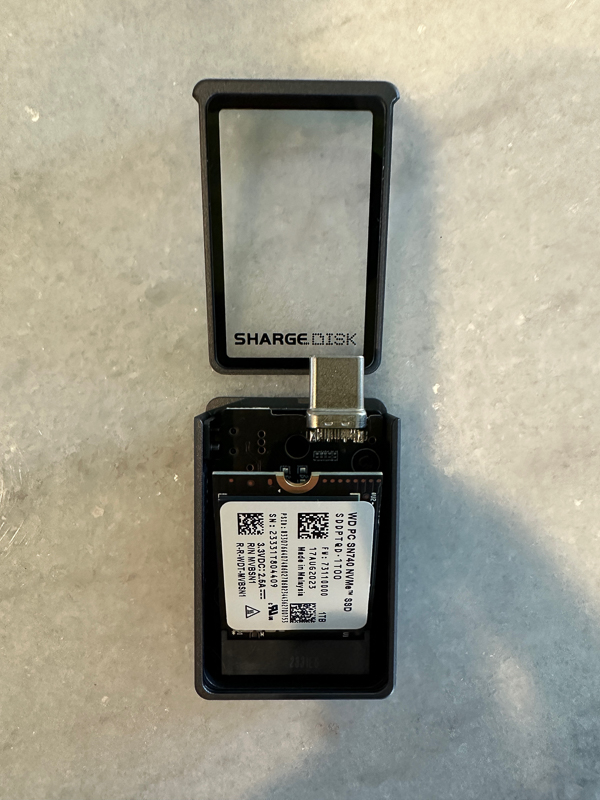 Here is a picture of the grommet. It was not easy to fit it into that small hole.  I had to twist it down to get it in there.   I should have done this before I put in the silicon.  I managed to get it in, but not without smearing a bit of the silicon around!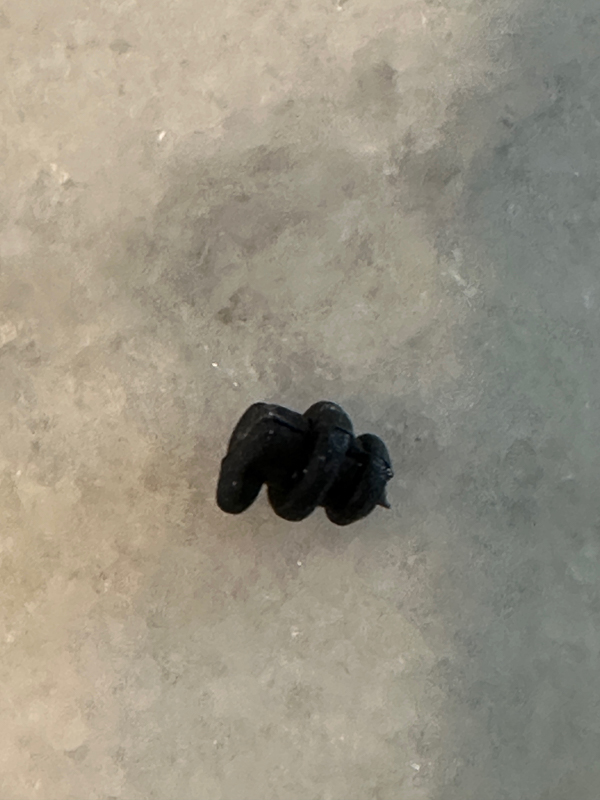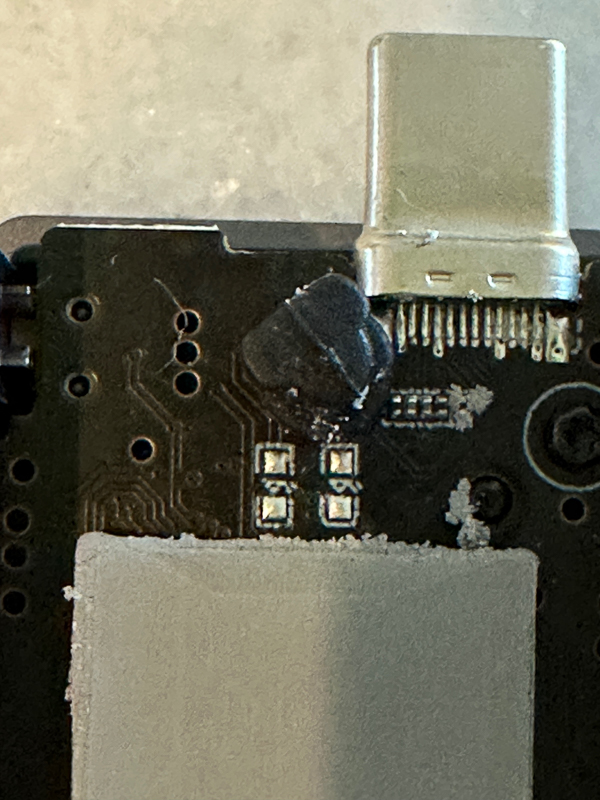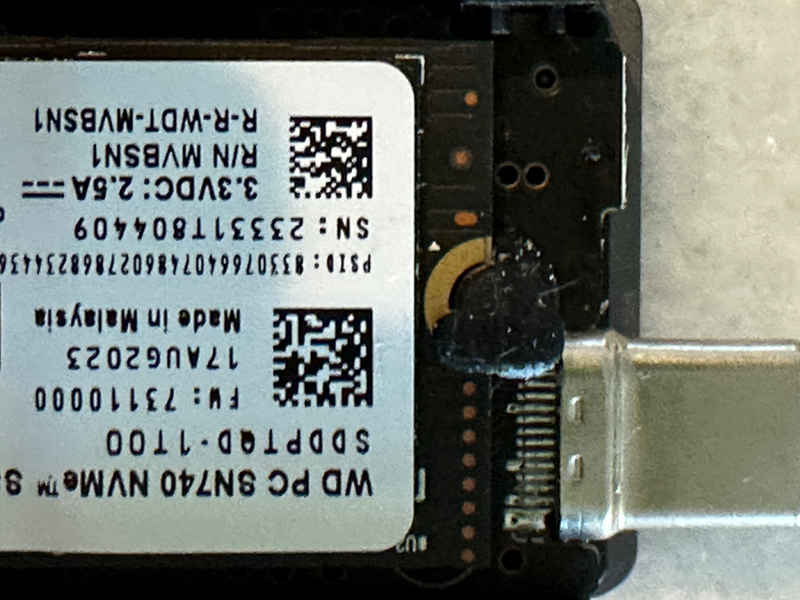 Now the memory card is locked in place and the lid is back on.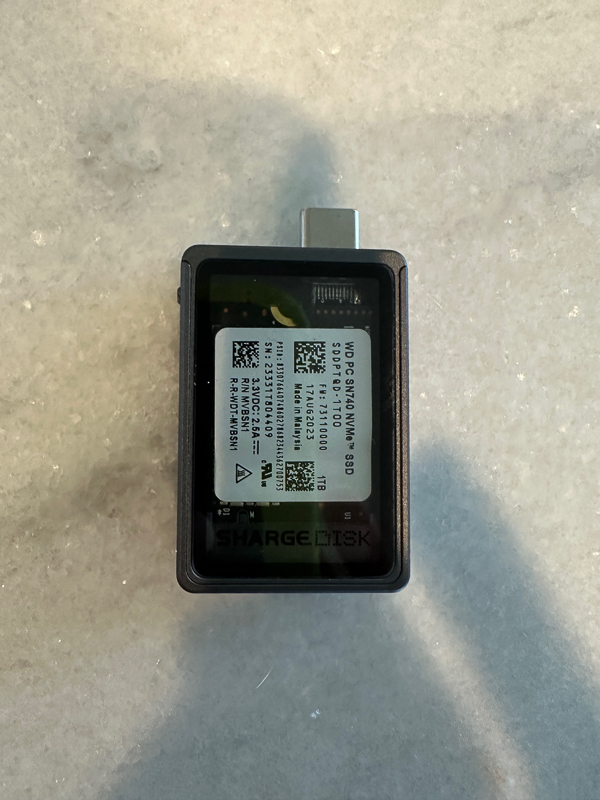 This next picture is of the silicon case they sent me in yellow.  I love the yellow color.  It makes it very easy to see inside a dark bag.  There is a clear plastic flip-up cover that you need to lift to insert the enclosure.  The entire plastic cover can come out of the silicone case, which makes it easy to put the drive in and out.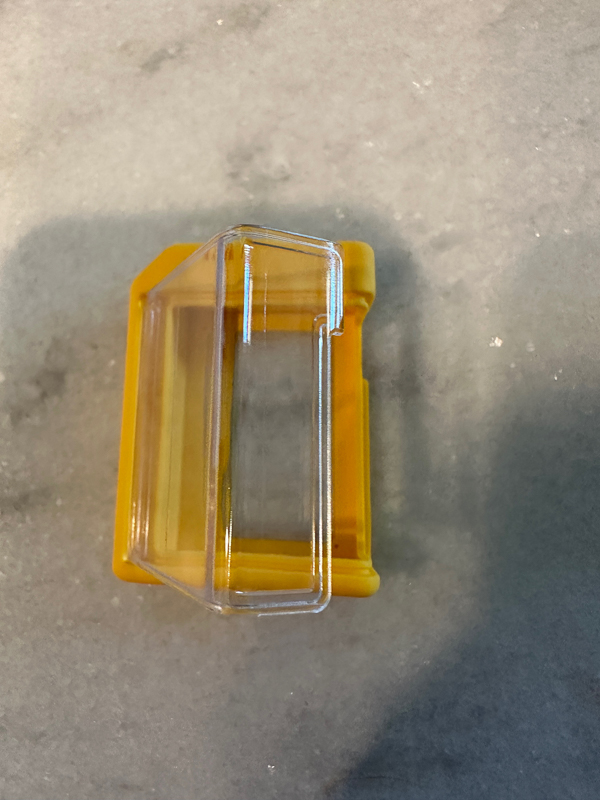 Here is a picture of the drive inserted into the case.  There is a plastic window on the back side of the case, also.  If you had multiple of these, it would allow you to tell which drive you were looking at.  The top of the case has a rubber flap to expose the USB C male port.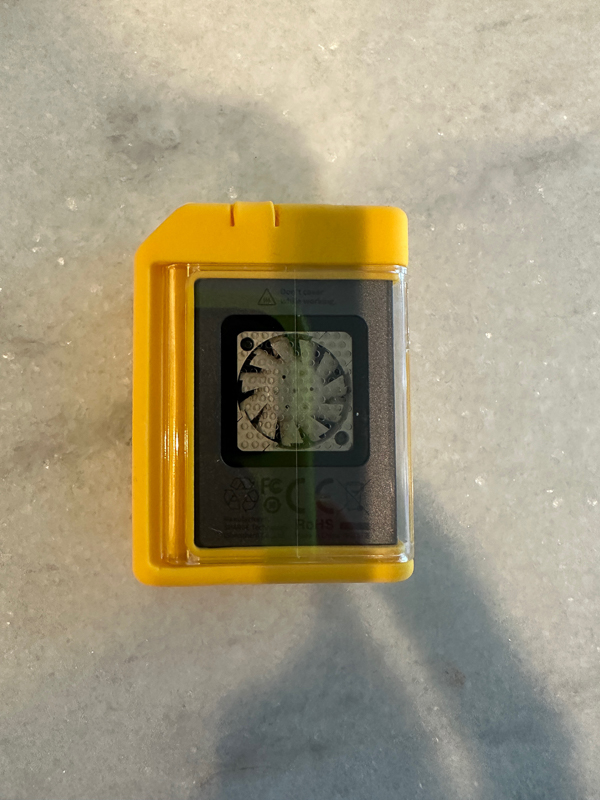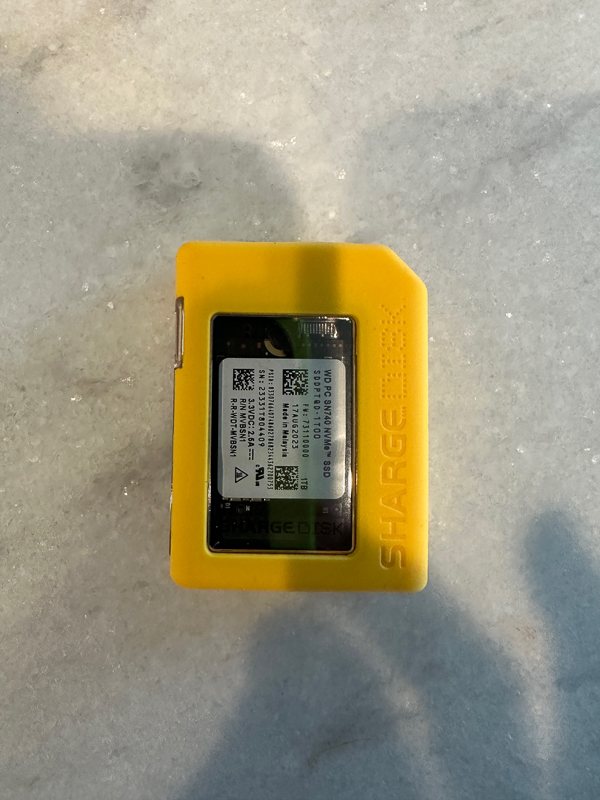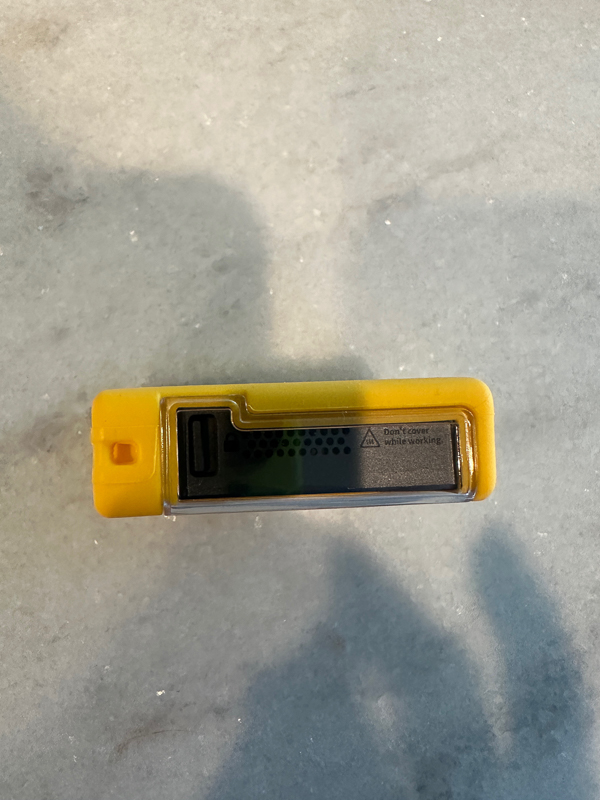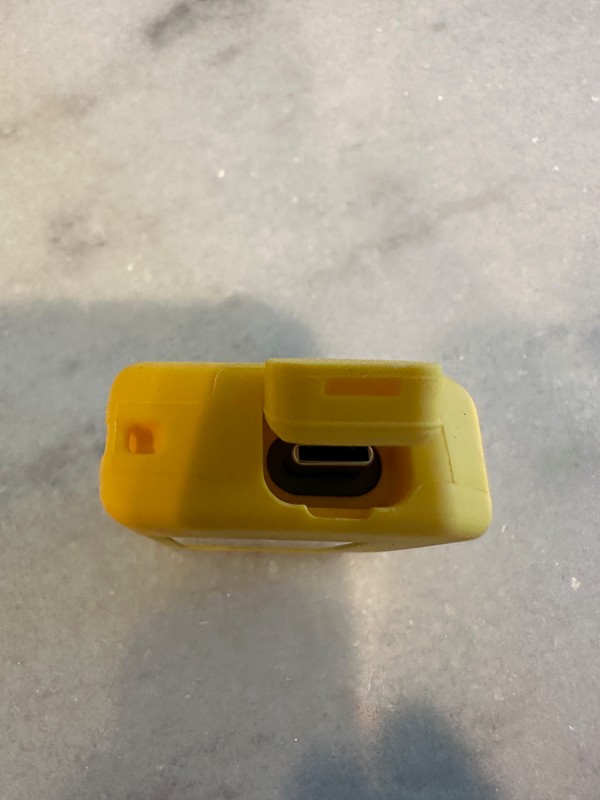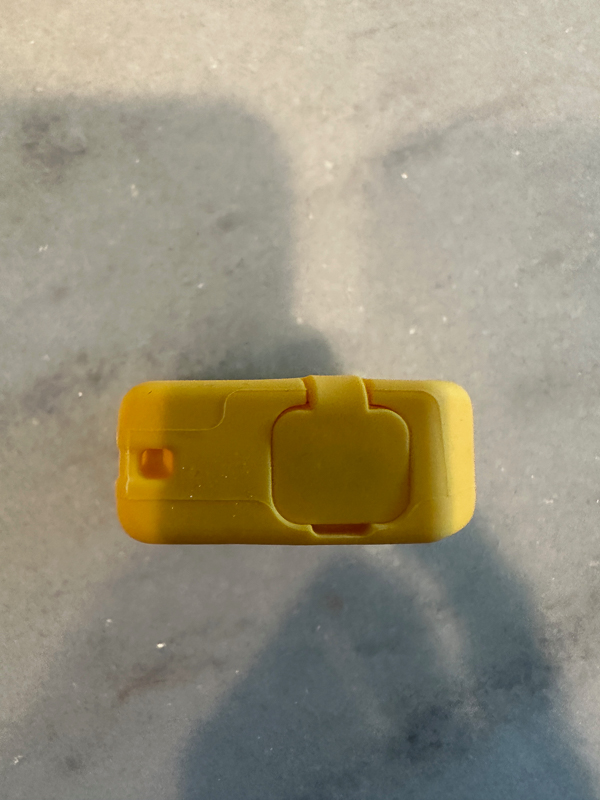 The USB C to C cable also has a nice enclosure with a tiny carabiner that will let you hook it onto the silicone case.  Honestly, I would not recommend using the drive while in the silicon case.  I think the drive would get pretty hot.  At a minimum, you would need to keep the top plastic flap open so the fan could suck in some air.   I use the case to carry the drive around, but I always pull it out to use it.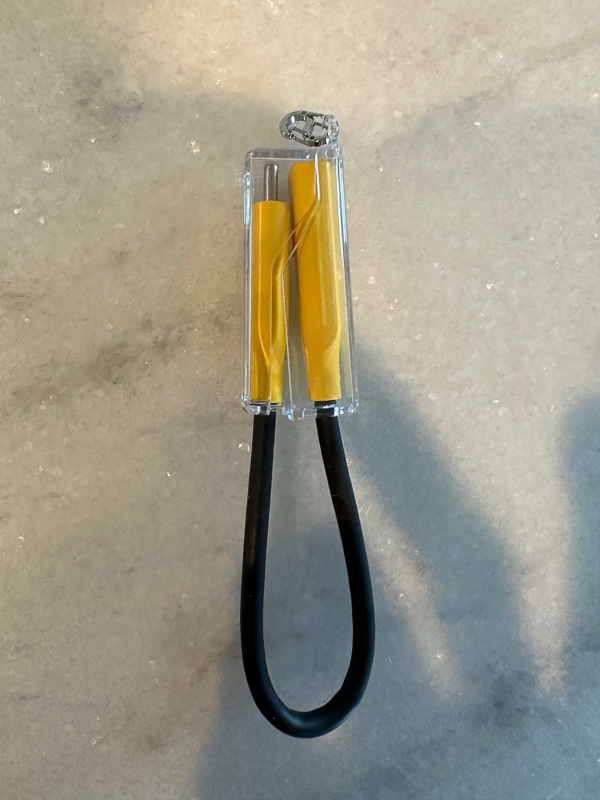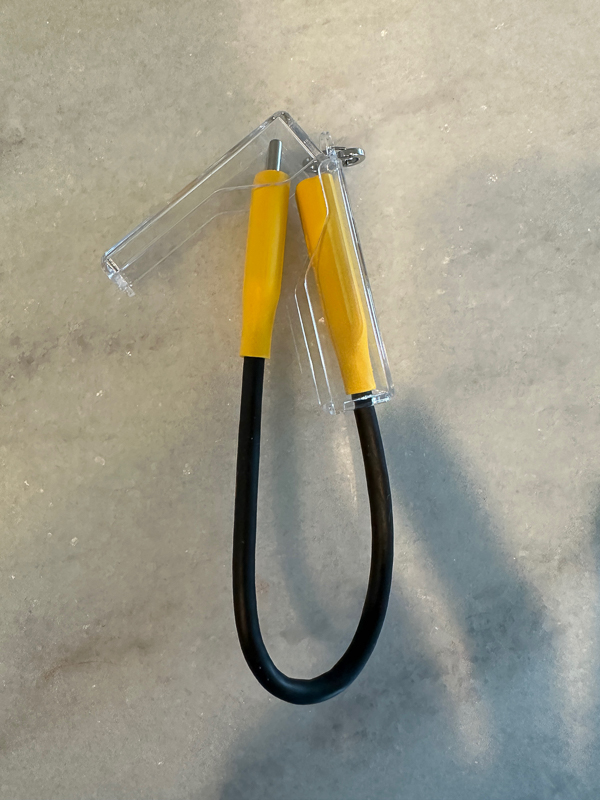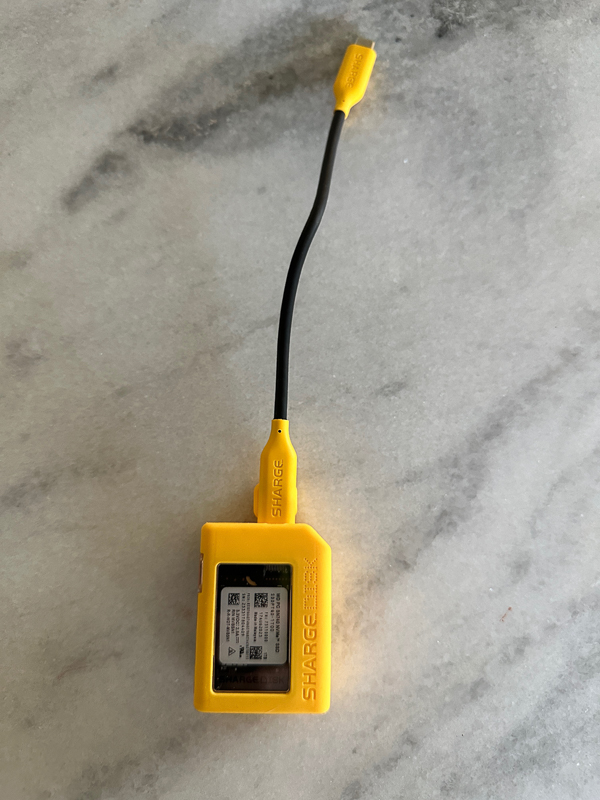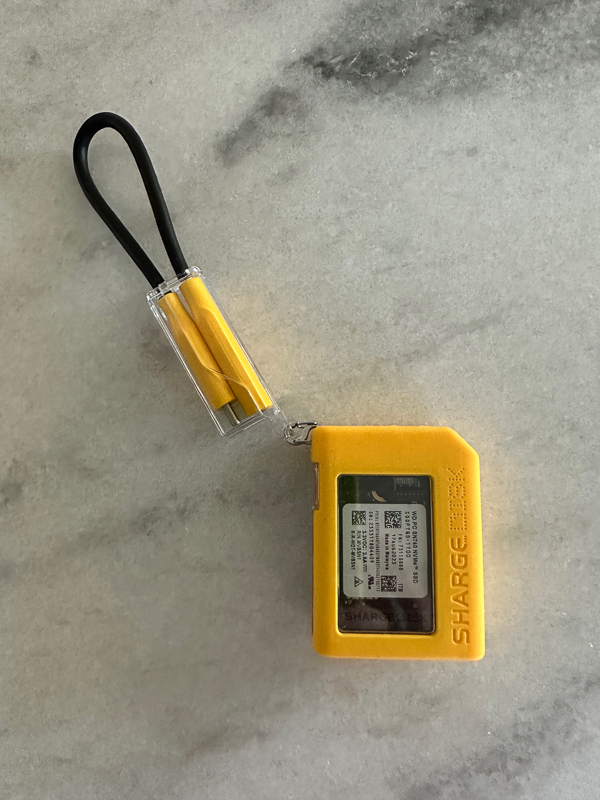 Inserting the drive the first time into my Macbook Pro, I got the notification that the drive was not readable.  I pushed the initialize button.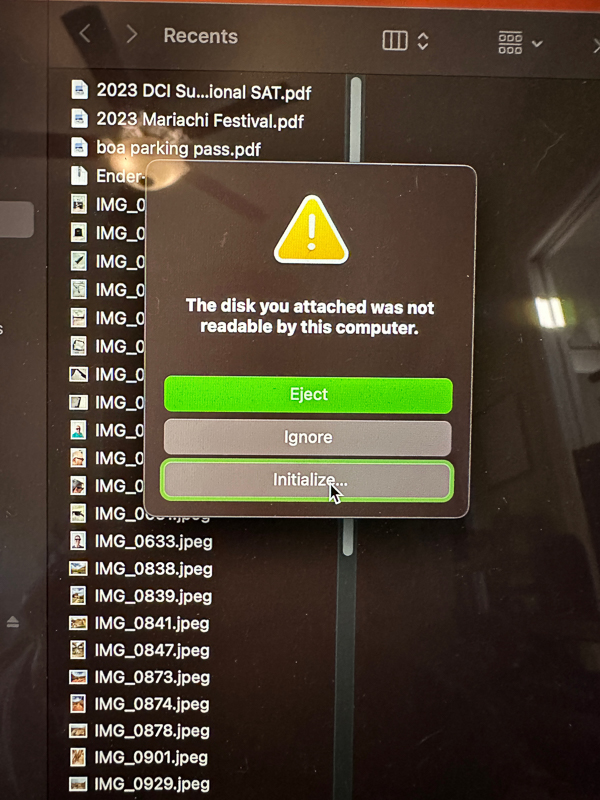 That took me to the MacOS disk utility screen, where I formatted the drive in the Mac APFS format.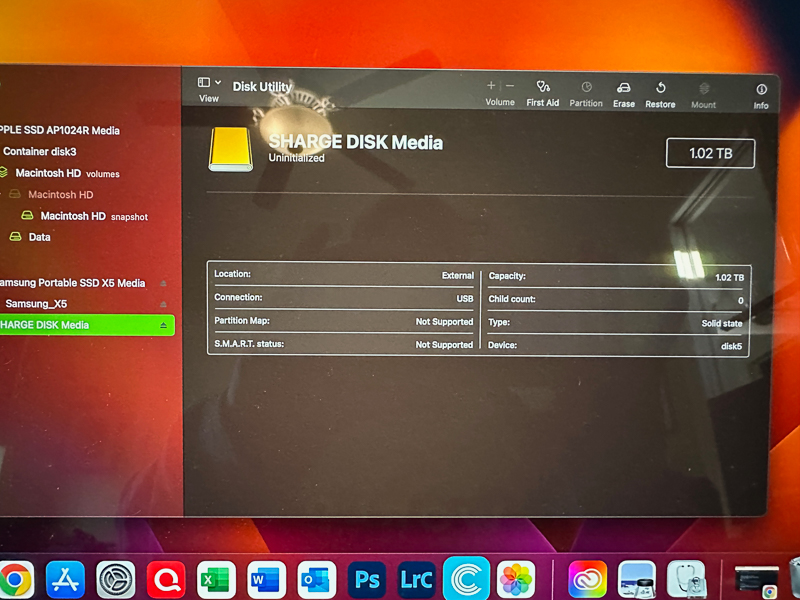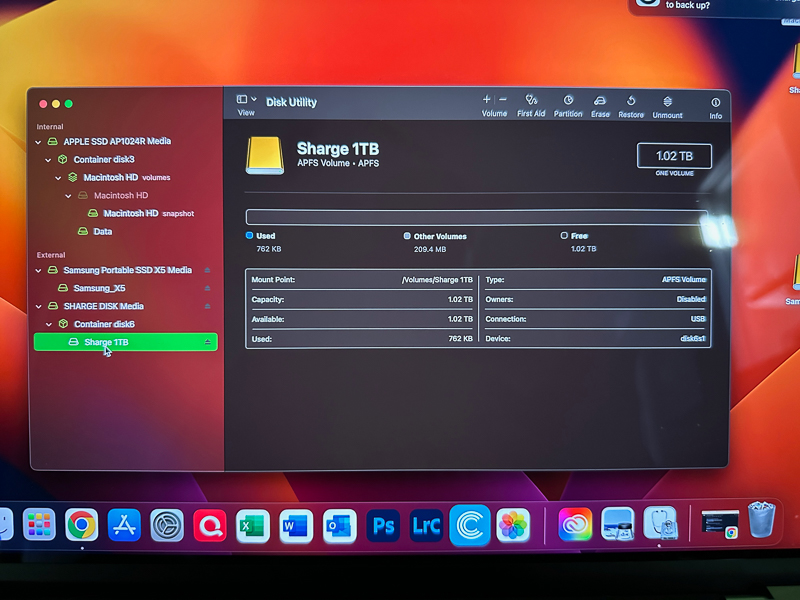 Performance
Man, this drive flies!  I included a video from the Sharge site showing their speed test.
I copied over 13k jpegs that were 23.2 gig in total.  On my Samsung USB C drive, it took about a minute and a half.  It took 25 seconds to copy over to the Sharge.  I then took over 200 full RAW pictures that were over 14 MB each and it took less than 6 seconds to copy those over.  The SSD Sharge provided was a Western Digital  WD PC SN740 NVMe.   I have been very happy with the performance of this drive.
This drive can work with desktops, laptops, SLRs, Steam Deck, PS5, Xbox, smartphones, and iPad Pro.
What I like
Super fast read and write speeds
Small and portable
SSD drive so not vulnerable to drops like traditional drives
Nice silicone carrying case.
Tool free SSD memory changes
What I'd change
It would be nice if that rubber grommet were already installed.
Final thoughts
The Sharge disk enclosure is a big winner for me.  It now has a permanent spot in my camera bag.  I think this would be a great accessory for any person who needs to store large amounts of data from photos, videos, or even video games.  You can still get the enclosure by itself on Indegogo for $30 (retail is supposed to be $69), or the full kit with silicon case and USB C to C cable for $52.
Price: $49.00
Where to buy: Sharge
Source: The sample of this product was provided by Sharge.