We use affiliate links. If you buy something through the links on this page, we may earn a commission at no cost to you. Learn more.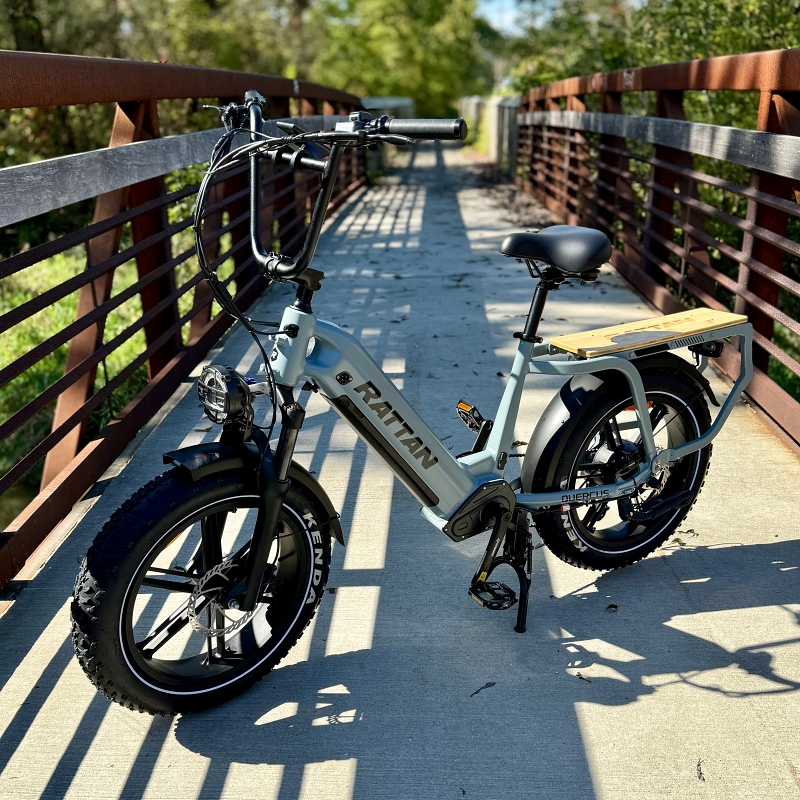 REVIEW – I've reviewed two mountain bike-style e-bikes for The Gadgeteer and liked them both: the TurboAnt Thunder T1 & the Heybike Brawn. I wanted to try a cargo-style bike on for size because my main uses are commuting and carrying groceries. The Rattan Quercus appealed to me because it seemed designed especially for those types of activities. Let's see how it faired.
What is it?
The Rattan Quercus is a Premium Long Range Utility E-bike featuring 24-inch fat tires, alloy wheels, hydraulic disc brakes, a 750W (sustained) 48V Brushless Rear Hub Motor, 1200W (Peak), and more.
What's in the box?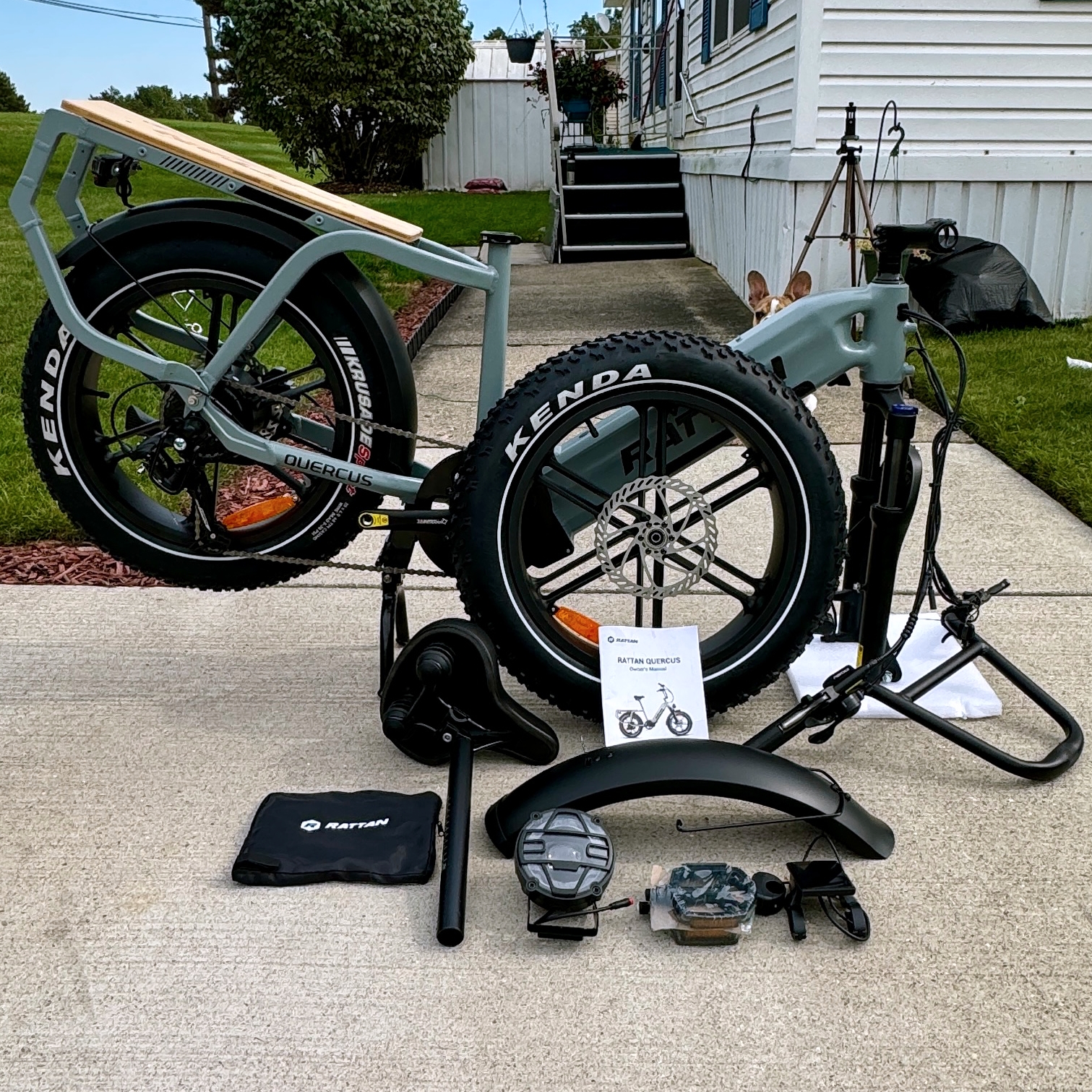 Quercus e-bike
Tool kit
Tool bag
Front-wheel
Fender
Charger
Headlight
2- pedals
Display
Seat
User manual
Specifications
Click to expand Rattan Quercus specs

Model: Quercus

Product Dimensions: 66.14 x 27.95 x 50.39 INCHES

Package Dimensions: 57.68 x 12.6 x 30.71 INCHES

Max Load: 450 LBS

Package Weight: 101 LBS

E-Bike Weight: 81 LBS

Motor: 750W 48V Brushless Rear Hub Motor, 1200W (Peak)

Max Speed: 30 MPH

Battery/Charger: 48V 20AH/4.5AInput 100-240V50/60HzOutput 54.6V 2.8A

Pedal-Assist Mode: 60-80 Miles

Pure Electric Mode: 40-60 Miles

Max Angle of Climb: 30 Degrees

Charging Time: 4~5 Hours

Tire Pressure: 25-29 PSI

Frame Material: Aluminum Alloy
Design and features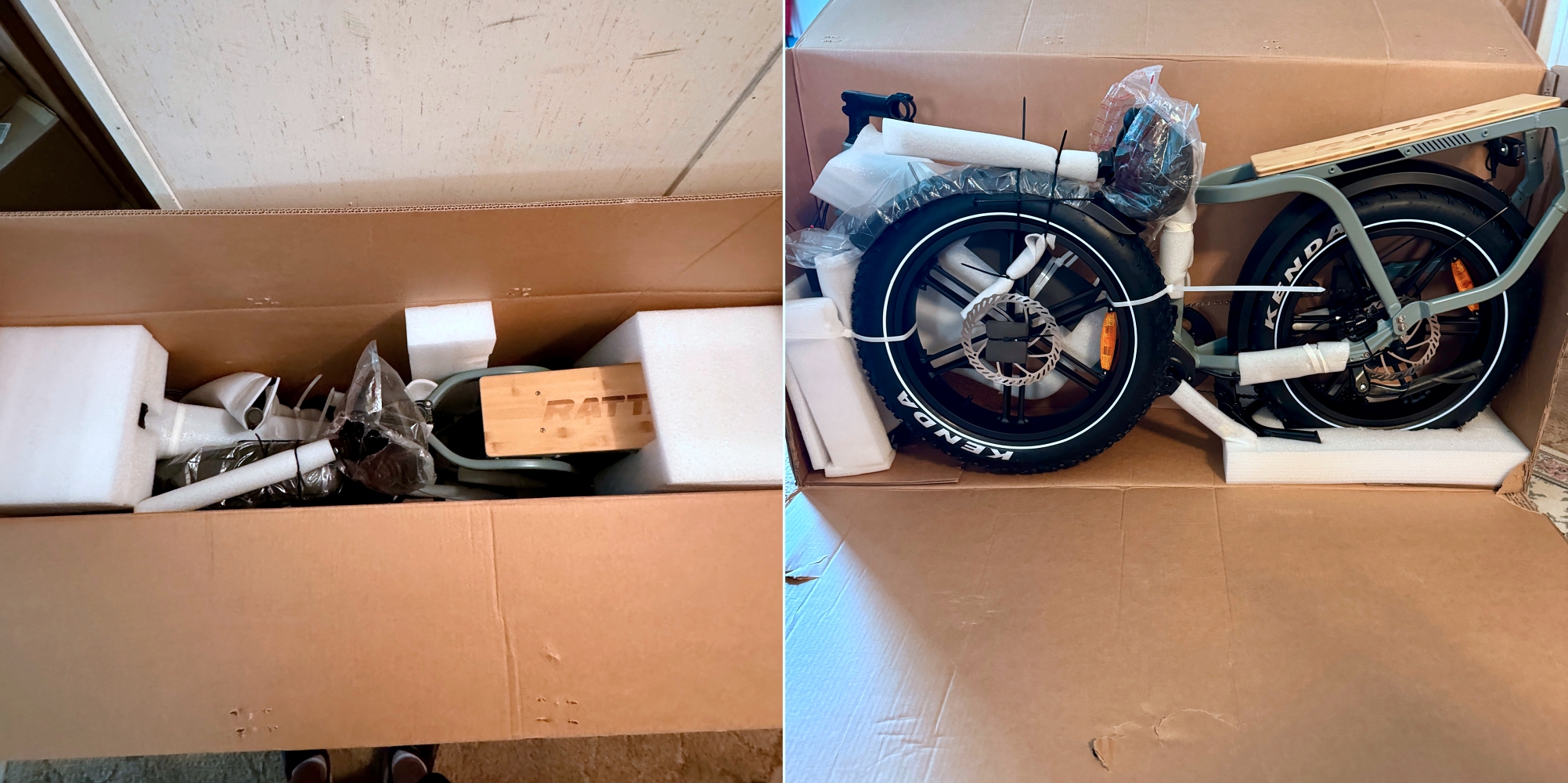 The Rattan Quercus ebike comes nicely packaged in a large box. The bike arrives pretty much preassembled. All that needs to be done is to attach the front tire, handlebars, pedals, seat, front fender, and headlight. Rattan provides a tool kit with everything you need to assemble the bike. Assembly took me just over an hour. The time-lapse video shows the bike's entire assembly. I took my time to do everything right; as you can see, I had a little helper. I didn't find the user manual particularly helpful. However, a YouTube video shows the unboxing and assembly in detail. Click here.
This is also a good time to charge the battery. The Quercus comes with a 4.5A charger capable of fully charging the battery in 4-5 hours. It's nearly twice as fast as a standard charger. I noticed that the charger gets extremely hot. So be sure not to place it on anything that could melt or catch fire.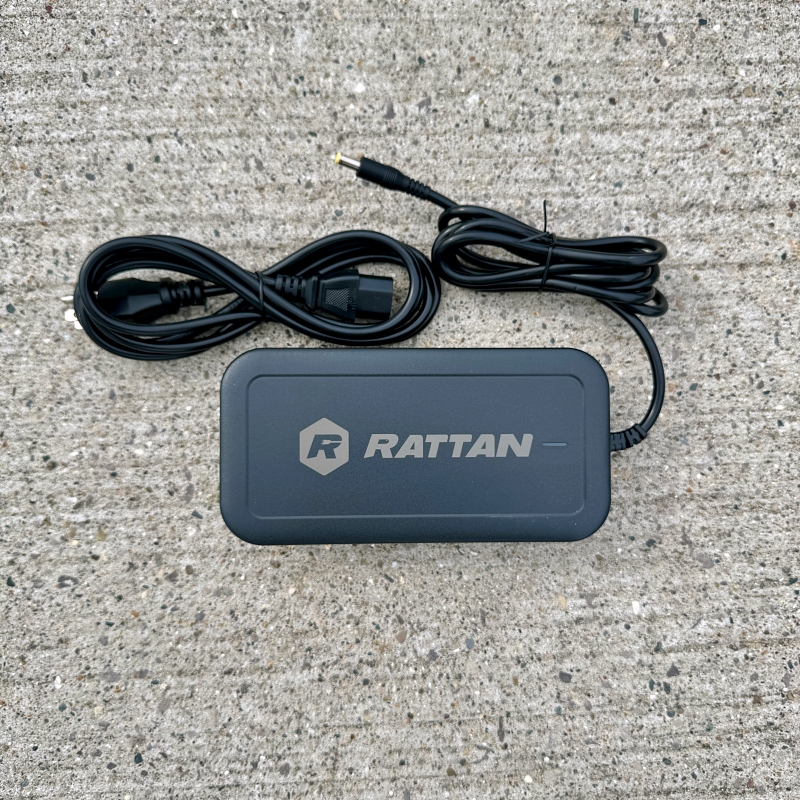 After assembling the bike, you must attach the LCD display and connect the wires for it and the headlight.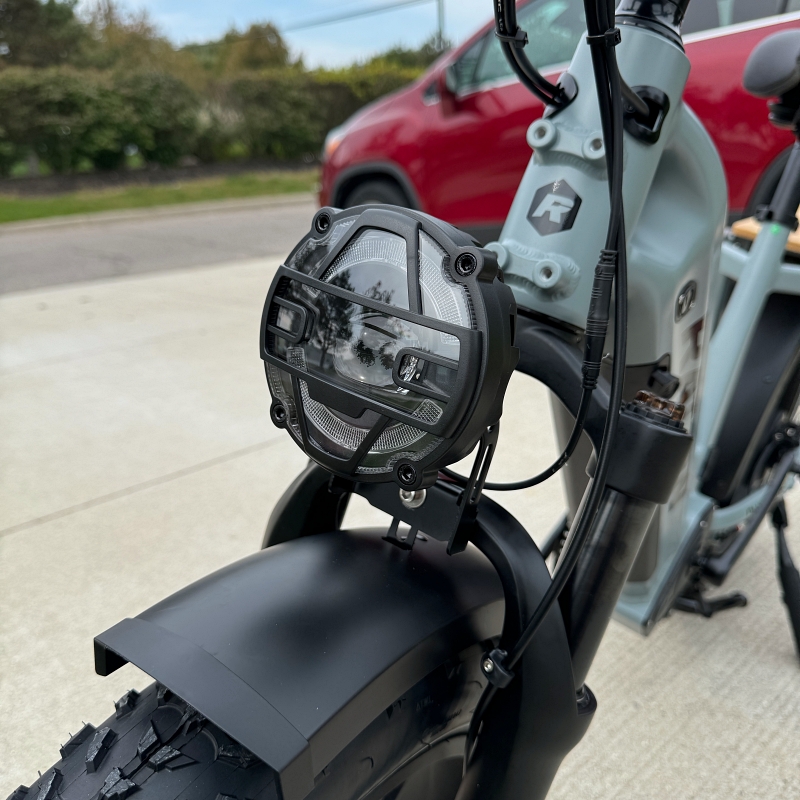 The display is a full-color LCD display. While riding, it shows all the pertinent information you need: speed, battery level, motor wattage, mileage, and pedal assist level. The display is easy to read even in bright conditions. There is even a USB port to charge your phone on the go.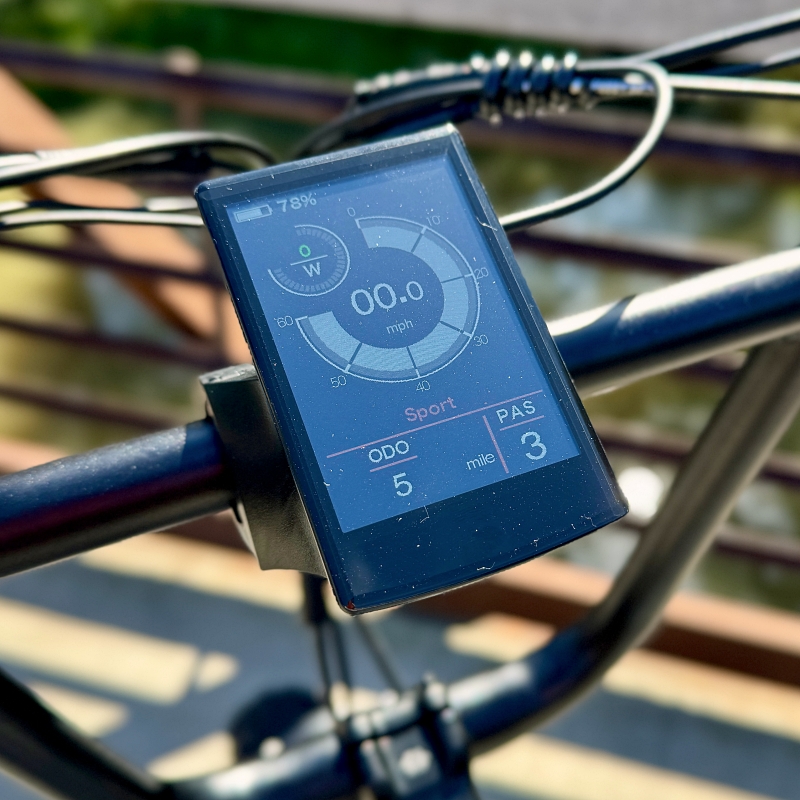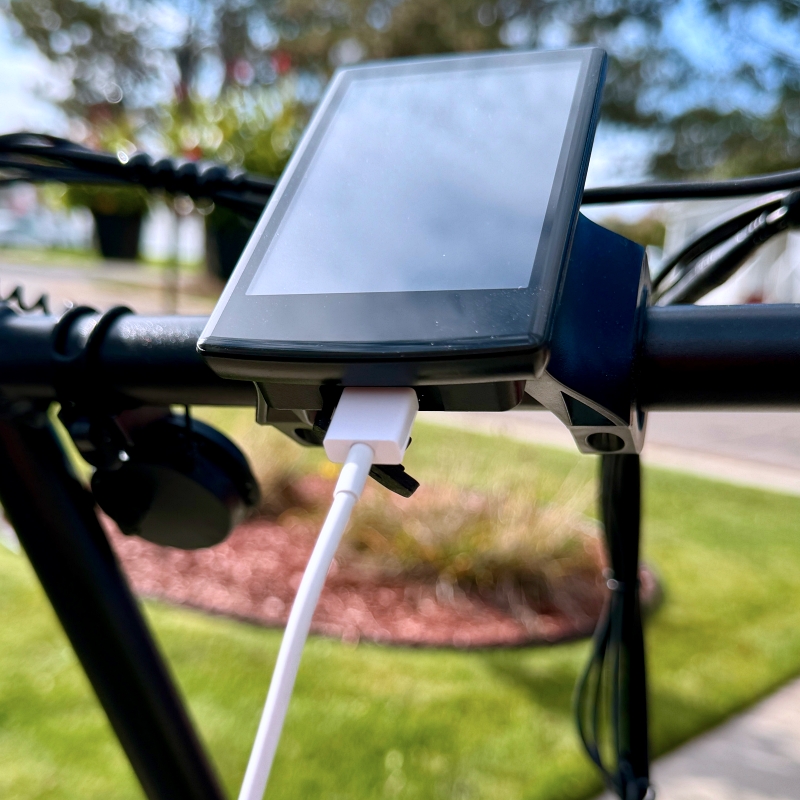 The Rattan Quercus electric bike has a step-thru design and comes in Cement Gray and Avocado Green. The bike is well constructed and has a solid alloy aluminum frame with an impressive maximum payload of 450 lbs.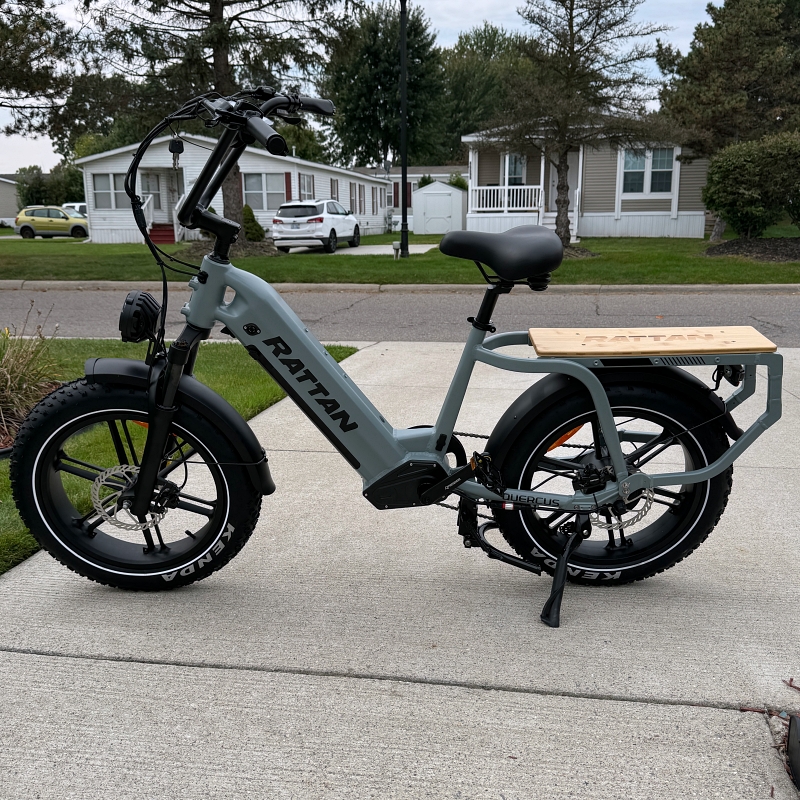 One thing I really like about the design is the built-in cargo rack. It's a good size, and the wooden plank is an excellent design touch. I also noticed screw holes for adding additional attachments like a basket. The rack's reinforced integrated design makes it capable of handling more weight than a standard bike rack, giving it versatile cargo-carrying capabilities.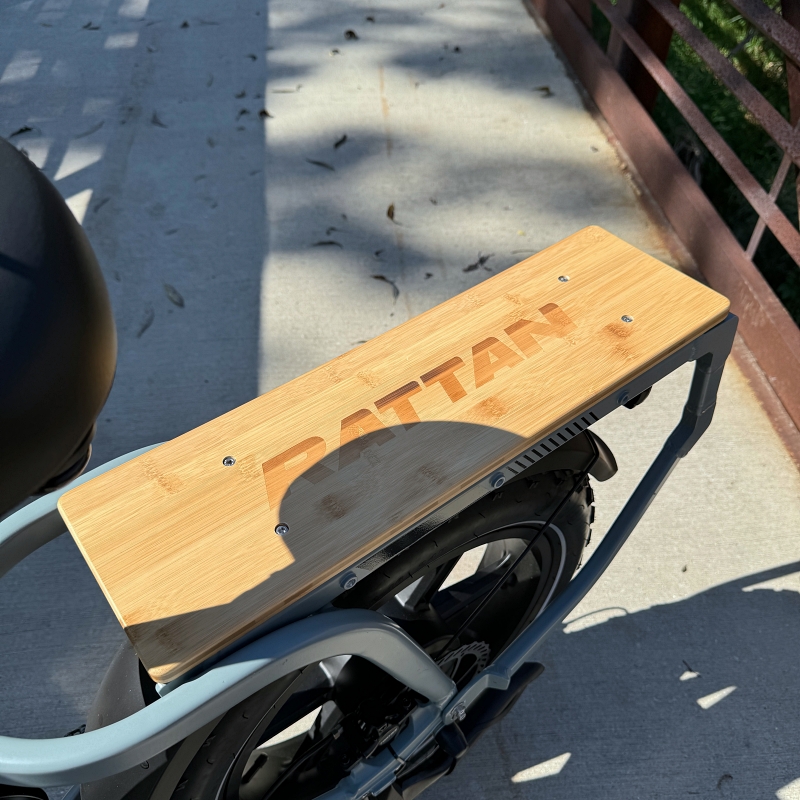 The Quercus has 24-inch fat tires and alloy wheels instead of spokes. I'm unsure if the alloy wheels improve performance, but they look great. Front and back fenders keep debris from flying up off the road. This should be standard on all fat tire bikes because they tend to fling up a lot of junk while riding.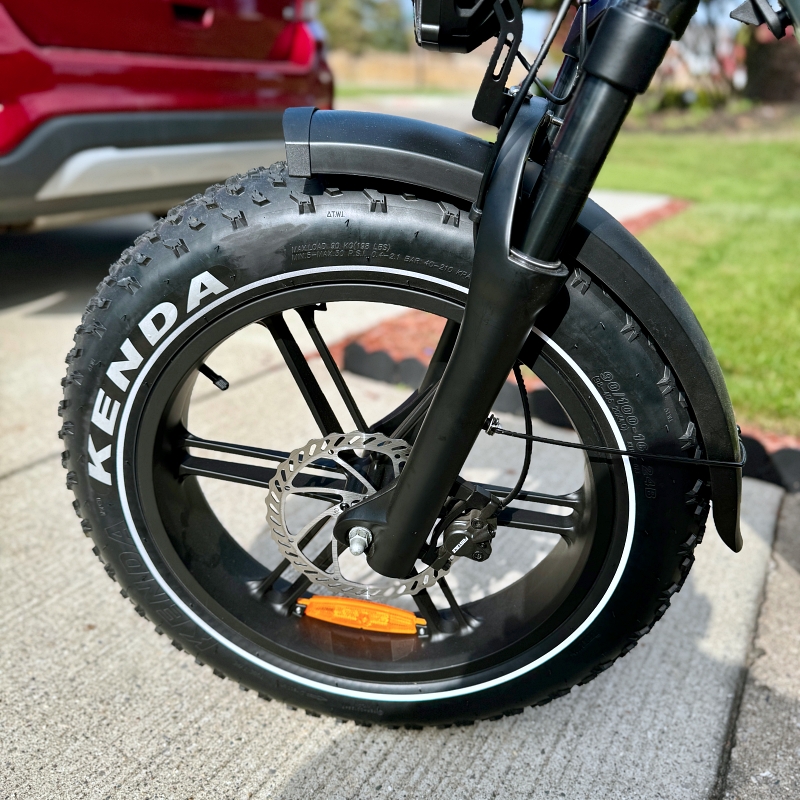 To help cushion your ride, the Quercus has a front Hydraulic Suspension Fork. The fork can be quickly customized depending on road conditions. You can also lock out the suspension if you choose. This seems to be a standard feature on most newer e-bikes, and that's a good thing because it does a great job of smoothing out the ride.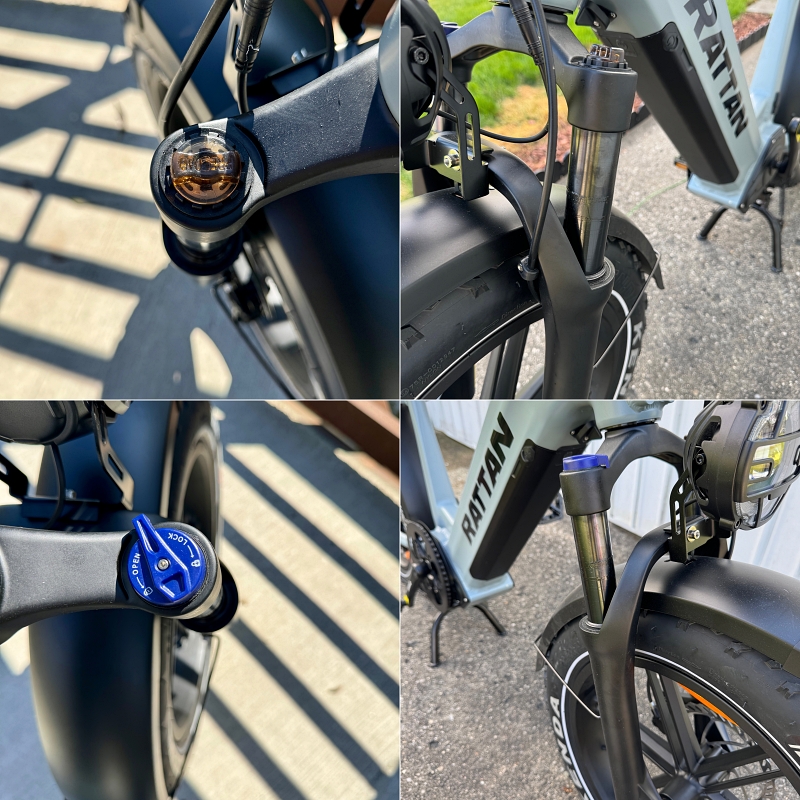 The Quercus has BMX-style handlebars and leather handle grips. The handlebars are comfortable and make controlling the bike easy. The thumb throttle and display controls are on the left handlebar.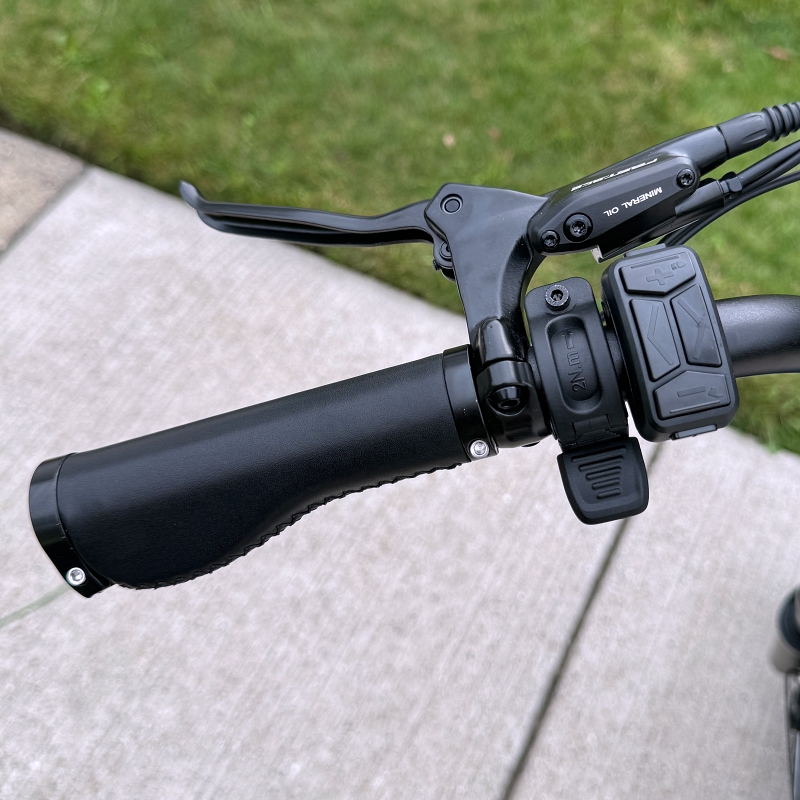 On the right, there is a Shimano 8-speed shifter.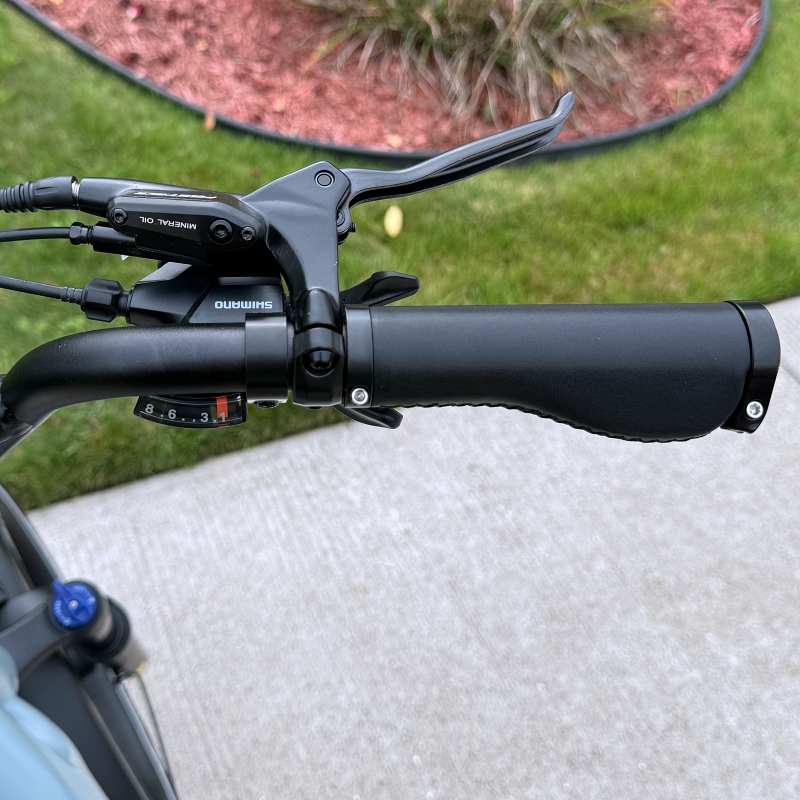 The bike's leather saddle can be easily adjusted without needing tools. In addition, there are suspension springs that enhance the comfort of the saddle.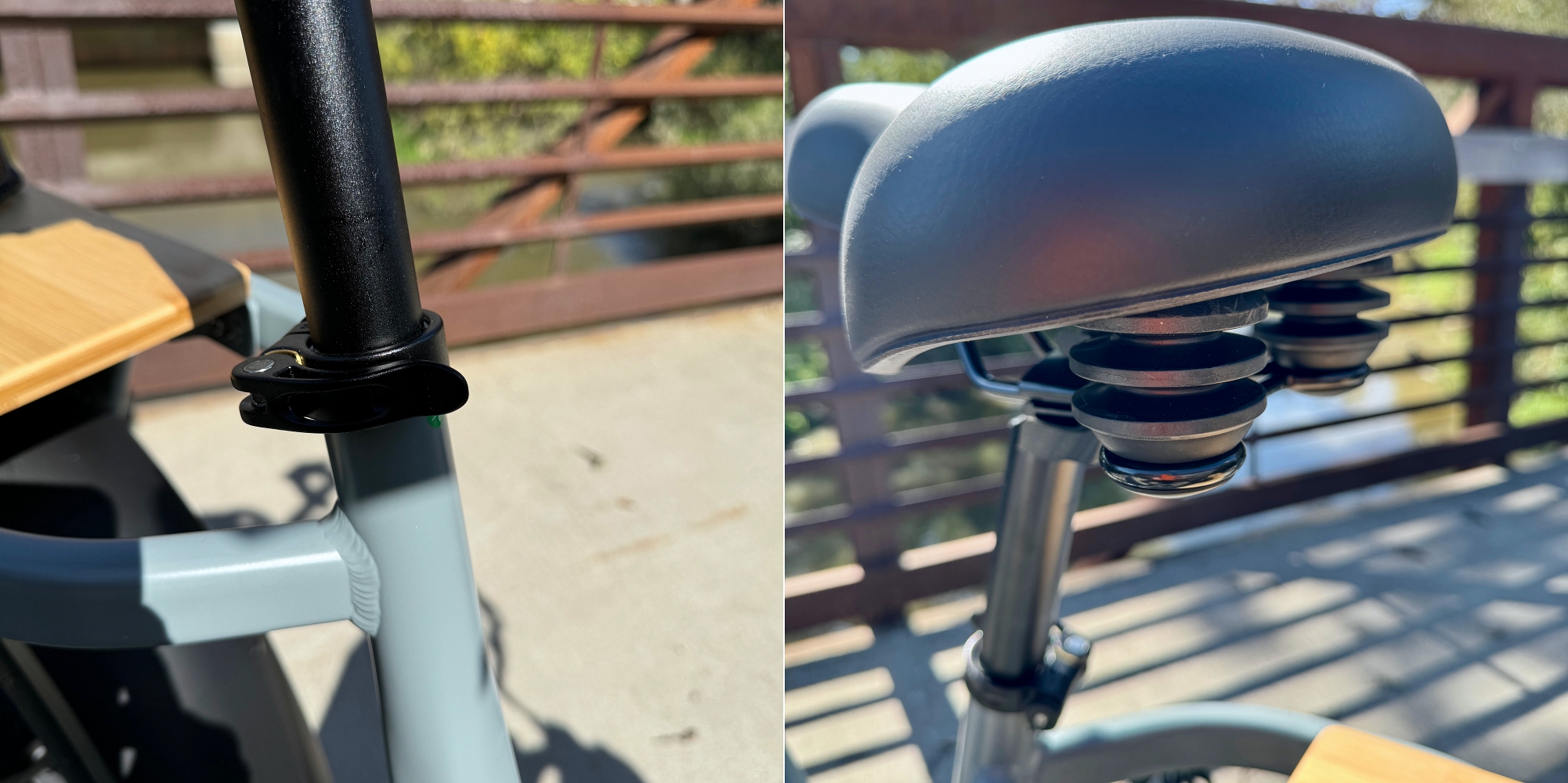 The Quercus comes equipped with front and back Hydraulic Disk Brakes. Hydraulic disc brake systems have a braking response time typically under 0.1 seconds, while mechanical brakes may require 0.2 seconds or longer. I believe this should be a standard feature on all e-bikes. The extra stopping power is necessary, especially considering speeds above 30mph.
The bike has not one but two kickstands. A center-mounted double-leg kickstand and a rear-mounted standard kickstand. The double-leg kickstand raises the bike's rear nearly 2 inches off the ground and sits upright. This allows the wheels to spin freely, which is helpful if you need to do any maintenance on the front or rear tires, etc.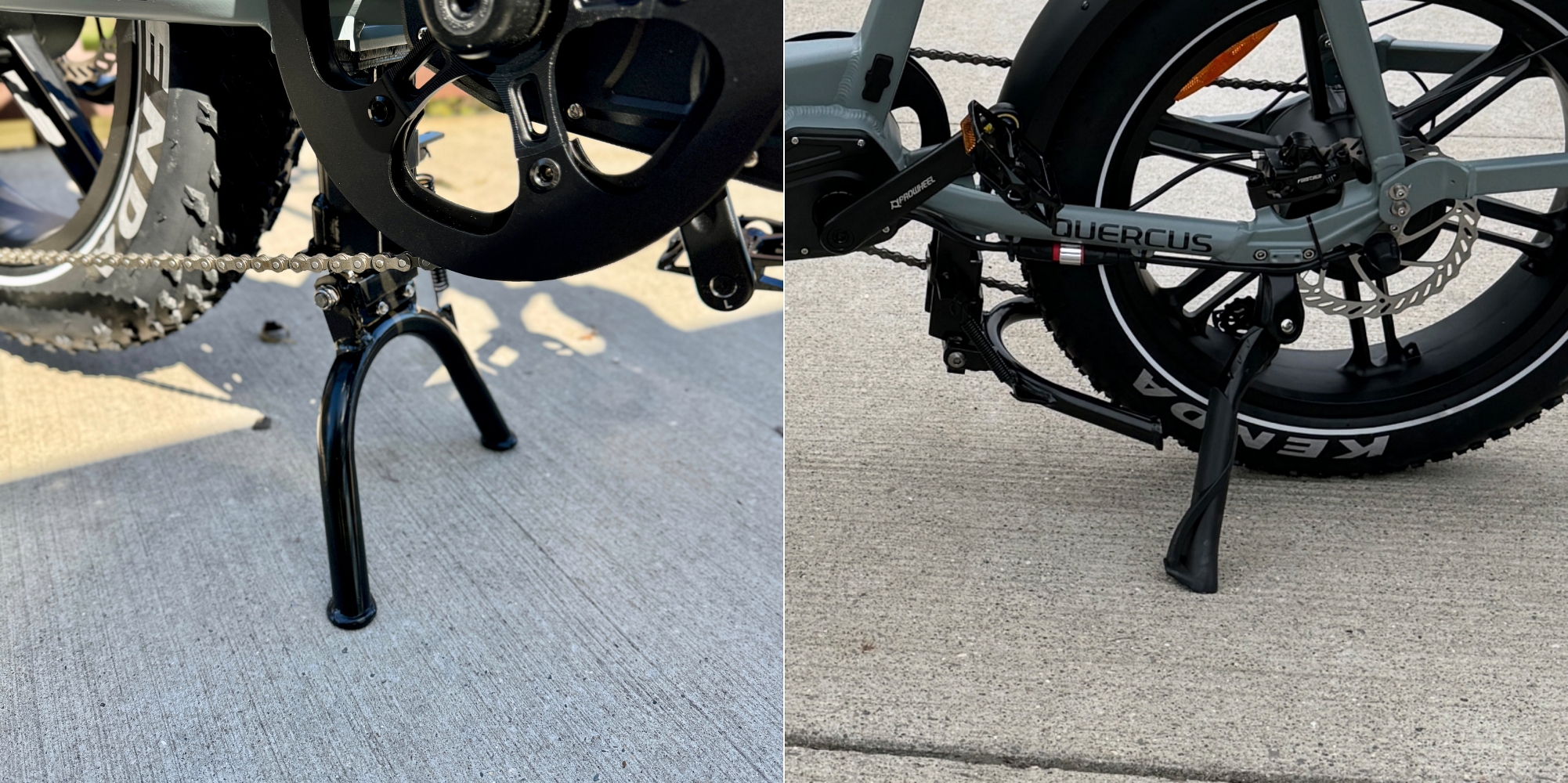 The Quercus has a sizeable front headlight and a rear tail light with turn indicators for safety. Both lights can be turned on and off using the display controls. The tail light also acts as a brake light. When braking, it gets brighter to let anyone behind you know you're stopping. The headlamp and rear lights are bright, and the turn indicator controls are easy to reach while riding. When activated, a turn signal indicator will show on the display screen.
Battery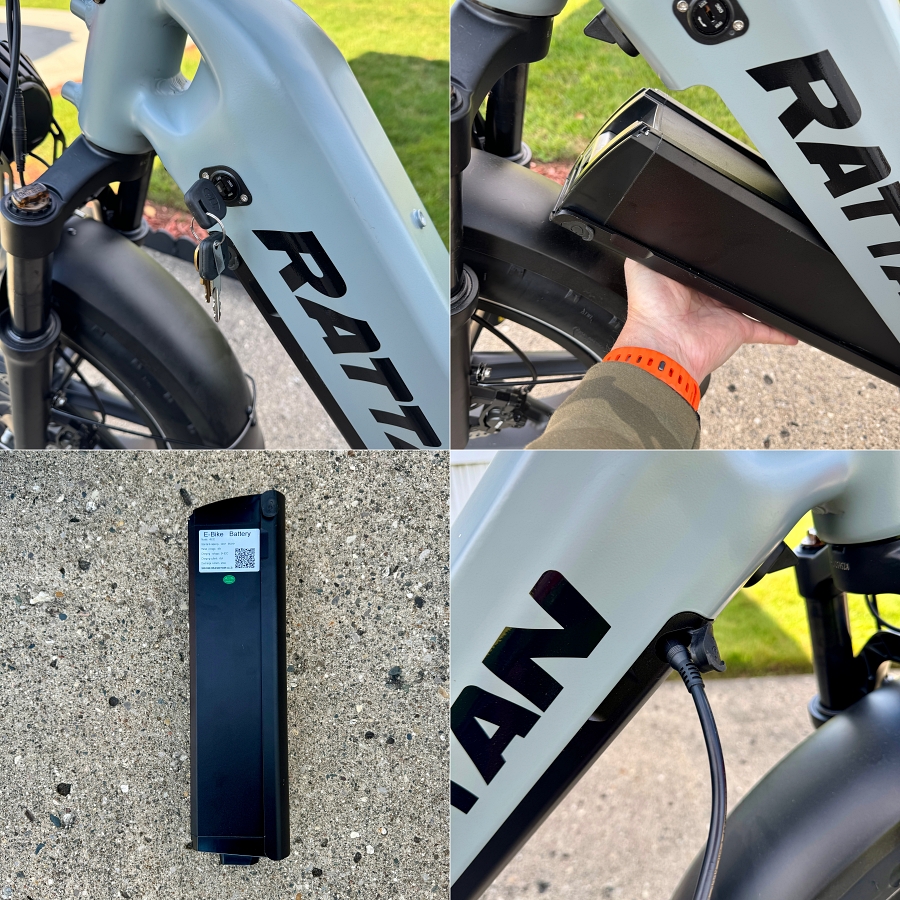 The Rattan Quercus is powered by a 20AH Samsung battery with a range of up to 50 miles on a single charge. The battery has a power switch, so you must be sure it's turned on before trying to power on the bike.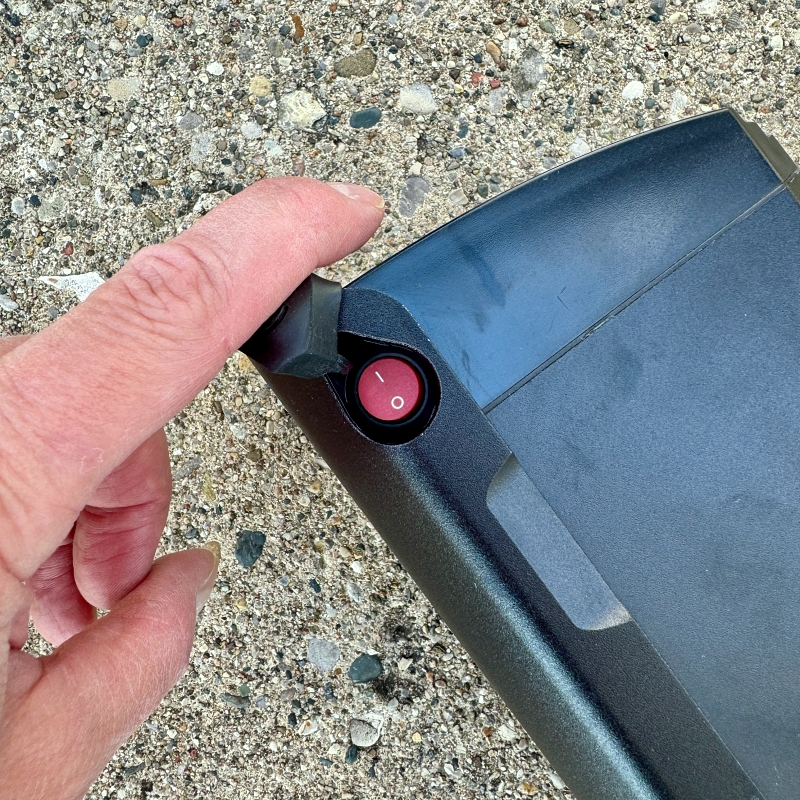 What makes the Rattan Quercus unique is the ability to add a second 20AH battery that would double the bike's range to 100 miles. But there is a slight catch. The second battery has to be purchased separately.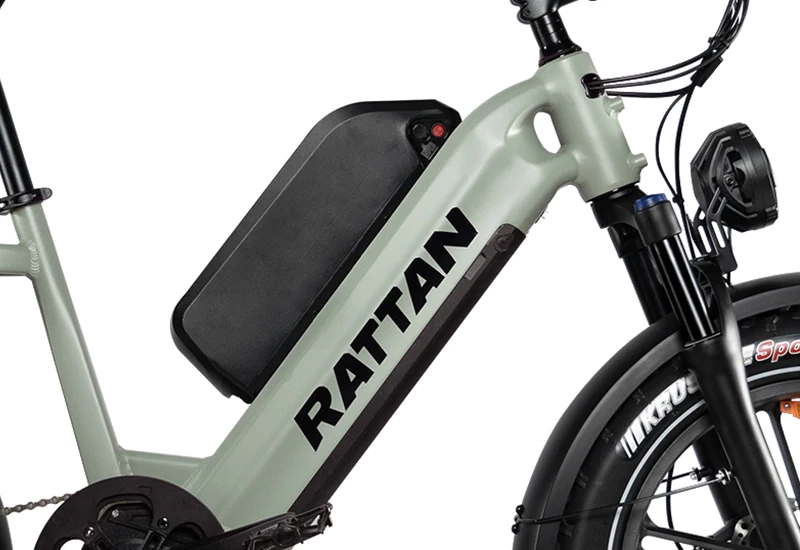 When I received the bike, Rattan had yet to release the additional battery. They are supposed to send me one when it becomes available. So, hopefully, I'll be able to update my review later to include how the second battery performs.
Display Control and app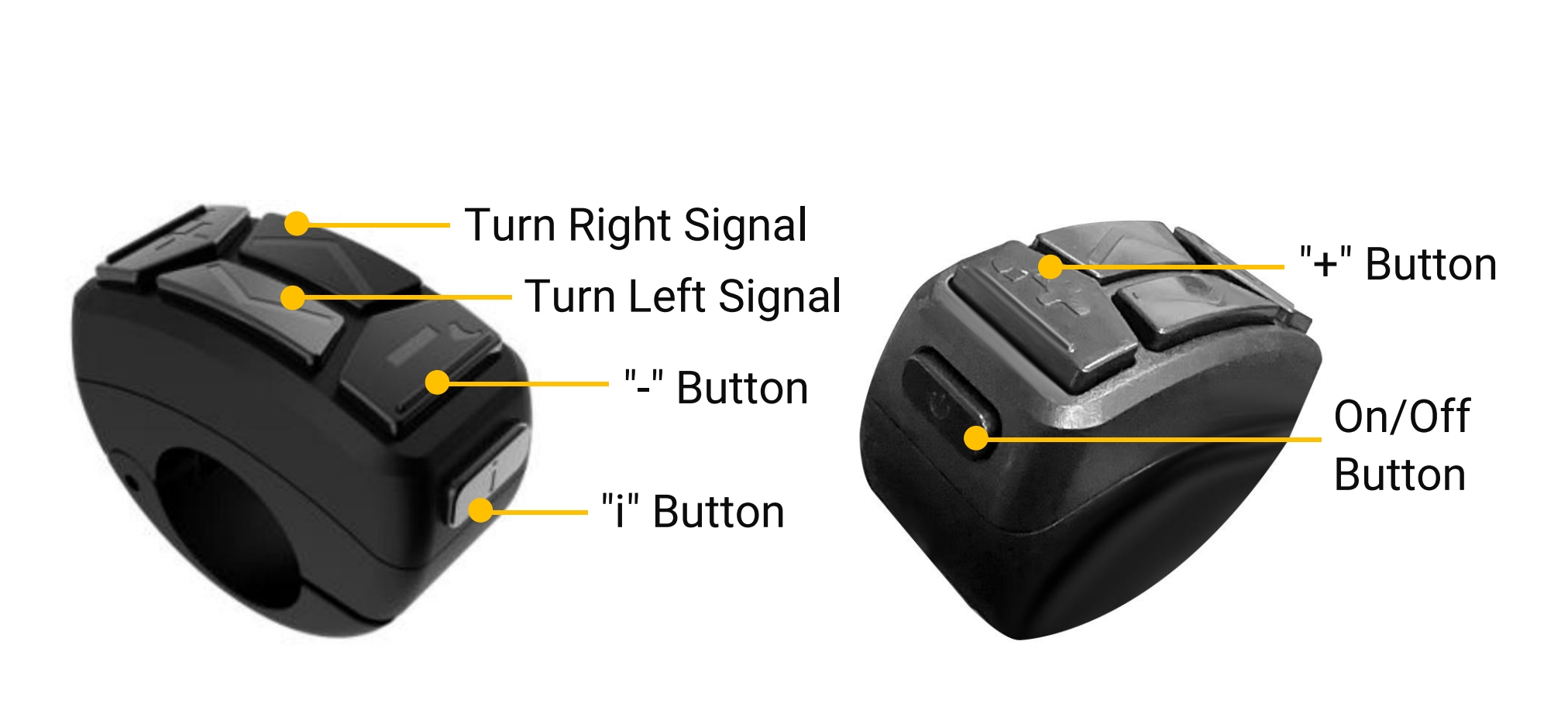 The display controls allow you to easily navigate the interface and change settings. To access the Display Settings Menu, simultaneously press and hold the "+" and "-"buttons. You can change things from this menu, like speed limit, brightness, restore settings, and go into the Advanced Menu.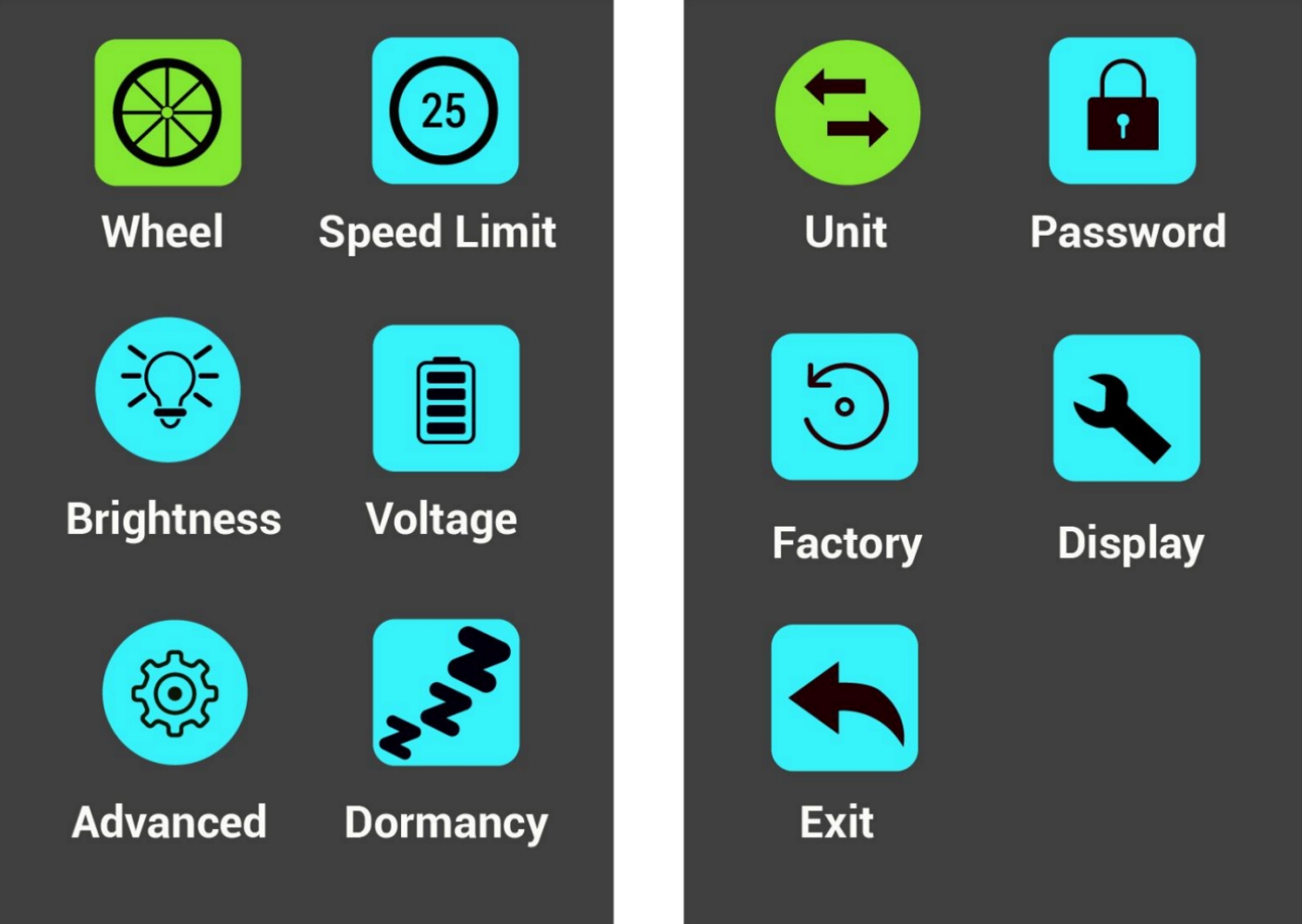 You can change PAS levels from the Advanced Menu, enable cruise control, and more. Additionally, you can change the bike's ride mode.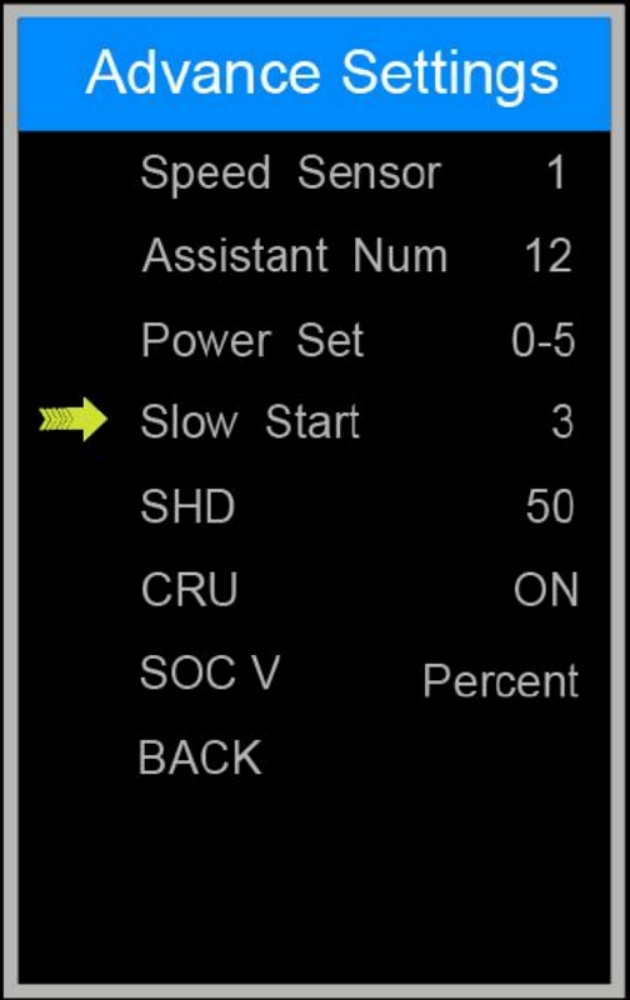 The Quercus has 3 modes: Eco (lower acceleration to preserve battery), Normal, and Sport (faster acceleration and battery consumption). Holding the "-" button activates Walking Mode, making it easier to push the bike.
You can also use Bluetooth to connect Quercus to the Key-Disp app. The app lets you adjust many of the same controls shown on the display. You can control the PAS level and headlight, set the speed limit, and view the battery percentage. In addition, you can access functions like navigation and vehicle positioning.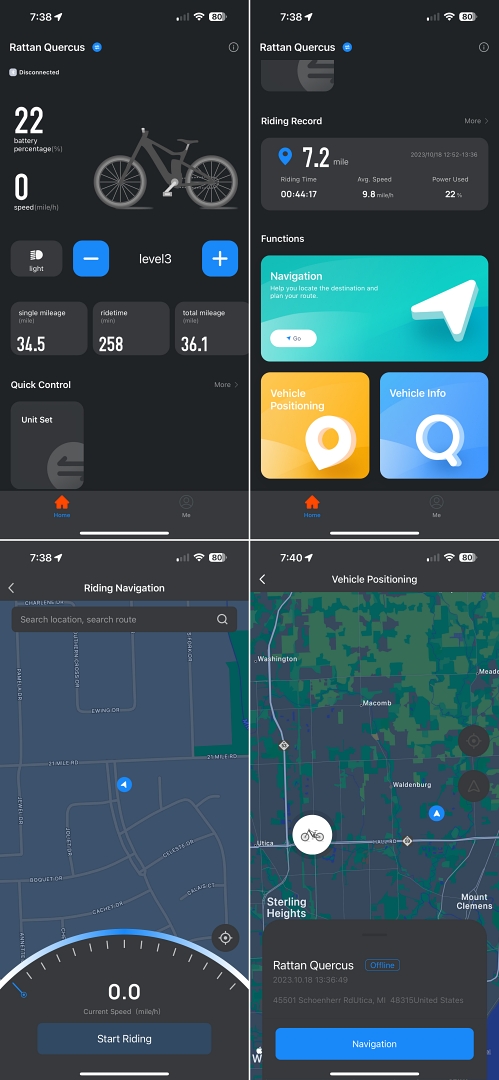 Overall, the app is decent. It has a clean interface and is easy to navigate. However, you can't use the app unless the bike is powered on, and it doesn't allow you to access any of the Advanced Menu features.
Performance
The Rattan Quercus is the best-performing e-bike I've reviewed thus far. The ride is smooth and fast. In fact, the Quercus is the fastest e-bike I've ever ridden. I could get the bike up over 31mph using throttle only. For an e-bike, that's fast! I also appreciate how quick the bike is from a dead stop.
The hydraulic front fork smooths the ride, whether on or off-road, and the hydraulic breaks give the bike plenty of braking power. And the rack will be perfect for my gym and grocery store trips. I also hope to add a cart for my dog Cooper. The Quercus combines thoughtful design with innovative features, making for an enjoyable and comfortable riding experience. And the safety and control features give me peace of mind. The Rattan Quercus is a fantastic e-bike whether you're a daily commuter or an adventure seeker.
What I like
Easy to assemble
Solid overall build quality
Smooth, comfortable ride
Great safety features
It's fast
Integrated large rear rack
450lbs. load capacity
What I'd change
Final thoughts
From its powerful motor and impressive range to its rugged design and customizable features, the Rattan Quercus e-bike stands out in the crowded e-bike market.
Price: $1899
Where to buy: Rattan
Source: The sample for this review was provided by Rattan.