We use affiliate links. If you buy something through the links on this page, we may earn a commission at no cost to you. Learn more.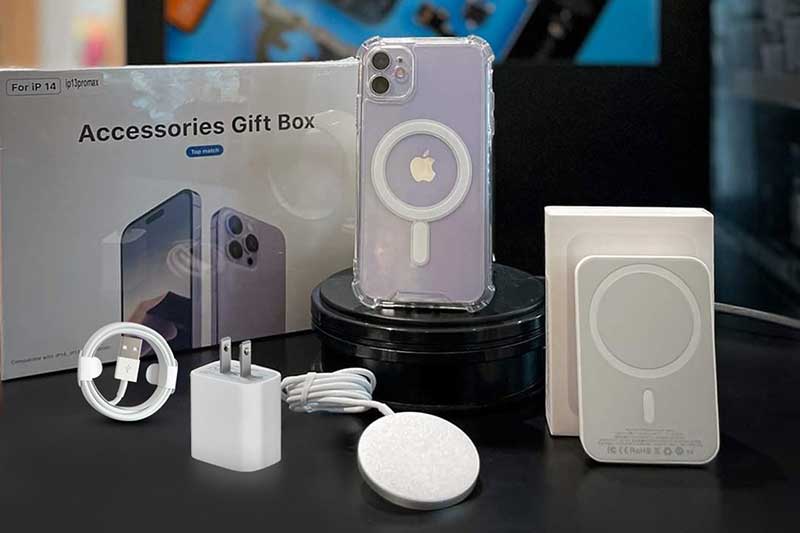 DEAL NEWS – Keep your iPhone 13, 14, or 15 in tip-top condition and fully charged at all times with this handy 5-piece Apple-compatible accessory bundle, now only $39.97 for a limited time.
If you're giving or receiving an iPhone this holiday season, you may only be partially prepared. Because even if you've got a sparkling new piece of tech in your hands, there are still a few important steps left to take. 
With this 5-Piece Apple Compatible Accessory Bundle, you can ensure a new iPhone is properly used and protected. With kits available for all iPhone 13, 14, or 15 models, you get an essential collection that should keep that iPhone powered up and preserved for as long as that device remains in your EDC rotation.
It starts with a transparent magnetic case to wrap your iPhone in fortified security. Seamlessly covering your device, this lightweight 1.4 mm protective shell is shockproof and designed to keep your phone safe. 
Plus, the built-in magnetic feature still supports Apple's proprietary MagSafe technology and other wireless charging with any Qi-compatible charger.
Buyers also get their choice of power-up options with three different yet equally effective means of keeping an iPhone charged virtually anywhere. 
First, users get a 20W PD charging head and a USB-C charging cable for fast plug-in power transfers. Travel-friendly and designed to prevent overcharging, over-currents, and overheating, this method also allows for fast charging with Smart PD 3.0 technology. That's enough to charge your phone up to 50% in just 30 minutes.
But for those who'd rather juice up their iPhone wirelessly, this collection also includes a wireless charger with a built-in magnetic ring, able to lock in and charge an iPhone with up to 15W of power when needed. 
You can also attach it to the last member of this accessory dream team, the uber-useful 5,000mAh power battery. Lightweight and portable, users can magnetically mount their iPhones to the battery for wireless charging.
A perfect stocking stuffer, you can score this 5-piece Apple-compatible accessory bundle for any 13, 14, or 15 series iPhone for the exclusive $39.97 (reg. $129) through Nov. 16 at 11:59 p.m. PT.
Prices subject to change.