We use affiliate links. If you buy something through the links on this page, we may earn a commission at no cost to you. Learn more.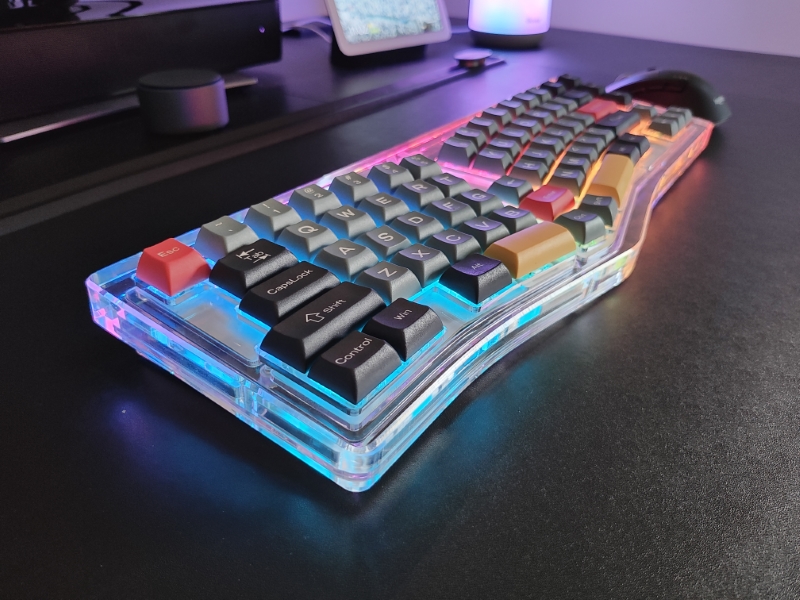 CROWDFUNDING REVIEW – There is no shortage of mechanical keyboards out there, and they've become a staple in our review inbox here at the Gadgeteer.  Every so often one comes across that offers something different, and today is one of those days.  We're looking at the VickyBoard Ergo Split-V – an ergonomic keyboard with an interesting cross radial design that quite literally shines.
What is it?
The VickyBoard Ergo Split-V by X+ is a mechanical ergonomic keyboard featuring a split, cross radial layout.  Based on the QMK firmware it allows for near endless layout customization, and the acrylic case makes for a unique RGB effect.  There aren't a lot of options for prebuilt columnar-style layout keyboards, particularly around the $200 price point – which makes this a very interesting board.
X+ is a newcomer to the mechanical keyboard space, and this is their first product launch on Indiegogo.
What's in the box?
Note: the keyboard case pictured is not included with the keyboard but is available as an add-on.
VickyBoard Ergo Split-V keyboard
Keycap/switch puller
USB-A to USB-C cable
Extra keycaps

Hardware specs
| | |
| --- | --- |
| Size | 395mm x 139mm x 33mm |
| Keys / Layout | 72 key ANSI, modified cross radial layout, hot swappable switches |
| Weight | 1335g |
| Connection | USB-C and Bluetooth (5 profiles) |
| Battery | 3000mAh – estimated two days of use with RGB on, a few weeks with it off |
| Compatible OS | Windows, Android, iOS, MacOS |
| Firmware | QMK |
Design and features
The VickyBoard Ergo Split-V is unique from an ergonomics perspective.  The cross radial design could be described as a slightly fanned, columnar Alice layout – but it's not entirely either.  At a glance the key column gaps stand out as they are not uniform.  Similar to an Alice layout, the space keys are different sizes – not dramatically different, but noticeable.  Similar to other cross radial designs, the VickyBoard utilizes the empty space between the key halves with a four key cluster.
Having a clear, acrylic case really makes the RGB quite literally shine.  I wasn't sure how much I'd like this in practice – but it does add an extra dimension to the RGB.  It would be interesting to see this with shine through keycaps, which appear to be a potential stretch goal.  The only knock against the case is the design around the USB-C port.  It's somewhat narrow, and while not so narrow as to be considered proprietary, it did prevent me from using some other USB-C cables that I had on hand.  Something to keep in mind if you find the need to replace or otherwise source an additional wired cable for this board.
The included keycaps are Cherry profile.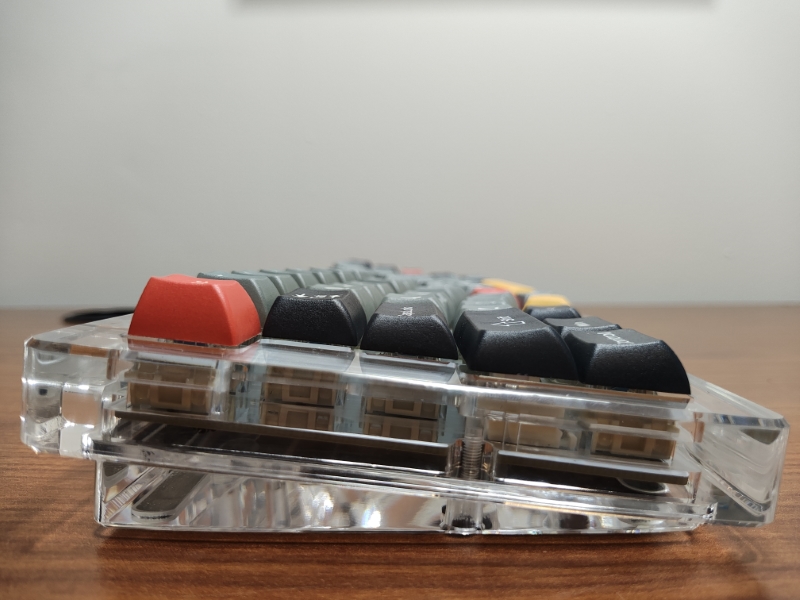 Setup
Out of the box there isn't much to do to get typing with the VickyBoard Ergo Split-V .  Plugging in the keyboard with the provided cable offers a true plug and play experience.  On the Bluetooth side, you'll need to flip the switch on the back of the keyboard to turn it on – then you can toggle through the five Bluetooth profiles by using Fn+1-5 respectively.  Bluetooth pairing is just like any other device, and worked without issue.  Off to a good start!
Customizing layouts is equally straightforward.  A web-based configurator at keyboardlab.club helpfully provides a GUI specific to the VickyBoard Ergo Split-V , and readily available documentation in the Wiki for setting the board into the proper modes to be updated.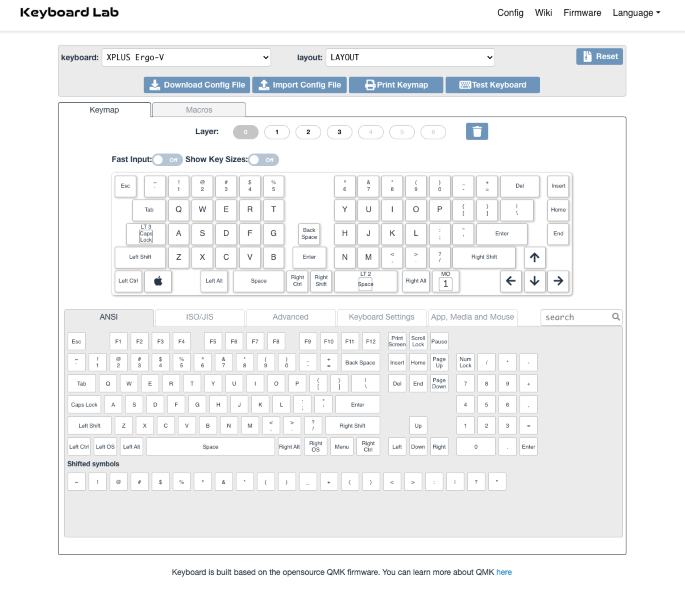 Performance
The typing experience offered by this keyboard is very comfortable, and does well at encouraging a neutral wrist position.  It feels very adjacent to an Alice layout keyboard, though the columnar design encourages proper touch typing.  I'm no stranger to columnar layouts, and the fanning of the keys in the cross radial layout took a day or so to truly feel comfortable with.  I was surprised at the utility of the center key cluster.  At a glance I didn't expect to use this, but it quickly felt natural.  Due to the size of the board and the slight fanning of the key columns, the pinky reach can be a bit excessive.  I suspect this is why the most often used outer keys are placed centrally, though it is certainly felt whenever needing to get to the outside of the board.  Of course, you can always change the mapping of the center keys to suit your needs.
Acoustically the board is quite natural, with the sound of the switches carrying well.  There's no thock to be found here, with the PCB mounting directly to the acrylic shell.  It's always nice to have a PCB that supports hot swappable switches, which will reduce the friction in upgrades or mods down the road should you desire to do so.  One call out here is around the included keycap puller – it's a bit aggressive.  While it will certainly pull the keycaps and switches, the metal points are a bit sharp and I would worry about scratching the keycaps if used with any regularity.  I'd suggest getting a different one to have on hand for keycaps, though its fine for switches.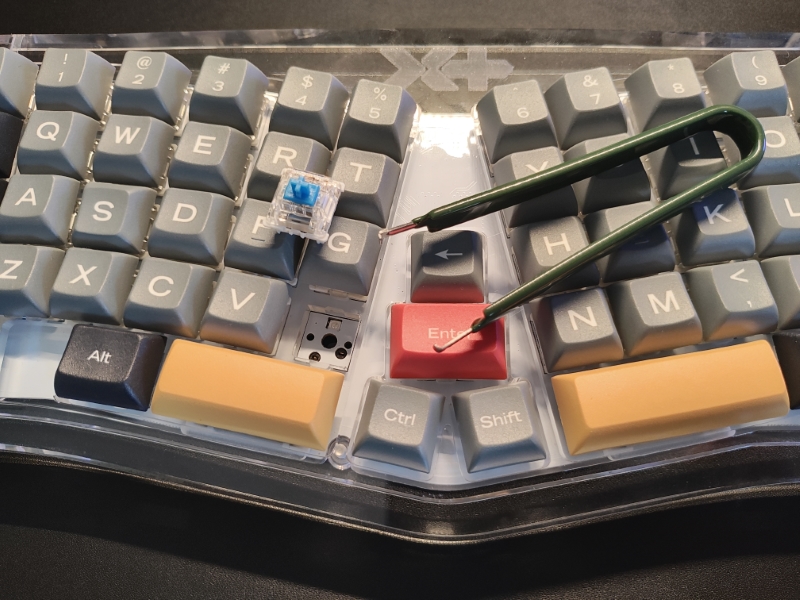 While marketed as a gaming keyboard, aside from the RGB's there isn't really anything about this board that puts it into that category.  It relies on standard Bluetooth for wireless connectivity, and the switches are standard fare.  I'd love to see a 2.4ghz connection and some dedicated macro buttons to earn the gaming board distinction.  I know you could make a gaming layer and toggle in and out of that as needed… but that's no different than any other keyboard that supports layers.  To me, gaming is not a synonym for RGB.

What I like
Cross radial layout is comfortable to type on
Good use of space with the thumb cluster in the center
Acrylic case is unique and makes the RGB really fun
What I'd change
RGBƒ options are preset only
Included keycap/switch puller is a bit aggressive for keycaps
Larger USB-C cutout for better cable compatibility
Final thoughts
X+ has made an ergonomics focused keyboard fun with a flashy, transparent design.  The cross radial layout offers typing comfort, but do expect a bit of a learning curve to get your WPS back up to what you're used to.  There is a surprising amount of utility in the center key cluster – an opportunity clearly missed on the traditional Alice layout keyboards.  While it's difficult to award this the designation of a gaming keyboard, it can certainly play the part with a designated gaming layer.  Fortunately setting up keyboard layers is easy with the web based configurator.  This is all in a well designed keyboard, and I'm excited to see what X+ can do from here!
Price: $
Where to buy: Indiegogo
Source: The sample of this product was provided by X Plus Tech.