We use affiliate links. If you buy something through the links on this page, we may earn a commission at no cost to you. Learn more.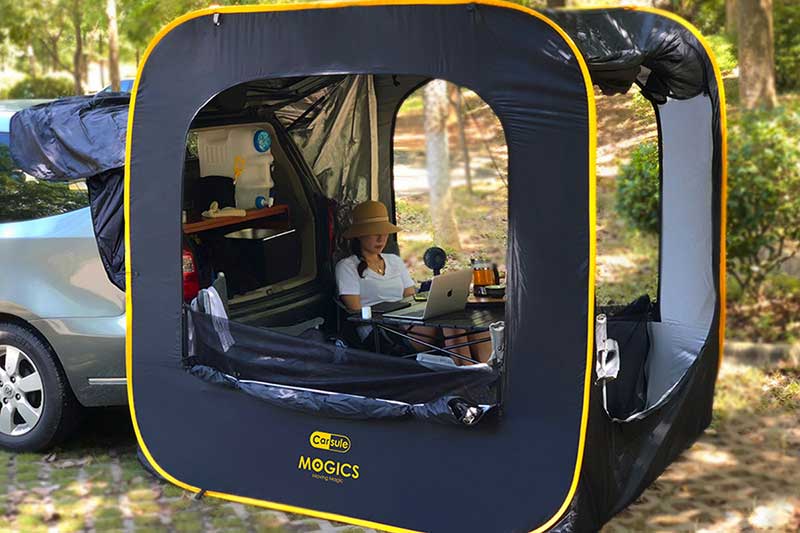 DEAL NEWS – Tailgating and camping adventures don't require an oversized truck or RV. The CARSULE Pop-Up Cabin makes it possible for just about anyone with an SUV or hatchback car. Purchase it today for an exclusive $299.97 (reg. $379).
While camping and tailgating can be enjoyed any time of the year, the fall months are when the weather begins to dip. Sporting events go hand-in-hand with tailgating. But the activity is also a hit among campers and concert-goers.
Gone are the days when one needed to purchase an RV or oversized truck to enjoy all that camping and tailgating offer. The CARSULE Pop-Up Cabin is one way to experience the fun. You can purchase the CARSULE Pop-Up Cabin for $299.97 (reg. $379) to experience all the fun through 11:59 p.m. PT on Oct. 31.
Once a creation with roots on Kickstarter, the CARSULE Pop-Up Cabin has evolved into a highly sought-after piece of equipment among those in the outdoor/tailgating space. Designed for vehicles with an upward swinging tailgate, the CARSULE's cubic shape provides ample standing height (six-and-a-half feet) and interior space that unlocks more than enough space for indoor activities.
It attaches to the back of vehicles via an adaptive car seal and magnet cord. This equipment gives it versatility with myriad makes and models.
Those using the CARSULE for tailgating can enjoy the space while sitting or standing. The waterproof flooring and outer shell keep the inside dry and minimize moisture on the thick felt carpet. Those who wish to use it for camping will enjoy the added protection of two-layer multipurpose screen windows and integrated mosquito netting.
"The product is made VERY well and durable… Set it up very easy and compact to travel with for an SUV," writes a verified buyer. Included for good measure is a one-year manufacturer's warranty
It's not too late to secure plans for a fall camping getaway or a football tailgate party.
Purchase the CARSULE Pop-Up Cabin for the exclusive price of $299.97 (reg. $379) before 11:59 p.m. PT on October 31.
Prices subject to change.