We use affiliate links. If you buy something through the links on this page, we may earn a commission at no cost to you. Learn more.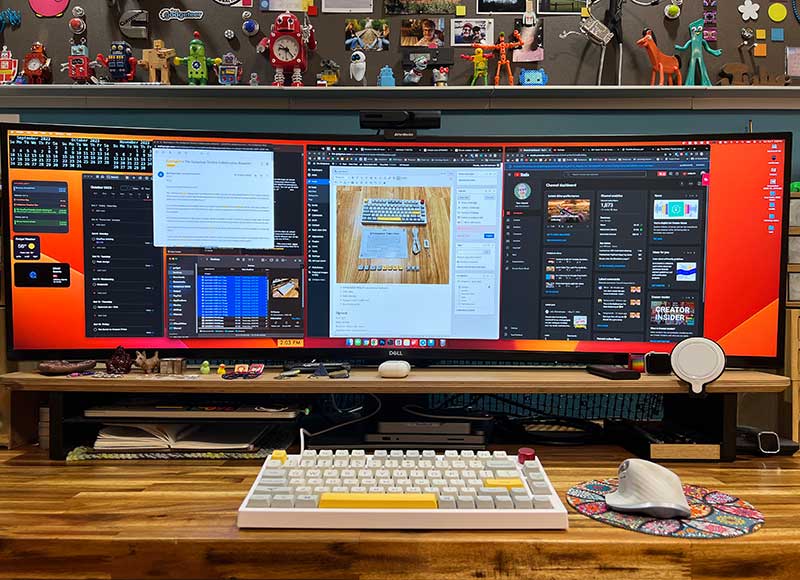 REVIEW – It's another week so that means I'm testing out another mechanical keyboard. This time it's the EPOMAKER TH80 Pro mechanical keyboard and at first glance, this keyboard looked suspiciously familiar… But I'll get to that later. Ready, set, let's get QWERTY with it!
What is it?
The EPOMAKER TH80 Pro is an affordable 75% size mechanical keyboard for Windows and Mac computers in ANSI or ISO keyboard layout.
What's in the box?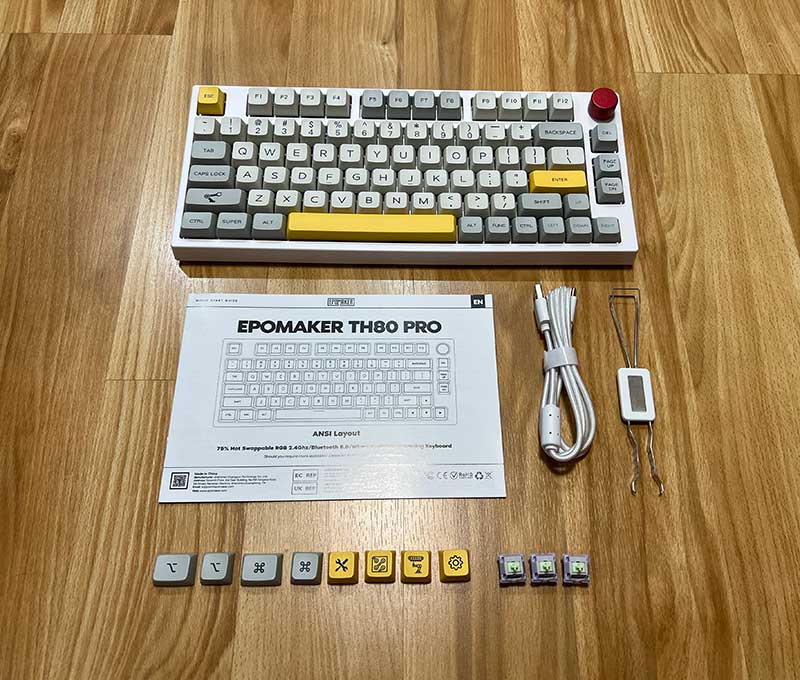 EPOMAKER TH80 Pro mechanical keyboard
USB braided cable for charging and/or connectivity
Extra keycaps Mac keycaps
Keycap / switch puller tool
Quick start guide
Specs
Size: 75%
Keys: 81 keys
Structure: Gasket-like mount
Stabilizer type: Plate-mounted
PCB type: 3/5-pin hot-swappable PCB
Battery capacity: 4000 mAh
Communication types: 2.4Ghz, Bluetooth 5.0 (3 devices at once), USB-C wired
Dimensions: 12.9 x 5.6 x 1.57 inch (328 x 142 x 40 mm)
Weight: 2.2 lb (1kg)
Design and features
If you just happened to have read my last mechanical keyboard review of the Keydous NJ80-AP wireless mechanical keyboard, you might agree that the EPOMAKER TH80 Pro looks identical except for the keycaps and the color of the analog knob in the upper right corner.
I was confused by the similarities, so I wrote to EPOMAKER who sent me the TH80 Pro, and asked them about it. They responded with…
It's not uncommon in the keyboard industry for certain chassis or molds to appear similar, especially when it comes to fundamental design elements. Many keyboards at a glance might seem alike due to the foundational structures being analogous.

However, I'd like to assure you that while there might be some superficial resemblances, the TH80 Pro is distinct from the Keydous in various ways. From the specific build quality and structure to the software and user experience, there are numerous nuanced differences that set our product apart. Notably, the TH80 Pro was the first keyboard at the time that could connect to its driver for custom settings in a 2.4G wireless environment.
So there you have it. With that cleared up, let's get on with the hardware tour.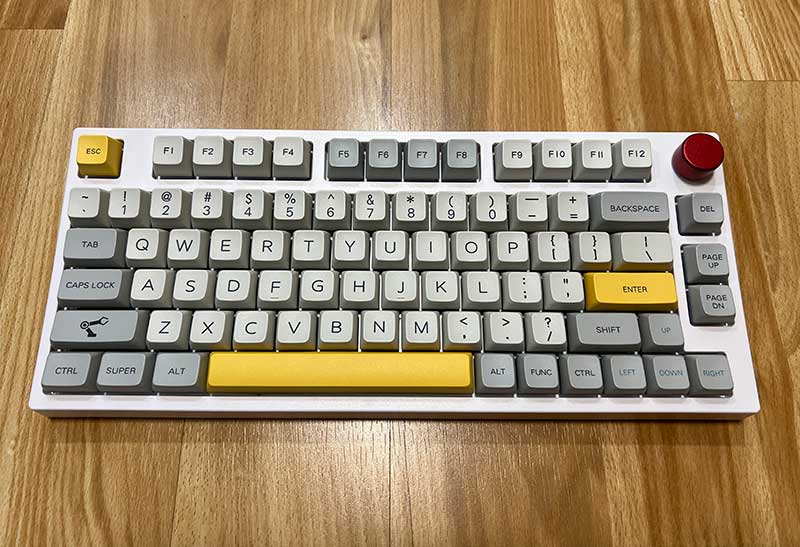 The EPOMAKER TH80 Pro mechanical keyboard case is made of white/cream-colored ABS plastic with a metal switch plate and a layer of PE foam between the plate and PCB.
This keyboard can be purchased with either the Theory keycap style you see here, or the Monet style which has keycaps in shades of blue, green, and light yellow. It's also available in either ANSI or ISO layouts.
The 75% size gives you a full keyboard and a dedicated function key row on top which is my preferred format and size because you get all the keys you need (except a numpad) in a compact form factor. The TH80 Pro also has a verticle row of 3 keys for DEL and PAGE UP/PAGE DOWN keys.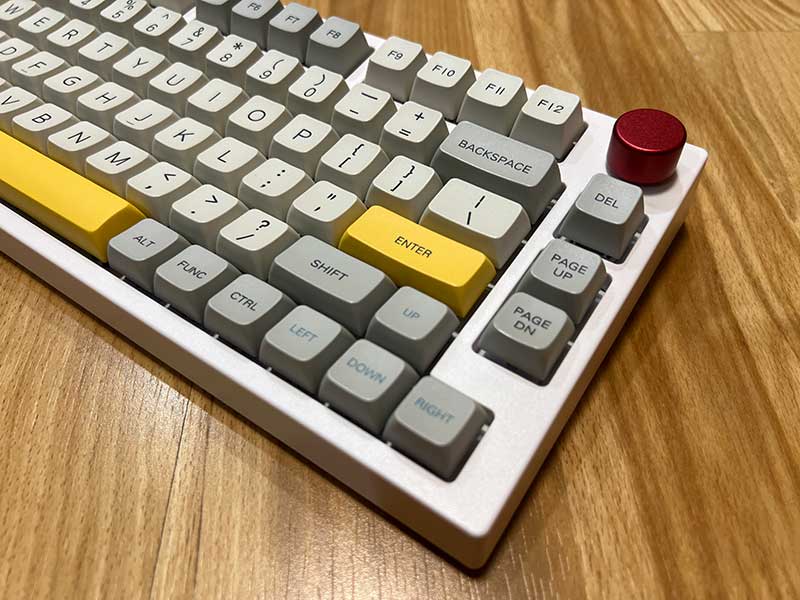 This keyboard has PBT Keycaps with an MDA Profile with a subtle concave shape (except for the spacebar which is slightly domed) and a smooth finish. The dye-sub labels are large and legible.
You will also notice the red aluminum knob in the upper right corner which is used to control volume and toggle mute. You can also re-program it with software that you can download from the EPOMAKER. website.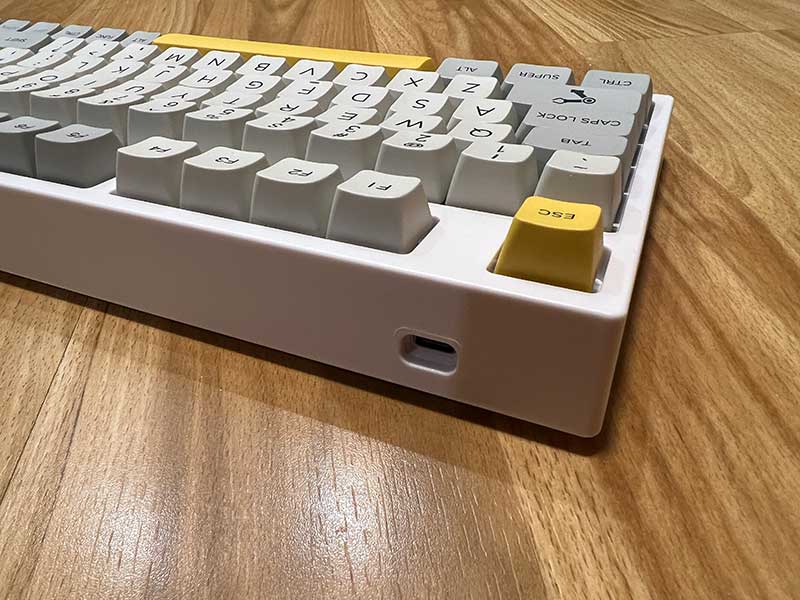 The back left shoulder of the keyboard has a USB-C port that you can use to charge the keyboard's internal battery and/or use it to hardwire to your PC/Mac.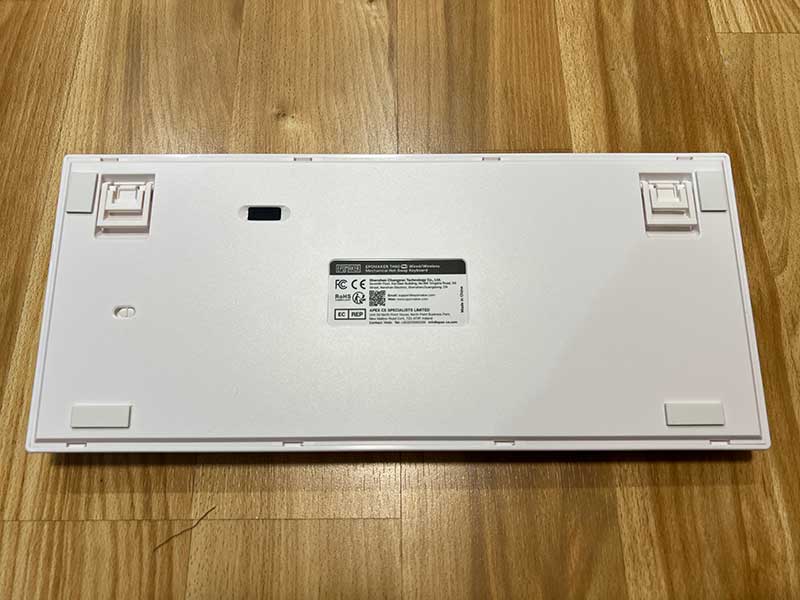 If you flip the EPOMAKER TH80 Pro over to view the back side, you'll find two flip-out feet, the USB 2.4 Ghz dongle, and the power switch.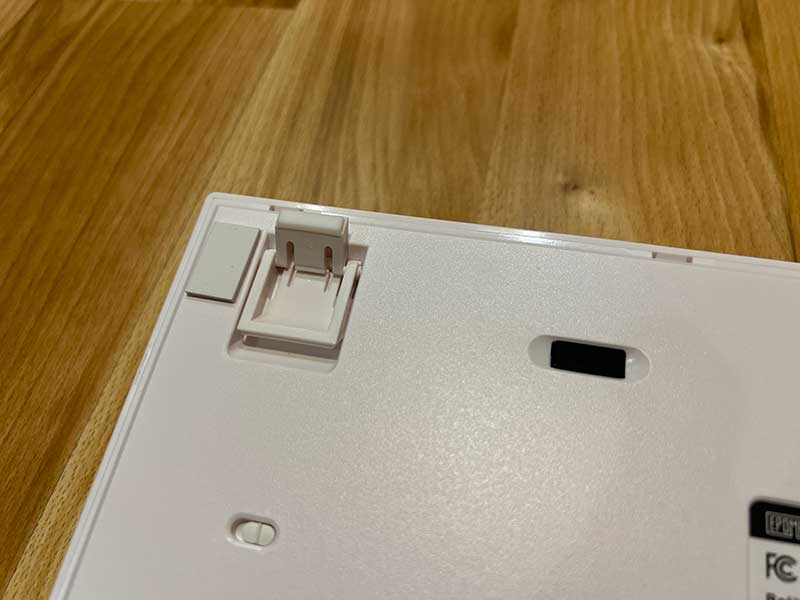 The feet have two "layers". There's a smaller flip-out foot if you don't want too much lift on the back edge.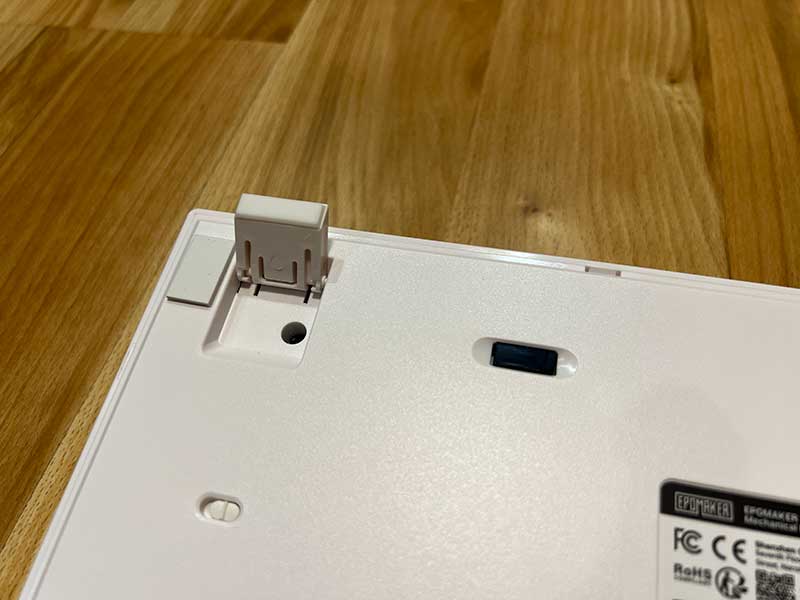 Or you can increase the angle and use the full foot. Either way, there is a non-slip pad that will keep the keyboard from sliding around on your desk. The weight will keep it stationary too.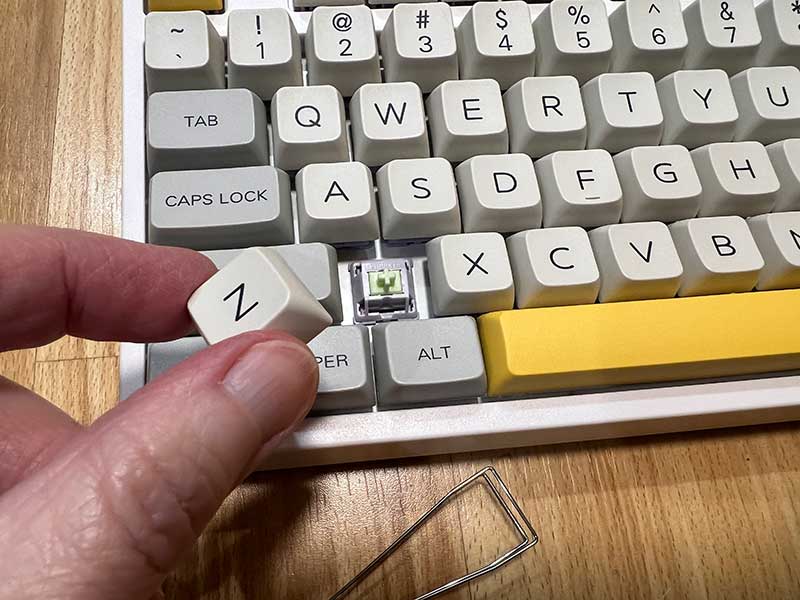 The EPOMAKER TH80 Pro is fully hot-swappable with south-facing 3 or 5-pin switches. The keycaps are easily removed using the included tool.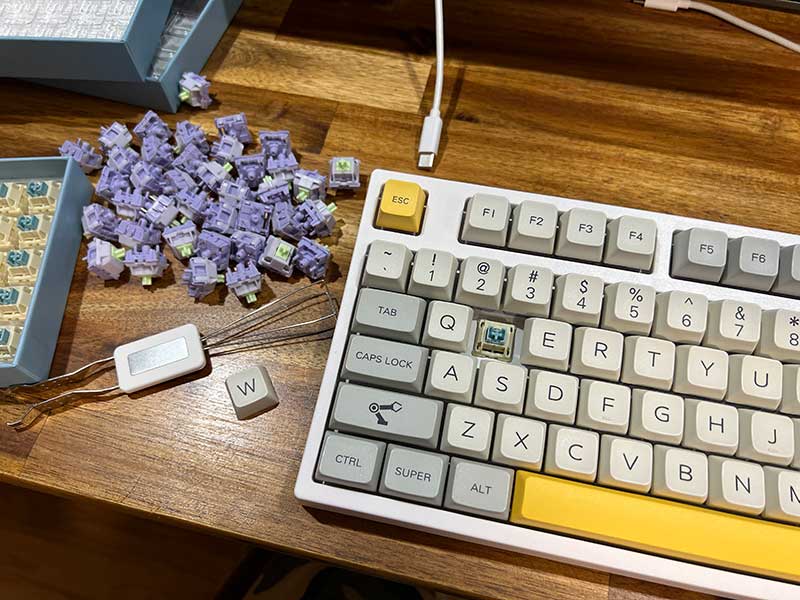 When you order the EPOMAKER TH80 Pro, you can choose from a variety of switches. The keyboard review sample that was sent to me came with EPOMAKER Wisteria switches pre-installed.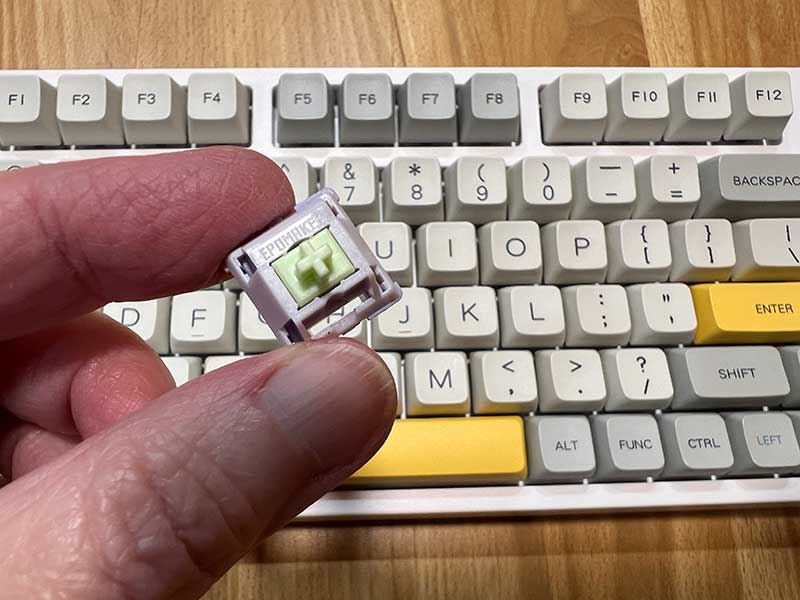 The Wisteria switches are linear switches and I prefer tactile, so they also included a set of Budgerigar switches which are tactile (the video below includes sound tests for both styles of switches.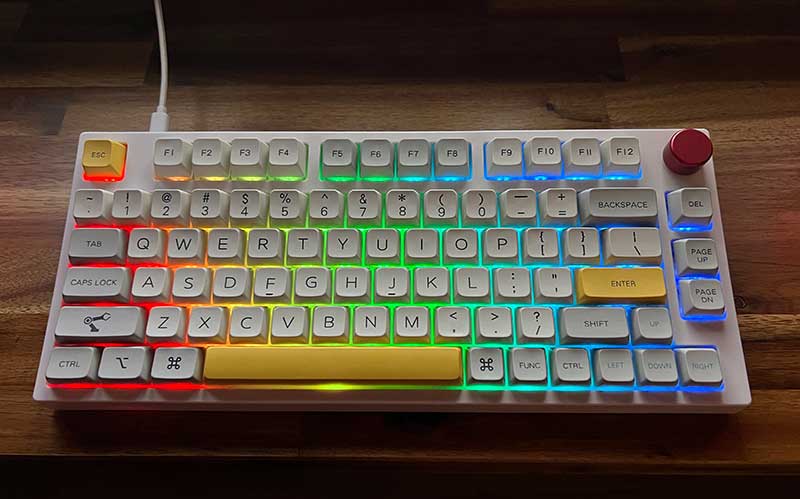 Note that the EPOMAKER TH80 Pro has south-facing LEDs for the RGB backlighting effects which I demonstrate in the video below.
The keys and backlighting can be customized using the EPOMAKER Driver software which you can download from the EPOMAKER website. Note that the EPOMAKER TH80 Pro is not QMK compatible.
Typing feel
I tested the EPOMAKER TH80 Pro exclusively hardwired to my MacBook Pro (I hate having to charge stuff…) and like many mechanical keyboards, I usually need to switch from the default PC mode to Mac mode… but that is not necessary with this keyboard because it switches automatically to the correct mode depending on what it's connected to. Yay!
As a touch typist, I found the MDA profile of the keycaps to be very comfortable to type on although the keyboard does have a stiff feel. If you like a bit of flex to your mechanical keyboards, you won't get that (without mods) with the EPOMAKER TH80 Pro because of the metal plate.
Then there are the switches. As I had mentioned earlier, I prefer typing with tactile switches and after I tested the pre-installed linear switches (Wisteria), I swapped all the switches out for the tactile Budgerigar switches. I really like the sound of these switches but the feel is really smooth and not quite as tactile as I really like. I think prefer the Kailh BOX white switches that were on the Keydous keyboard that I reviewed last. This is all very subjective and personal though. What I like may not be exactly what you like. 🙂
But how does the EPOMAKER TH80 Pro sound? Watch the video below to find out…
See and hear it in action
The EPOMAKER TH80 Pro mechanical keyboard sounds satisfyingly thonky right out of the box with no modding at all. I like the sound of this keyboard more than the Keydous NJ80-AP keyboard that I reviewed last. But that's the fun of mechanical keyboards. You can switch keycaps and switches to build a keyboard that is perfect for you in sound and typing feel.
What I like
Affordable
Thonky sound
Compact form factor
Premium feel at a budget price
No need to switch between PC and Mac modes – it's automatic
What I'd change
Add QMK software compatibility
Final thoughts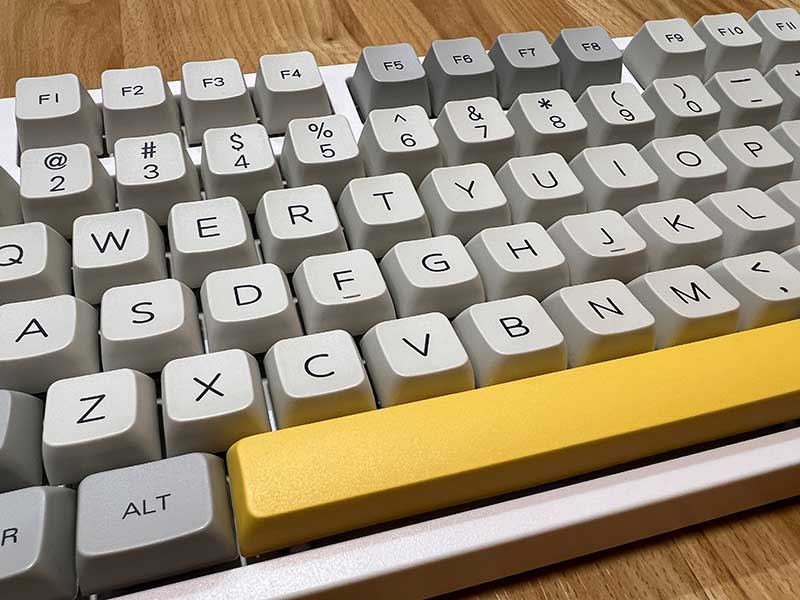 Although I was initially worried that the EPOMAKER TH80 Pro was a copycat of the Keydous NJ80-AP that I just reviewed, it's not. It might look similar, but everything under the hood is different, from the PCB, to the switches. There is a lot to like about this keyboard. It has a premium feel at a budget price. They bill it as a beginner's mechanical keyboard. I think it's a solid keyboard that you can build on and customize to make it fit your needs.
Price: $99.99
Where to buy: EPOMAKER and Amazon
Source: The sample for this review was provided by EPOMAKER.